Get Cash for Gift Cards in Phoenix or Any Other City in the U.S.!
Are you looking for extra cash? Used gift cards are often not entirely spent, and you can get a few bucks from them hassle-free. You must check the remaining balance first and see if the card is worth something.
In case it is, we can help you get cash for gift cards in Phoenix or any other place in Arizona. With DoNotPay, you'll have your gift card money in a flash!
The Types of Gift Cards in Phoenix and How They Are Used
You can retrieve cash from gift cards whether they are:
E-gift cards, also known as digital or online cards
Physical or plastic gift cards
While some cards can be reloaded, most cards are one-time-use only, meaning they can't be loaded with any extra cash.
The balance on the gift card can be used to buy various products or services. You don't have to use the full amount right away, and that's why there's often leftover cash on gift cards. Usually, the remaining amount can't get you anything at the store in question, but you shouldn't let that money go to waste.
DoNotPay can help you cash in your gift card and retrieve up to $10 per card!
How To Check the Remaining Gift Card Balance Yourself
Getting cash for gift cards in Phoenix is easy once you know how much you have left on the card. Some gift cards can expire, but most of them can be used at any time, and people tend to forget about them quickly after the first use.
You should check your drawers for misplaced gift cards and see how much they are worth. The following methods lay at your disposal for checking the remaining balance:
Calling the company's customer service telephone line
Visiting a store and asking the cashier or any employee to help you
Using DoNotPay
Check the Remaining Gift Card Balance in Three Minutes With DoNotPay
If you wish to check the remaining balance with DoNotpay, all you need to do is:
Type in Check Gift Card Balance
Upload photos of both sides of your gift card
Enter your email address
We will contact the card provider, see if you have any remaining balance on your card, and let you know right away.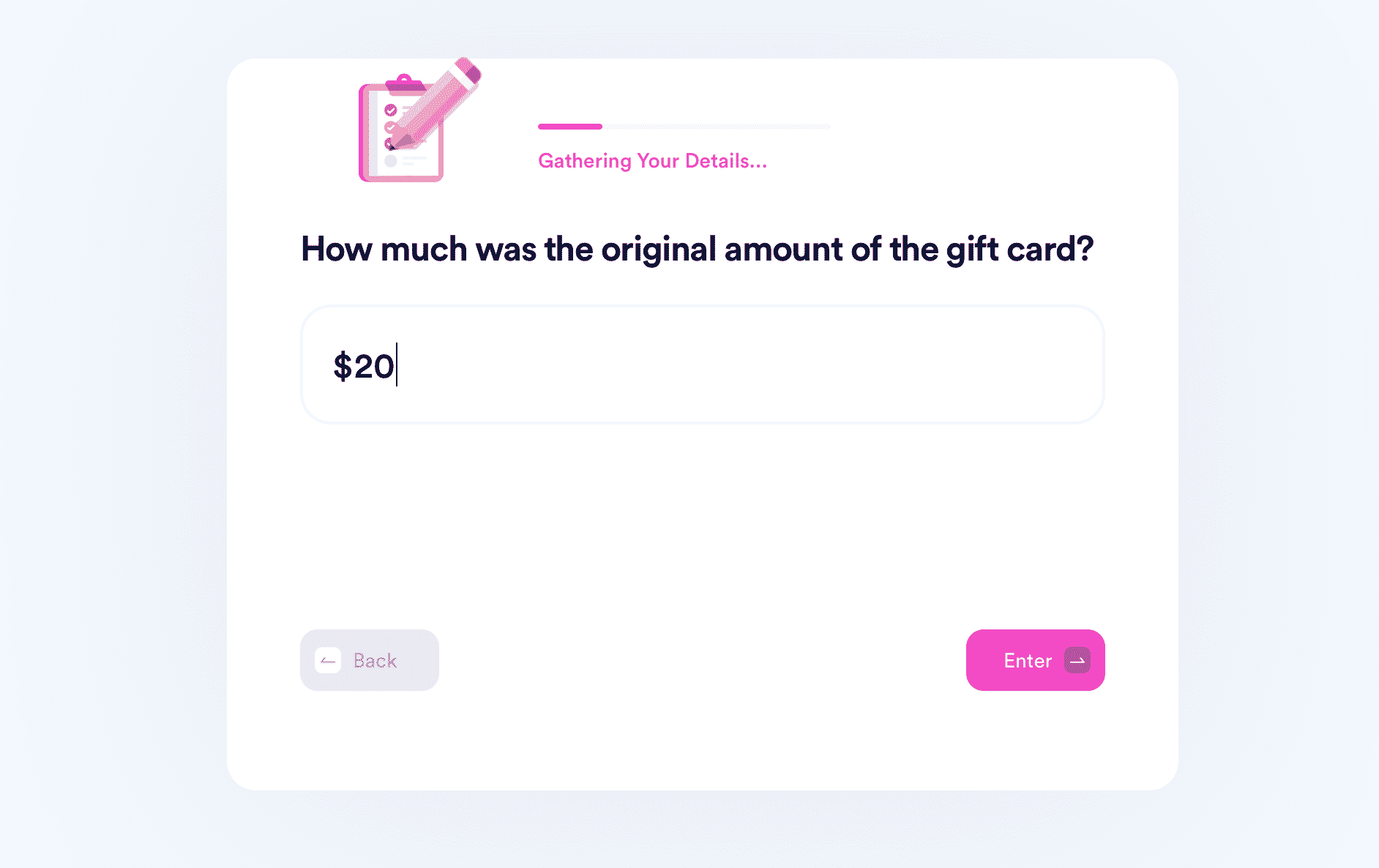 We can help you check the balance on gift cards from various companies, such as:
How To Get Cash for Gift Cards in Phoenix
You can in Phoenix in one of the following ways:
| | |
| --- | --- |
| Methods for Cashing in Gift Cards | How They Work |
| Return your gift card to the store | You can bring your gift card back to certain companies, and they will give you cash for it. Note that most vendors don't allow these gift card returns |
| Sell your card at a gift card kiosk | There are many gift card kiosks in Phoenix. They are usually located in grocery stores and malls. You can take your card to one of the kiosks and see how much you'll get for it |
| Sell your gift card online | Many websites buy and sell gift cards. Use caution in dealing with those because they can underpay you |
| Exchange gift cards online | Most of the mentioned gift card trading websites also offer gift card exchange. You can get a different brand gift card, but it will usually have less cash on it than your original card |
DoNotPay Offers the Best Way To Get Your Remaining Gift Card Money!
You'll quickly realize that most of the gift card exchange or trade websites and kiosks offer bad deals—e.g., they give you up to 80% of your money back if they are generous. DoNotPay can request all of your remaining money back in a few minutes if you:
Click on the Gift Card Cash Back feature
Type in the details about your gift card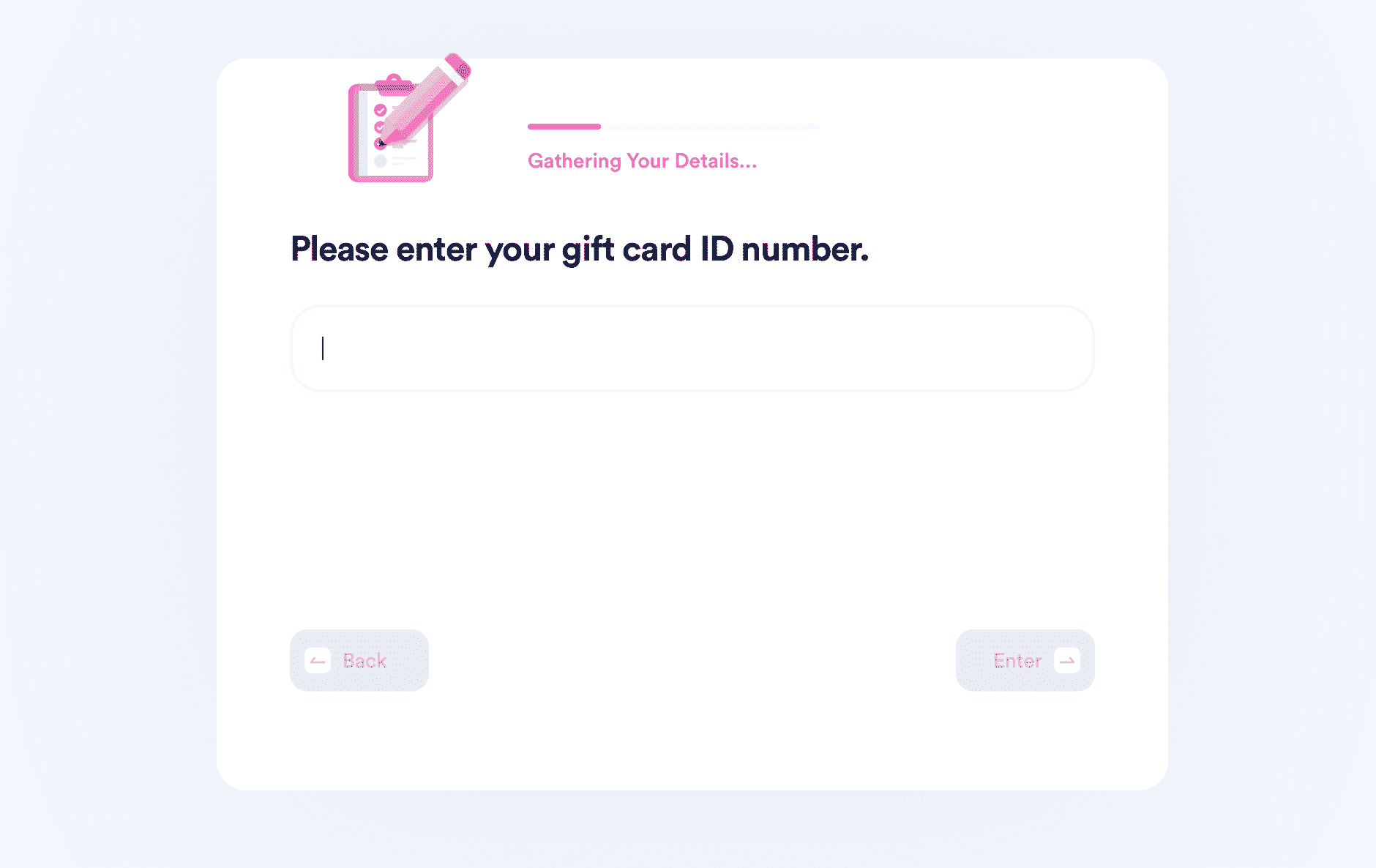 We'll send the request to the vendor in question, and after they process it, you should have your money back by mail within two weeks.
Even though Arizona is not one of the cash back U.S. territories, our request will be directed to one of the store locations that allow cash back on gift cards. These territories include Puerto Rico and the following states:
New Jersey
Maine
Connecticut
Colorado
California
Vermont
Washington
Massachusetts
Rhode Island
Montana
Oregon
DoNotPay is always happy to help Phoenicians, whether it's with getting passport photos, finding a mobile notary, teaching you how to get free gift cards, or checking your gift card balance.
When You're Sick of Bureaucracy, DoNotPay Jumps In
Bureaucracy has become part of everyday life, and it does nothing but drain your energy and finances. Thankfully, you have an AI-powered assistant that's ready to swoop in and help you out!
We can help you:
Don't Let Anyone Harass You—DoNotPay Is on Your Side!
Dealing with email and text spammers may be just as annoying as getting robocalls. If you're looking for the most efficient method to get rid of all of them, the world's first robot lawyer is the best solution you can find!
Do you think that someone is stalking or harassing you? DoNotPay will help you deal with and earn off them! Do you have noisy neighbors? Our app will send them a demand letter in an instant! Are you a victim of crime looking for compensation? Rely on your AI-powered assistant to get you whatever you need!