Hot Topic—Check Your Gift Card Balance and Turn It Into Money With DoNotPay
Not a fan of Hot Topic? Check your gift card balance because there are ways you can get cash for it! The task can be tricky—that's why DoNotPay is here to save the day!
We will show you the ins and outs of Hot Topic gift cards and how to convert your gift card to cash the easy way.
What Is a Hot Topic Gift Card?
Hot Topic gift cards can be used for purchasing various pop culture-inspired merchandise at the company's 675 stores. They come in both physical and electronic forms and can have up to $500 loaded on them.
How To Check Your Hot Topic Gift Card Balance
Want to check your Hot Topic gift card balance to see how much money you're working with? Check out the table below to see how you can do it:
Balance Check Method
Details
Online
Go to the official Hot Topic website and:

Scroll to the bottom of the page
Find the Gift Cards section in the lower-left corner of the screen
Enter your gift card number
Complete the captcha and click on Check Balance

In person
Find the nearest Hot Topic store using the locator and:

Visit a nearby Hot Topic store
Give your gift card to the employee at the cash register
Ask them to check your remaining gift card balance

Via phone
Reach the Hot Topic customer support by calling 1-800-892-8674 and:

Tell them your gift card number
Inquire about the remaining funds on your Hot Topic gift card

Access our Check Gift Card Balance feature and upload a photo of your gift card from the front and back.

We'll reach out to Hot Topic and check your gift card balance in no time
Various Ways You Can Use Your Remaining Hot Topic Gift Card Balance
Now that you've checked your Hot Topic gift card balance, you can start planning how you're going to use it and turn it into cash. Here's what you can do:
Buy Hot Topic merchandise
Sell the gift card online
Visit a gift card exchange kiosk
Trade your gift card
Buying Hot Topic Merchandise
Have a teen family member? Surprise them with some merch from Hot Topic. The company has various pop culture-related items, such as:
Clothing with motifs from movies
Various video game figurines
Accessories influenced by TV shows
Merchandise from numerous bands
All sorts of posters
If you don't have enough money on your used gift card for a purchase, you can always wait for a sale as Hot Topic gift cards don't expire.
Selling the Gift Card Online
Visit a gift card reseller website and sell your gift card for cash quickly. Note that they will only pay you a small sum of the amount that's on your gift card.
Visiting a Gift Card Exchange Kiosk
Find a gift card exchange kiosk in your area, insert your card into the machine, and get a percentage of your remaining balance back.
Trading Your Gift Card
Not thrilled with your Hot Topic gift card? Why not trade it for a different one? Numerous websites deal with gift card exchange. They will accept your card and give you one issued by another company. Keep in mind that you might not receive a gift card of the same value.
Can You Redeem Your Hot Topic Gift Card Balance for Cash?
Hot Topic gift cards are redeemable for cash in some states, but the amount of money you can get depends on the state you live in. For example, in California, you can get $10 for your Hot Topic gift card, while in Colorado, you can claim $5.
To redeem your Hot Topic gift card for cash, you will have to explain the law to a customer support rep or a cashier at one of the company's stores. An easier option is to . With our Gift Card Cash Back product, you leave all the explaining to us.
Redeeming a Hot Topic Gift Card for Cash With DoNotPay Is Easy as Pie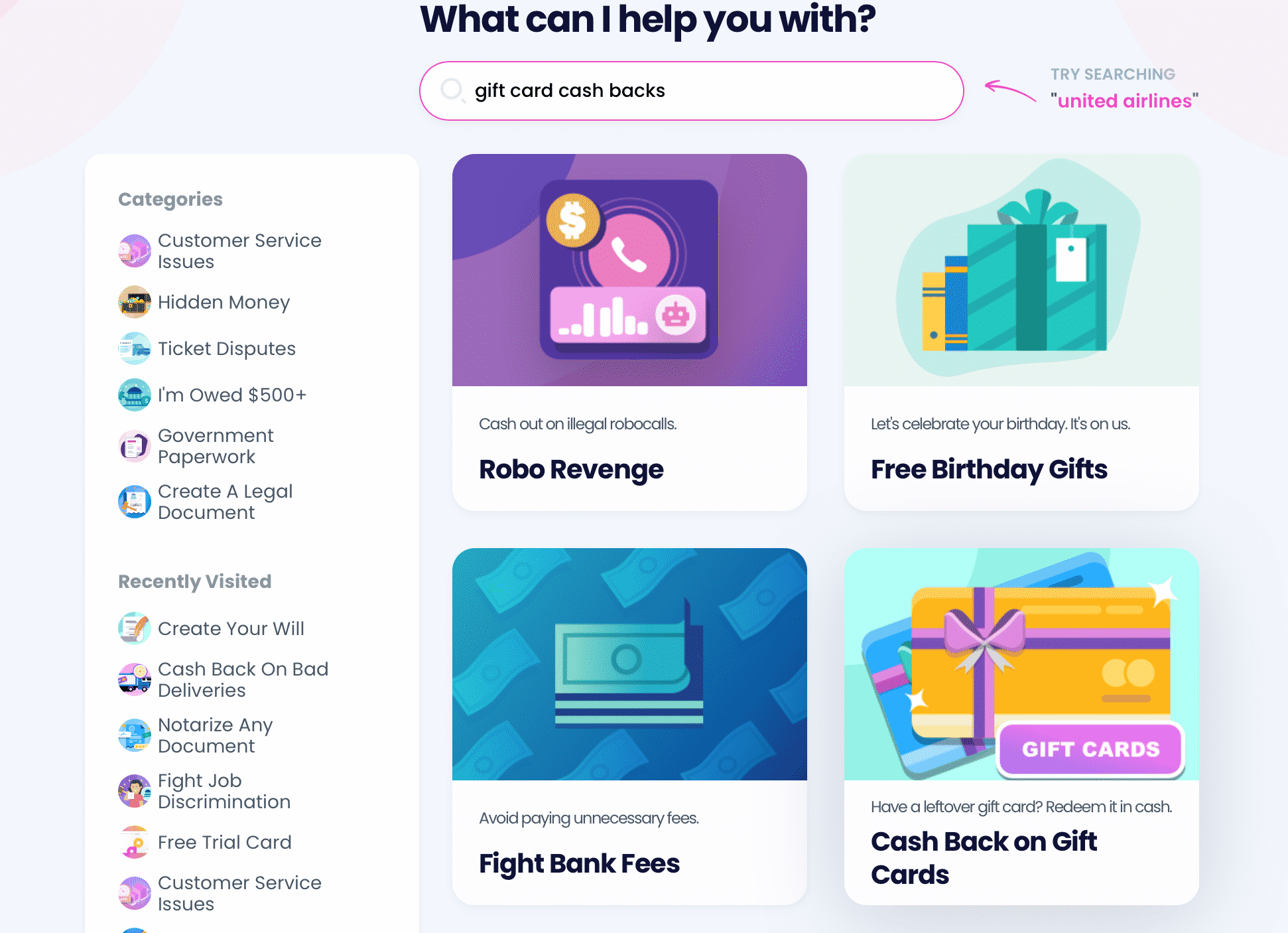 Want to redeem your Hot Topic gift card without having to deal with customer support? Use DoNotPay! Here's what you need to do:
Select the Gift Card Cash Back product
Enter the necessary gift card information, such as:

Gift card number
The state where your card was issued
The remaining balance

Click on Submit
We'll send Hot Topic a cash back request in your stead, and you'll receive your money within two weeks.
DoNotPay has a knowledge base of gift-card-related articles that you might find helpful. Use our app to:
Need assistance with gift cards from other companies? DoNotPay can help you with:
Manage Your Tasks Easily With Our Help
DoNotPay is the perfect solution whenever you need to resolve legal or bureaucratic matters. Here's a fraction of what our AI-driven app can help you out with:
Lowering your property taxes
No Matter What You Need, DoNotPay Is by Your Side
Do you have a bunch of subscriptions that you waste money on but don't even use? We can help you cancel them effortlessly! After that, our app can initiate a refund request and make sure you get your money back.
Facing financial difficulties? DoNotPay can help you lower your bills, get free raffle tickets, get gift card cash back, find your missing assets, and so much more!
For a low monthly fee, you'll get access to our impressive range of products, so sign up now!