Stay at Home and Use an Online or Mobile Notary in Phoenix
You can get your documents notarized in different ways. By choosing the one that best suits your needs, you can save yourself the hassle.
Is there an option for you to stay at home and get your documents notarized? We will explain what a mobile notary in Phoenix does. to get access to a more convenient notary service—remote online notarization!
Start Looking for a Notary in Phoenix
You can opt to go through the notarization process by yourself from scratch. It means you will take the following steps:
Learn about various types of notaries

Search for a notary

in Phoenix

Contact a notary public you find suitable

Ask about the

notary fees

Set up an appointment

Collect the required documents

Prepare an ID document

Meet with a notary:

In his or her office

At a convenient location

Remotely, i.e., online
It can take you lots of time to go through these steps. You can skip all these obstacles by partnering up with DoNotPay that will connect you with a notary in a matter of minutes!
Notary Public Phoenix—Choose the Type
When you start looking for a notary public, you first need to get familiar with various available types. You can select among the following:
Mobile notary

Regular in-office notary

Notary signing agent

Electronic notary

Remote online notary
Is a Mobile Notary in Phoenix the Right Choice for You?
A mobile notary in Phoenix or any other place is a practical option to get wills, affidavits, real estate deeds, car titles, and other legal documents notarized without having to drive to a notary's office.
You can schedule an appointment with a mobile notary public and meet at a suitable location, such as:
Your workplace

The airport

A cafe

Jail

Hospital

Your home

A restaurant
While this is a handy solution to your notary issues, it can be a bit pricey as mobile notaries charge extra travel fees on top of the regular ones. Apart from gas, parking, and other travel costs, they can charge you in the following cases:
| | |
| --- | --- |
| Mobile Notaries Charges Extra if You: | Tips |
| Are late for the appointment | You should contact the mobile notary in case you get stuck in traffic. Some might tolerate 10–15 minutes, but most will compensate for any extra time they spend waiting for you |
| Cancel the appointment | You should check if the mobile notary in Phoenix you have chosen charges cancellation fees |
| Do not provide necessary witnesses | In case a notarial act requires witnesses to be present and you cannot bring any, you can ask a mobile notary to deal with this issue for an extra charge |
Make sure you are familiar with the total amount you will need to settle at the end of the notarial act.
What About an In-Office Notary in Phoenix?
Traditional, regular, in-person, or in-office notaries are the ones that work in an independent office or for a bigger company, such as AAA, UPS, bank, credit union, public library, law office, or courthouse.
Traditional notaries provide the same notary services as other types of notaries, except that they require you to come to their office for a notarial act.
If you opt for this kind of notary public, make sure you:
Set up an appointment

Gather all necessary documents

Take a valid government-issued ID document with you

Bring enough money to settle the required fees
Should you fail to do any of the above-listed, you will have to reschedule your appointment and visit the notary's office again.
When To Choose a Notary Signing Agent
Notary signing agents perform notarization of loan documents. They also provide additional services, including printing and delivery of documents. You can find a notary signing agent in financial institutions or banks.
What Does an Electronic Notary Public in Phoenix Do?
Electronic notarization is the same as the traditional one. It means you need to visit a notary's office to get your documents notarized. The documents, notary's signature, and stamp will be in electronic format.
While some people believe that an electronic notary is the same as an online or remote one, that isn't the case.
What To Expect From an Online Notary in Phoenix
A lot of U.S. states have introduced remote online notarization, which was greatly boosted by the COVID-19 pandemic. Not only is this type of notary service safe, but it is also the most practical option to get your documents notarized.
Online notaries perform all notarial acts via a live audio-video call. Here is what a notary will do:
Verify your identity—you should answer a few basic questions and present an ID document, e.g., your driver's license, ID, or passport

Check the document to determine there are no blank pages

Make sure you are familiar with the contents of the document

Establish you are signing the document of your own will

Determine you are of sound mind

Witness the signing of the document

Place the notary signature and stamp
These are the same steps any other notary public will take during the notarization process. The only difference from other notary services is that this one is done remotely—you can stay safe at home and avoid a face-to-face encounter with a notary
You do not have to search for an online notary— to connect with one quickly!
Find a Resolution With DoNotPay's Remote Online Notary Solution
We provide efficient and user-friendly features you can use to solve lots of different issues. One of them is our remote notarization you can access from Arizona or any other state, town, county, or village.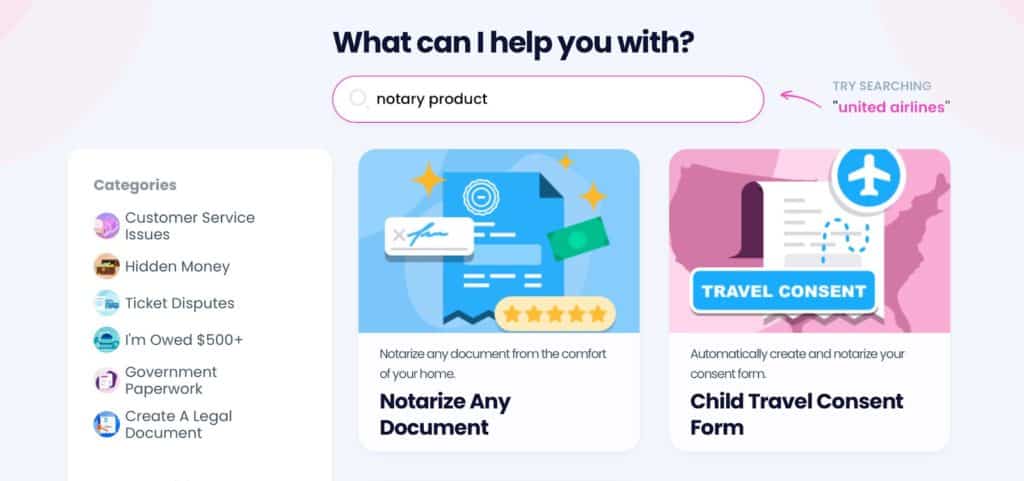 and:
Select the

Notarize Any Document

feature

Upload the document you want to have notarized

Provide your email address

Follow the link we send you via email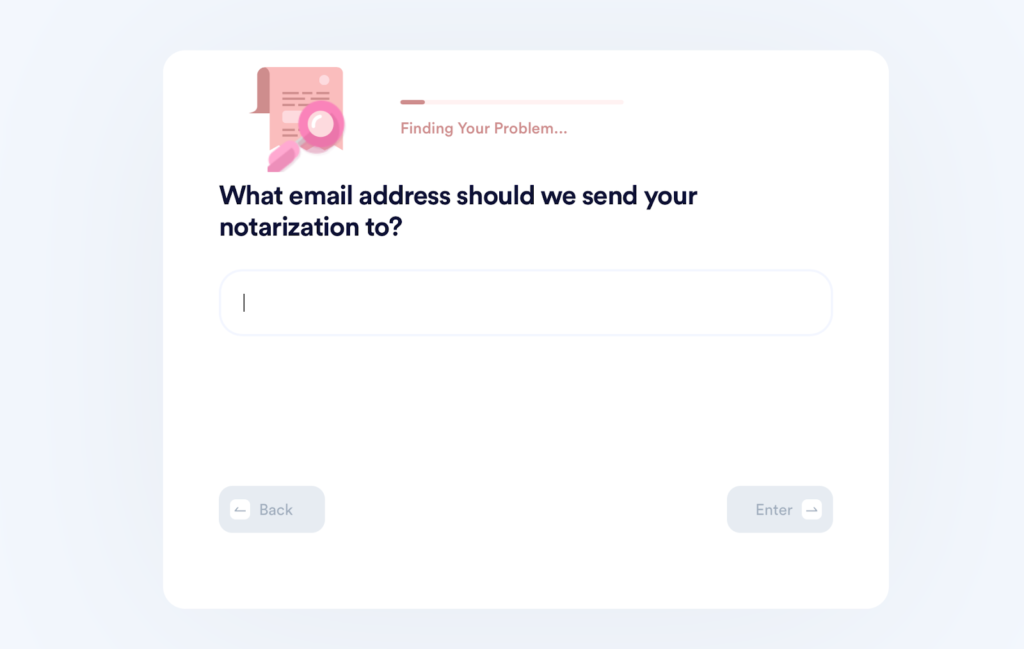 That's it! These four simple steps will connect you with an online notary in a matter of seconds!
How Else Can DoNotPay Help You Find and Save Cash?
Our Missing Money feature helps you find any unclaimed assets in your name in any state. An additional perk is that you can claim your money right in the app—no need for further research!
We can also make sure you don't pay for any unfair parking citations and get the rightful compensation from airlines for any canceled or delayed flight.
Don't let big companies scare you into not claiming your warranties or insurance. DoNotPay helps you file these claims and appeal any rejections in minutes, which brings you closer to getting your money.
We can also delay your bill payments, get your college fees waived, or sign you up for paid clinical trials to earn some extra cash!
DoNotPay Keeps the Spammers Away
Whether you're dealing with email spam, text scammers, robocalls, or severe harassment, DoNotPay can help.
Use our virtual credit card or the Burner Phone feature to sign up for free trials safely—without revealing your real info. DoNotPay will make sure that no company can reach you when you use our tools.
We provide a fake email address, credit card info, and phone number that are in no way connected to your real data.
We can also help you cancel services or request a refund without you having to contact the company directly.