Virginia Tech Financial Aid in a Nutshell
Thanks to solid financial aid at Virginia Tech, hundreds of students get a chance to reduce their educational costs and afford to attend this college.
Applying for such support may seem too complicated, especially if you can't find all the information, but our guide is here with all the answers you may need! Learn all about Virginia Tech financial aid, find out how and when you can apply or appeal a low aid award, and get more by !
What Virginia Tech Financial Aid Package Can You Apply For?
The packages you may qualify for depend on the applicant category you belong to. The college offers various financial aid options for:
Undergraduates
Graduates
Professionals
Parents
You can find the full list of all available programs in the table below:
Type of Financial Support
Repayable
Packages
Grants
No

Commonwealth Grant
Two-Year Transfer Grant
Virginia Guaranteed
Assistance Program VGAP
Federal Pell Grant
Children of Fallen Heroes
Federal Supplemental Educational Opportunity Grant
Funds for the Future
Virginia Tech Grant
Presidential Campus Enrichment Support Grant

Loans
Yes

Federal Parent PLUS Loans
Federal Subsidized Loans
Federal Unsubsidized Loans
Short-Term Loans
Private Alternative Loans

Scholarships
No

Academic scholarships
Athletic scholarships
Military scholarships
Honors College scholarships
Presidential scholarship programs
Transfer scholarships
General scholarships
International scholarships
RaiseMe scholarships

Federal work-study
No
Depend on the available job positions
What Is the Virginia Tech Financial Aid Deadline, and How Can You Apply?
The only way to be considered for Virginia Tech financial awards is to submit a Free Application for Federal Student Aid (FAFSA). Here's what the procedure looks like:
Fill out the form online at the official Federal Student Aid (FSA) website or print it out and mark the answers manually. The document consists of around 100 questions related to your education, family, taxes, and annual income. It serves for determining whether you qualify for financial aid and calculating your Expected Family Contribution (EFC) and financial need. If you want to keep receiving support funds, you must reapply every year in the same way
Send your FAFSA form to the agency via mail, the official myStudentAid app, or your FSA profile
Wait a few days to receive your Student Aid Report (SAR) that lists your answers to all FAFSA questions and check if you completed the form correctly
FSA set June 30th, 2021, as the financial support application deadline for the current school year. The next time frame will be announced before the 2021/2022 school year starts.
How Can You Contact Virginia Tech Office of Financial Aid?
Even though the application process is simple, the Virginia Tech financial aid office is always open to all questions you may have. The following table lists the methods you can use to get in touch with this department along with contact details:
Communication Channel
Contact Details
Office Hours
Email
finaid@vt.edu
Monday through Friday from 8 a.m. to 5 p.m.
Phone
(540) 231-5179
Fax
(540) 231-9139
In-person appointments
Office of University Scholarships and Financial Aid

Student Services Building Suite 200

800 Washington St SW, Blacksburg, VA 24061
How Can You File an Appeal if the Financial Aid Amount Is Not Enough?
If you get an offer from Virginia Tech that isn't as generous as you expected, you shouldn't despair. The safest path to the second chance is to file an appeal with the college and prove that you need or deserve more than you were awarded.
The institution allows you to submit four types of appeals depending on the difficulties you are experiencing, such as:
Dependency appeals
Satisfactory Academic Progress appeals
FAFSA data appeals
Cost of attendance appeals
Here's what you need to do to file an appeal yourself:
Navigate to the Forms section and pick a suitable appeal form
Print out the document, fill it out, and scan it
Upload the document in PDF format by clicking on the red Begin Upload button
Besides the provided form, you can also include a personalized appeal letter explaining your financial situation or any difficulties that may qualify you for a higher amount.
Can DoNotPay Help You File an Appeal?
Are you wondering how much financial aid you might get if you submitted a flawless appeal letter? Don't waste your precious time drafting it from scratch or completing extensive forms. With DoNotPay, you can generate an appeal letter before you know it and have it sent to any university or graduate school you prefer!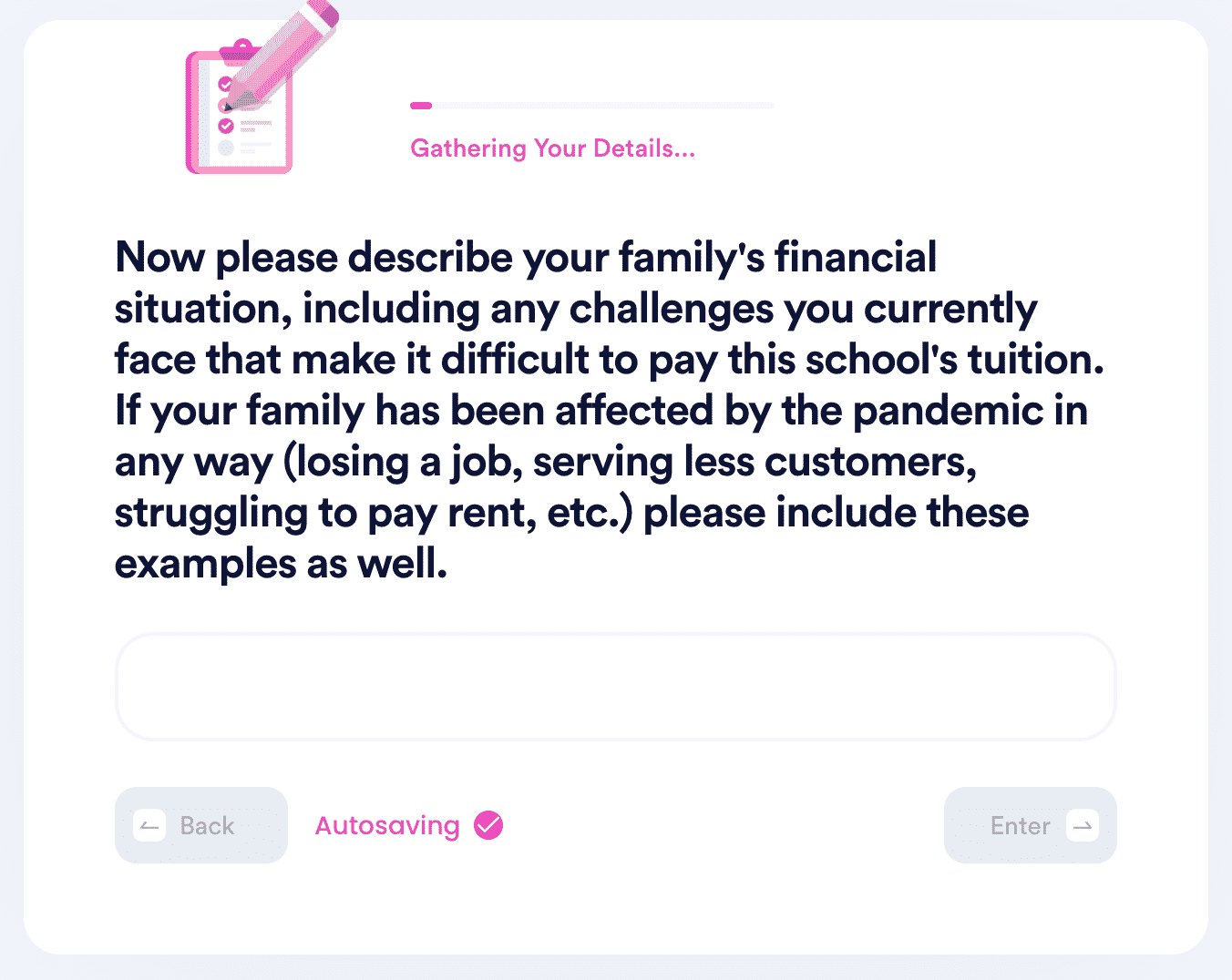 To do it, follow the prompts below:
and sign in to your account
Select Appeal for More Financial Aid
Disclose the name of the college you want to attend and list all the financial aid offers you got if you applied to multiple colleges
Let our chatbot walk you through a short questionnaire
Do you want to consider other universities besides Virginia Tech? No worries—we have an extensive collection of articles explaining financial aid at: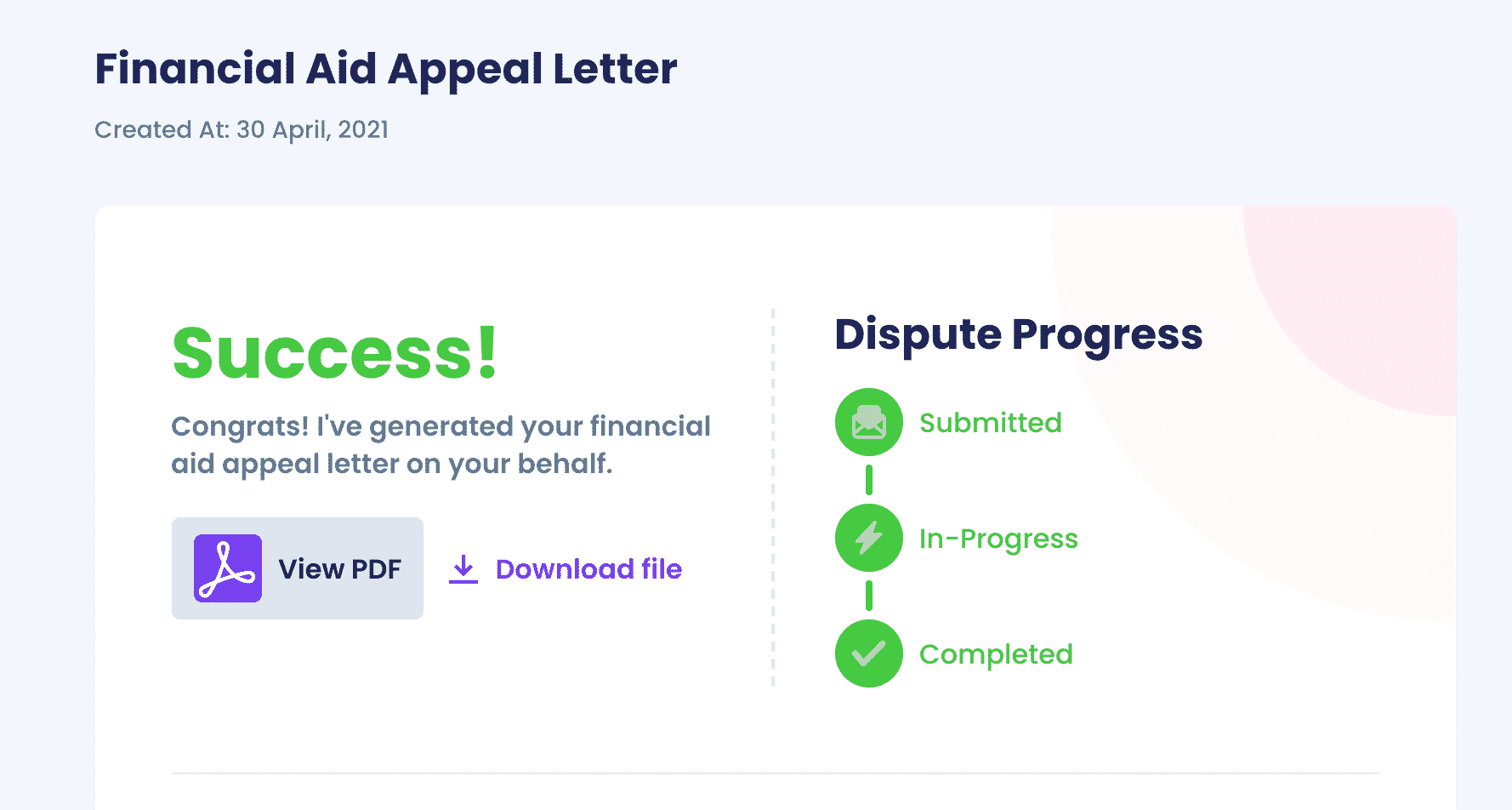 Is Bureaucracy Giving You a Headache? DoNotPay Can Help!
Bureaucracy is a big part of our lives that we can't escape. We understand the struggle over at DoNotPay—that's why we've created various features that can help you out! The world's first robot-lawyer app can assist you with:
DoNotPay's Arsenal of Features Doesn't Stop Growing
DoNotPay's number of handy features keeps growing by the day. Our platform can help you with various issues ranging from filing insurance claims to finding clinical trials. Want to save money on unused subscriptions? DoNotPay has got your back! We can help you cancel them and fight any subscription spam email that you get. Your AI assistant can also get you free raffle tickets or find any missing money in no time!
With DoNotPay, you'll have access to countless features that grow in numbers by the day! You'll be able to block robocalls, deal with tedious neighbors, and much more!