How To Obtain the Boston University Trustees Scholarship
Boston University (BU) is a prestigious research institution at which many students dream of enrolling. That dream becomes a harsh reality when they find out that the cost of attendance is $79,606 and that the fee doesn't cover additional expenses, such as mandatory health insurance and an application fee.
Luckily, the university, federal and state governments, and private companies have stepped in and are offering BU students financial aid packages in the shape of scholarships and grants. In this article, we'll talk about one such package—the Boston University Trustees Scholarship and explain what you need to secure it.
Types of Boston University Scholarships
BU scholarship programs offer awards to college students who show academic excellence or are financially unable to keep up with the demands. These programs are not only for undergraduate, graduate, and doctoral degree students already at the University—they can offer help to high school seniors who are about to enroll or plan on enrolling at BU.
BU programs differ based on their source, as follows:
University scholarships
Federal and state grants
Private scholarships
University scholarships come from BU itself as the institution is aware that most of its students can't get a degree relying on their own or their parents' funds. BU offers both merit- and need-based awards.
Incoming freshmen can look forward to five merit-based scholarships, one of which is the Boston University Trustees Scholarship. The other four are:
Presidential Scholarship
College Board National Recognition Scholarship
College of Engineering FIRST Robotics
Boston University Trustees Scholarship
This program is the most prestigious award for newcomers at BU. Boston University Trustee Scholarship winners receive the full cost of attendance awards and can renew the scholarship for three additional years if they maintain certain criteria.
The University doesn't declare minimum requirements for applying, but this is a competitive program that awards only 20 students each year. Most of those 20 students usually have perfect 4.0 GPAs and are in the top 5–10 percent of their classes.
To be able to apply for the Boston Trustee Scholarship, students need to be undergraduate freshmen who are:
U.S. citizens
Permanent residents
When it comes to the field of study, there is no exclusivity—all BU students who meet the above-mentioned requirements are eligible. Some award recipients so far have enrolled in majors such as foreign languages, filmmaking, acting, writing, biology, and computer science.
As having high GPA levels won't make much difference with such competition, students have to prove they're not only exceptional scholars but also remarkable individuals. To demonstrate this, students need to show leadership qualities with a resume on out-of-class projects, community service, and any other extracurricular activities.
Non-Financial Awards
The Boston University Trustees Scholarship offers its awardees a variety of extracurricular events related to intellectual, social, and cultural programs. Every year, Trustee scholars attend socializing events with teachers and esteemed speakers who are not part of BU.
Awardees also have the opportunity to live in a historic brownstone on BU's campus.
How To Apply for Boston University Trustee Scholarship
The application process for the program is relatively straightforward. To apply for the Boston Trustee Scholarship, you need to:
Submit the Common or Coalition application form with all the necessary documents for admission to a degree program of choice
Write an essay
You can choose between two essay prompts and write a 600-word piece on the topic. The topics include:
Describing a situation in which you felt marginalized or out of your comfort zone and explaining how it helped you move forward
Describing an activity or experience that makes you "come alive." You should explain how you can incorporate the experience or activity into your time at BU
The deadline for applying is December 1.
If you need more information about the process, you can contact the scholarship providers at 617-353-2320.
Other Scholarships
Obtaining the Boston University Trustees Scholarship is a difficult task as the award goes only to the selected few. Luckily, you can count on other options that will help you reduce or eliminate your contribution to tuition expenses.
Various scholarships have lower demands and less competition, but they usually aren't as rewarding. They also cater to specific groups of students, so you can find a niche you belong in and get an award more easily. Different groups include:
Check out this table to find some examples about financial aid programs dedicated to BU students:
Scholarship Name
Requirements
Award
College of Engineering FIRST Robotics scholarship

Student of engineering
U.S. citizen or permanent resident
Participant of the FIRST Robotics program

$25,000
Charles River Housing Grant
100% of demonstrated financial need
College Board National Recognition Programs

Recognized student by the board
Member of following minorities:

$25,000
Where To Find Other Scholarships
The Boston University Trustees Scholarship is offered by the university, and you can find information about it on BU's website. It's not so clear-cut with other programs. Many students spend weeks and months searching for awards they are eligible for—you don't have to do the same.
If you want to speed up the research process, here are a few examples of where you can find scholarships with less effort:
Your school's financial aid office
DoNotPay
With DoNotPay, you can skip the research process in its entirety and receive a list of all available scholarships within five minutes.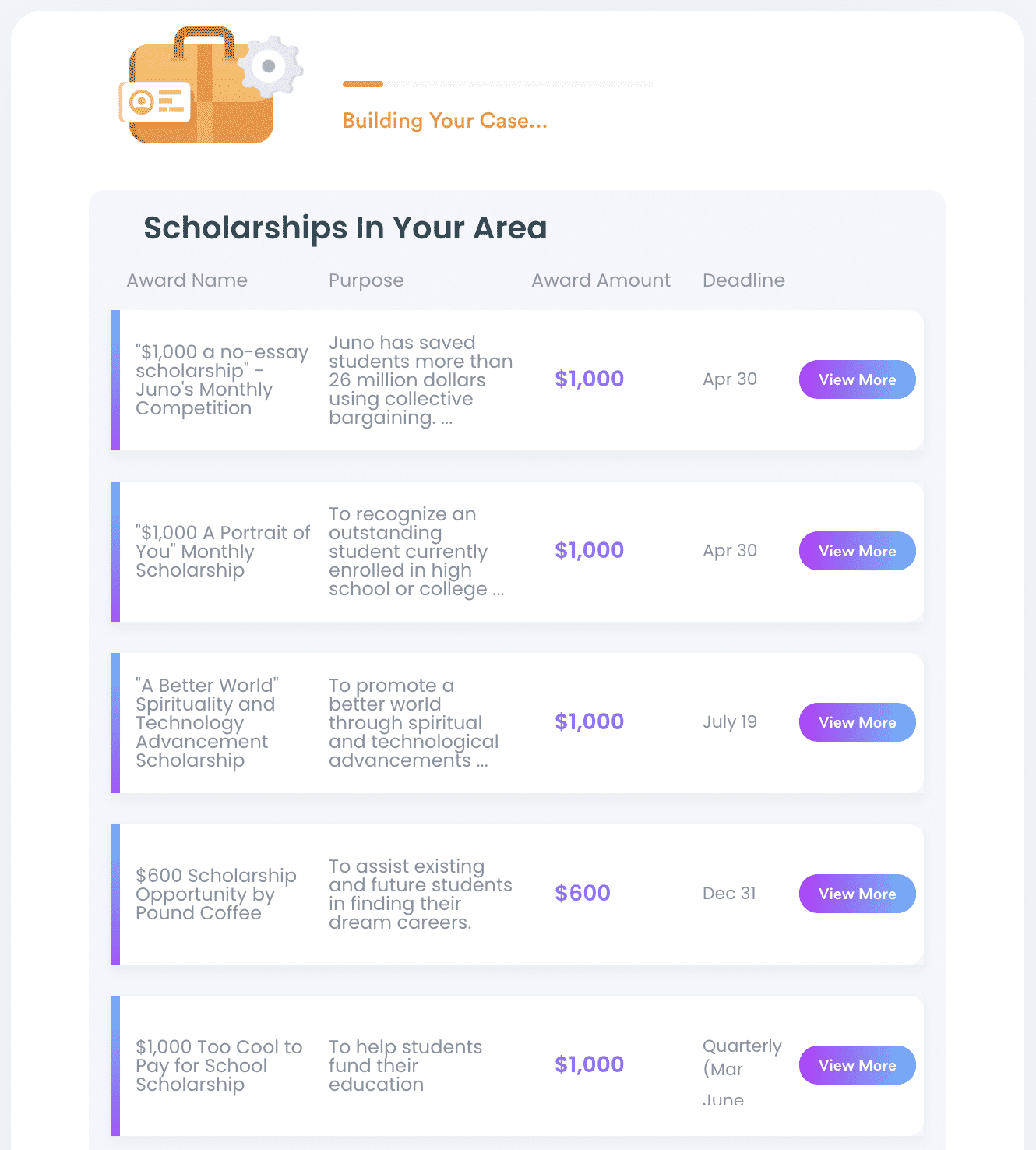 How To Get Free Money for Boston University Tuition With DoNotPay
With BU's cost of attendance being as high as it is, you can make your life easier with financial aid—but scholarship programs are not easy to come by. Information about them is scattered all over the Internet, and you'll need weeks to learn about which ones are available and how you can apply.
With DoNotPay, the entire process lasts five minutes—we will provide you with a personalized list of all scholarships you're eligible for, and we'll show you all the necessary details about requirements and award amounts.
You can perform your search in three steps:
Use your browser to sign up for DoNotPay
Navigate to the Apply for Scholarships product
Answer a few questions from our chatbot
If our app shows one or more no-essay scholarships, you can apply for them directly within the app. All you need to do is select programs that interest you, and we will apply on your behalf.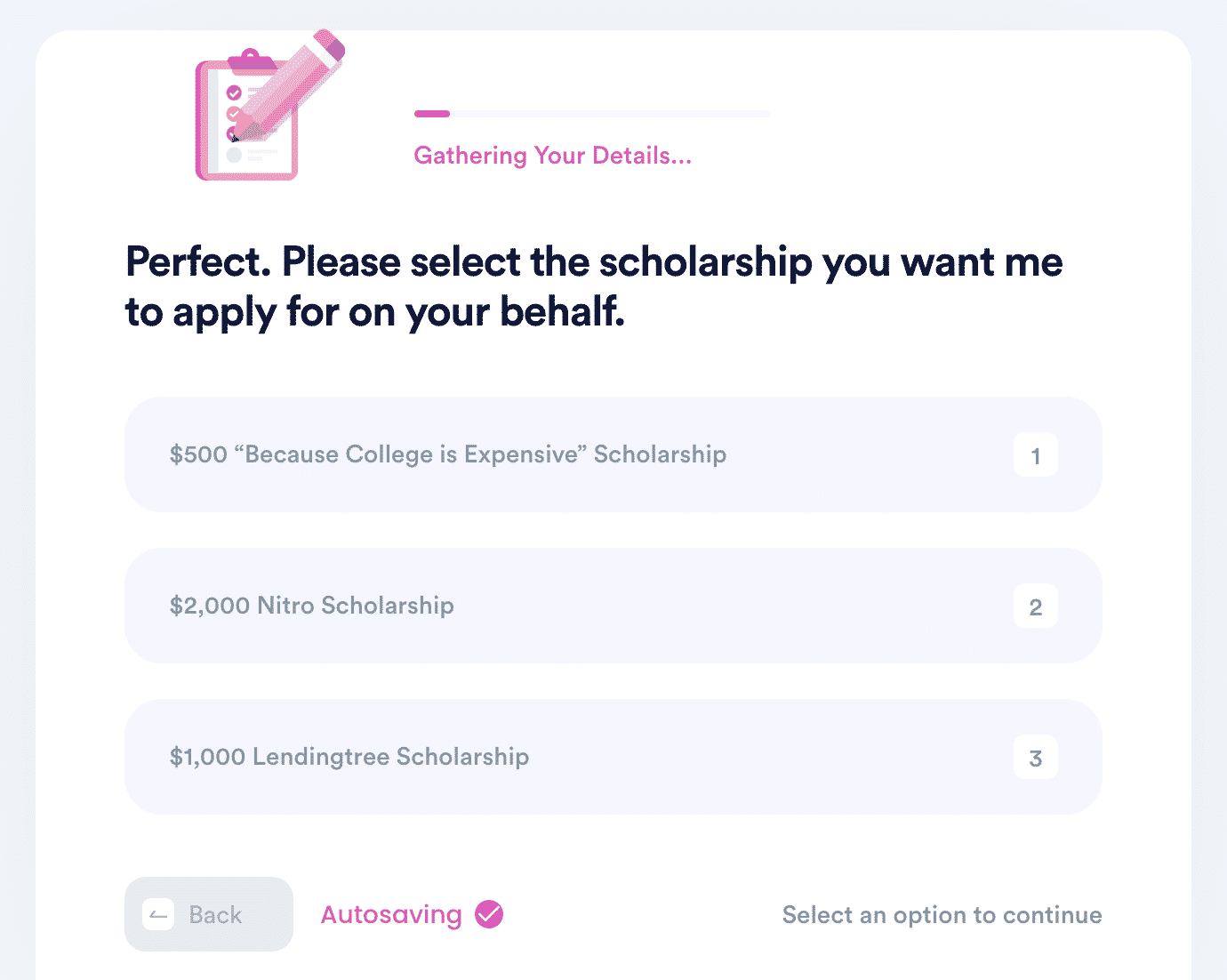 DoNotPay Turns Any Tiring Task Into a Piece of Cake
Are you tired of dealing with bureaucratic or legal matters on your own? You no longer have to—as soon as you subscribe to DoNotPay, we'll take any exhausting task off your plate.
Our app is capable of drawing up legal documents—including marital settlement agreements, child travel consent forms, powers of attorney, defamation demand letters, and affidavits to homeschool—getting them notarized remotely, filing complaints against companies, suing any individual or corporation in small claims court, sending FOIA requests, and so much more.
The World's First Robot Lawyer Offers So Much More
DoNotPay's capabilities don't end there—we can also: