How To Avoid Paying the BU Application Fee and Save Money
Boston University (BU) is a leading research university located in Boston, Massachusetts. With two primary campuses in the center of Boston and programs around the world, this private facility is home to more than 35,000 students from over 130 countries.
To gain a chance to study at BU, prospective students have to pay a college application fee. While college fees are standard policy for many universities, students and their families often struggle with too many college-related expenses, such as:
Private tutors

Test preparations

SAT and ACT exams

Potential college tuitions

College campus visitations costs
If the Boston University application fee is a burden to your finances, you should consider requesting a college fee waiver. Fortunately, DoNotPay has all the necessary information.
How Much Is the Boston University Application Fee?
If you are applying to any college or school at Boston University, be prepared to pay a non-refundable $80 application fee.
You can pay the fee when submitting your application via the Common App or Coalition App.
What Is a College Application Fee Waiver, and Why Should You Consider It?
The average student in the States applies to at least seven colleges at the same time—two safety, three research, and two target schools.
While applying to several colleges improves your chances of getting into the desired program, it can cause noticeable financial damage. Most universities offer to waive application fees to students experiencing financial hardship.
Fee waivers are forms that eligible students have to submit to avoid paying for the application fees.
The average college application fee is approximately $50. When you have several options, the costs can add up even to a thousand dollars. Take a look at the table below to see how much you'd have to pay for application fees at some of the most popular universities in the U.S.:
If you want to avoid paying these fees, you can apply to one of the universities that don't have application fees. In case your desired colleges charge for applications, check if you are automatically eligible or meet the requirements for requesting a fee waiver.
Am I Eligible for an Automatic College Application Fee Waiver?
If you already received an SAT or ACT registration fee waiver, most universities will grant you an automatic application fee waiver.
Since not all colleges have this policy, it is best to double-check with the admissions office or website of the college you are applying to.
What Are the Requirements for Obtaining the Boston University Fee Waiver?
Not everyone can get their application fees waived. To be eligible for a fee waiver, you have to show proof of financial hardship, and you can do that if you meet at least one of the following indicators of financial need:
How To Apply for the Boston University Fee Waiver on Your Own
Provided you meet the eligibility criteria, Boston University offers to waive your application fees if you submit your request via:
Requesting the Boston University Fee Waiver via Common App
To apply for a fee waiver using the Common App, you should do the following:
Open the Common App

website

Click on the

Create the Account

button

Go to

Profile

Check

Yes

if you are eligible for a fee waiver

Answer the questions about your financial situation and needs

Select if you are eligible or participate in some of the programs offering fee waivers

Use any digital signature maker to sign the form
Requesting the Boston University Fee Waiver via Coalition App
If you opt for the Coalition App to apply for a fee waiver, follow the next steps:
Open the

Coalition App

Go to

MyCoalition Account

Click the

Create Account

tab

Provide your email, username, and password

Open

Profile

, once you finish creating the account

Answer

Yes

to at least one of the fee waiver requirements

Select the desired university based on your eligibility
Get the Boston University Application Fee Waiver With DoNotPay
While getting application fee waivers can save you a lot of money, requesting them from every single university will cost you a decent amount of time and effort. With DoNotPay, you can have all your college application fees waived in no time.
When To Use the College Application Fee Waiver
Our practical feature can be of great service when you need to obtain:
New Student Application Fee Waivers

Transfer Student Fee Waivers

Enrollment Deposit Fee Waivers
How To Apply for a Fee Waiver With DoNotPay
To get your fee waived, access DoNotPay from any and follow these step-by-step instructions:
Open the

College Application Fee Waiver

feature

Choose the fee you would like to get waived

Select Boston University or any other college or university you are applying to

Answer several questions about your financial situation and needs

Inform us whether you want the signature from your school's counselor or another school official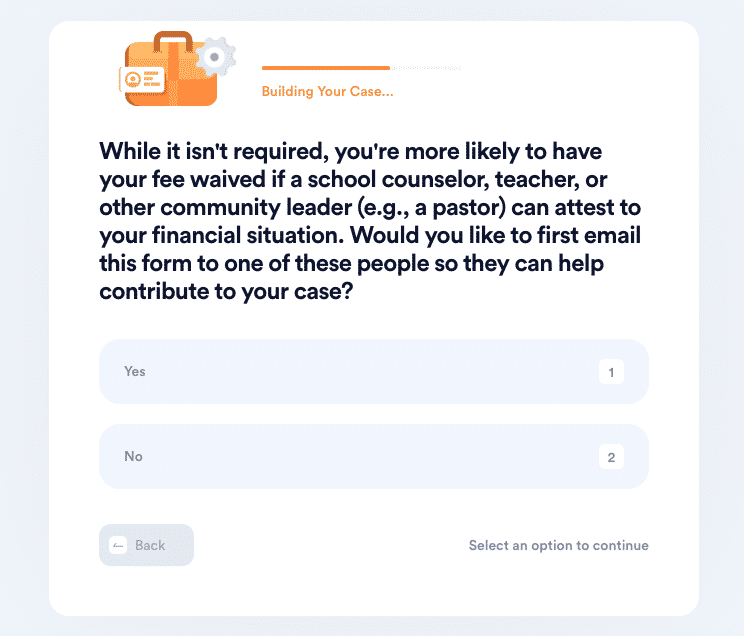 How Do We Manage Your Fee Waiver Requests?
You can rely on DoNotPay to manage your request and increase your chances of getting a fee waiver. We make that happen by:
Filling out the form on your behalf

Taking care of the whole mailing process

Sending your request to your high school counselor or other assigned official if you choose that option

Mailing the completed fee waiver form directly to the financial aid office of the desired university
Deal With Bureaucratic Issues Effortlessly With DoNotPay
Don't let the pricey application fees hold you back! We will help you obtain college fee waivers for most universities in the States—Emory University, Georgia State University, Fordham University, the University of Texas in Dallas, and many more!
Use our feature to avoid paying application fees for graduate schools and GRE tests. We can help you apply for Ivy League colleges by showing you how to obtain fee waivers for Harvard Law, Columbia Law, or Brown University.
Access DoNotPay from a preferred and get our assistance with administrative issues and other day-to-day tasks, including:
Contesting troublesome speeding tickets

Disputing traffic tickets