The Ultimate Guide to Finding Scholarships for a Biology Major
Studying biology can open endless career possibilities in a variety of exciting industries. Within this field of study, you can opt for different sub-areas—such as biochemistry, pharmacology, neurobiology, human genetics, zoology, environmental biology, and many others. If you plan to enroll in any of these programs, you should invest time in finding scholarships for a biology major.
You can aim for more prestigious and expensive universities when you finance your education with free money. There are numerous gift aid opportunities for biology students—you need to know how to discover them.
Use our comprehensive guide to learn about the best aid options, where to find them, and how to apply and secure them.
The Best Scholarships for Biology Majors
Get to know what your options are and how diversified biology major scholarships can be by looking into the following categories:
Government-sponsored scholarships
Scholarships from private funders
Biology STEM scholarships
Other scholarship opportunities
Government-Sponsored Biology Scholarships
The Federal government recognizes the importance of biology major students. To support their studies and encourage more youth to attain a degree in biological sciences, the government offers financial assistance through:
The National Oceanic and Atmospheric Administration (NOAA)–Dr. Nancy Foster Scholarship
The Department of Homeland Security Biological Threats Scholarships
NASA's Astrobiology Program Research Scholarships
Biology Scholarships From Private Funders
Many private clubs, foundations, organizations, and corporations provide college scholarship programs for biology students. You can start combing through them by reviewing the following:
The American Council of Independent Laboratories Scholarship
Bennet and Peggy Kayser Student Award
Donald Reish Student Research Grant Endowed Scholarship
Dr. Vern Eveland Memorial Award
Linda Lee Warren Graham Endowed Scholarship
Frank Schatzlein Endowed Student Award
Thermo Fisher Scientific Antibody Scholarship Program
National Institutes of Health Undergraduate Scholarship Program
Biology STEM Scholarships
To motivate students to pursue careers in the fields of science, technology, engineering, and mathematics (STEM), there are certain programs designed for these disciplines in particular. As a biology student, you can qualify for this type of aid.
Some of these programs target underrepresented groups in STEM—such as women and minorities. There are usually fewer applicants for aid with such specific criteria, so this can help you get additional funds.
Here are a few prominent biology STEM scholarships you can consider:
United Negro College Fund (UNCF) STEM Scholars Program for African American students
Supporting STEM Scholarship from HoshizakiIceMaker
Women in STEM Scholarship
Albuquerque Community Foundation (ACF) Barnes W. Rose, Jr. and Eva Rose Nichol Scholarship Program
Elms College STEM Scholarships
North Dakota Space Grant Consortium (NDSGC) Lillian Goettler Scholarship for female students
Other Scholarship Opportunities
What about scholarships that aren't biology-specific? You can apply for those as well. The more programs you send your requests to, you can collect more money to cover all your schooling expenses without taking student loans.
You can browse scholarships based on your unique qualifications and categories you belong to, for example:
How To Find Biology Major Scholarships
The abundance of financial aid opportunities makes it harder to discover the right ones. Get ready for meticulous research if you want to expand your choices and increase your chances of getting enough free money.
What can help you begin the search is doing the following:
Ask your high school guidance counselor
Read the information on the financial aid sections on the websites of prospective schools
Use federal resources
Contact your federal state agency
Get in touch with the past biology scholarship recipients
Search online
Want to skip sending emails, making calls, or having formal—and slightly awkward—meetings? You won't need to go door-to-door to find scholarships if you . Provide us with some basic education-related information, and we'll scope all prizes, scholarships, and grants you can get.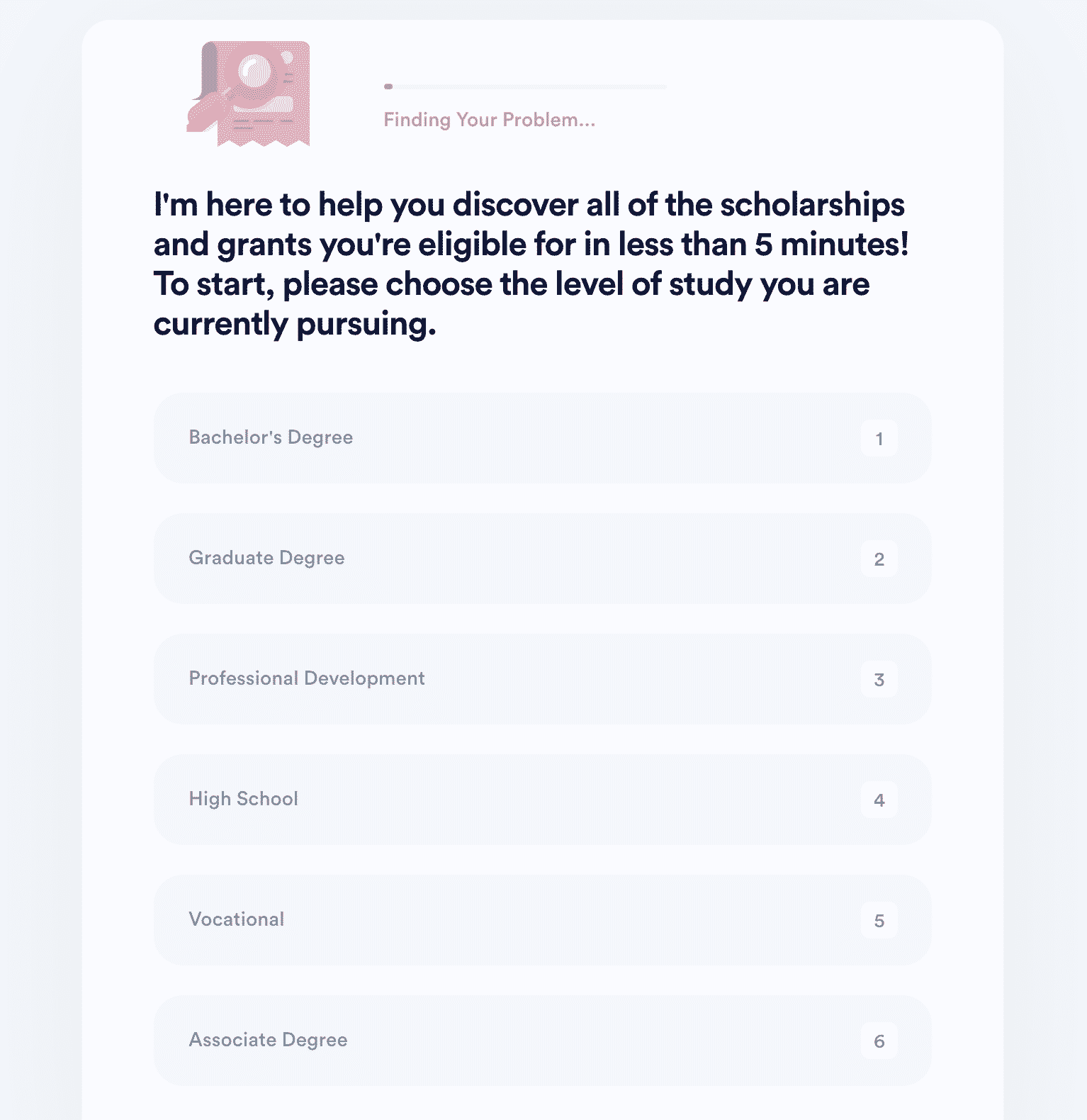 How To Apply for Biology Scholarships
The application procedure isn't the same for every program. You need to pay attention to what each funder requests. There are some general steps you'll need to take:
Submit the Free Application for Federal Student Aid (FAFSA) form
Complete the College Scholarship Service (CSS) Profile if necessary for your school
Fill out the form on the funder's website
Documents that you typically need to supply alongside the application form are:
Transcripts of your grades
High school diploma

Scholarship essay
Streamline Your Biology Scholarships Search and Application With DoNotPay
Automate your search process with DoNotPay. Save time and get a full list of scholarships for biology major students and any other program you qualify for.
Who can use our nifty app? Everyone, including high school seniors, undergraduates, graduates, transfer, and international students.
Test out the benefits of using DoNotPay by following these steps:
Find and select the Apply for Scholarships feature
Answer a couple of questions about your education level, grade, and special qualifications
Another helpful option is applying for no-essay scholarships automatically. Let us know which programs you're interested in, and we'll apply on your behalf.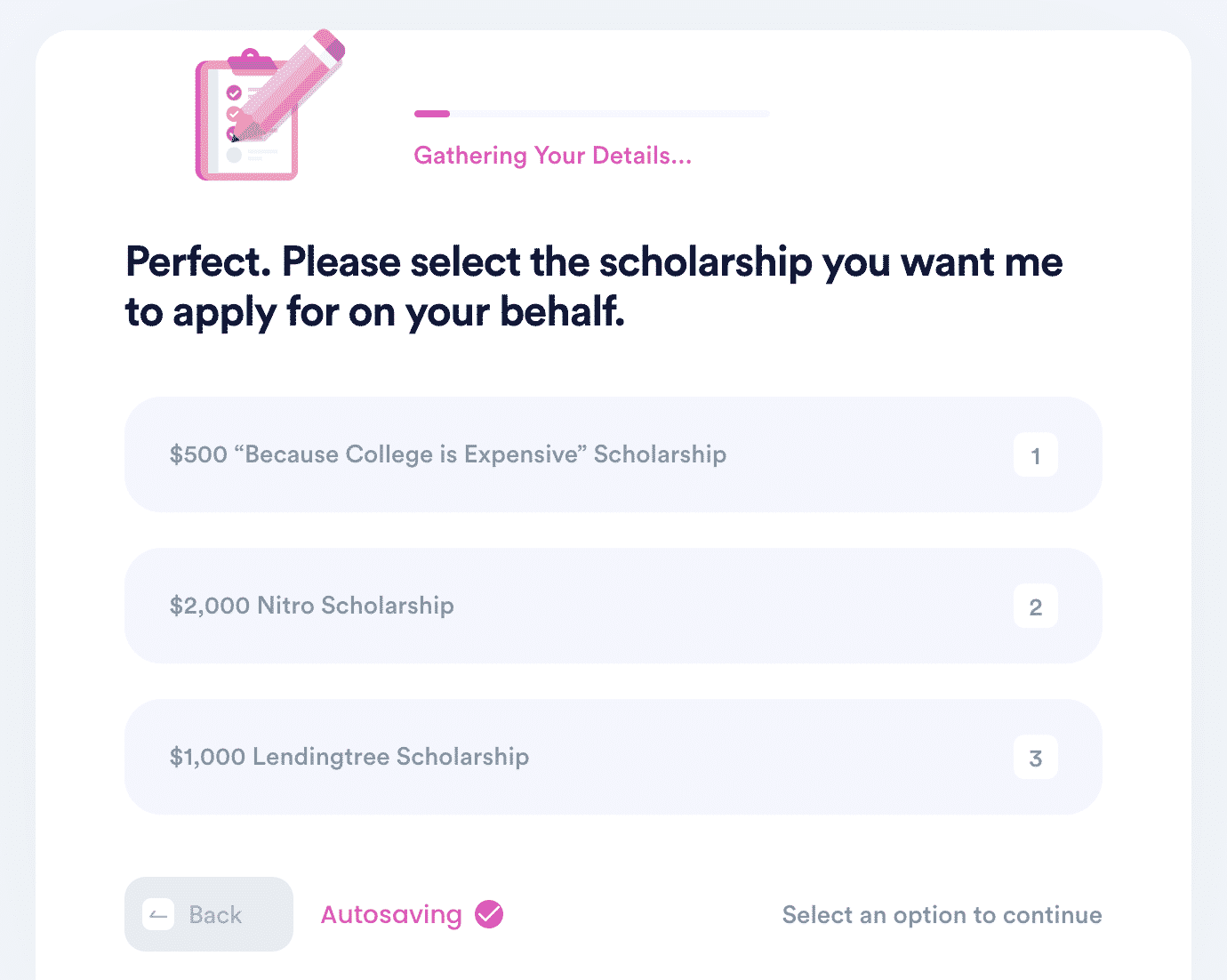 Anything Else You Need?
DoNotPay offers an exhaustive range of products and services for one low monthly fee. You can take full advantage of our offer once you resolve the issue at hand.
Our app can both save you money and help you earn it—sign up to appeal parking tickets, get assistance with utility bills, get compensation from airlines, request a refund, have your college application fees waived, find your missing money, reduce property taxes, enter any sweepstake, or send a financial aid appeal letter to any school.
We can also turn your gift card balance into cash, help you apply for scholarships, and assist you in getting compensation as a victim of crime.
There's Even More to Our Offer
The world's first robot lawyer can turn any nightmarish admin or legal procedure into a piece of cake. Look into our knowledge base to find out how to send a letter of warning to your bad neighbor, submit an anonymous complaint to your HR, fight workplace discrimination, get access to public records, deal with a stalker or harasser, put an end to robocalls, and file a complaint with any company.