In Search of Boston University Scholarships: Can DoNotPay Help?
Without some sort of financial aid, most students struggle to pay their tuition fees without ending up in debts that take decades to repay. The cost of studying at Boston University becomes clear from the off when you have to pay a non-refundable application fee.
The good news is—Boston University is well aware of this, as is the government and many other organizations. That's why there are hundreds of scholarships and grants on offer to help students out. In this guide, we'll explain how Boston University scholarships work and where you can find them.
We'll also show you how DoNotPay can help in your search and application for scholarships.
What Types of Boston University Scholarships Exist?
If you're still in high school but intend to enroll at Boston University, you don't have to wait to become a college freshman. You can find high school scholarships for seniors or juniors and start working on your college fund right away.
If you've missed out on those—don't worry. You can find plenty of scholarships for Boston University students once you're already there. Boston University students can choose from three types of scholarships:
Need-based scholarships
Merit-based scholarships
Private scholarships
Need-Based Boston University Scholarships
Need-based scholarships are reserved for students who don't have enough means to study at the University.
If you wish to apply for one, you'll need to prove your "expected family contribution" by submitting the Free Application for Federal Student Aid (FAFSA) form and completing your College Scholarship Service (CSS) profile. You can use a calculator to get an estimate on your eligibility before you apply.
Some of the need-based scholarships offered at BU include:
Charles Rivers Housing grant
BU Community Service award
Boston University Need-Based scholarship
Boston University Merit Scholarships
To apply for a Boston University merit scholarship, you have to be a student at the top of your class. Unlike with need-based scholarships, you don't have to submit your financial aid application.
Merit-based scholarships are not only for students who achieved high academic scores but also for those who excel in other areas, such as sports, music, arts, and similar.
If you're a freshman and want to get a merit-based scholarship, you need to:
Have SAT and ACT scores above 1500 and 33 (only if you're applying on academic merit)
Be in the top 5% of your high school class
Have an impressive list of extracurricular activities
Be a U.S. citizen, permanent resident, or an eligible non-citizen
International students can't apply for the freshman program, but they do have other options for merit-based scholarships offered at BU. Check out the following table to find out more:
Scholarship Name
Requirements
Deadline
Award
Trustee scholarship
December 1
Full tuition and fees
Presidential scholarship

Academic excellence
Extracurricular activities

December 1
$25,000
National Merit scholarship

National Merit Competition finalist
BU declared as the first-choice college

March 1
$25,000
College Board National Recognition Programs

Recognized student by the board
Member of following minorities:

January 1
$25,000
College of Engineering FIRST Robotics scholarship

Student of engineering
Participant of the FIRST Robotics program
U.S. citizen or permanent resident

February 1
$25,000
Private Scholarships
Private scholarships represent financing that doesn't come from the University. You can get financial aid from the government, non-government organizations, companies, or private funds. Bear in mind that each scholarship has a specific target student group, so make sure you qualify before you apply.
These groups can be:
Where To Find a Boston University Scholarship
The trickiest part about choosing the best scholarship for yourself is knowing where to search for it. You can find information on the Internet, but this can be time-consuming. Here are some options to consider:
The Boston University website—BU has a list of University-offered scholarships you can check out
Scholarship websites—If you already have a specific scholarship in mind, you can visit their website to find out more about it
DoNotPay—When you and complete a few steps, you will get a personalized list of all the available scholarships you're eligible for in under five minutes
How To Apply for Boston University Scholarships
Different scholarships have different application processes. Before you apply for a scholarship, you should go over their application process and see if you have all the necessary paperwork.
Regardless of the scholarship you apply for, there are some general steps you can take to prepare yourself for the process:
Check if you're eligible for the scholarship in question
Make sure the deadline has not passed
Prepare the necessary paperwork
Find and Apply for a Boston University Scholarship With DoNotPay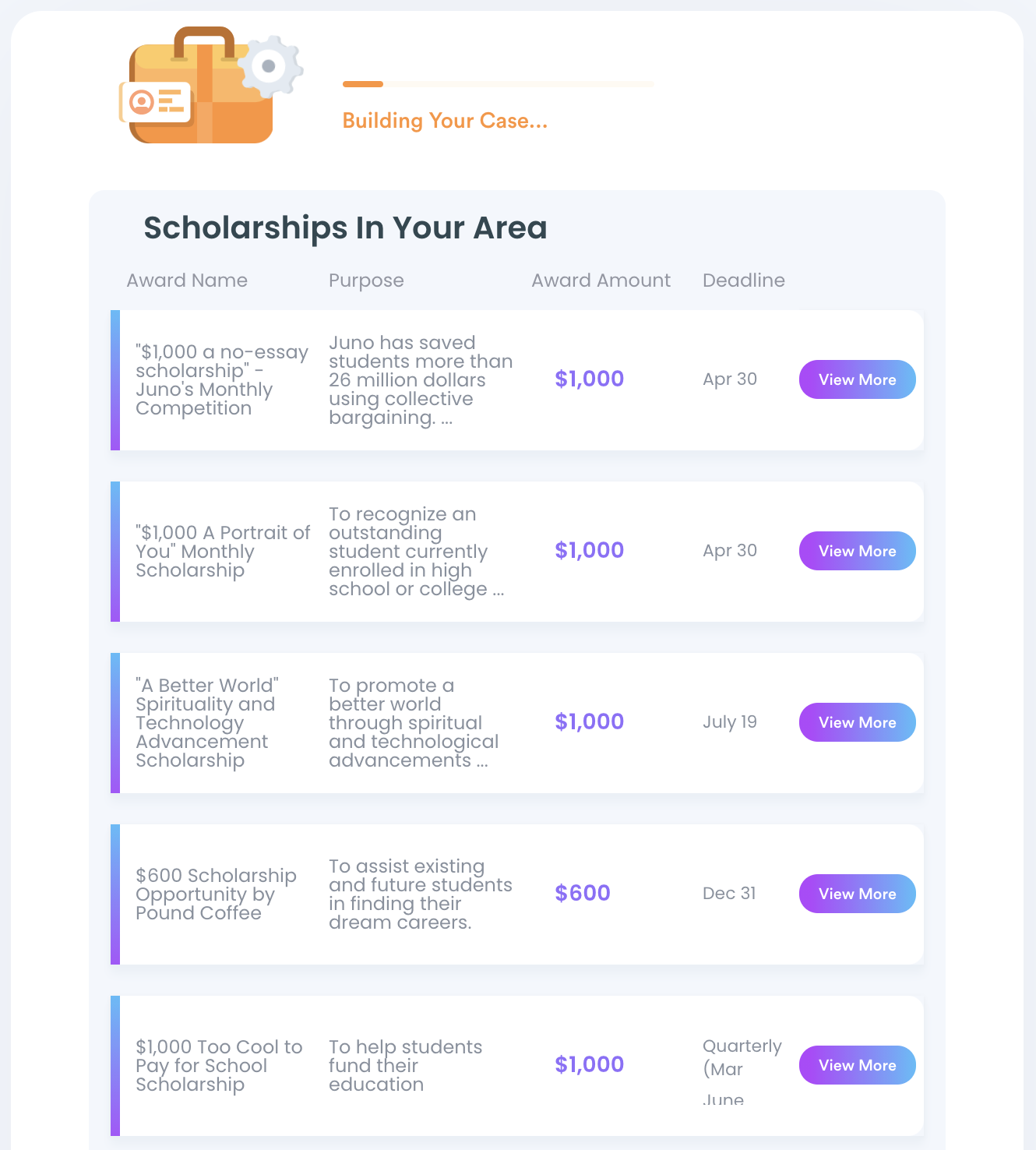 Each year, thousands of students miss out on financial aid because they fail to find programs they qualify for. The process of finding a scholarship that suits you can take months, and you may give up midway through.
That's where DoNotPay comes into play! With our app, you can personalize your search based on your academic achievement and level of study, and we'll give you a list of all available scholarships you're eligible for.
You only need to:
Go to the Apply for Scholarships feature
Answer a few questions
Choose a type of scholarship you're interested in
You will receive the list of scholarships, along with all the details about them in a few moments.
If there's a no-essay scholarship on that list, you can apply for it within the app.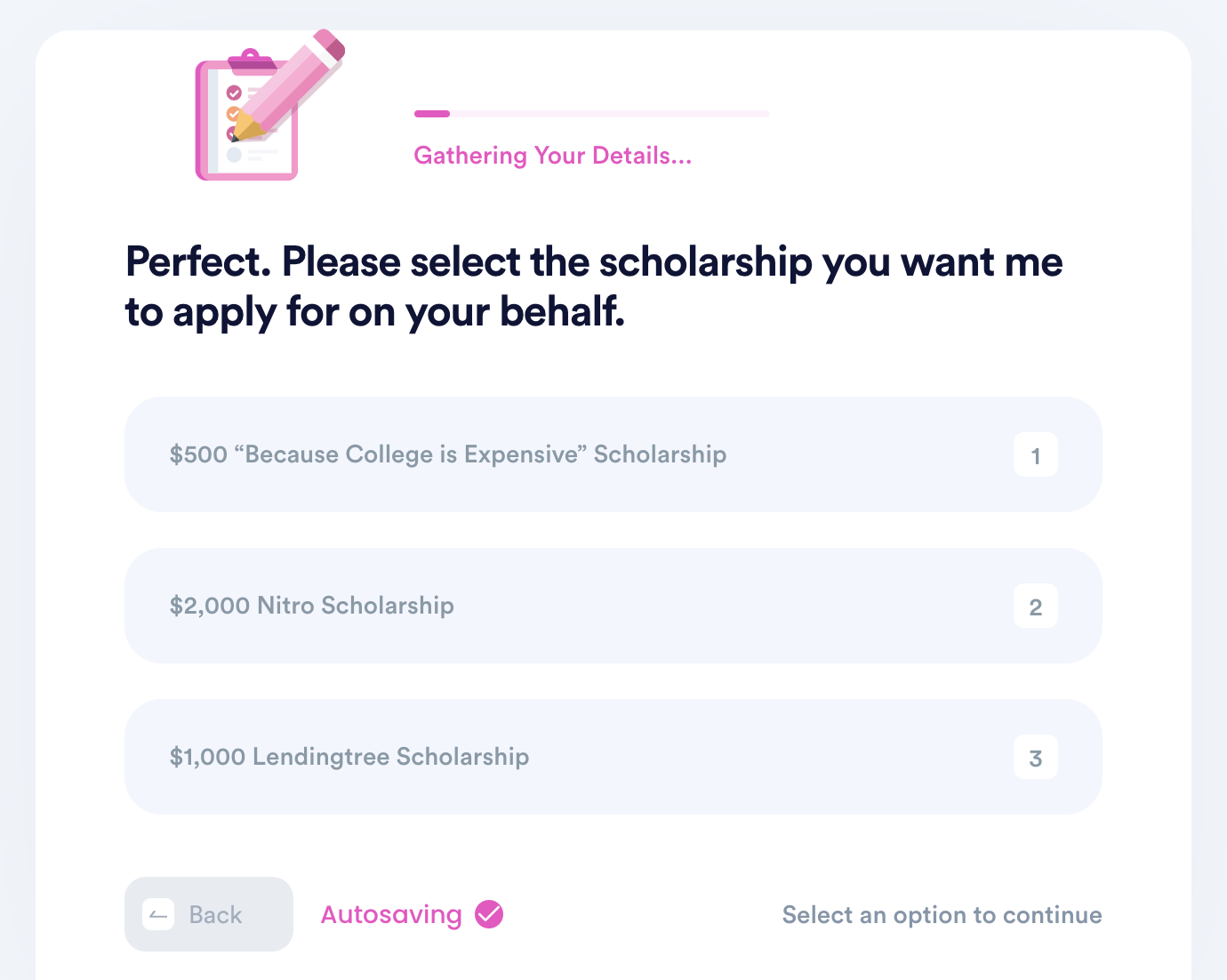 DoNotPay's Features Are Here To Make Your Life Easier
To simplify confusing bureaucratic procedures, we developed a number of features you may find super useful. Sign up for our app and let us assist you in:
DoNotPay Doesn't Stop There!
Assisting you with bureaucratic tasks is only a fragment of what DoNotPay can do—we have a lot more nifty features to offer! We can show you how to:
Struggling to draw up a financial aid appeal letter, an HR complaint, or a child travel consent form? DoNotPay is here to do it in minutes!