Rock, Flag, and Financial Aid—American University Scholarship
When they named it the Land of Opportunity, few thought the expression meant colleges and high schools would take the chance to impose sky-high tuition fees on their students.
One such college is the American University, Washington, D.C. (AU). The cost of attendance for an undergraduate student at the AU is $68,592, excluding application fees, while graduate students pay $1,812 per credit hour.
The majority of students can't afford such expenses. Luckily, around 80% of incoming AU students receive some form of financial aid—either loans or scholarships and grants.
In this guide, we'll show you how to obtain an American University scholarship by explaining:
What types of aid you can look forward to
How DoNotPay can get you the best awards in no time
What Types of American University Scholarships Exist?
As is the case with most scholarship programs, an American University scholarship is based on:
Merit
Need
The American University Merit Scholarships
The American University merit scholarships go to students who demonstrate an adequate level of academic excellence and showcase a portfolio or resume of extracurricular activities, such as community service, volunteer work, and similar.
Scholarship commissions judge academic excellence by taking a variety of factors into account, including:
The American University Need-Based Scholarships
Need-based awards are aimed at students who can't fulfill the requirements based on merit, so they have to look elsewhere to receive financial aid. Students have to prove they are in financial need by completing the Free Application for Federal Student Aid (FAFSA) form or the College Scholarship Service (CSS) Profile.
This way, they can get an estimate of their Expected Family Contribution (EFC), which shows their and their families' yearly income. If it is below a certain limit (determined by individual programs), they are eligible to apply.
How Are the AU Scholarships Categorized by Source?
The American University scholarships are divided into three major types based on the source that offers them:
Federal and state grants
AU grants and scholarships
Outside scholarships
Federal and State Grants
Federal and state grants offer financial aid to students in need. The prerequisite for getting a federal grant is a filled-out FAFSA form. Grants range between $602 and $5,730.
Some of these programs are nonrepayable grants, while others act as loans that need to be repaid with interest. The most popular federal awards include:
Teacher Education Assistance for College and Higher Education (TEACH) Grant
The Federal Supplemental Educational Opportunity Grant (FSEOG)
Federal Pell Grant
AU Grants and Scholarships
AU awards come directly from the University. They can be either need- or merit-based, depending on the program and award amount, which ranges from as low as $100 (Endowed Awards) to as high as a full-ride scholarship (Frederick Douglass Distinguished Scholars Program).
The American University splits them into four categories, as shown in the following table:
Scholarship Category
Scholarship Names
The American University grants
Freshman scholarships

AU Presidential Scholarship
American University District Scholars Award
United Methodist Scholarship for Freshmen
AU Deans' Scholarship
AU Leadership Scholarship
American University National Merit Scholarships
Athletic Scholarships
Tuition Exchange Scholarships
Frederick Douglass Distinguished Scholars Program (FDDSP)

Transfer student scholarships

Phi Theta Kappa Scholarship
Southern Management Scholarship
United Methodist Scholarship for Transfer Students

Graduate scholarships

United Methodist Graduate Scholarship
Hart A. Massey Fellowship
Endowed Awards
Outside Scholarships
Outside programs come from private funds, donors, and companies. There are many of them, but there's no centralized website that lists them all—aside from DoNotPay.
They can be for students with merit or need—sometimes both. Aside from being enrolled in the AU (or being a high school senior interested in the AU), there are other requirements you need to meet. These criteria vary from one award to another as they focus on different groups of students, including:
Where To Find an American University Scholarship
The AU website lists the available grants and scholarships but with incomplete information. If you're looking for outside scholarships, you'll probably have trouble finding them. Researching the American University scholarships is a time-consuming task, and it could take you weeks or months to find proper information.
If you don't know where to begin or how to continue with your search, you can find help here:
Your high school's financial aid office
The AU financial aid office
The AU website
Private financial aid consultant
DoNotPay
You can use DoNotPay to skip the research process and get all the information you need within five minutes. Our app will take your student profile into account and create a personalized list of all scholarships you're eligible for once you sign up.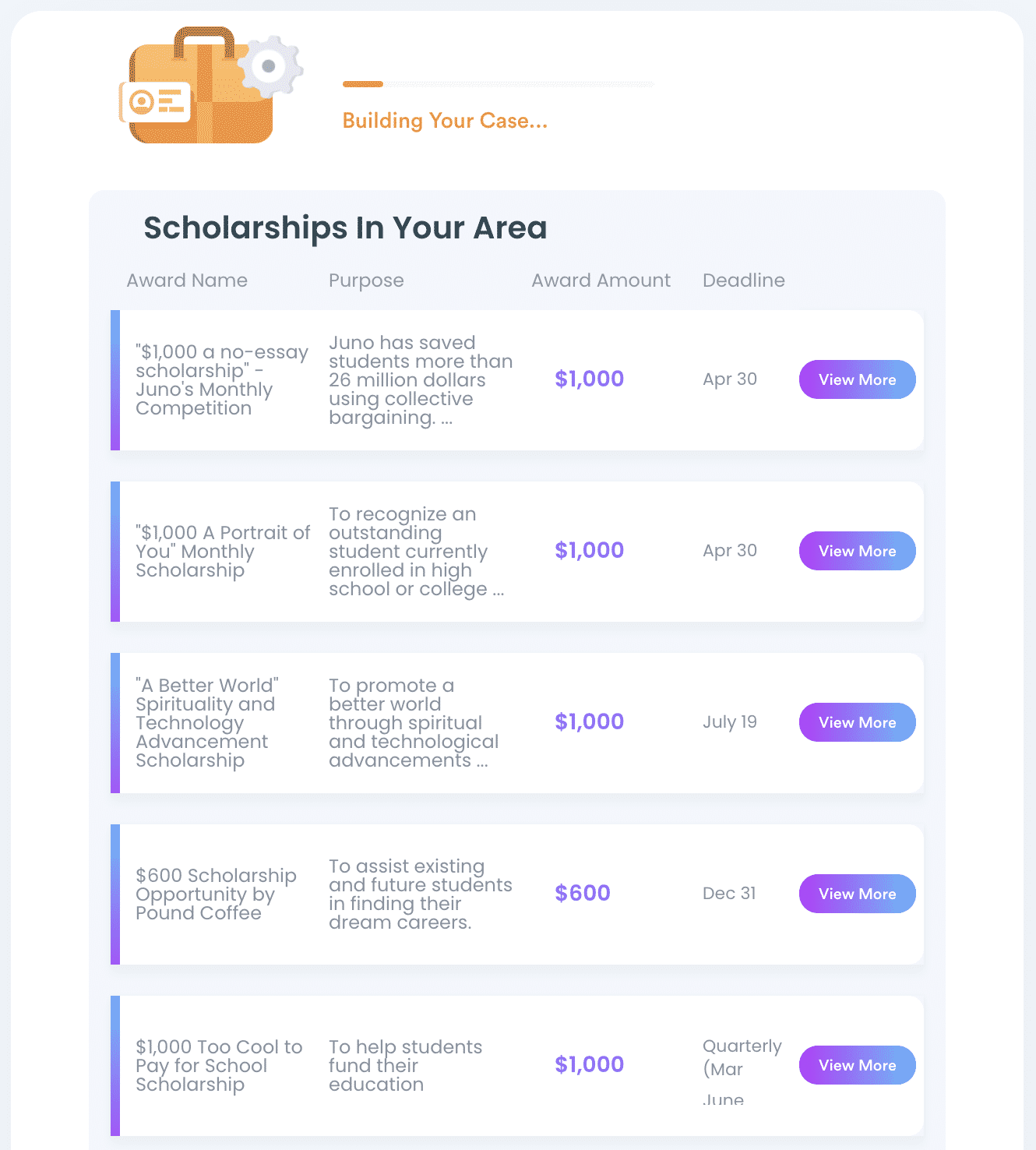 The Application Process for an American University Scholarship
The application process is different for each American University scholarship, so you will need to research the program that interests you before you start applying. To make sure you're prepared, check if:
Discover and Apply for the American University Scholarships Using DoNotPay
Don't want to waste weeks of your time on websites that don't provide any meaningful info? You don't have to—use DoNotPay! Our app will list all scholarships you're eligible for in minutes!
All you need to do is the following:
Sign up for DoNotPay via any browser
Search for the Apply for Scholarships feature
Answer a few questions
With the info you give us, our app will generate a custom list of all scholarships you can apply for. If there are no-essay scholarships on the list, you can sign up for them automatically within the app. Select the ones that interest you, and we will complete the application process on your behalf.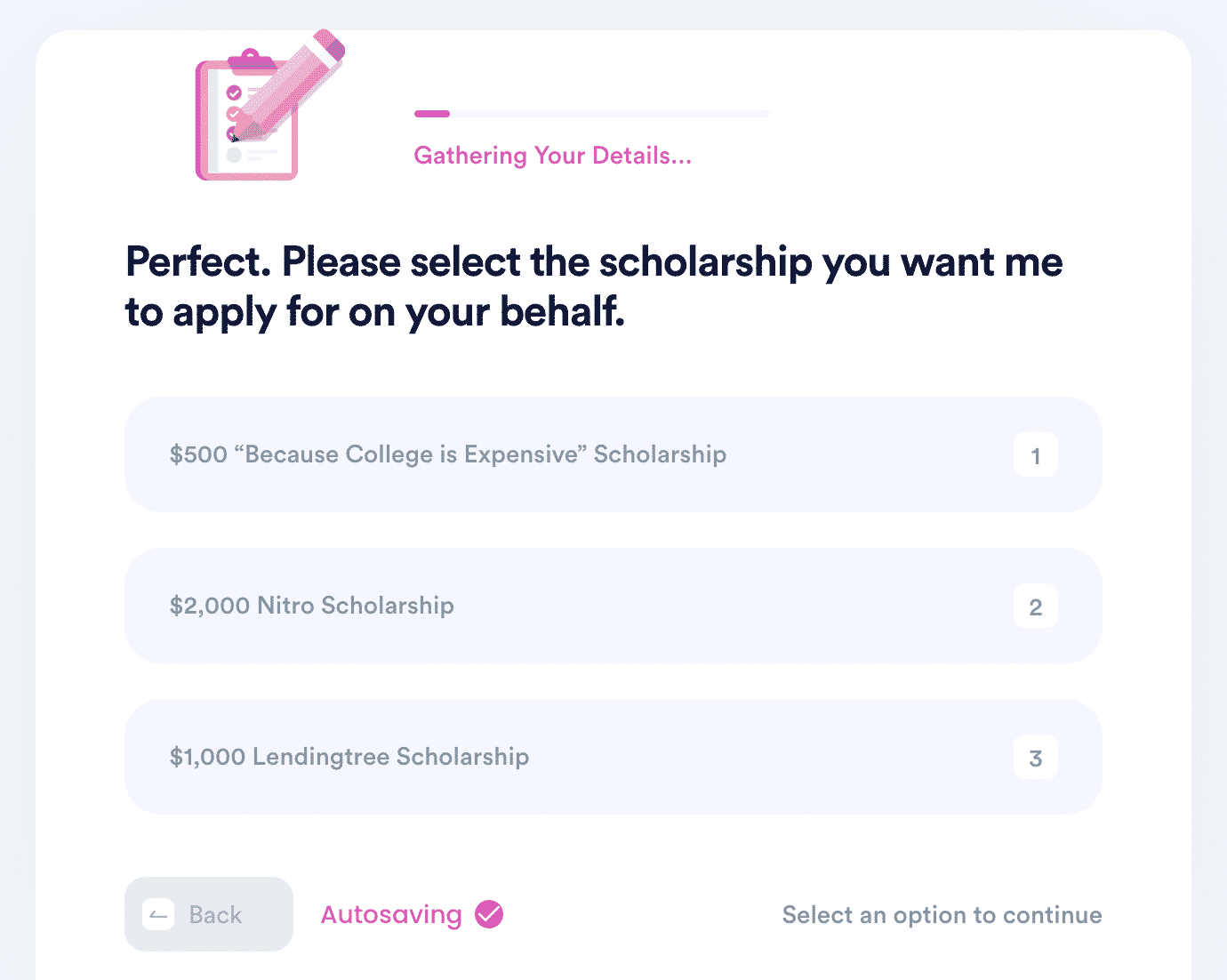 DoNotPay Turns Any Tiring Task Into a Piece of Cake
Are you tired of dealing with bureaucratic or legal matters on your own? You no longer have to—as soon as you subscribe to DoNotPay, we'll take any exhausting task off your plate.
Our app is capable of drawing up legal documents—including marital settlement agreements, child travel consent forms, powers of attorney, defamation demand letters, and affidavits to homeschool—getting them notarized remotely, filing complaints against companies, suing any individual or corporation in small claims court, sending FOIA requests, and so much more.
The World's First Robot Lawyer Offers So Much More
DoNotPay's capabilities don't end there—we can also: