Is Your AWS Account Suspended? DoNotPay Will Help You Get It Back
Amazon Web Services (AWS) can bring innovation and agility to any company—from startups to enterprises. If you've gotten used to using this handy service, a suspension can create turmoil within your business or organization.
Why is your AWS account suspended? Can you do anything to lift the suspension? Our simple guide will lead you through the whole process—from what can trigger your suspension to how you can appeal the suspended account decision.
Why Is Your Amazon AWS Account Suspended?
If you've received a notice that your AWS account was suspended, there can be three reasons behind it:
You closed your own account in the past
You are suspended due to outstanding charges
Your Amazon account was banned or suspended
Reopening a Closed Account
A closed account will be displayed as a suspended account within the organization. The suspended status will remain for 90 days. If you don't reopen it within that period, the account will be permanently removed and no longer visible in the organization.
The console won't show any details after the member account is terminated.
Failing To Pay Past Charges
You need to pay your AWS bills regularly if you want to keep your account open. The platform will tolerate payment tardiness to a certain time limit, but after that, your account will be suspended. The suspension is usually activated when you fail to pay the bills for three consecutive months.
You will be notified in time about the amount of your debt and the payment deadline to avoid the suspension.
Getting Suspended or Banned From Amazon
Amazon servicers are interconnected, and getting restricted from one account can affect the other. If your Amazon account was suspended, banned, or locked for some reason, you could lose access to your AWS account as well. In this case, you need to contact customer support, submit an appeal, and resolve the issue regarding your Amazon account first.
To contact customer support, you can:
Go to the Contact Us page and send your request via web form
Call the reps at 1-888-280-4331
Send an email to ecr-replies@amazon.com
After you get your Amazon account unbanned, you will be able to use the AWS one.
The Timeline of AWS Suspension
AWS will repeatedly send you reminders about your unpaid bills. If you overlook the warnings, your account can be permanently terminated.
Here is the typical timeline of the events that lead to suspension and an indefinite ban:
Month one—Your generated invoice shows an unpaid amount
Month two—You will receive reminders each week via email to cover the bill
The end of month two—Your generated invoice will show unpaid expenses for months one and two
Month three—the process continues as follows:

You will receive a fifth reminder followed by a call from an AWS rep during the first week
You will get a final reminder before the suspension during the second week
Your account will be suspended in the third week

60 days after the suspension—Your resources on the account might be lost
150 days after the suspension—Your account will be closed
During the suspension, you won't be able to access any data stored in the AWS system or Amazon EC2 or make API calls to the AWS services. The data will still be stored, and the usage charges will accumulate until you lift the suspension.
If you don't take any actions to reinstate the account within the set suspension period, AWS will terminate the account and delete all the data. Note that you won't be able to open an account with the same credentials ever again.
What Does It Take To Lift the Suspension From My AWS Account?
The way you'll approach lifting the suspension depends on why you got suspended in the first place.
How To Unsuspend a Closed Account
You can reactivate your suspended account within 90 days after you close it by doing the following:
Log in to your account
Make sure that your default payment method is valid
Click on the Support Case option
Choose Account and Billing Support
Fill out the form
If you want to talk to an AWS rep, you should opt for the phone method. The agent will call you and help you reactivate the account.
How To Lift a Suspension Triggered by Outstanding Charges
To lift the suspension that occurred due to outstanding charges, the first step is to verify the current payment details in the following way:
Go to the Payment Methods section
Check if the information about your payment method is correct
Add a new payment method and set it as the default one if the current one is no longer active
The next step is to pay the outstanding charges by doing this:
Go to the Billing and Cost Management console
Choose Payments
Revise your outstanding invoices on the Payments Due tab
Select the invoices you want to pay
Click on the Complete Payment button
Confirm that the invoice summary is what you want to pay
Select Verify and Pay
If you use your credit card, the service will reactivate automatically within minutes. If you made the payment in full with a different payment method, you'll need to get in touch with AWS support to reactivate the account.
In case there is any holdup with your suspension or you want to make sure that your case is prioritized, .
How Can DoNotPay Solve Your Suspension?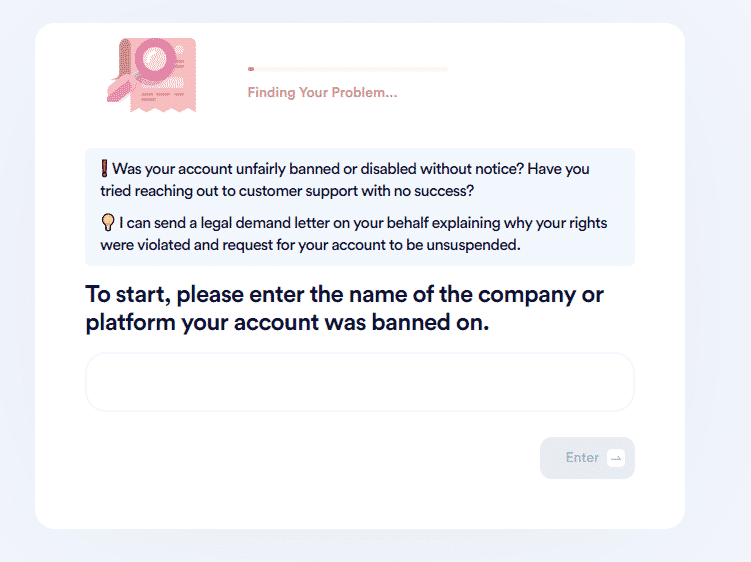 A professionally written appeal can help you solve your suspension as soon as possible—and that is what DoNotPay can help you with. We will generate a customized demand letter for solving your issue and send it to Amazon. The service will have a deadline to provide you with an answer about your suspended account.
To complete the process, you need to take four simple steps:
Click on the Unban My Account feature
Fill in the questionnaire regarding your suspension
Select Sign and Submit
Is Any Other Ban or Suspension Ruining Your Day? Use DoNotPay!
Use our Unban My Account and Unban Gaming Account products to send demand letters addressing your suspended, locked, or banned accounts. With the help of our app, your outreach to any company will be taken seriously.
Here are our helpful guides to recovering accounts from various popular platforms and services:
Have Your Documents Created and Notarized in Less Than Five Minutes!
Why spend hundreds or even thousands of dollars on lawyers when the ideal solution is only a few clicks away?
DoNotPay saves the day by enabling you to generate numerous legal documents. Creating proper child travel consent forms, divorce settlement agreements, and powers of attorney has never been easier!
Our perks don't stop here—you can also have your documents notarized electronically from any location. Once you obtain a notary stamp and signature, your paperwork can be faxed online without outdated machines.
Explore Everything DoNotPay Has To Offer
Day-to-day tasks you must deal with don't have to be a burden or rocket science. Signing up for DoNotPay is your ticket to performing them the easy way! We offer a wide selection of products that don't cost an arm and a leg but do excellent work when it comes to solving your administrative issues!
Our services will help you: