Can You Return an Amazon Gift Card for Cash? DoNotPay Provides the Answers
Receiving an Amazon gift card can be a great birthday present if you're into online shopping. If you are not a fan of the platform, you may be wondering whether you can return your Amazon gift card for cash.
DoNotPay will answer all of your questions! We will break down Amazon gift cards for you and show you the most efficient ways of exchanging them for money.
Key Info You Should Know About Amazon Gift Cards
Amazon gift cards come loaded with a set amount of money—from $0.50 to $2.000—and can be used for purchasing all sorts of items on Amazon's website.
You can also use your Amazon gift card to buy gift cards from other companies, including:
The company offers customized gift cards for every occasion, such as anniversaries, birthdays, or weddings. Amazon gift cards never expire.
Is Returning an Amazon Gift Card for Cash Possible?
Amazon doesn't give out refunds for either used or unused gift cards unless required by state laws. You cannot return your card to the company once you don't want it anymore.
Amazon also isn't responsible for cases of lost, damaged, or stolen gift cards, so don't expect to get a replacement.
The situation isn't as dire as it seems. Depending on your remaining balance, you can still get some cash back from your gift card!
Check Your Remaining Amazon Gift Card Balance
The first step before getting cash back for your Amazon gift card is to check the remaining balance on it. Here's what you need to do:
Check Your Amazon Gift Card Balance Via
Instructions

Amazon website

Sign in to your Amazon account

Go to the

Your Account

section

Click on

Gift Cards

Check your remaining balance at the top of the page

DoNotPay

Select the

Check Gift Card Balance

feature

Provide us with front and back photos of your gift card and confirm your email address
How To Exchange Your Amazon Gift Card for Money
Once you know how much money you are working with, you can start planning to get cash for it. Here are some ways you can do it:
Reselling items from Amazon
Selling the gift card on an online marketplace
Visiting a gift card exchange kiosk
Finding a reseller website
Reselling Items From Amazon
Find items on Amazon that you can buy with your remaining balance and sell them on eBay or Craigslist. If you don't have enough money for a purchase, wait for a sweet deal and use your card then.
This method will require some patience from your end as it might take a while to catch a good offer.
Selling the Gift Card on an Online Marketplace
If you don't want to bother reselling Amazon items, you can list your card on an online marketplace, such as eBay, Craigslist, or Facebook. You'll have to wait for a potential buyer and pay for the shipping fees.
Visiting a Gift Card Exchange Kiosk
In case you have a physical Amazon gift card, you can visit a gift card exchange kiosk, insert the card into the machine, and claim your money. Keep in mind that you will get only a percentage of the balance you have on your used gift card.
Finding a Reseller Website
Various websites offer money for gift cards—find one and sell your gift card for cash instantly. This method will land you only a small sum of your remaining balance.
Amazon Gift Card—Redeem Yours for Cash With DoNotPay
Puerto Rico and 11 States in the U.S. have cash back legislation that allows you to get money for your Amazon gift card. There are limits on the amount you can claim, and they're different for every state.
To see how much money can you get, check out the table below:
| | |
| --- | --- |
| State | Limited Amount |
| Vermont | $1 |
| Rhode Island | $1 |
| Connecticut | $3 |
| Oregon | $5 |
| Colorado | $5 |
| Missouri | $5 |
| Maine | $5 |
| Massachusetts | $5 |
| Washington | $5 |
| New Jersey | $5 |
| Puerto Rico | $5 |
| California | $10 |
If you live in one of the areas listed above, you will need to contact Amazon customer service reps.
Does explaining your state legislation to a customer service rep sound like an annoying activity? Save your breath—this is where DoNotPay comes in! We will send a cash back request to Amazon in your stead, regardless of your place of residence. Sign up for DoNotPay, use our Gift Card Cash Back product, and receive the money in two weeks.
How To Use DoNotPay To Redeem Your Amazon Gift Card for Money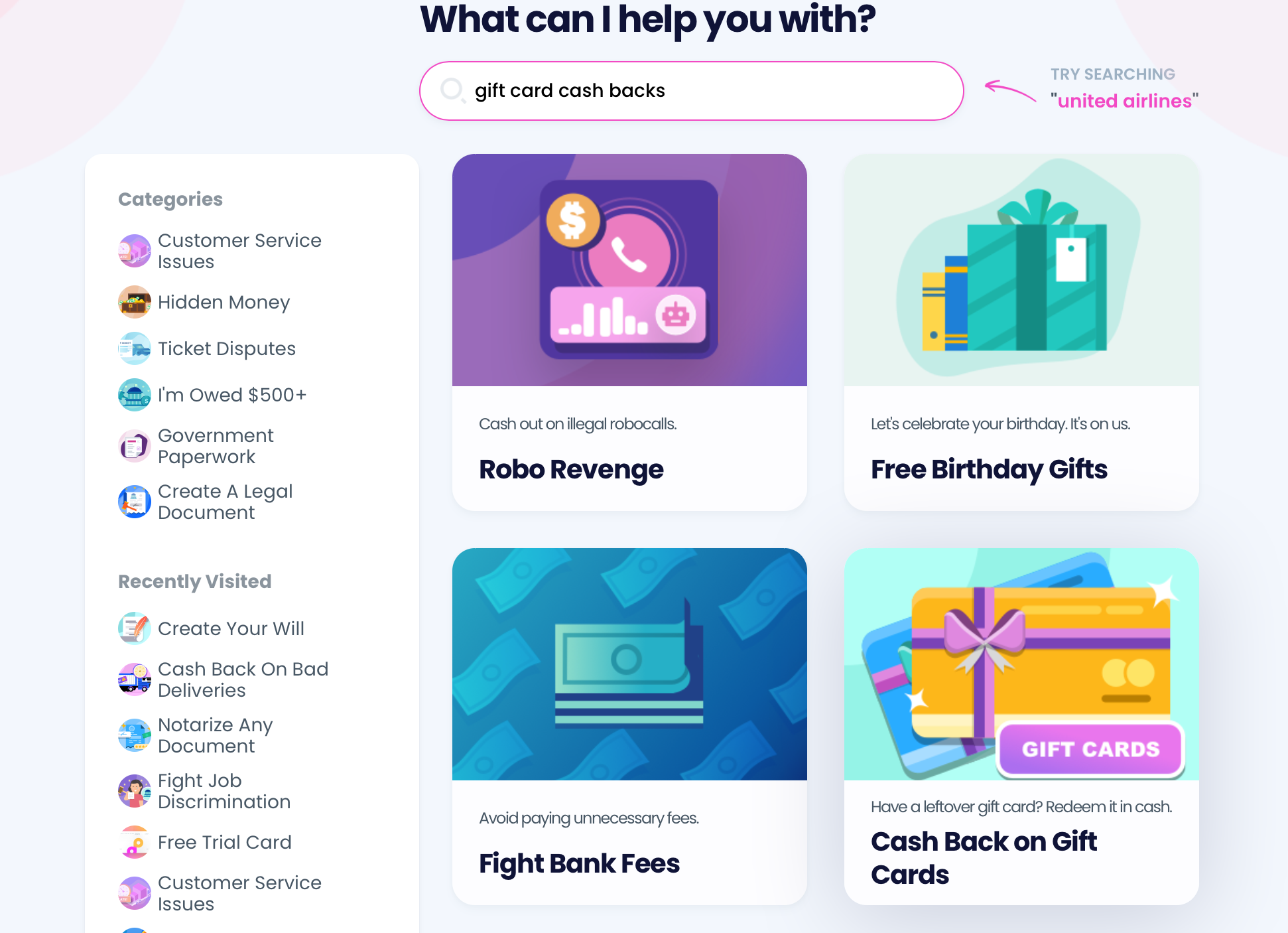 Want to redeem your Amazon gift card for cash in a few clicks with DoNotPay? Here's what you need to do:
Select the Gift Card Cash Back product
Provide the necessary gift card details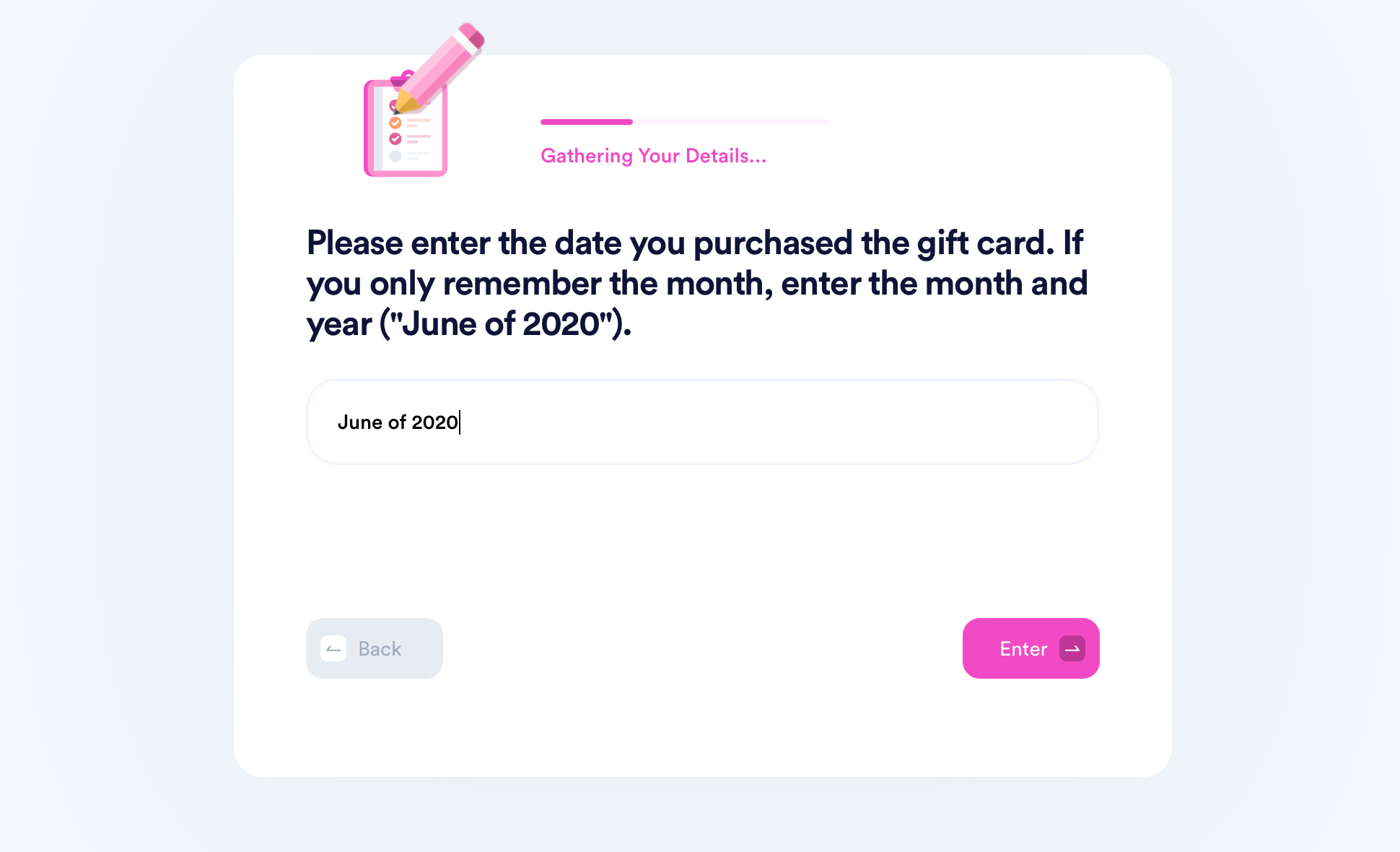 Once we process your request, we'll forward it automatically to an Amazon office in a cash back state.
DoNotPay has prepared various helpful articles related to gift cards. With us, you can:
Manage Your Tasks Easily With Our Help
DoNotPay is the perfect solution whenever you need to resolve legal or bureaucratic matters. Here's a fraction of what our AI-driven app can help you out with:
No Matter What You Need, DoNotPay Is by Your Side
Do you have a bunch of subscriptions that you waste money on but don't even use? We can help you cancel them effortlessly! After that, our app can initiate a refund request and make sure you get your money back.
Facing financial difficulties? DoNotPay can help you lower your bills, get free raffle tickets, get gift card cash back, find your missing assets, and so much more!
For a low monthly fee, you'll get access to our impressive range of products, so sign up now!