Amazon Payments Account Suspended—What You Need To Know
Amazon Payments is a great addition to the Amazon shopping experience. Enabling this option benefits both shoppers and sellers—customers get to purchase products faster and more easily, while sellers can lower the number of abandoned carts by allowing buyers to check out in a few clicks. If you decided to give this functionality a try but received an Amazon Payment account suspended notice, don't panic. Users encounter this issue for several reasons, and DoNotPay will reveal them.
Use this detailed guide to learn why Amazon suspended your Payments account and what you need to do to get it back.
Why Your Amazon Payments Account Has Been Suspended
The first step to solving the suspended account nuisance is to identify the problem. Amazon can prevent you from using the Payments feature because of:
Wrong data
Restricted location
Non-compliance with the Amazon Payments policy
Technical issues
Wrong Data
If you received the notice that Amazon Payments couldn't confirm your account information—which is required if you want to use the service—you've inputted the wrong data and your account was suspended. You must keep all your info up to date, or you will give Amazon solid grounds for suspension.
Amazon follows up on incorrect personal and payment information with a suspension to prevent fraud. The platform can register the data mismatch as fraudulent activity and block your account to keep it secure until you confirm your identity.
The data you might have entered wrong can be:
Your name—if it doesn't match the exact name in the IRS system, Amazon can block you
Address
Credit card number
Bank information
Restricted Location
Using Amazon Payments isn't allowed in all countries. You must be located in a country where this feature is enabled, or your account can get suspended. If you were located in a place that isn't on the list and tried accessing Amazon Payments while there, that may be the cause of your suspension.
These are the countries that have the Amazon Payments feature available:
United States
United Kingdom
Austria
Belgium
Cyprus
Denmark
France
Germany
Hungary
Ireland
Italy
Japan
Luxembourg
The Netherlands
Portugal
Spain
Sweden
Switzerland
Non-Compliance With the Amazon Payments Policy
To use Amazon Payments, you need to keep your activity within the guidelines of the Amazon Payment Policy. Disobeying it will result in a suspended account.
The e-commerce platform might even take a step further and lock, suspend, or permanently ban your Amazon account for breaking these rules. Your Amazon buyer account can also suffer a suspension if you don't comply with the applicable regulations.
Some actions that fall under policy disrespect are:
Rejecting to make Amazon Payments your primary mode of payment
Shipping orders late
Describing products untruthfully
Failing to provide accessible return policies
Selling prohibited items and activities
Behaving in an inappropriate or aggressive manner
Technical Issues
If you feel like you've done nothing wrong but your account still got suspended, it might be due to a technical glitch. There have been cases where Amazon Payments accounts got suspended due to technical issues on the service's end.
In this case, getting your account unsuspended should be easy—all you'll have to do is to connect with the support team.
What To Do if You Get Your Amazon Payments Account Suspended
Amazon prioritizes great user experience, and it will review your dissatisfaction with the suspended account if you decide to appeal the suspension. You must get in touch with customer service, explain what happened, and clarify why you deserve to get your account back.
Go to the Contact Us page and send your request. If you want more options to connect with the reps, you can review our Amazon customer service guide.
Depending on the reason for your suspension, Amazon can ask you to supply certain documents. Prepare the following information as the reps might ask you for it:
Your website address
Your business's policy
Description of how you plan to use Amazon Payments—if you are just registering
Tax Transcript from the previous year
Social Security card
Bank statement
Photo identification
Do you want to avoid the back-and-forth discussions with customer service? , and we will write the demand appeal letter on your behalf!
How Can DoNotPay Help You Lift Your Amazon Payments Suspension?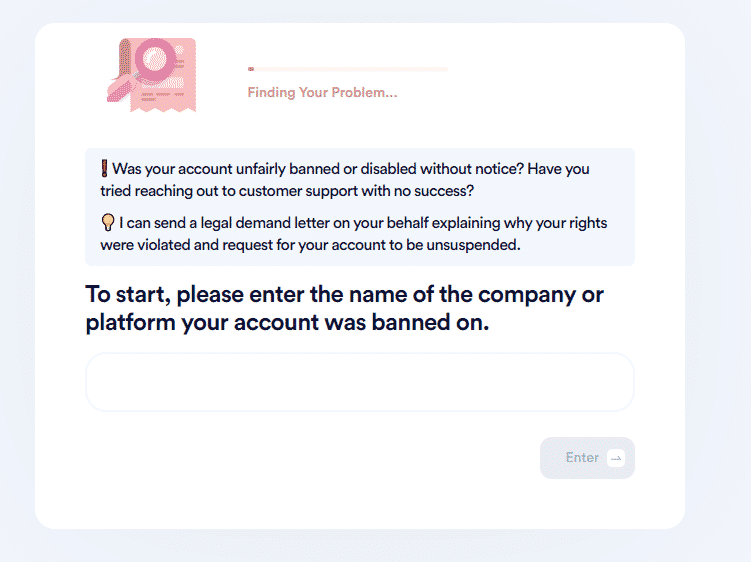 DoNotPay generates valid demand letters with an added legal weight that can prioritize your suspended account appeal. We will do all the work—create and send the request—and you just need to take four easy steps:
Select the Unban My Account product
Provide us with some basic information, such as:
The name of the platform that suspended you
The date of the suspension
The reason for the suspension
Click on the Sign and Submit button
If Your Accounts Get Suspended, Locked, or Banned, Use DoNotPay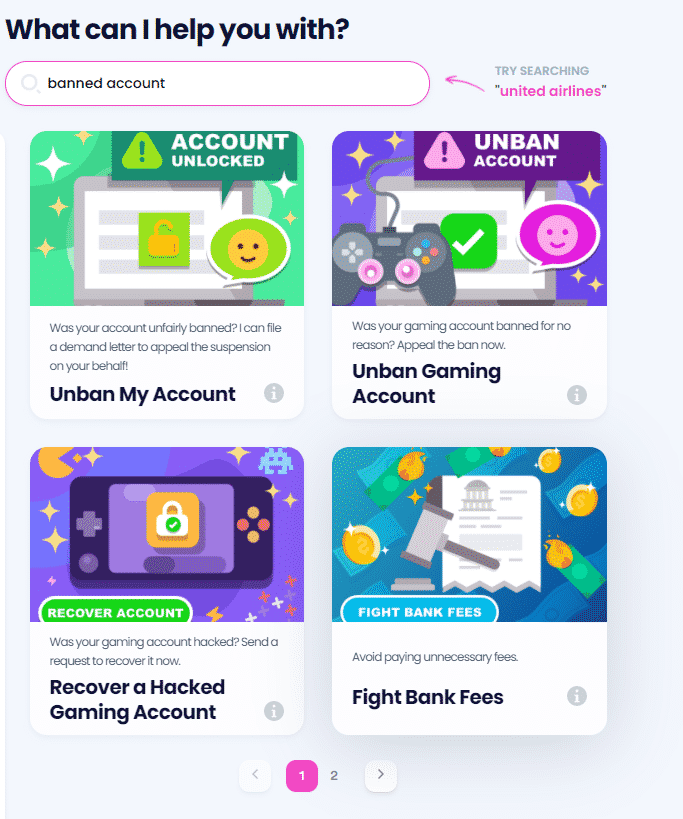 Do you need help lifting a suspension or getting unbanned from any other platform? When you open a DoNotPay account, you can generate a demand letter for any account issue. The Unban My Account and Unban Gaming Account products will have you covered!
Here are some of the platforms, services, and game servers we can help you with:
Solve Your Legal and Bureaucratic Issues With DoNotPay
The primary purpose of our app is to provide you with practical tools that can speed up all the drawn-out tasks you must complete. All you need to do is choose a suitable feature from our offer and get your problems solved in a heartbeat!
Once you create an account with DoNotPay, you can:
File:
Create:

Powers of attorney

Divorce settlement agreements

Many other legal documents

Get:
Feeling Unsafe or Harassed? DoNotPay Can Help You!
Have annoying calls and messages become your everyday problem? Don't give up on your peace—rely on DoNotPay and deal with robocalls and restless text and email spammers easily.
We also take care of your privacy, allowing you to create burner numbers and virtual credit cards to avoid revealing sensitive information when signing up for various online services.
If you are being stalked by somebody or discriminated against at work, we will do our best to help you fight for justice and report the case accordingly! We will also safeguard your creative work from copyright violation and ask for violent crime compensation on your behalf.