Xbox Live Account Suspended Due to a Payment Option—How To Fix The Problem Is What DoNotPay Reveals
Xbox provides additional features to its paying members that motivate many players to invest in the Gold subscription. The only obstacle that can stand between you and an improved game experience is if the company declines your subscription and suspends you. Was your Xbox live account suspended due to a payment option? How to fix this is what DoNotPay knows!
Our simple guide will explain why Xbox suspends users when trying to make a payment and what you can do about it. We'll also let you know how subscribing to DoNotPay can help you appeal the suspension and recover your account as soon as possible.
Check out some of our other guides to suspended and banned accounts on EA, PS4, Hypixel, and Ubisoft.
The Reasons Behind Your Payment-Related Suspension
Your payment details need to be correct and valid if you want to pay for or renew a subscription. What can cause a payment-related suspension is:
Invalid payment option
Wrong security code input
Incorrect credit card details
Expired credit card
No money on your account
Suspicious activities are detected regarding your payment option
If Xbox detects any issues regarding the payment option, it will notify you with an error message. In case your suspension is followed by an error message or code related to payment, you'll know that there's something wrong with your card.
Error Messages Related to Payment Issues
These are the error messages you can receive if there's something wrong with your choice of payment:
This one isn't working. Contact your bank for more info
Try a different way to pay
Check with your bank
Check your security code. There appears to be an error in it
Xbox can suspend you until you solve the problem at hand.
Error Code Related to Payment Issues
You can also come across an error code, which doesn't explain much. Find what the codes refer to here:
8012271F—It means that you need to check your billing address for your payment option since it is incorrect
8004AD43—It can mean one of the following:

Check your billing address
Contact your bank
Try making a purchase later
Use a new payment method
Use an Xbox gift card if available

80190864—It can mean that you should:

Contact your bank as it won't authorize your payment method
Update your payment method because it is expired or invalid

C101A007—It suggests that you need to:

Contact the bank to check why it won't authorize your payment
Contact Xbox support because it detected suspicious activities regarding your payment

PBR30225—It indicates that you should:

Contact the bank to inquire about not allowing your purchase
Try using a different payment method as there is an issue with the current one

80169D3A—The code indicates that you need to:

Pay an outstanding balance on your account
Update your PayPal account or information or the payment method or use another payment method
Check the billing information on your Microsoft account
Verify the digital code
These codes explain the reason behind your suspension and what you should do to amend the issue. Besides making the required change in your payment option, you will also need to contact the support team.
How To Recover an Xbox Live Account Suspended Due to Payment Option
If you correct your payment details according to the instructions, your account can be unbanned after a set period—usually after 24 to 48 hours.
To change the payment option information or add a different method, take these steps:
Sign in to your account
Click on the Payment and Billing option
Select Payment Options
Select a suitable option under the Payment Methods section:

Add a new payment method
View or edit card
Remove card

Enter the new information
Select Save
The issue may not be in the Xbox account info but with your bank. In that case, you'll need to get in touch with the payment provider to verify the payment information.
If you can't solve the issue on your account or your suspension doesn't get lifted after you've updated the payment option, contact customer service.
The easiest way to reach them is to give them a call—do that in this way:
Go to the Contact Us page
Click on the Contact Us button
Choose the Subscription and Billing option in the menu
Click on the problem you are having with the payment in the What's the issue section
They are available to answer your inquiries every day from 6 a.m. to 5 p.m.
Does talking to customer service tire you? You can take a different route to appeal your suspension—.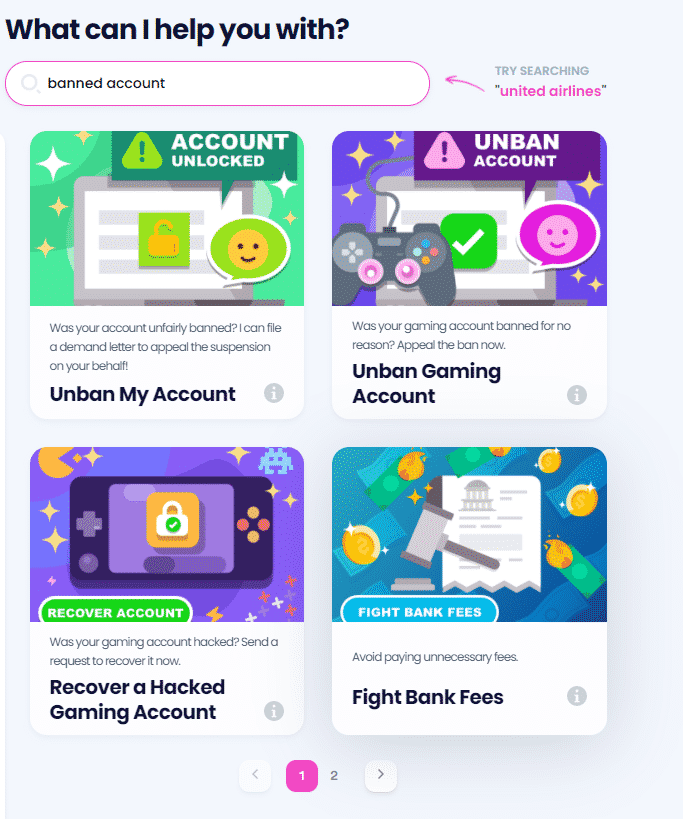 How To Use DoNotPay To Reactivate Your Xbox Live Account
Our nifty Unban Gaming Account product is designed to save you from long discussions with the support team. We will generate a top-notch demand letter that explains your problem and send it to Xbox. With a set deadline and the legal pressure that our valid document puts on them, the company will have no other choice but to address your request.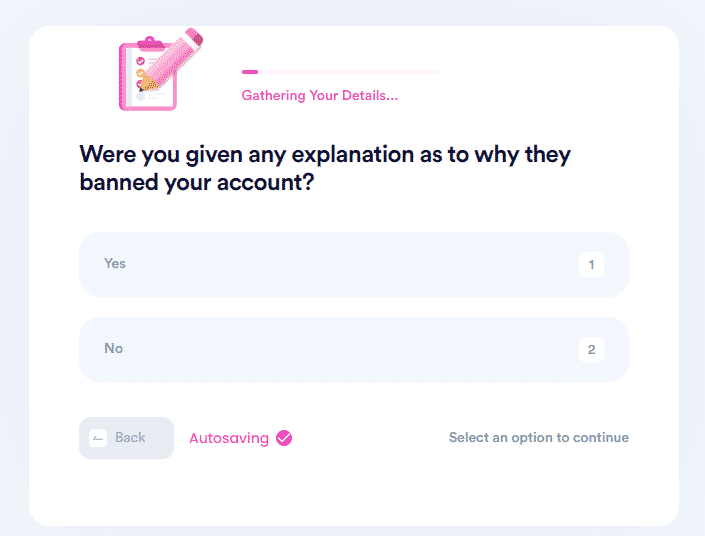 You will only have to take four simple steps:
using a web browser
Find and select the Unban Gaming Account feature
Complete the questionnaire about the suspension by answering some questions, like:

Which platform banned you—Find and select Xbox
When you got banned
Why you got banned
Whether you'd like a refund for your Xbox Live subscription

Select Sign and Submit
If your Xbox One account also gets banned or suspended, no worries! We can help you unban that account as well.
Recover Your Accounts With DoNotPay
DoNotPay's helpful functionality can appeal any suspension or ban decision. We can also get your locked and blocked accounts from social media, services, or games reactivated.
If you have any questions about companies' ban and suspension policies, you can find all you need to know in our guides:
Have Your Documents Created and Notarized in Less Than Five Minutes!
Why spend hundreds or even thousands of dollars on lawyers when the ideal solution is only a few clicks away?
DoNotPay saves the day by enabling you to generate numerous legal documents. Creating proper child travel consent forms, divorce settlement agreements, and powers of attorney has never been easier!
Our perks don't stop here—you can also have your documents notarized electronically from any location. Once you obtain a notary stamp and signature, your paperwork can be faxed online without outdated machines.
Explore Everything DoNotPay Has To Offer
Day-to-day tasks you must deal with don't have to be a burden or rocket science. Signing up for DoNotPay is your ticket to performing them the easy way! We offer a wide selection of products that don't cost an arm and a leg but do excellent work when it comes to solving your administrative issues!
Our services will help you: