Stay on Ubisoft—Suspended Account and Appeal Submission Tips
You can be sure your in-game behavior is entirely fair and still get your account suspended or banned. It's not unusual to oversee some of the T&C guidelines or even get a penalty because of a system error.
Ubisoft suspended account can be recovered, but you'll need to go through customer support. With so many users on the platform, it's not unusual to wait frustratingly long for a response, let alone a resolution.
DoNotPay can help you expedite the process of your ban or suspension appeal. and let us handle your appeal letter.
Ubisoft Suspended Account—Reasons Behind the Suspension
Before you start looking into lifting your account suspension, make sure it's a suspension and not a ban.
Here's what these two terms mean:
A suspension entails only limited access to the account. You can log in but not access the games
A ban involves complete restriction. You can't log in and need to go through the Contact us page to submit a support ticket
Why Did Your Ubisoft Account Get Suspended?
Ubisoft's Terms and Conditions and their Code of Conduct state various types of unacceptable behavior. Note that many rules can be abused by dissatisfied players to report other innocent users, so consider the possibility this might be the case with you.
Here are some of the prohibited actions according to Ubisoft's website:
Abusing, harassing, or bullying other participants in any way
Posting offensive content or giving your characters names other players can find offensive
Cheating, including using hacks, exploits, bots, etc.
Impersonating other users, especially to degrade their reputation and credibility within the game
Accessing or modifying files of the game, including data mining
Account trading or transferring it to a third party
Utilizing your account for advertising
Using VPN and similar tools
Your account can also be suspended in case your membership fee can't be charged due to a credit card problem or a lack of funds on it.
Why Did Ubisoft Ban Your Account?
The reasons for a ban are almost the same, but the gravity of misconduct and the number of offenses isn't.
Your account can also be banned because of multiple failed attempts to log in, so make sure you contact the support if you've lost your credentials.
What Can You Do About Your Ubisoft Suspended Account?
Ubisoft's website has an extensive library of instructional articles regarding different problems, including getting unbanned and unsuspended. Most boil down to contacting customer support for help.
If you are suspended, reaching out to support is even easier since you can log into your account and open a support case.
This is how to do it:
Go to the Help drop-down menu
Click the Help button
Scroll down to find the Contact us button
Choose between a live chat with an agent or messaging the support team. The second option may be a better choice as it gives the team more time to study your case
If you can't log in for some reason, the Contact us button will take you to the contact form for compromised accounts. You'll be asked to provide your email address and a message for the support team.
The only problem is—you won't be the only one asking for help.
Inconvenience With Ubisoft? Suspended Account Is More Easily Recovered With DoNotPay!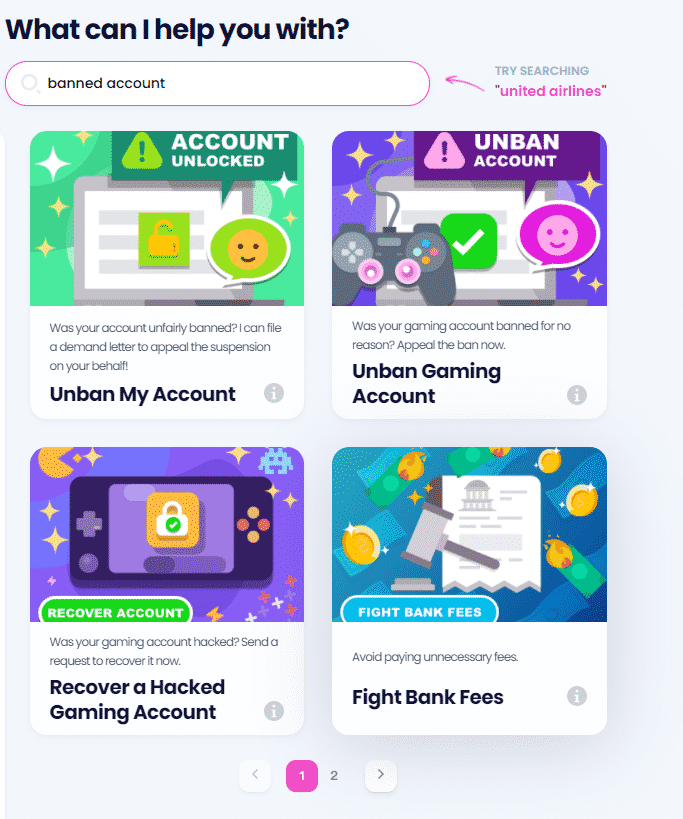 Ubisoft has millions of users. Imagine how swamped their customer care center must be. Understandably, their support might take some time to respond to your suspension appeals, but it doesn't make it any less frustrating.
DoNotPay is here to make your appeal process faster and smoother. Our app creates a comprehensive demand letter for you. This letter puts extra pressure on Ubisoft's complaints department to review your appeal, giving them two weeks to do so. Your complaint gets prioritized, so you don't have to wait forever.
Here is how the process works:
and find Unban Gaming Account
Provide answers to a few questions regarding:

Your Ubisoft account details
The date when you first encountered the problem
Any payments you made to the platform and if you'd want them refunded

Let us know if you think you are being discriminated against in any way (gender, race, religion, nationality, etc.)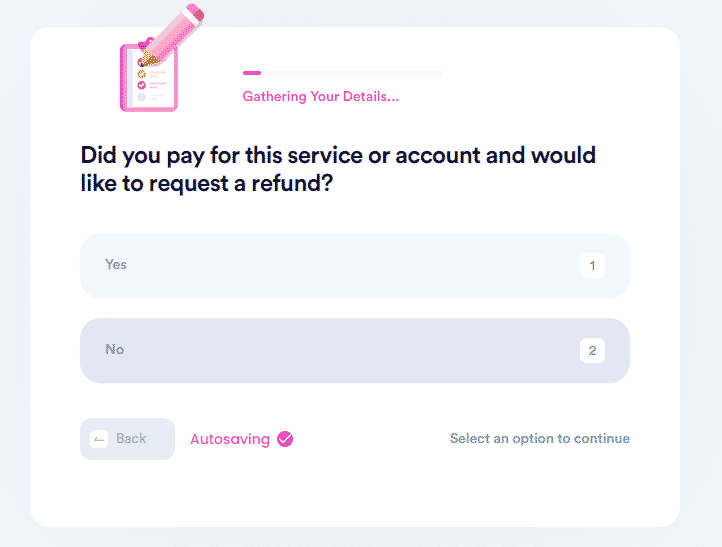 Our app will process your answers and incorporate them into your appeal letter. Note that Unban Gaming Account can also help you solve problems with individual gaming accounts, such as:
DoNotPay Can Regain Your Access to Many Other Services
We depend on different online services, not only for tweets and gossip but our business affairs as well.
That's why DoNotPay's services aren't limited to gaming accounts. The world's first robot lawyer can help resolve problems with various internet giants.
Check out the table below for more details:
Discover the Entire Spectrum of Our Features
A click or two will be enough to discover the amazing universe of DoNotPay's tools and products. Our app is here to show you the best way to get:
Financial Issues? Let DoNotPay Take Care of Them!
DoNotPay can track down your unclaimed money, submit insurance claims, or request compensation for delayed flights on your behalf. This way, you can save some money and get what you're owed. Our app can also make it easier for you to lower your utility bills, cancel active subscriptions and stop further charges, or appeal parking tickets.