All You Need To Know About the Walden University Financial Aid Program
Despite its 100% acceptance rate and more than 50,000 enrolled students, Walden University doesn't have the best reputation, and one of the reasons is its financial aid program. Are you applying to Walden University, but you're unsure if the tuition costs, which can reach $25,000, are worth it?
Learn how the Walden University financial aid program works, how to apply for it, and how to if the school offers little or no relief!
The Basics of the Walden University Financial Aid Program
38% of all Walden University students received financial aid in the academic year 2020/2021, averaging $3,900 per person. The University disburses the following types of aid:
Federal grants
Loans
Limited-time savings
Tuition discounts
Walden University Financial Aid—Federal Grants
Check out which federal grants you can qualify for at Walden University, including their amounts and duration:
Student Category
Grant
Amount and Duration
Undergraduate
Federal Pell Grants
Up to $6,495 for a maximum of 12 semesters
Federal Supplemental Educational Opportunity Grants (FSEOG)
Up to $4,000 for a maximum of 12 semesters
Iraq and Afghanistan Service Grants
Up to $5,983 for a maximum of 12 semesters
Graduate
Teacher Education Assistance for College and Higher Education (TEACH) Grants (MAT program only)
Up to $4,000 per year for a maximum of two years
Loans at Walden University
If you still have substantial student contributions left even after receiving grants, you can opt for the following loans at Walden University:
Student Category
Loan
Does the Loan Require a Credit Check?
Does the Loan Require a Co-Signer?
Undergraduate
Federal Direct Subsidized Loan
No
No
Federal Direct Unsubsidized Loan
No
No
Federal Direct Parent PLUS Loan
Yes
Depends on the credit check result
Graduate
Federal Graduate Direct Unsubsidized Loan
No
No
Federal Direct Graduate PLUS Loan
Yes
Depends on the credit check result
If you opt for a private loan, the University requires you to submit a Private Education Loan
Applicant Self-Certification form to your lender.
Walden University Financial Aid—Limited-Time Savings
Walden University offers grants to students who apply for select study programs by a specified deadline. The grants can go up to $4,000, depending on the program you choose. You can check out available offers on the school's Limited-Time Savings page.
Tuition Discounts at Walden University
Check out all tuition discounts you can qualify for at Walden University:
Tuition Discount
Who Is Eligible?
15%

Students who are veterans, serve in the Army, or work at the Department of Veterans Affairs
Alumni referrals
Students who completed a certificate program at Walden University

20%

Active law enforcement staff
Public or private correction officers

25%

Spouses, parents, and children of students attending Walden University

50%

Walden University graduates applying for select masters study programs
How To Apply for Walden University Financial Aid
To apply for Walden University financial aid, complete your FAFSA and include the school code, which is 025042.
The University has no application deadlines but requires that continuing students submit their FAFSA a minimum of 30 days before the end of the ongoing academic year to secure aid for the following one.
If you're having trouble with the application process, contact the Walden University Financial Aid Office by:
Calling 800-925-3368 and following further prompts to reach the Financial Aid Office
Sending an email with all of your questions to finaid@mail.waldenu.edu
What Can I Do if Walden University Rejects My Financial Aid Application?
If Walden University rejects your financial aid application, the following course of action depends on your student status:
The goal of the appeal letter is to convince the financial advisors at Walden University to reconsider your application. Filing an appeal can be an aggravating and time-consuming process, and that's why DoNotPay developed a product that can help you get a persuasive letter in a matter of moments!
DoNotPay Can Write and Send an Appeal Letter to Walden University in a Flash!
Sending your appeal as soon as possible is crucial for reaching the best outcome. For that reason, DoNotPay created a way to speed up the process!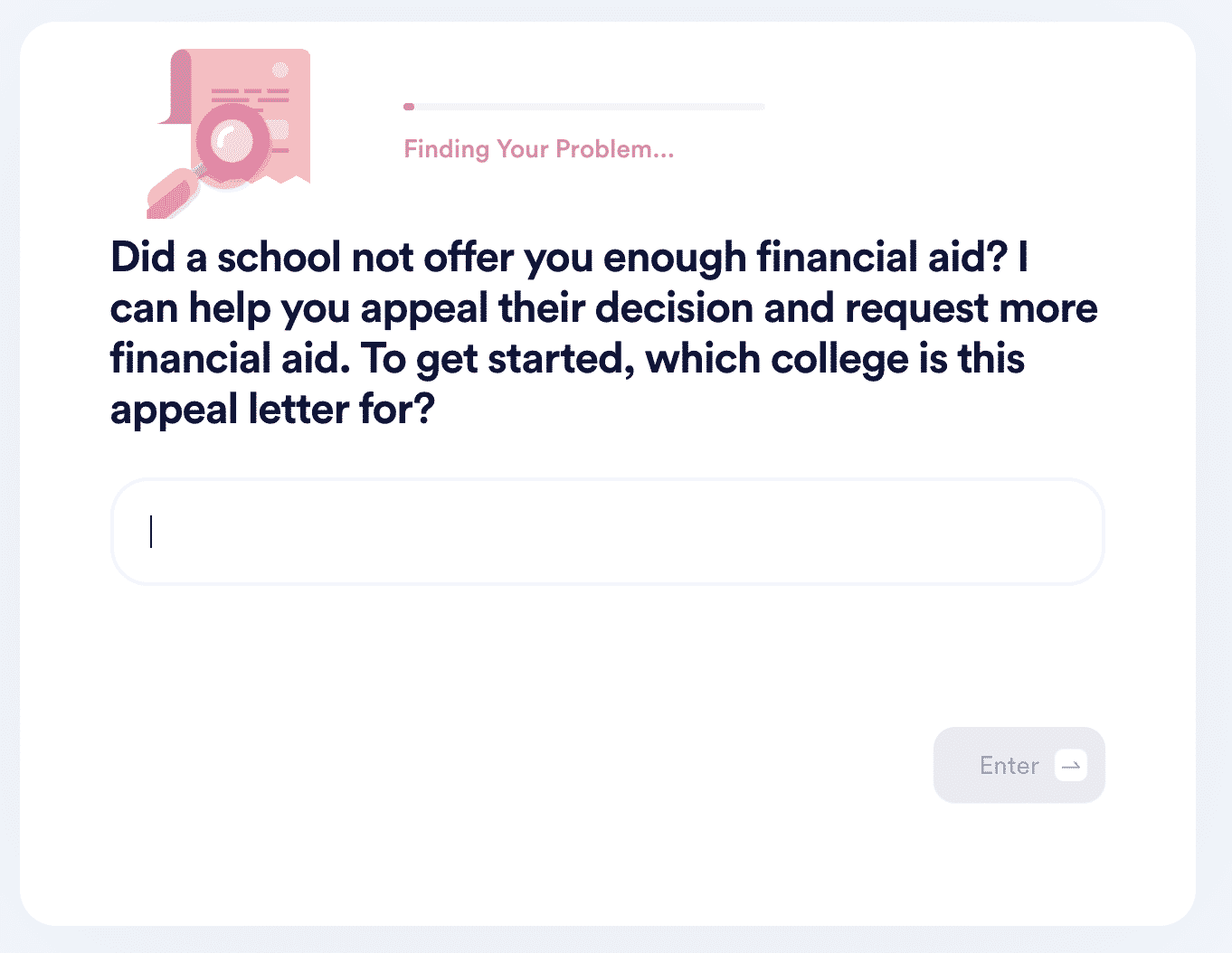 To get started:
Search for Appeal for More Financial Aid
Explain what circumstances led to an increase in your financial need
Sit back and let DoNotPay generate your letter and send it directly to Walden University or to your email so that you can print it out and submit it yourself.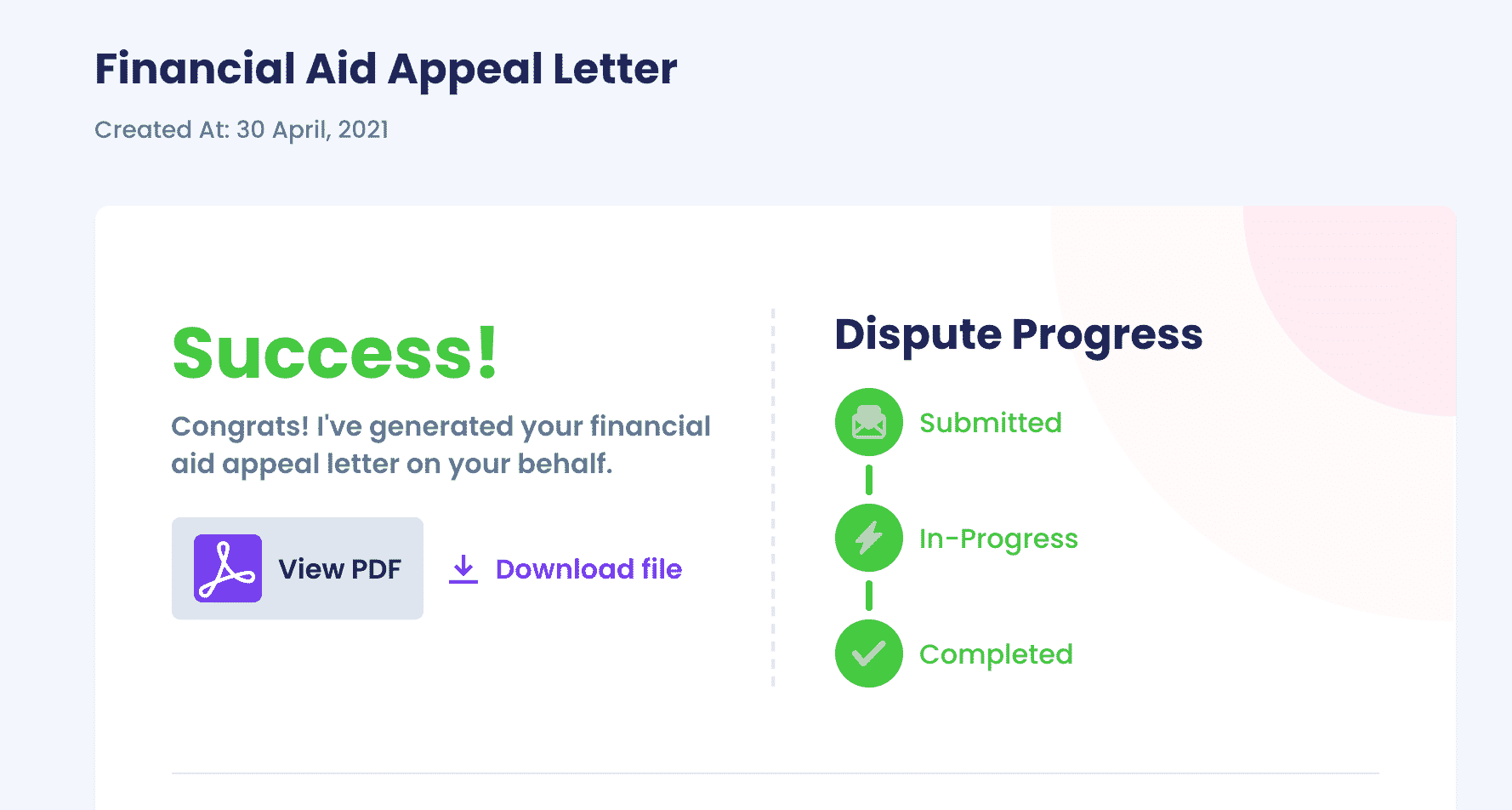 Alternatives to Walden University
If Walden University didn't meet your expectations, DoNotPay can help you explore other options, regardless of whether you're looking for:
Undergraduate or graduate schools
Private or public schools
Full-time or part-time enrollment
We wrote about plenty of schools and their financial aid programs. You can find some of them in this table and pick an option that suits your budget best:
DoNotPay Turns Your Everyday Hurdles Into a Piece of Cake
Did you receive a faulty or damaged item? Why not return it with your virtual assistant? We can also help you get a late delivery refund and jump the queue if the customer service phone keeps ringing to no avail. The list of handy DoNotPay features that make your everyday life easier goes on.
By subscribing to our platform, you won't have to worry about your tedious neighbors or parking tickets. We can do it all!
Want To Save Money on Lawyers? Use DoNotPay
Most people spend big bucks on expensive lawyers to overcome their bureaucratic obstacles. Don't waste your money on unnecessary fees—use DoNotPay and take care of any legal matter in a few easy clicks! Check out some of the issues the world's first robot lawyer can help you with: