Everything You Should Know About the University of Pittsburgh Financial Aid
The University of Pittsburgh (Pitt) was established more than 200 years ago. This public research school has almost 30,000 students. If you want to study there, you will need to pay $19,718 (local tuition) or $33,746 (domestic tuition).
In case you demonstrate significant financial need, you can apply for one of the University of Pittsburgh financial aid programs. DoNotPay will explain your options and help you file a financial aid appeal letter as soon as you !
The University of Pittsburgh Financial Aid Office
The University of Pittsburgh Office of Admissions and Financial Aid is at your disposal for any questions you may have about financial aid. You can get in touch with the staff in the following ways:
Email—finaid@pitt.edu
Phone—(412) 624-7488
In person by visiting University of Pittsburgh, Financial Wellness Center, 139 University Place, Thackeray Hall, Pittsburgh, PA 15260
The staff is available from Monday to Friday between 8:30 a.m. and 5 p.m. ET.
Explore Your Financial Aid Options at the University of Pittsburgh
Depending on the criteria you meet, you can apply for different financial aid types. Take a look at the table below to see your options at Pitt:
Type of Aid
What You Should Know
Grants
This form of aid is need-based and does not require repayment. Grants come from University, federal, or state government entities. You can apply for:

Federal Pell Grants
Federal Supplemental Educational Opportunity Grants (FSEOG)
Office of Vocational Rehabilitation
PA State Grant
PHEAA Gratuity Program
Blind or Deaf Beneficiary Grant Program

Scholarships
Scholarships don't have to be repaid. Unlike grants, they are usually based on a combination of outstanding academic achievement and financial needs. You can apply for:

PittFund$Me
University Scholarships
Chancellor's Scholarship
International Freshmen Scholarships
Transfer Scholarships
Tuition Exchange
Nordenberg Scholars Program
Stamps Scholarship

Loans
Loans require repayment, and you can choose:

Federal loans
Private loans
Institutional loans

Federal work-study
Federal Work-Study (FWS) awards are offered to students who demonstrate financial need. The Department of Education funds these programs. You can choose to work at on-campus locations and some non-profit organizations in Pittsburgh
In accordance with the financial aid type and source, you can receive different amounts of aid.
How To Apply for Financial Aid at the University of Pittsburgh
If you don't want to miss your chance of getting financial aid, it is important to execute the necessary steps in the application process. You will have to:
Apply for or locate your FSA ID—This allows you to sign your applications electronically. Keep it in a safe place, and don't share this info with anyone
Complete your Free Application for Federal Student Aid (FAFSA)—This document is used to determine eligibility for financial aid. You need to complete the FAFSA each academic year
Look for scholarships—When you apply to Pitt, you will be reviewed for merit-based scholarships automatically, but you can also search for other options
Read your Student Aid Report—You need to review your Student Aid Report to check if everything is in order and see whether you have been selected for a process called verification. If yes, you will need additional forms
Manage your financial aid—The University of Pittsburgh will issue you an Award Notification. This allows you to see the aid you are being offered, and you can accept, decline, or reduce your aid
Let Pitt Financial Aid know about any other assistance—If you are receiving additional funding not listed on your Award Notification, you must notify the school's financial aid office at finaid@pitt.edu
Check your Pitt email account—You will find all the necessary info on your pitt.edu email account and your Student Portal
You should also keep in mind the deadlines you need to respect to make the process successful.
What if You Don't Agree With Pitt's Decision Regarding Financial Aid?
If you don't get the offer you were expecting or your application gets rejected, you have the right to file an appeal. Writing an appeal letter can be a tiring and time-consuming process. If you want to deal with this task efficiently and get more money, you should turn to DoNotPay for help!
Use DoNotPay To Send a Financial Aid Appeal Letter to Pitt
DoNotPay is at your disposal for generating a rock-solid financial aid appeal letter in a matter of minutes. Once you complete a short questionnaire, we will send the letter to the University of Pittsburgh on your behalf. Follow these simple steps:
Search for the Appeal for More Financial Aid product
Tell us how much financial aid other universities offered you if you applied to more than one
Provide the required information about your family's income
If you want to learn how the financial aid application process for graduate school works, check out DoNotPay's detailed guide. We can also tell you how long you can keep receiving financial aid.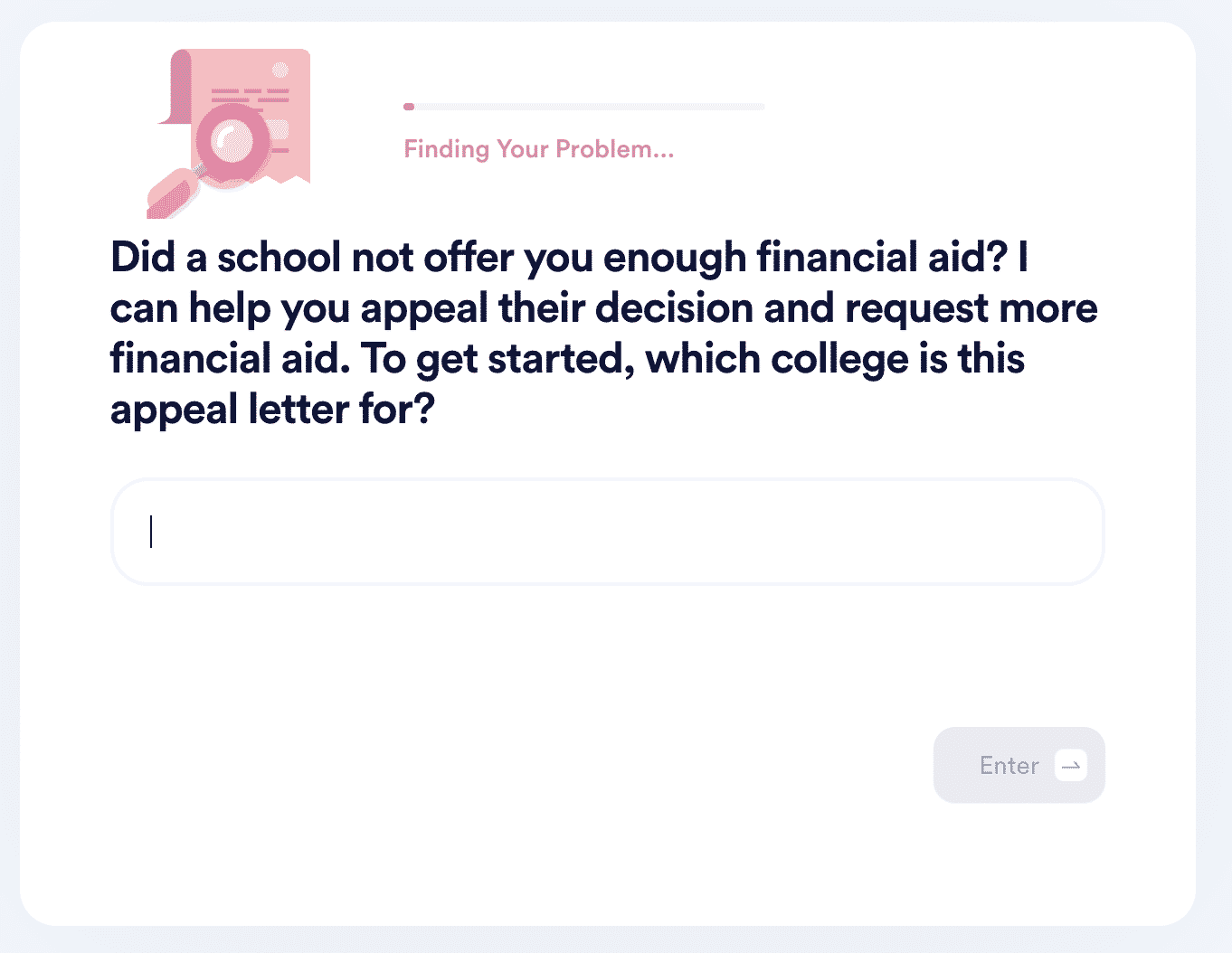 Check out our guides to learn about the financial aid types other schools have to offer:
Do More With DoNotPay's Useful Features
DoNotPay offers a unique service when it comes to filing for divorce or drafting a divorce settlement agreement, but we don't stop there! Our app can also help you draft, fax, and get other legal documents notarized in a flash! From powers of attorney to child travel consent forms—we assist you every step of the way!
If you need to file an insurance claim, fight workplace discrimination, or sue a company in small claims court, you can use our app to get it done with ease.
Deal With Companies Stress-Free
If you like to shop and you often make purchases, you know that companies can cause all kinds of issues along the way. DoNotPay has a trick up its sleeve that helps you deal with any issue a company causes like a pro!
Wasting hours waiting for a customer support rep to pick up becomes a thing of the past once we get involved. We'll show you how to request a refund, cancel a subscription, apply for free trials, use a virtual credit card, and claim a warranty easy-peasy!
If your package is damaged or missing, we'll show you how to track it and file a missing package claim.