Deciphering the University of Phoenix Financial Aid Refund Policy
Were you unfortunate enough to apply for the University of Phoenix financial aid program? If you took out loans from this school, use this guide to find out how to get a University of Phoenix financial aid refund!
The University of Phoenix Financial Aid Refund Policy Explained
The University has no official financial aid refund policy, but a set of events in 2019 resulted in an option that allows students who qualified for financial aid to receive a loan refund or discharge.
The Federal Trade Commission accused the University of Phoenix of fraudulent activity, including inflating its graduation rates and job placement statistics, which led to a lawsuit. The outcome is that the University of Phoenix has to discharge all federal loans.
How To Get a Loan Discharge From the University of Phoenix
To get a loan discharge from the University of Phoenix, you will have to rely on applying the Borrower's Defense law. What that means is that you have a right to a loan discharge if the University of Phoenix tricked you into getting a loan, and it did so with false advertising.
To get a loan refund or discharge, you need to complete a Borrower's Defense Against Repayment (BDAR) application. You can choose between completing a physical form or doing so online.
Some of the most important questions on the application are:
How did the school communicate with you?
What false information did the school provide you?
What information did the school fail to tell you?
Did the false information convince you to attend said school?
Keep in mind to be persistent about the fact that you would never:
Attend the school if you weren't provided the false advertising
Take out loans if the school didn't convince you to apply to it
You can request forbearance and stop loan payments until the U.S. Department of Education processes your application. To be eligible for forbearance, you mustn't be in default on your loans.
I Submitted My BDAR Application—What's Next?
After you submit your BDAR application, keep in mind that:
Loan collections will continue if you haven't requested forbearance
Any loan payments you avoid will result in interest accumulation, and you will have to pay a higher amount later on
You have to pay taxes for your loan discharge if the U.S. Department of Education approves it because the Internal Revenue Service (IRS) treats it as income
Precautions You Should Take When You Apply for Financial Aid
You can never be 100% safe when you're choosing a school, and promises of quick employment can make space for schools to steal money from students, so here's a list of precautions to take while choosing a school and applying for financial aid:
Look out for loan relief scams—Students who receive promises of loan reliefs via email should double-check whether the sender requires you to pay a fee to submit the necessary paperwork. Federal loan relief programs do exist, but applications are free
Do your research—Education shouldn't be treated lightly, so take your time looking for a perfect place to advance your knowledge and start your career
Don't borrow unless you have to—Loans are the last type of aid you should opt for. With plenty of federal and institutional types of funding to resort to, don't get yourself into debt if you don't have to
What Can I Do if a School Rejects My Financial Aid Application?
If a school rejects your application, you can request a reconsideration by writing a persuasive financial aid appeal letter.
To make the letter convincing, you should include:
Reasons why you chose that particular school
Unfortunate and sudden events that affected your financial situation since you submitted your application
Offers you received from other schools but haven't accepted yet because you want to attend the school you're writing to
to generate a personalized letter and ensure you don't forget all the important details!
Getting More Financial Aid Is a Breeze With DoNotPay
DoNotPay can help you appeal a school's decision to get any or request more financial aid!
To get started:
in your preferred web browser
Search for Appeal for More Financial Aid
Answer a few questions about your application that will ensure your letter is as accurate and convincing as possible
After you complete the final step, you will get a customized letter that's good to go. Our app can even send the letter to the university on your behalf!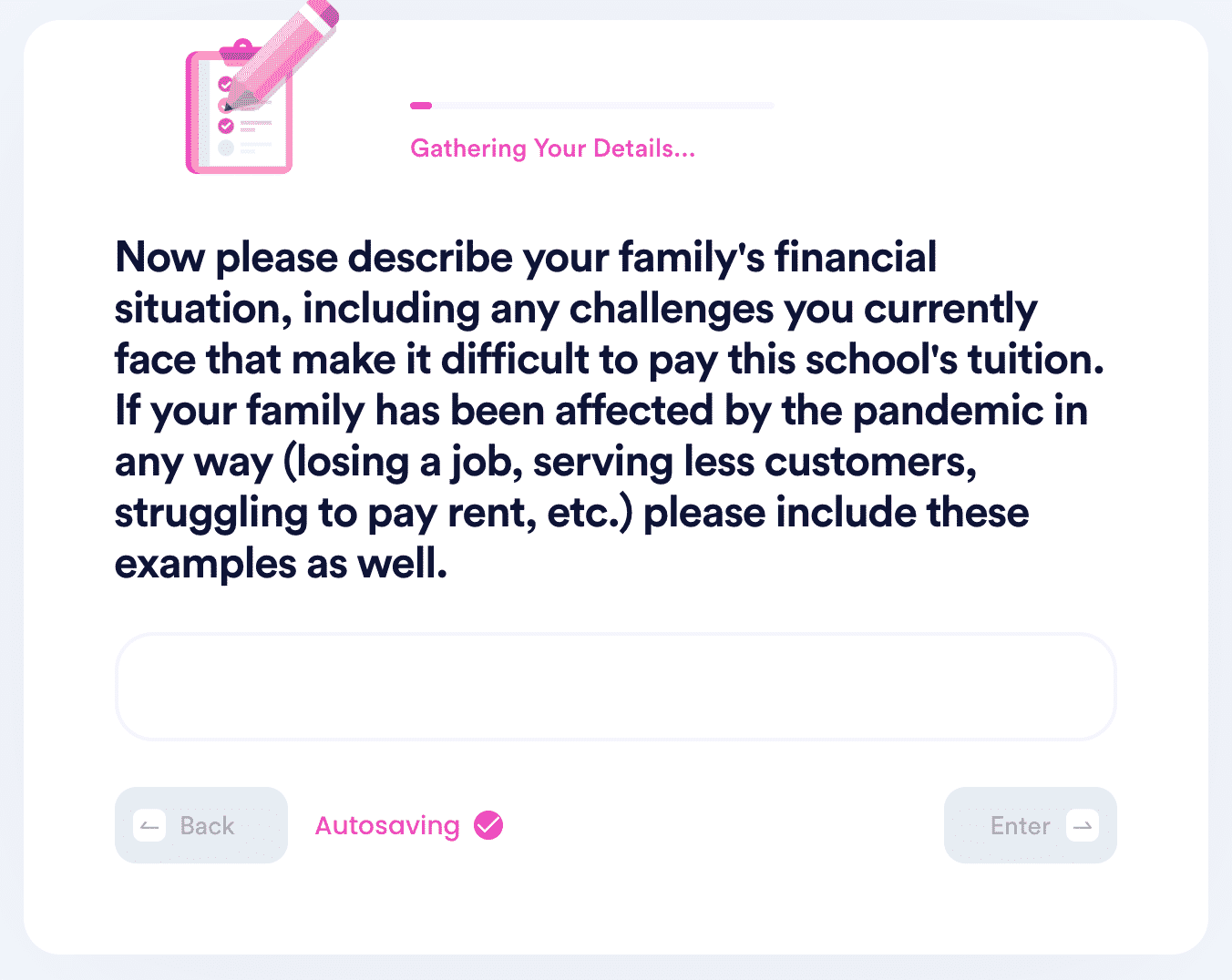 If you're curious about how financial aid works, our learning center has a plethora of guides that explain:
Alternatives to the University of Phoenix
If you're not interested in applying to the University of Phoenix anymore, we picked out some reputable schools and explained their financial aid programs so you can make an informed choice:
Solve All of Your Bureaucratic Issues With DoNotPay
Do you need to file an insurance or warranty claim? Need help with setting up DMV appointments or appealing parking tickets around the U.S.? Don't worry because your AI-based helper can step in!
We can help you get professional powers of attorney and divorce agreements, so you don't have to waste money on expensive lawyers! Once we draw up these documents for you, we'll set you up with an online notary, and you can get them notarized in no time!
Subscribe to Various Services Hassle-Free With DoNotPay
Did you ever get charged by a subscription service after using their free trial? DoNotPay can put a stop to that once and for all! We can get you a virtual credit card or a burner phone number, which you can then use to subscribe to any service stress-free! When you want to cancel a subscription, turn to your virtual assistant for help, and we'll do it for you in seconds!
If the company is giving you a headache, we'll hook you up with their customer support or even sue them in small claims court. Possibilities with DoNotPay are endless!
DoNotPay can also turn mailing into a piece of cake and save your inbox from email and text spam!