Get Acquainted With the University of Denver Financial Aid Program
Are you a prospective student considering the University of Denver (UD), but the tuition and attendance fees, which can sum up to over $63,500, hinder you from applying?
Before you make your choice, use this guide to find out how the University of Denver financial aid program works, how to apply for it, and how to appeal the University's unfavorable decision, if necessary!
The Basics of the University of Denver Financial Aid Program
Check out the types of financial aid you can get from the University of Denver:
Grants
Scholarships
Loans
Work-study programs
Grants Available at the University of Denver
Current and prospective UD students can qualify for the following grants:
Category
Grant
Amount
Federal grants
Federal Pell Grant
$6,345
Federal Supplemental Educational Opportunity Grant (SEOG)
$4,000
Iraq and Afghanistan Service Grant
$5,983
Federal TEACH Grant (for graduate students)
$3,772
Institutional grants
DU Educational Grant (DUEG)
The amount depends on financial need
Residence Hall Grant
$3,000
Colorado grants
Colorado Student Grant
Up to $3,000
College Opportunity Fund (COF)
$13.33/credit hour
Colorado "Critical Career" Graduate Grant (for graduate students)
From $1,000 to $5,000
University of Denver Financial Aid—Scholarships
Take a look at the table below to find out what scholarships you can apply for at UD:
Category
Scholarship
Amount
Institutional scholarships
Merit scholarships:

Chancellor
Provost
Dean
University
Pioneer
Crimson & Gold
Centennial
Rocky Mountain

Up to $30,000 (for tuition and campus housing)
Talent scholarships
Determined on an individual basis
Phi Theta Kappa Scholarships (for transfer students)
$2,500
RaiseMe Micro-Scholarships
Depends on the goals you achieve
Native American Community Scholarship
Covers all tuition and attendance costs
Federal scholarships
Children of Fallen Heroes Scholarship
Up to $6,345
If you qualify for a private scholarship, UD requires you to complete and submit a Private Scholarship Form and send the scholarship check to the following address:
Financial Aid
University of Denver
2197 S. University Blvd.
Denver, CO 80208-9403
Loans at the University of Denver
If grants and scholarships don't cover all of your expenses, you can opt for one of the following loans at UD:
University of Denver Financial Aid—Work-Study Programs
Student employment allows UD attendees to earn up to $5,000 per year by working up to 20 hours per week. UD prohibits students from having a work-study job and a graduate teaching/research assistantship at the same time in one quarter.
How To Apply for University of Denver Financial Aid
To apply for financial aid, the University of Denver requires you to submit the following forms:
Try to complete your application before the priority deadline, which is usually around March 15th, to get as much aid from UD as possible.
Students who want to attend classes and receive aid during summer need to apply using the PioneerWeb student service.
If you're having trouble with the application process, contact the University of Denver financial aid office for assistance by sending an email including your questions to finaid@du.edu.
What Can I Do if the University of Denver Offers Insufficient Aid?
If you feel like the financial aid offer you got from the University of Denver doesn't cover enough of your expenses, you can file an appeal by:
Convincing the University of Denver to give you more aid can be challenging, but we can help you choose the right words to do it!
Request More Financial Aid From the University of Denver in a Flash!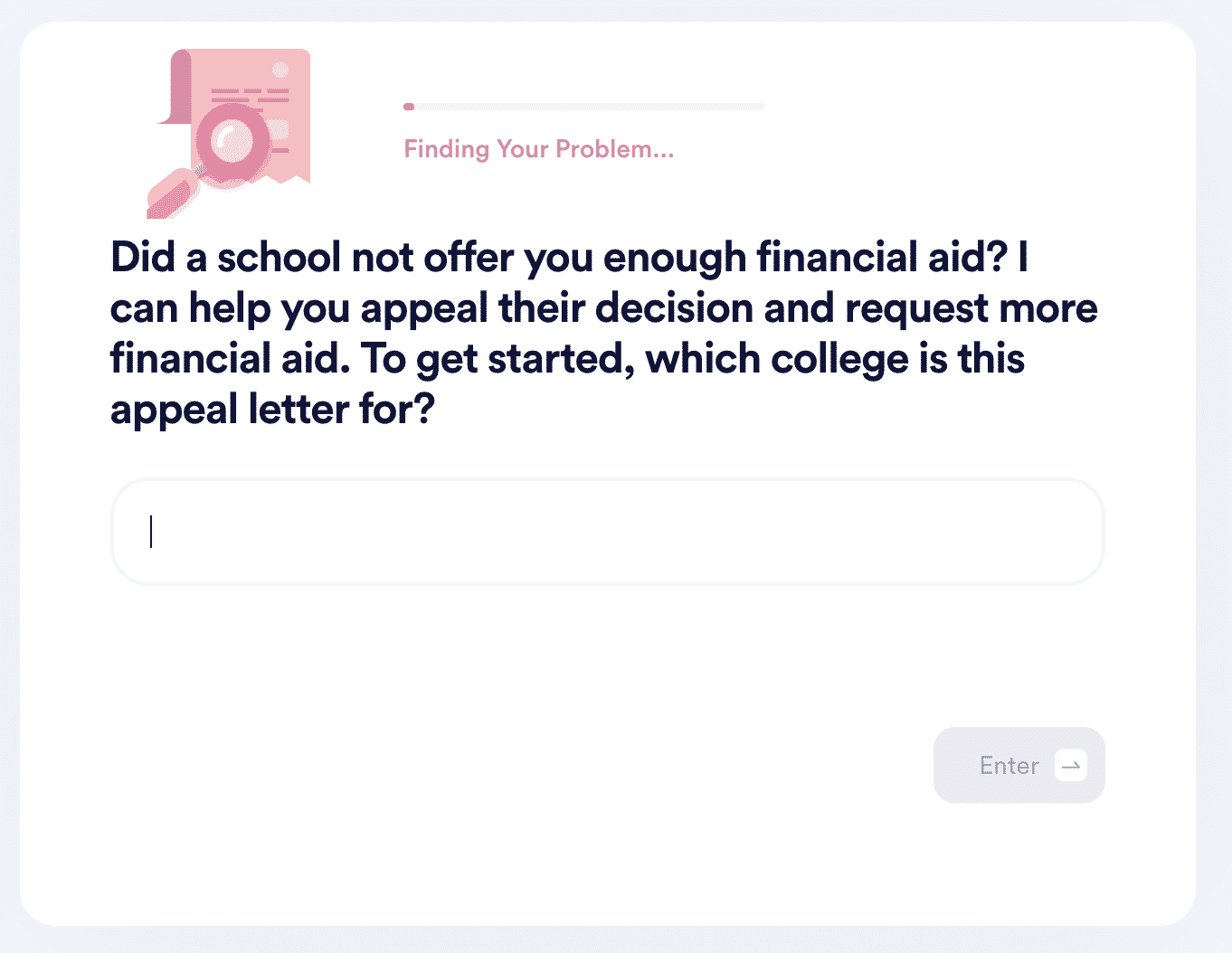 With DoNotPay, you can request more aid from the University of Denver in three simple steps:
Type Appeal for More Financial Aid in the search bar
Answer a few brief questions about what your financial situation is like and why you need more aid
After you complete the final step, we will generate your appeal letter in a matter of moments and send it to the University of Denver right away!
If you wonder how long you can receive financial aid or whether independent students get more aid, visit our learning center to get all the answers you need!
Alternatives to the University of Denver
If you're still deciding what schools to apply to or you need a backup plan in case UD rejects your application, here are some options you can explore:
Solve Any Issues Like a Pro With DoNotPay
DoNotPay is an AI assistant that is able to solve almost all issues you're facing. Whether that be your noisy neighbors, the annoying text and email spam you're receiving, or the frustrating robocalls that won't leave you alone. We'll even cancel your unneeded subscriptions and get you a few extra bucks you've been cheated out of.
The world's first robot lawyer app can help you get:
DoNotPay Helps You Deal With Any Administrative Issue Effortlessly
Tedious administrative tasks are always headache-inducing, but they don't have to be if you use DoNotPay. With our AI-powered app, you will be able to: