UCSD Summer Session Financial Aid—What You Need To Know Before You Apply
Do you want to apply for UCSD Summer Sessions, but you're not sure about how the University's financial aid program works during that quartal?
In this guide, you will find out how UCSD Summer Session financial aid works, who qualifies for it, and what the application process requires you to do!
How To Apply for Summer Session Financial Aid at UCSD
Check the following table to see the steps you need to take to apply for Summer Session financial aid at UCSD depending on your student status:
Student Status
Application Process
Continuing students
You must have been enrolled during the winter or spring quarter of the ongoing academic year to be eligible for summer aid.

UCSD requires you to:

Enroll in a minimum of six units for Summer Session as soon as possible to secure summer aid and to qualify for priority funds
Enroll in 12 units to receive a Federal Pell Grant
Not complete your degree before Summer Session starts

Pre-matriculated first-year students
You need to file your Free Application for Federal Financial Aid (FAFSA) or California Dream Act Application (CADAA) as soon as possible or by the final deadline—June 30
After you take all the required steps, you should check TritonLink—the UCSD Financial Aid Tool—regularly during late April/early May for your award letter.
When Does UCSD Disburse Summer Session Financial Aid?
Check the table to find out when UCSD disburses Summer Session financial aid:
| | |
| --- | --- |
| Summer Sessions | Disbursement Date |
| I | June 19 |
| II | July 24 |
| Special Session | Depends on when the session is scheduled, but usually falls two days before instructions start |
What Types of Financial Aid Are Available at UCSD During Summer Sessions?
You can apply for the following types of financial aid to meet your UCSD Summer Session expenses:
Federal Pell Grant—Note that the Federal Pell Grant is prorated depending on the number of enrolled units. Students who enrolled in 6–8 units for Summer Session will receive half of the accepted grant, and students who took on 9–11 units will get a disbursement equal to 75% of the award
UC San Diego Summer Grant
External scholarships
Loans

Federal Direct Subsidized Loans
Federal Direct Unsubsidized Loans
Federal Direct PLUS Loans
Dream Loan
UCSD students who got loans during the ongoing academic year can cover Summer Session costs by taking any leftover amount up to the annual limit. If you are not a financial aid recipient, you can contact the UCSD Financial Aid Office to apply for parent loans and direct unsubsidized loans to afford Summer Session costs.
How To Calculate the Amount of Aid You Need for UCSD Summer Sessions
UCSD states the following about Summer Session tuition and fees:
Undergraduate students must pay $279 per enrolled unit
Graduate students have to spend $349 per enrolled unit
All Summer Session attendees are subject to the following mandatory fees:

ICA Student Activity Fee (for undergraduates)—$129.52 per session
Recreation Facility Fee—$58.50 per session
University Center Fee—$50.73 per session
After you calculate your Summer Session tuition and fees, don't forget to include other expenses such as books, housing, transportation, etc.
What Can I Do if I Can't Afford Summer Session Despite Receiving UCSD Financial Aid?
Since summer sessions are an excellent opportunity to make significant academic progress, it can be discouraging for students to find out that they will miss it because UCSD offered them insufficient aid.
Continuing UCSD students can request more aid and appeal the school's decision by filing a:
Family Contribution Appeal
Dependency Appeal
Satisfactory Academic Progress (SAP) Appeal
If you're a pre-matriculated student, resort to sending a financial aid appeal letter and explain the circumstances that interfere with your ability to afford UCSD Summer Session tuition. If you need assistance with your appeal, and let our app create a rock-solid request letter for you!
Use DoNotPay To Request More Summer Session Financial Aid From UCSD!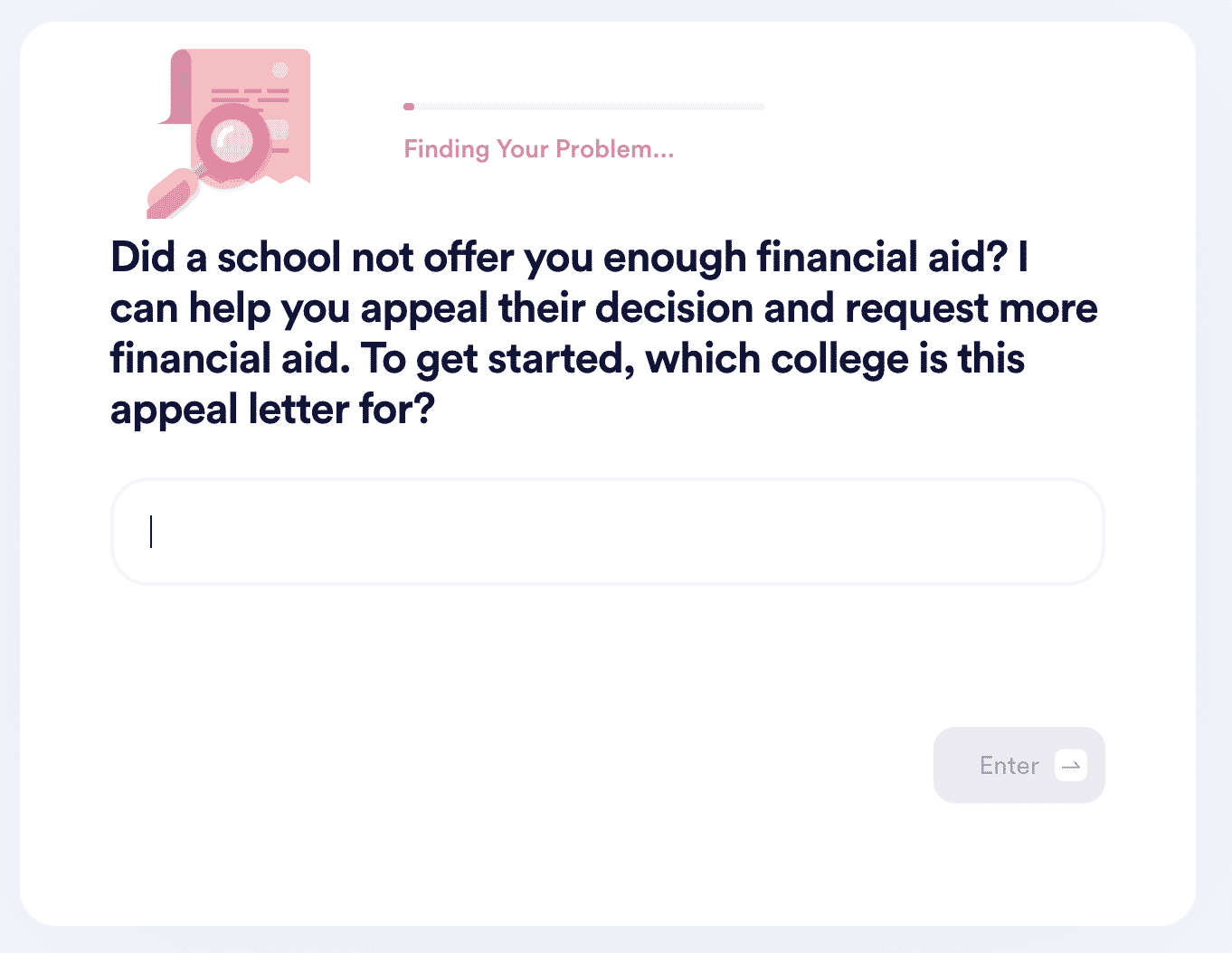 You can convince UCSD to reconsider your financial aid application in three steps:
in your web browser
Type Appeal for More Financial Aid in the search bar
Explain the financial circumstances that affect your ability to afford UCSD Summer Session tuition
After you complete all required steps, decide whether you want DoNotPay to send the letter to UCSD on your behalf or you want to do it yourself.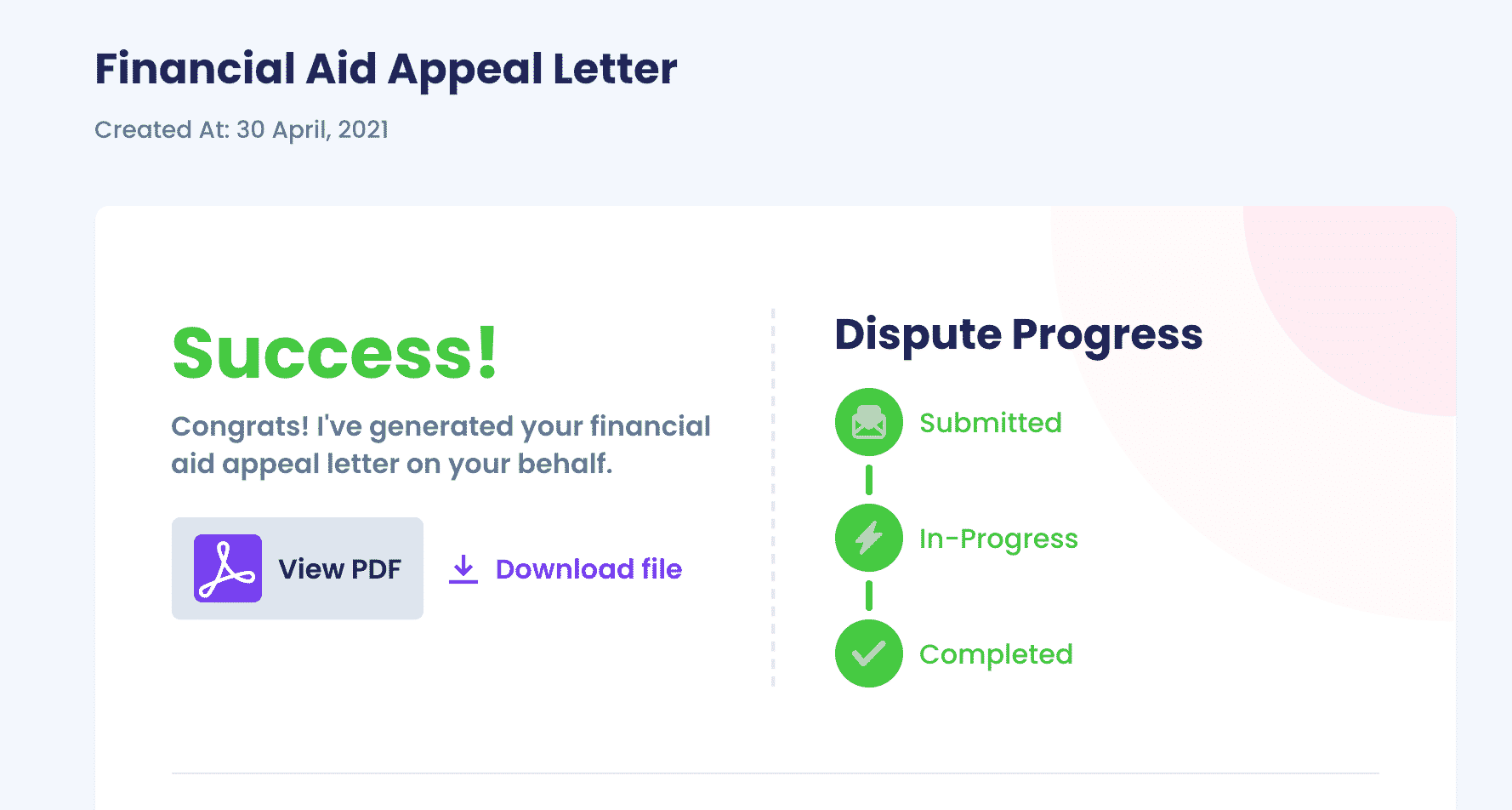 Use our comprehensive guides to resolve any financial-aid-related doubts you have about:
Financial aid calculators
Check Out Other Schools That Offer Summer Enrollment and Financial Aid
If UCSD doesn't offer you enough financial support for the Summer Session, we picked out some schools for you that may have more generous programs, such as:
DoNotPay Helps You Deal With Any Administrative Issue Effortlessly
Tedious administrative tasks are always headache-inducing, but they don't have to be if you use DoNotPay. With our AI-powered app, you will be able to:
Solve Any Issues Like a Pro With DoNotPay
DoNotPay is an AI assistant that is able to solve almost all issues you're facing. Whether that be your noisy neighbors, the annoying text and email spam you're receiving, or the frustrating robocalls that won't leave you alone. We'll even cancel your unneeded subscriptions and get you a few extra bucks you've been cheated out of.
The world's first robot lawyer app can help you get: