UCSD Financial Aid Disbursement Dates and Other Application Details
Are you interested in applying for financial aid at the University of California San Diego, but you don't know anything about it? No worries—this guide is here to help you! In our article, you will learn all about UCSD financial aid disbursement dates, propositions, and the necessary application forms! There's also an extra piece of advice— and discover the easiest way to file an appeal against a disappointing offered amount and get more funds!
UCSD Financial Aid Application Details
The first step of your financial aid application is submitting an appropriate form. Depending on your student category, it can be:
The primary purpose of these forms is to disclose the details that can help the institution determine whether you qualify for its programs based on:
Income
Tax returns
Household details
Number of family members
Education information
By considering these criteria, the university calculates your Estimated Family Contribution (EFC). It's the amount your family will be able to pay for your education-related costs. By subtracting it from the overall Cost of Attendance (COA) for UCSD, they determine your financial need and the amount you may get.
Here's a table showing more details about the application forms you will have to submit:
Criteria
FAFSA
CADAA
Available for

U.S. citizens
Eligible non-citizens
Permanent residents (green card holders)

International/undocumented students

Financial aid types you can apply for with it

Grants
Scholarships
Student loans
Work-study programs
Study abroad & exchange programs
UC San Diego's Summer Sessions

Application starts on
October 1
School code for the application
001317
Submission deadlines
March 2 each year
March 2 each year
Priority funding deadlines
May 1 each year
May 21 each year
Submission method(s)
Do you need to complete it each year to keep receiving financial aid?
Yes
Yes
What Happens After Submitting an Application?
Once you file your application, the agency will mail/email you a Student Aid Report (SAR). This document shows all the answers you gave to the questions in the form, and you are required to double-check them for mistakes. It's quite an important step since any error may result in getting rejected or being offered a smaller aid amount.
If there are any incorrect answers, make sure you fix them and resubmit the form. If everything is alright and all the answers are accurate, keep the report for your records and wait to receive a response from UC San Diego.
Depending on your application, there are two possible outcomes:
The university will accept your request and send you a letter stating the exact amount they can offer—You can accept it and wait for the disbursement or appeal the decision if you are unhappy with it
Your application will be rejected due to ineligibility or any other deciding factor—Even if this happens, don't despair. It's possible to file an appeal in this case as well. You can write an appeal letter to the university and explain the reasons why you need the financial support. This may make the institution reconsider your application
What Are the UCSD Financial Support Disbursement Dates?
Are you happy with the offer you got from UC San Diego? If yes, the institution will create a student account registering all the existing education-related costs.
The financial aid funds from loans, grants, and scholarships at UCSD are allocated quarterly. They are usually disbursed in September, December, and March, while the remaining financial aid refunds happen seven to ten days after the disbursement dates. The table below shows disbursement dates from the 2021/2022 school year:
Occasion
Dates
Disbursement dates

September 14, 2021 for the fall quarter
December 27, 2021 for the winter quarter
March 21, 2022 for the spring quarter

Remainder financial support refunds

September 23, 2021 for the fall quarter
January 3, 2022 for the winter quarter
March 28, 2022 for the spring quarter
When it comes to work-study payment, it comes in the form of biweekly checks. You can get them on site or request to have them deposited into your bank account.
How To Appeal a Rejected Application or a Dissatisfying Offer using DoNotPay
Is the offered financial aid amount too modest for your needs? DoNotPay has come up with an amazing solution that will make the appeal submission much simpler. Forget about writing requests yourself or using unreliable document templates. Our app creates a personalized appeal letter based on the information you give us and makes sure it arrives at the right address fast!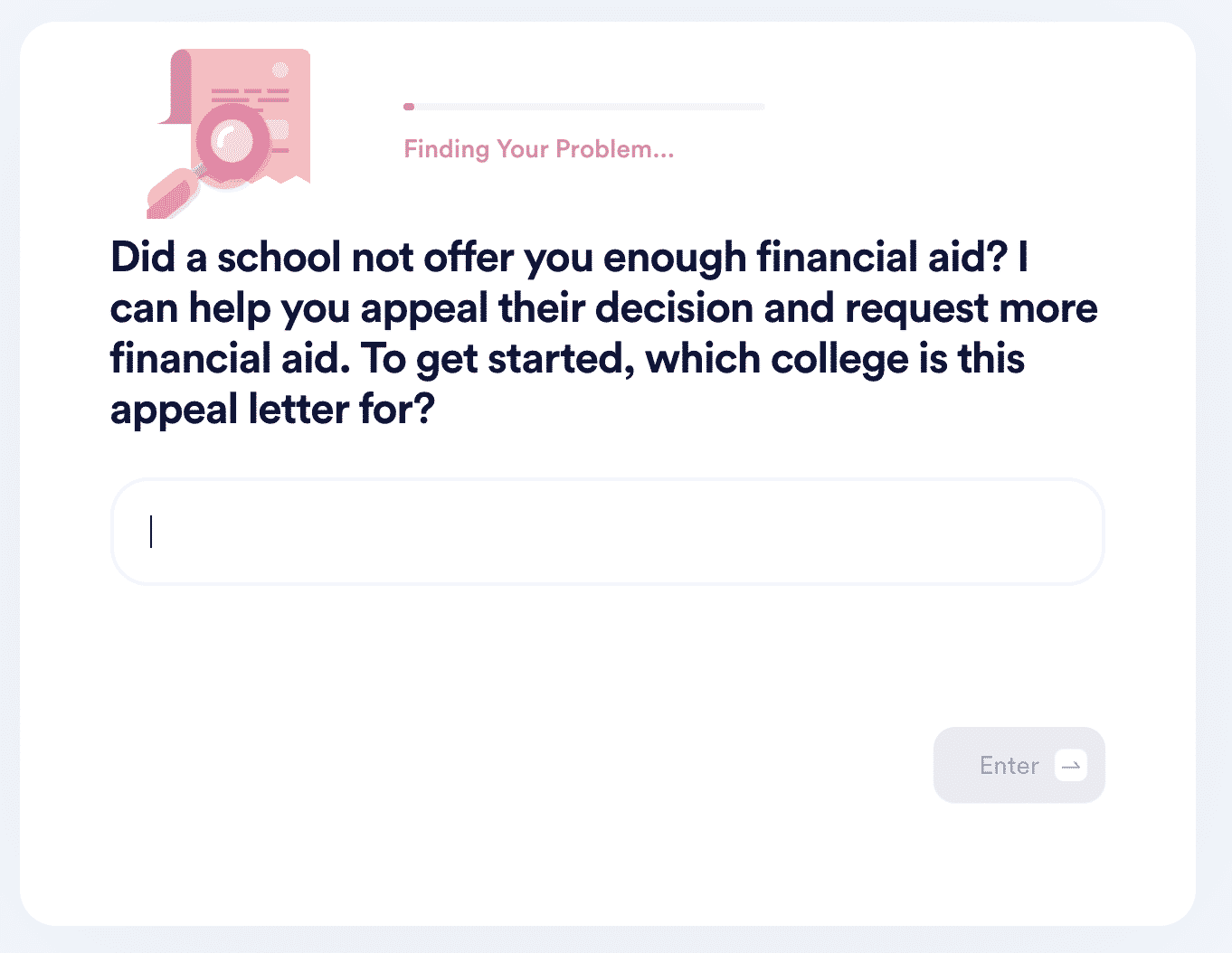 Here's all you should do:
Choose the Appeal for More Financial Aid feature
Enter UC San Diego as the name of your preferred university
List some more colleges that gave you better financial aid offers if applicable
Go through a few of our chatbot's questions related to your family, home, and finances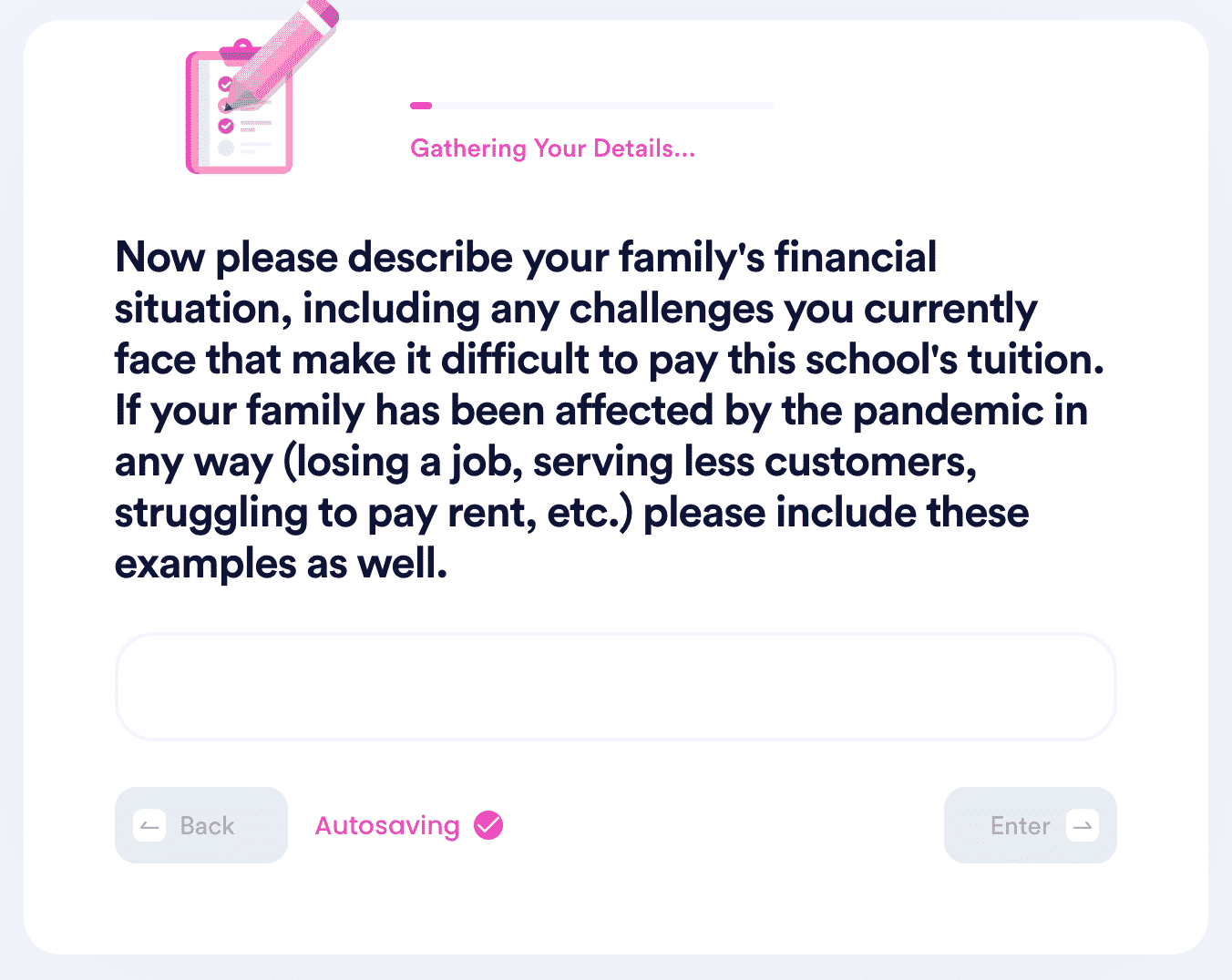 We can also help you find out everything about financial aid propositions for other universities and graduate schools, including the ones below:
Only the Sky Is the Limit for DoNotPay
DoNotPay has an insane number of features that keeps growing. Our platform can help you:
Say Goodbye to Spam Mail With DoNotPay
DoNotPay has designed a feature that will put a stop to the flood of junk and spam mail into your inbox! We can help you join a class action against a spammer or take any person or company that's wronged you to small claims court!
Need a virtual credit card number or a fake phone number to protect yourself from scammers? We've got you covered! We can help you fight text spam or even assist you in sending mail without any chance of error.
Our users' safety is our number one concern, so we've developed a feature that will protect you from cyber stalking or harassment!