Everything You Need To Know About UCR Financial Aid
At the University of California, Riverside, 86% of undergraduate students receive financial aid. The in-state tuition and fees are $13,859, while out-of-state tuition and fees amount to $43,613.
If you want to attend this university but can't afford to pay tens of thousands of dollars each year, applying for financial aid is the way to go.
In this article, DoNotPay will provide you with the essential information about applying for UCR financial aid. We can also help you appeal the UCR's decision if it declines your application.
Getting Familiar With UCR Financial Aid Types
UC Riverside offers its students financial aid in the form of:
Grants
Scholarships
Loans
Work-Study
AmeriCorps
Grants
To apply for grants—which don't have to be repaid—you must submit a Free Application for Federal Student Aid (FAFSA) or California Dream Act Application. You can choose between the following grant programs:
Federal Pell Grant
Federal Supplemental Educational Opportunity Grant (SEOG)
Teach Grant
Cal Grant
The California Chafee Grant
UCR Grant
USHIP Fee Grant
To qualify for most grants, you must enroll at least half-time.
Scholarships
Scholarships are awarded for everything from academic achievement and leadership to art and athletics. If you are an incoming freshman, you are automatically considered for the following scholarships:
Regents Scholarship ($10,000)
Chancellor's Scholarship ($5,000)
Non-Resident Achievement Scholarship (up to $4,500 per quarter)
Transfer students are automatically considered for:
Regents Transfer Scholarship ($5,000)
Non-Resident Achievement Scholarship (up to $4,500 per quarter)
Other scholarships you may apply for are:
UCR continuing student scholarships
Scholarships promoted by UCR colleges and departments
UCR Ethnic & Gender Programs Scholarships
Alumni Association scholarships
Chancellor's Performance Awards
Outside scholarships
Loans
You can apply for the following types of loans:
Federal Loans
UCR Loans
The DREAM Loan Program
Private Loans
Emergency Loans
Keep in mind that you have to start paying back your loans roughly six months after you graduate. To find the best loan repayment strategy, use the Loan Simulator.
Work-Study
Work-Study programs enable you to earn money for your college costs. You can work part-time at nonprofit and community agencies on or off campus. Note that Federal Work-Study is based on financial need.
AmeriCorps
The Segal AmeriCorps Education Award is an education award for individuals who complete the terms of national service in approved AmeriCorps programs.
How To Apply for UCR Financial Aid
The procedure of applying for financial aid is different for:
Undergraduate students
Graduate students
Undocumented students
Refer to the table below to find what steps you need to take while applying for aid, depending on which group of students you belong to:
Undergraduate students
Graduate Students
Undocumented Students

Apply for an FSA ID
Fill out the Free Application for Federal Student Aid (FAFSA)
Check MyUCR for additional required financial aid documents you may need to submit by June (if you are a new student)
Check R'Web if you are a continuing student
Accept your financial aid award on R'Web

Apply for an FSA ID
Fill out the Free Application for Federal Student Aid (FAFSA)
Update your FAFSA using the IRS Data Retrieval Tool after you file your taxes

Fill out the California Dream Act Application
Sign the California Dream Act Application digitally
Submit a GPA Verification form (to be able to qualify for Cal Grants)
Fill out an affidavit if you do not have legal immigration status
Check MyUCR if you are a new student or R'Web if you are a continuing student to check additional documents you may need to submit
The deadline for filling out your FAFSA application is every year between October 1 and March 2 if you're an undergraduate or graduate student.
Undocumented students must fill out the California Dream Act Application every year between January 1 and March 2. When filling out your application, make sure you list UC Riverside as your school (school code: 001316).
How To Get in Touch With the UC Riverside Financial Aid Office
If you need help with your financial aid application, consider sending an email to UC Riverside Financial Aid Office at finaid@ucr.edu. In most cases, you will get a response in about 5–10 days. Don't forget to include your Student ID Number in your email.
What Happens if Your Financial Aid Application Gets Declined?
Three different scenarios may occur after you submit your financial aid application. You may:
Obtain the amount of aid you hoped for
Get a disappointing offer that doesn't work for you
Get rejected
Don't get discouraged if you don't get what you hoped for—there's still something you can do! File a financial aid appeal by taking the following steps:
Click on the Financial Aid icon in the Authorized Applications window
Click on the Award link
Select the Resources/Additional Information tab
Choose the appropriate type of appeal from the drop-down menu
Submit your request
Once you've completed all the steps, a UCR financial aid advisor will send you an email containing the financial aid forms needed to process your request.
Opt for DoNotPay and Appeal a Low Financial Aid Offer in Minutes!
There is no need to go through this time-consuming appeal process on your own. , and we will draft a personalized financial aid appeal letter in no time!
All you need to do is:
Search for the Appeal for More Financial Aid product
Give us details about your family, income, and taxes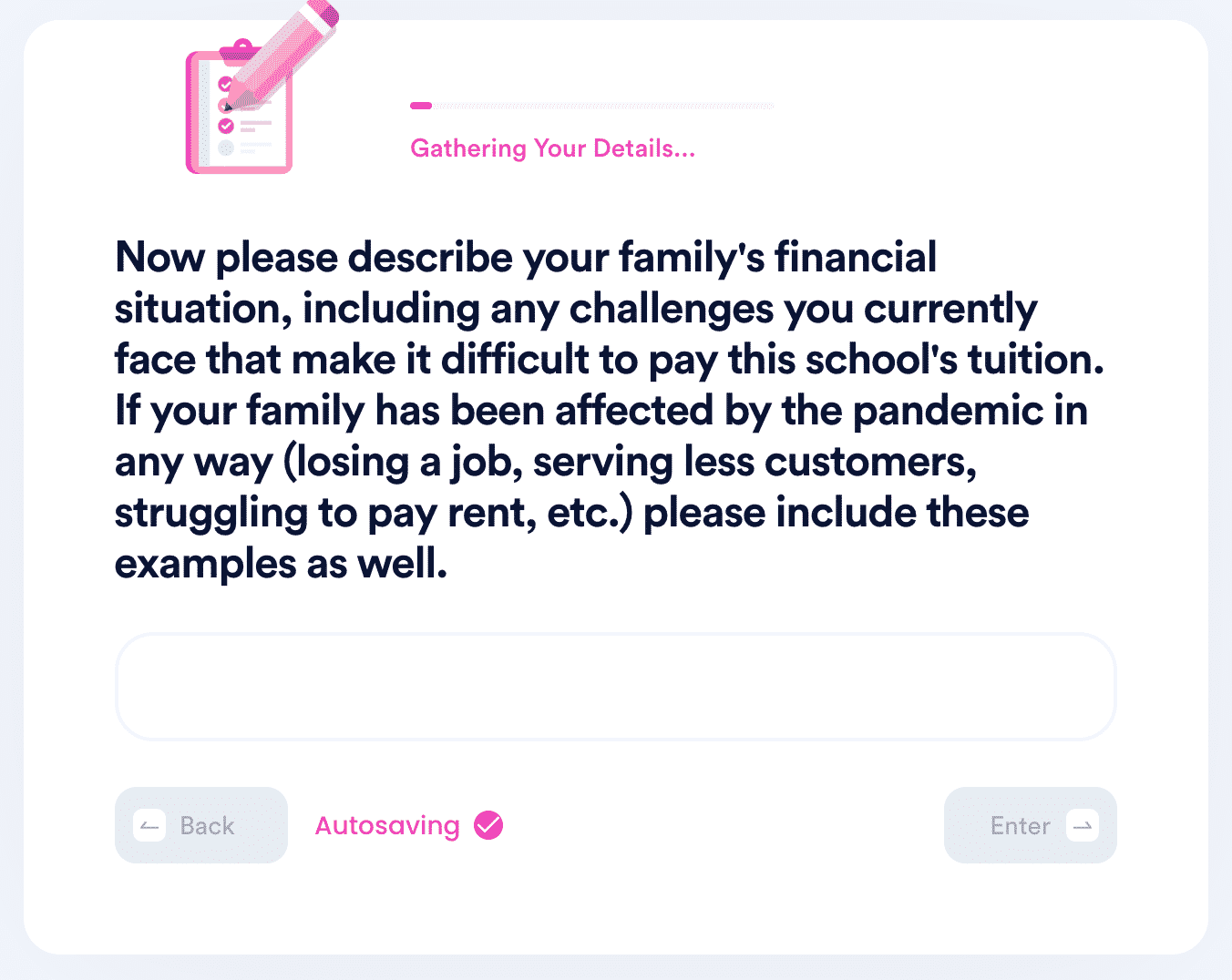 That's all we need from you! After you complete the needed steps, we will send the newly generated letter to the university in question.
It may be a good idea to keep your options open and learn about the financial aid packages offered by different colleges and grad schools. Read our comprehensive guides and find out the answer to the following questions:
Check out the specifics for:
Tackling Administrative Issues Has Never Been Easier
DoNotPay was created to help you deal with burdensome everyday tasks you would rather skip. The features we offer will make sure you can:
Dealing With Legal or Security Issues? DoNotPay Will Make Them Go Away
Has a company refused to issue a refund you are entitled to? Sue it in small claims court and get your money back with the help of the world's first robot lawyer! You can also turn to us if you want to protect your work from copyright violation, prevent stalking or harassment, or get virtual credit cards to avoid disclosing your credit card info.
Besides assisting you in seeking justice and security, DoNotPay can help you arrange DMV appointments, contest parking tickets, prepare divorce settlement agreements, and compose various legal documents.