The Breakdown of the Tufts Financial Aid Program
Tufts is an elite private research university that can cost up to $81,700 a year. Is your goal to walk through the halls of this school, but the whooping tuition fee is holding you back from applying? You don't need to give up on your dreams because DoNotPay can help you get financial assistance.
Learn the ins and outs of the Tufts financial aid programs. Our guide will let you know what types of financial aid exist, how you can apply, and what to do if the offer isn't enough to cover your expenses.
If you're curious about financial aid for graduate schools, we can help you out with that as well!
Available Types of Financial Aid at Tufts
Tufts provides various financial aid programs to undergraduate and graduate students. The school emphasizes that it meets 100% of the demonstrated financial need of every student.
The longevity of the aid lasts up to eight semesters or until you get a bachelor's degree. If you want to know how much financial aid you can get, use the Tufts Financial Aid Calculators to get an estimate.
Your financial aid package can include:
Grants
Scholarships
Loans
Work-study programs
Grants
Grants are a need-based type of financial aid that doesn't need to be repaid. The amount you can get ranges from $1,000 to $75,000.
You can get:
Institutional grants
Federal grants
State grants
Scholarships
Students who receive scholarships don't need to pay back the money. This type of financial aid goes to students with exceptional academic performance or extracurricular activities. For some scholarship programs, high financial need is also one of the criteria.
Your tuition cost can be lowered if you receive:
Merit scholarships
External scholarships
Loans
Loans are a need-based financial assistance type that needs to be repaid with interest. The exception is that first-year domestic students don't need to pay the interest. Tufts offers the following two loan types:
Federal direct loans
Tufts loans
Work-Study Programs
Students can get employment through work-study programs to lessen their expenses. At the beginning of each year, you can look for jobs that suit your class schedule and interest in the Career Center's database. First-year students usually work 5–10 hours a week and are paid between $12.75 and $15 per hour.
Tufts Financial Aid Application Process
To apply for any type of financial aid program at Tufts, you need to:
Meet the eligibility requirements
Prepare and complete the necessary documentation
Respect the deadline
Eligibility Requirements
You must meet certain eligibility requirements to be considered a qualified candidate for financial assistance. The criteria include:
Being a U.S. citizen or an eligible noncitizen, which refers to:

U.S. permanent residents
Conditional permanent residents
Refugees
Indefinite parole
Asylum granted non-citizens
Humanitarian parole
Citizens of the Republic of Palau, the Federated States of Micronesia, or the Republic of the Marshall Islands

Having a valid Social Security number
Possessing a high school degree or an acceptable equivalent
Being a regular student of a particular program at Tufts
Having a good academic performance
Having no previous student loan debts
Being registered with Selective Service—referring to men between the ages of 18 and 25
In terms of financial need, students whose family income is less than $60,000 will be eligible for receiving a financial aid offer without loans.
Necessary Documentation
The University asks that you complete and provide the following forms and documents:
Free Application for Federal Student Aid (FAFSA)—use the code 002219
CSS Profile—use the code 3901
Federal tax returns
W-2 forms
The federal tax returns and W-2 forms should be signed and uploaded to the College Board's Institutional Documentation Service (IDOC). If you need to supply additional documents, you can review the checklist on the IDOC portal.
Note that besides submitting the documents, you also need to pay the application fees.
Application Deadline
You need to apply within the set deadlines if you want Tufts to consider your application. The table below will help you keep an eye on the document submission dates:
| Application Round | FAFSA | CSS Profile | Documents Submitted Through IDOC |
| --- | --- | --- | --- |
| QuestBridge National College Match | November 1 | November 1 | November 1 |
| Early Decision—1st Round | November 20 | November 20 | December 2 |
| Early Decision—2nd Round | January 15 | January 15 | February 3 |
| Regular Decision | February 3 | February 3 | February 17 |
| Transfer Admission | April 1 | April 1 | April 15 |
How To Contact the Tufts University Financial Aid Office
If you have any doubts or questions about the financial aid programs, don't hesitate to get in touch with the Tufts Financial Aid Office. You can reach them in one of the following ways:
Call at (617) 627-2000
Email at studentservices@tufts.edu
They will address all your inquiries Monday–Friday, 10 a.m.–5 p.m.
What To Do in Case of a Denied or Insufficient Financial Aid Amount
The financial aid package can sometimes be less than what you expected—or even denied. If you want to get more funds, you should make a financial aid appeal.
To initiate the process, you need to:
Complete the Appeal Form—which includes the appeal letter and supporting documents
Submit the form, a copy of parent federal income tax returns, W-2s, schedules, statements, and any other attachments to IDOC
The review lasts seven to ten business days from the moment the Financial Aid Committee receives all the documents.
Be ready to write a convincing appeal letter if you want to change the committee's decision. To improve your chances of getting what you want, —we will write a top-notch appeal letter on your behalf!
DoNotPay Can Take Your Appeal Worries Away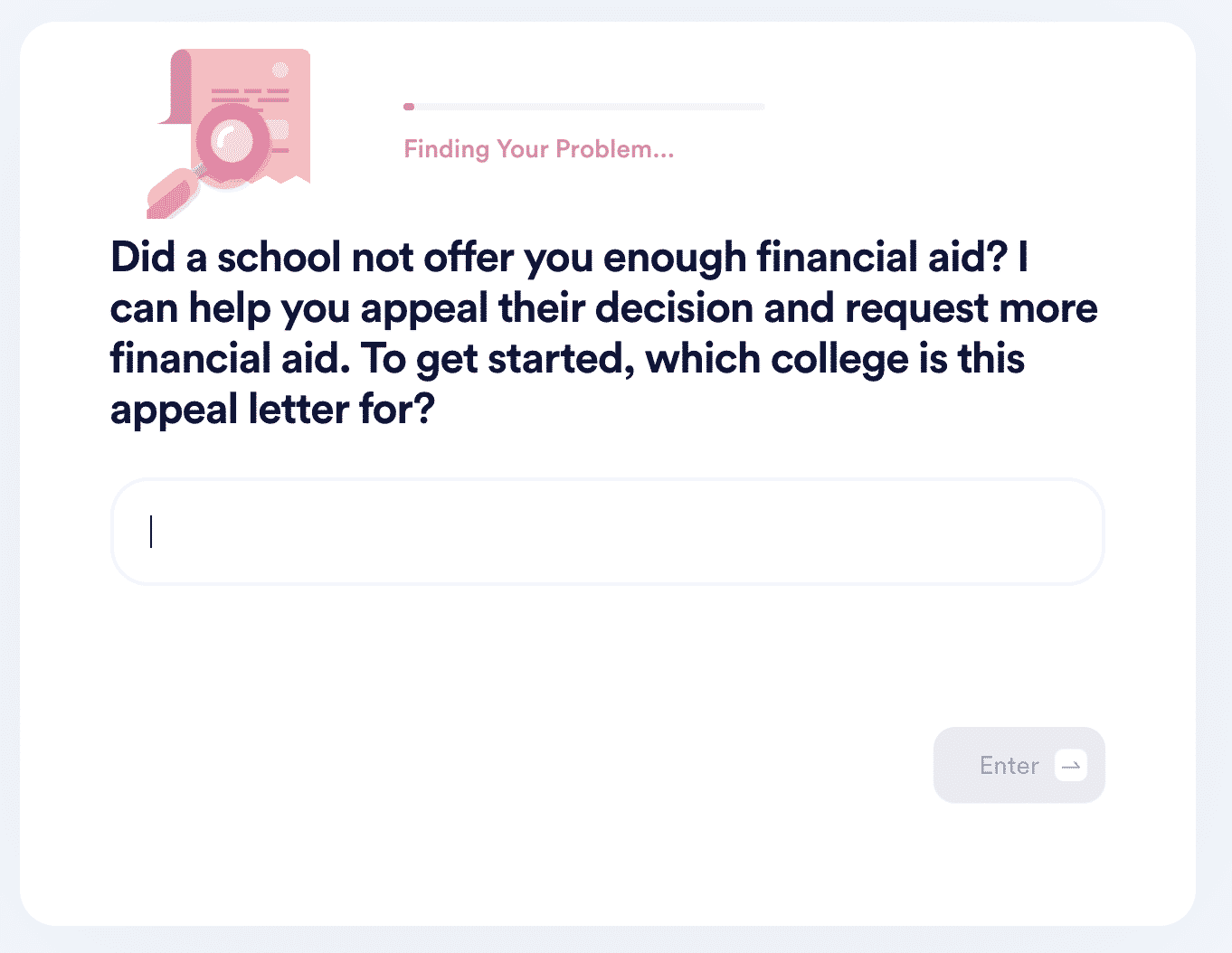 Our nifty app can turn the time-consuming letter-writing procedure into a few-minute-long task. All you need to do is:
Click on the Appeal for More Financial Aid product
Let us know about the basics of your financial aid application
You don't need to do anything else as we will create a customized appeal letter and send it to Tufts.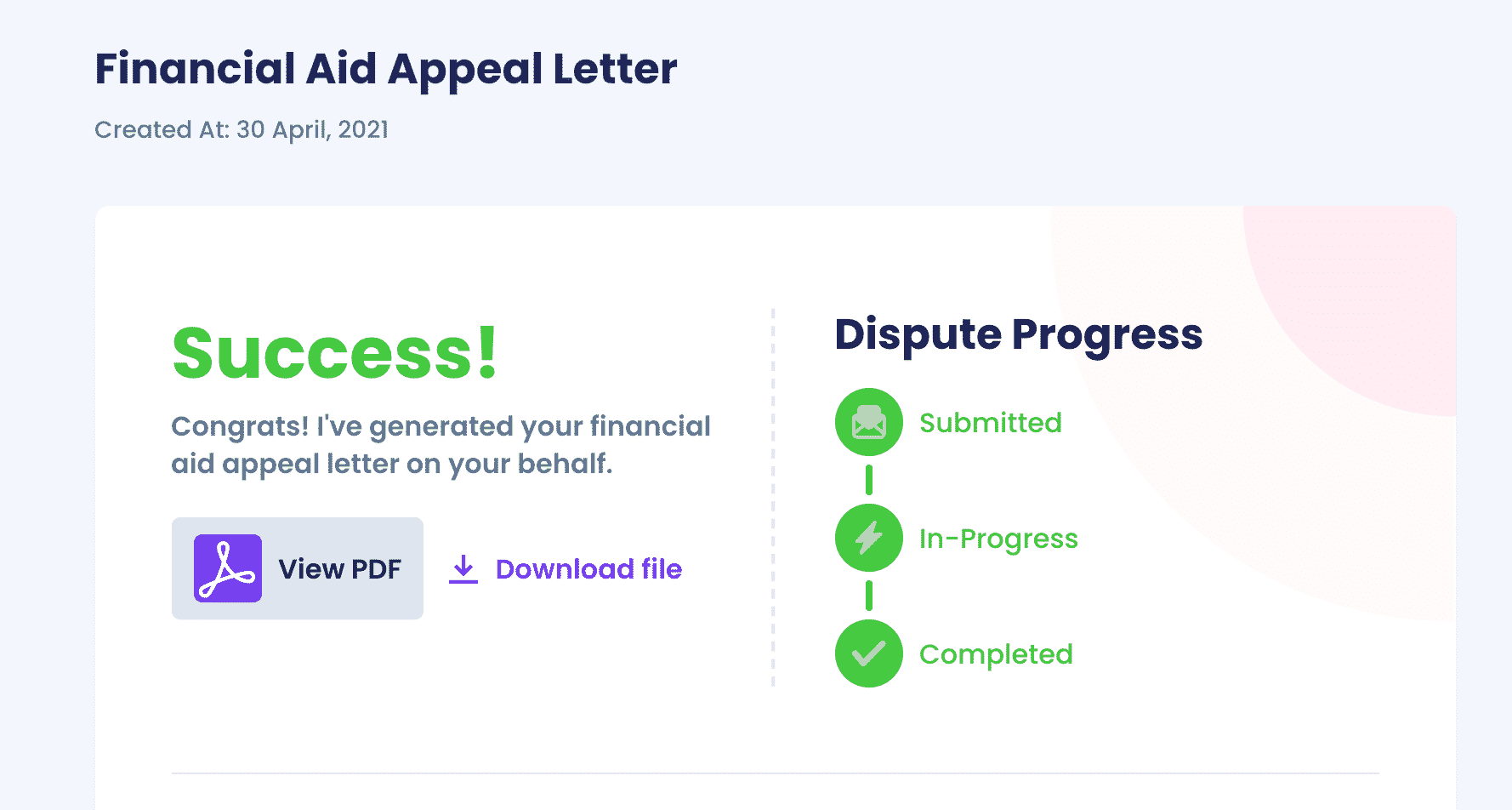 If you want to know what other options you have besides Tufts, read our helpful guides:
Have Your Documents Created and Notarized in Less Than Five Minutes!
Why spend hundreds or even thousands of dollars on lawyers when the ideal solution is only a few clicks away?
DoNotPay saves the day by enabling you to generate numerous legal documents. Creating proper child travel consent forms, divorce settlement agreements, and powers of attorney has never been easier!
Our perks don't stop here—you can also have your documents notarized electronically from any location. Once you obtain a notary stamp and signature, your paperwork can be faxed online without outdated machines.
Explore Everything DoNotPay Has To Offer
Day-to-day tasks you must deal with don't have to be a burden or rocket science. Signing up for DoNotPay is your ticket to performing them the easy way! We offer a wide selection of products that don't cost an arm and a leg but do excellent work when it comes to solving your administrative issues!
Our services will help you: