Everything You Want To Know About the Tufts Application Fee
Tufts is a private university based in Massachusetts. This school has an almost equal number of graduate and undergraduate students, which amounts to around 11,000. The acceptance rate for this university is 14.6%, and it is smart to apply for other colleges as well to keep your options open.
We can tell you more about the application process, college fees, and ways of lowering your expenses, primarily with fee waivers.
What Are Application Fee Waivers?
If you are about to begin your college journey, you will find out that most schools require future students to pay college application fees. The price of application fees goes from $50 to $100.
Since students generally try to boost their chances of enrollment by sending applications to multiple universities, they will have to spare a solid amount of money. There is a way of avoiding these expenses—application fee waivers.
Fee waivers are usually available for students with financial difficulties, but there may be some additional circumstances allowing you to avoid these extra costs.
If you think you are eligible for a fee waiver, you should request one. The easiest way to waive your college application fees is with DoNotPay!
How Much Does the Tufts University Application Fee Cost?
The price of the application fee at Tufts University is $75. You can avoid this expense if you are eligible for a fee waiver! If you already got an ACT or SAT fee waiver, you automatically meet the requirements for a college fee waiver.
You can also request a fee waiver on your own, and the Office of Undergraduate Admissions will let you know if your request is valid. Take note that your application to Tufts University will not be considered without an application fee or an approved fee waiver, which means that these fees are non-refundable.
What Is the Tufts Application Fee for Graduate Students?
The Tufts application fee for graduate students is $85, and you can pay it via:
The online application by credit card

An e-check
The fee is not refundable, even if you submit it after the deadline. You should keep your e-check or credit card statement as your receipt. You will need to make separate payments if you want to apply to two graduate programs.
Who Can Get a Fee Waiver at Tufts University?
Students who are facing financial hardship are generally eligible for application fee waivers. This usually entails students who are a part of certain programs that help young people from low-income families.
Your annual family income also needs to be in alignment with the USDA Food and Nutrition Service Income Eligibility Guidelines. Depending on the number of family members, this amount should start at 20,000 and not exceed 70,000.
This applies to both graduate and undergraduate students at Tufts University.
Fee Waivers for Graduate Students at Tufts
When it comes to students who wish to be a part of Tufts graduate programs, eligible candidates are those who have participated in one of these programs:
Some students can get automatic fee waivers depending on the school they attend. Here is an overview:
Automatic Fee Waivers for
School of Engineering
Graduate School of Arts and Sciences

Juniors and seniors who attend:

Lafayette College

Wellesley College

Smith College

Union College

Olin College

Seniors who attend:

Bates College

Williams College

Wesleyan University

Hamilton College

Colby College

Amherst College

Connecticut College

Middlebury College

Bowdoin College

Trinity College
How To Get a Tufts University Fee Waiver on Your Own?
You can get a Tufts University application fee waiver in two ways. These are your options:
How To Request an Application Fee Waiver via the Common App
You can apply to Tufts using the Common App. You will need to do the following:
Create or sign in to your account if you have one

Select the

Profile

link

Pick the

Common App Fee Waiver

option

Provide the info about your eligibility for the application fee waiver

Select the economic factors that are relevant for your financial situation

Answer all other questions

Provide your signature to finalize the procedure
How To Request an Application Fee Waiver via the Coalition App
Tufts University allows applications submitted via the Coalition App. This is what you'll need to do:
Create an account or sign in if you have one already

Click on the

Profile

link

Choose all the factors that make you eligible for a fee waiver

Select

Tufts University

as the school you're applying to
You also need a written request from your college counselor or school official, confirming that you can't afford the fee because of financial reasons.
Obtain a Tufts Application Fee Waiver With DoNotPay
If you are looking for an easy way of requesting application fee waivers, you need not look further than DoNotPay. We fill out the form for you and deal with the tiresome mailing process.
Our extensive database includes all universities in the country, so you will be able to find your wishlist choices without trouble.
To use our feature, open DoNotPay in a and follow these steps:
Locate and click on the

College Application Fee Waiver

feature

Choose the application fee you want to get rid of

Pick Tufts or any other college you want to enroll at

Tell us more about your financial status
If you need your counselor's signature, DoNotPay will send the form to them straight away. If not, we will mail it to the university's financial aid office.
Our app can help you obtain three types of fee waivers:
New Student Application Fee Waiver

Enrollment Deposit Fee Waiver

Transfer Student Fee Waiver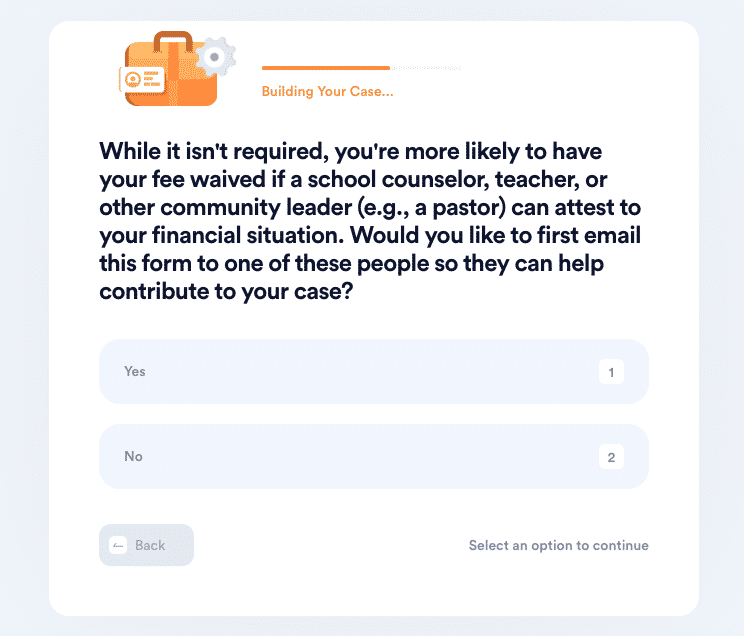 DoNotPay Is the Best Virtual Assistant Around
DoNotPay can show you the easiest way to pass your RMV road test in Massachusetts in no time. Once you get your permit, you can count on our app to help you get rid of Massachusetts Bay Transportation Authority (MBTA) parking tickets and help you contest them in Boston and Cambridge.
If you are looking for the fastest way to get new treatments for a disease or a condition, you can count on our help to find clinical trials in Boston or enroll in studies at the Dana Farber Institute.
In case National Grid robocalls are bothering you, we can show you the best way to deal with them.
This was only a small show of possibilities available if you open DoNotPay in a . Allow us to assist you with:
Appealing your traffic citations

Disputing speeding tickets