Trading Returns—How the Sierra Trading Post Return Policy Works
Are you unhappy with a product you've bought at Sierra? If so, you must be wondering how you can return the item and get your money back. This guide will go over all the details regarding the Sierra Trading Post return policy so you can complete the process hassle-free! We'll also explain how to automate the return request process by using DoNotPay.
Sierra isn't the only merchant we can help you with—you can use DoNotPay to file a return request with a plethora of other retailers, including Zappos, Charlotte Russe, and Zara.
Sierra Trading Post Return Policy—The Conditions
You can file a return request with Sierra either online or in-store.
If you wish to file a return request online, you have to do so within 40 days of the purchase date. For in-store returns, there's a 30-day deadline.
If you want Sierra to accept your return request, the product in question has to be in its original condition, which means that the merchandise has to be:
Unworn
Unwashed
Resalable
With all its tags still attached
In its original packaging (if possible)
Should you return an item that doesn't fulfill these criteria, Sierra will ship the item back at your expense.
Note that Sierra accepts its products only. You can't file a return request for one of its sister brands' products (T.J.Maxx, Homesense, HomeGoods, and Marshalls).
Sierra Trading Post Return Policy During COVID-19
If a Sierra store near you has closed due to COVID-19, you can file a return request with that store within 30 days of the day the store reopens. You can also return the product to a different store in the first 30 days of purchase.
The company states that its return policy is subject to "local, state, and federal restrictions." This means that you may not be able to return some products due to shipping restrictions that might be in place at that moment. You should check whether that's the case before sending your return item.
Sierra has lowered the number of staff working in its fulfillment center for health purposes, which means there might be a delay in processing your return request.
Sierra Trading Post Return Policy for Online Returns
The process for filing an online return request with Sierra consists of four steps. You need to:
Obtain a return form by:

Completing and printing out the online form
Printing and filling out the form yourself

Repack items in sturdy packaging
Insert the return form and affix a prepaid label on the outside of the packaging
Go to a FedEx drop-off location to ship the item
If you use the prepaid label, Sierra will deduct $6.95 ($10.95 if you ship from Alaska or Hawaii) from your potential refund.
If you don't want to use the prepaid label, you can ship the item with a carrier of your choice as long as you don't send a C.O.D. package. You'll need to include your return address label and ship the package to Sierra Trading Post, Attn: Returns, 5025 Campstool Rd, Cheyenne, WY 82007-1898.
Sierra Trading Post Return Policy for In-Store Returns
Regardless of whether you've bought an item online or in-store, you can visit your local Sierra store to return it. If you don't know where to find one, you can visit its Store Locations page. All you need to do is bring the item to the store, provide all the necessary information, and Sierra will handle your request immediately.
Using DoNotPay To File a Return Request With Sierra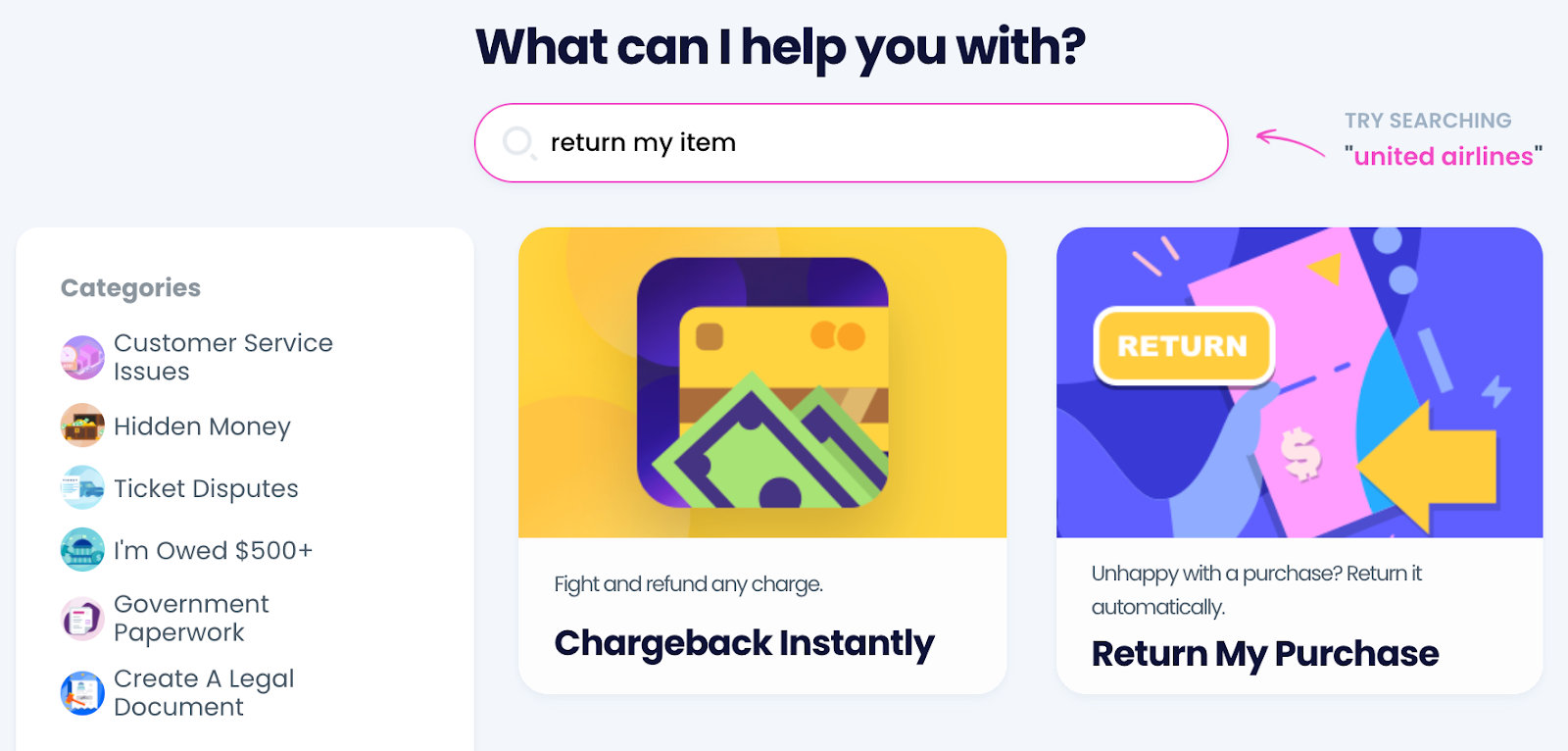 The Sierra return process is usually time-consuming whether you file it online or waste hours going to a store. With DoNotPay, you can cut the whole ordeal short and avoid having to deal with all the paperwork yourself. We can help you take care of your return in a matter of minutes. Here's what you need to do to file your request with Sierra in a snap:
Sign up for DoNotPay in your browser
Pick the Item Return Request tool
Answer a few questions from our chatbot
Send the request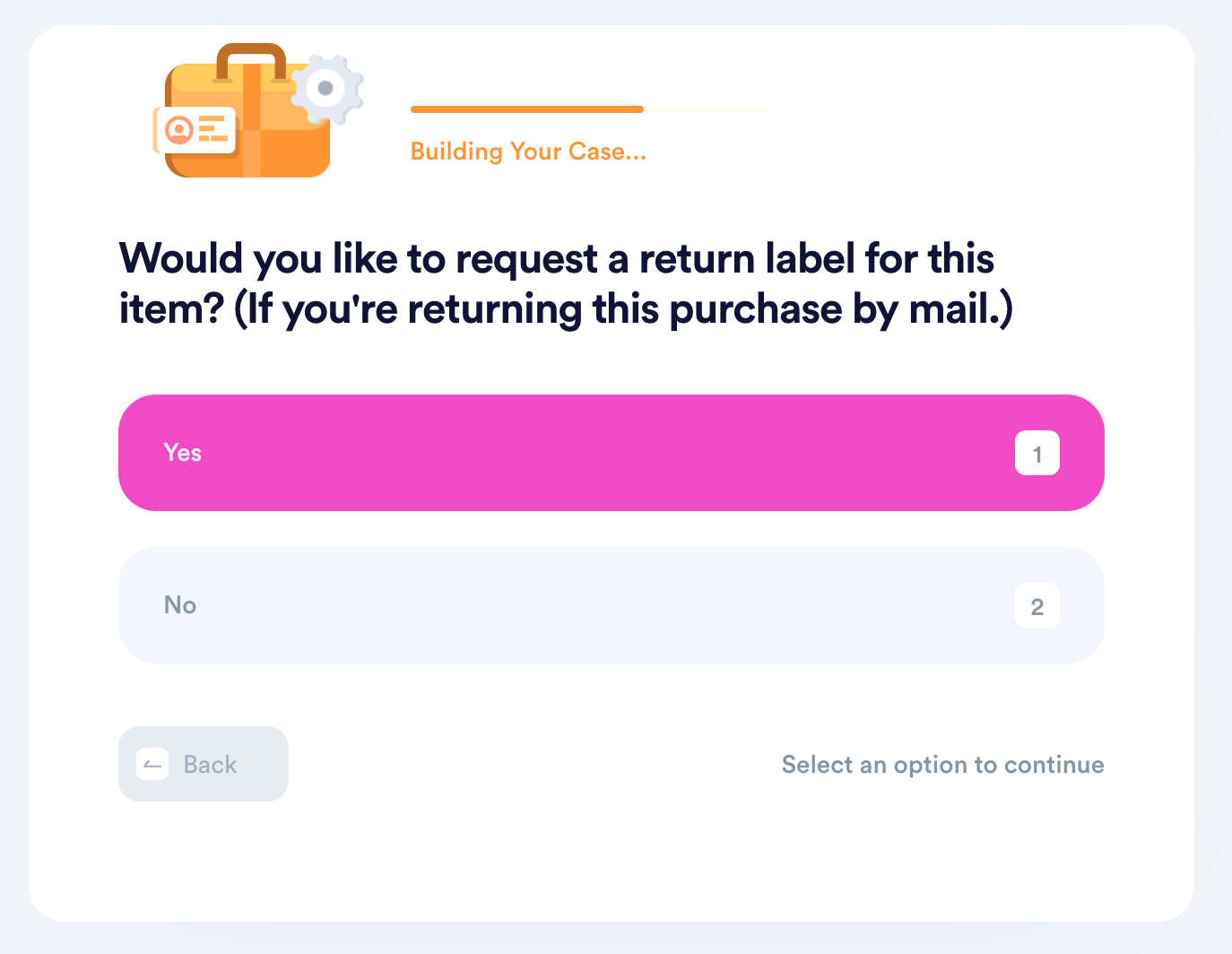 Once you ship your item to Sierra, you can sit back and leave us to do everything else. We will be in direct contact with the company, and we will inform you of the outcome.
Sierra Trading Post Return Policy—What Are the Outcomes?
If your return request is successful, you will be able to ask for either a refund or exchange, depending on where you made the request. See the table for more details:
| Ways of Making a Return | Refund | Exchange |
| --- | --- | --- |
| Online | Yes | Store credit |
| In-store | Yes | Yes |
If you receive store credit, you have 60 days to use it. Otherwise, Sierra will send the amount of credit to your original form of payment.
Filing a Return Request Without a Receipt
If you've lost your receipt, you can still file a return request, although the outcome will be less desirable (the same rules apply for requests made after the deadline). Sierra does not offer refunds for returns without a receipt. Instead, you will receive non-transferable store credit. When you file such a request, you will have to provide the following:
Photo ID
Full name
Address
Signature
If your request is successful, the company will issue store credit to your name, and only you will be able to use it.
Use DoNotPay To File a Return Request With Other Companies
Sierra is not the only retailer DoNotPay gets in touch with. You can instruct our app to handle return requests with a myriad of companies, including:
Item Returns and Other Annoying Tasks Take but a Minute With DoNotPay
Looking into resolving other tedious bureaucratic tasks with the help of our app? Check out a fraction of our product range that can assist you with:
Don't Stop There—See How We Can Help You Even Further
You can count on our app's assistance if you need to cancel any subscription, demand a refund from a company or airline, get help with utility bills, reduce your property taxes, get a tourist visa, appeal banned accounts, contact embassies, or get cash back on gift cards.
Think you have some missing money? Claim it before the government does it in your stead! Need help preparing for a government test? Skim through our guides! Want to schedule a DMV appointment in a snap? We'll do it for you! Have any other obstacles? We'll get rid of them in the blink of an eye.