The Ins and Outs of the HomeGoods Return Policy
HomeGoods is a popular brand. As many people shop on their website, some of those orders are bound to be returned.
This guide will give you the complete breakdown of the HomeGoods return policy. You can also use DoNotPay to skip the hassle and make returns easier and faster!
What Is the HomeGoods Return Policy?
The HomeGoods return policy differs slightly for online and in-store purchases. While online purchases can be returned both by mail and to a store, you can return in-store purchases only to a HomeGoods store. Here are the basics:
Shipping and handling for returns are not free
Return requests can be rejected if the items are damaged or used
HomeGoods Return Policy for Online Purchases
You can return most items bought online to HomeGoods as long as the package reaches a HomeGoods online warehouse within 40 days of purchase.
HomeGoods items purchased online can be returned:
By mail
In store
Returning an Item by Mail
To return a product by mail, you should send the package to a HomeGoods online warehouse via FedEx. You must include your receipt or order confirmation email in the package and ensure it reaches the warehouse within the stipulated time frame, or you will not be able to get a refund.
A shipping label is included with every online purchase, but in the event that you make a return, a shipping and handling fee of $14.99 will be deducted from your purchase.
Returning Items to a Store
To ensure immediate returns and avoid shipping and handling fees, you can return your online purchases to a HomeGoods store near you. These returns are also accepted within 40 days of purchase, and you must show a receipt or your confirmation email to initiate a return request.
If you don't have a receipt, a valid government-issued ID card will be required. You must also provide a signature when returning online goods to store locations.
Items that cost over $1,000, handbags that cost over $499, and long occasion gowns cannot be returned in store.
HomeGoods Return Policy for Store Purchases
Store-bought items can be returned to HomeGoods within 30 days of purchase. You must provide your receipt or a valid government-issued ID to request a return.
In light of the COVID-19 pandemic, if you need to return an item to a store that has temporarily closed, you can make the return within 30 days once it reopens. You can also choose to return the items to another HomeGoods location within the original time period.
Can I Return All Items to HomeGoods?
HomeGoods allows returns for almost all of their goods as long as:
The items are undamaged and in their original packaging
The product was not marked as final sale
Cosmetic items are not opened or used
The item is not a gift card
Refunds at HomeGoods
Issuing refunds can take 10–14 days. The following table provides a breakdown of refund types at HomeGoods:
| Condition | Refund Type |
| --- | --- |
| Check purchases | Cash |
| Items returned without a receipt or after the return deadline | Store credit |
| Products returned with a gift receipt | Store credit |
| Items purchased with a gift card | Store credit |
| Items bought with PayPal that are returned by mail | Refund to the account |
| Items bought with PayPal that are returned in store | Store credit |
| Credit card | Refund to the account |
Looking To Make Quicker Returns? Use DoNotPay!
If you are struggling to make returns to HomeGoods or another retailer on your own, we've got your back. You can use our Return My Purchase product to initiate a return request in a few clicks. To do so:
Log in to DoNotPay and search for the product
Type in a few details about your purchase
Click Submit
We will generate a custom return request letter and send it to the retailer on your behalf. The letter will include the details of your purchase, the reason for the return, and a deadline so that they know to prioritize your request.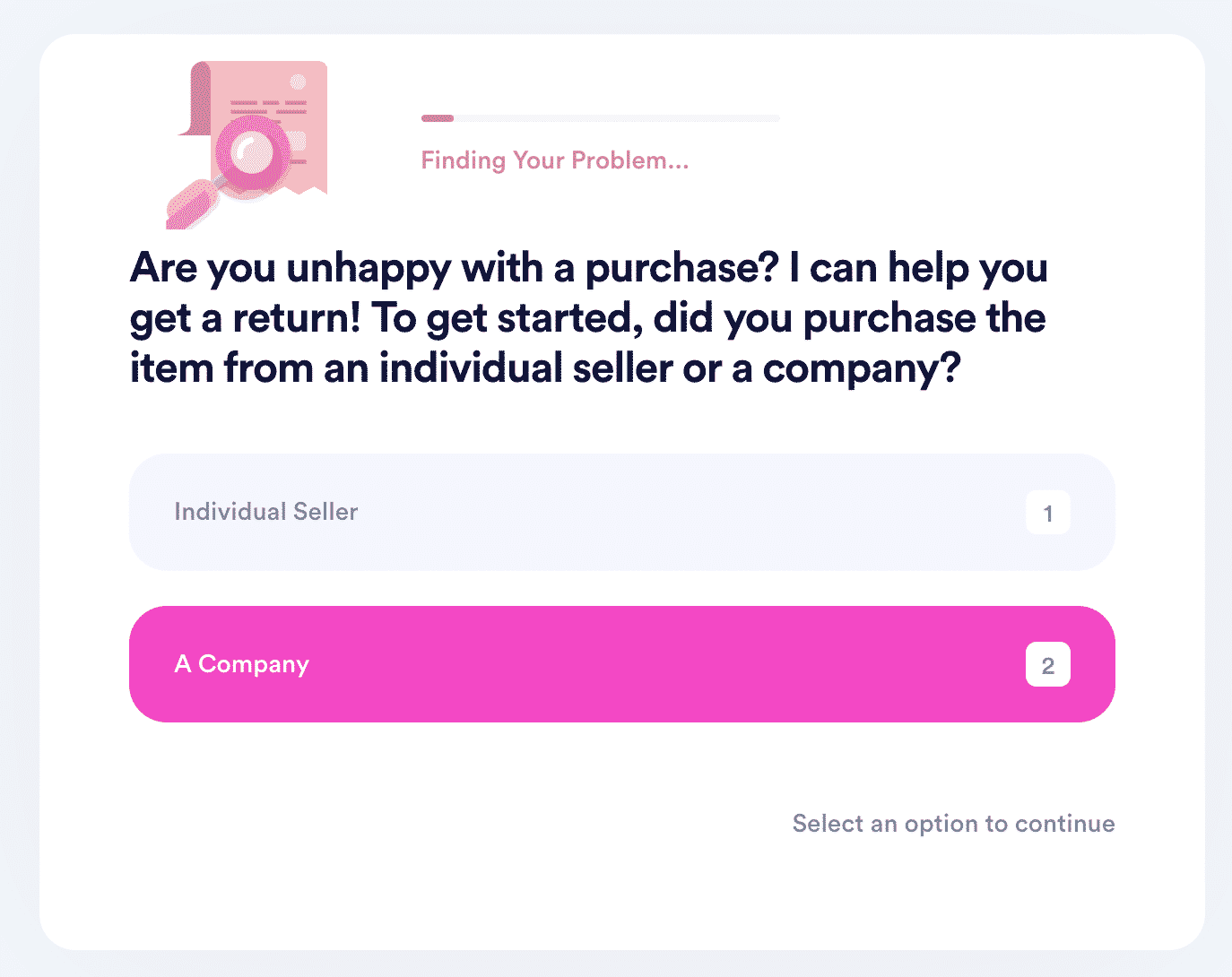 DoNotPay can help you return items to many other companies, including:
Say No to Bad Purchases—DoNotPay Will Help You Get Back What's Rightfully Yours
Have you finally returned that damaged item thanks to DoNotPay's nifty product? Our app's capabilities don't stop there—we can assist you in doing so much more!
Do you believe you have some missing money? Use the world's first robot lawyer before the government claims your assets! Are you feeling lucky and want to enter sweepstakes without purchasing anything? DoNotPay will sign you up for them automatically! Looking for ways to save on property taxes or utility bills? We'll show you the way. Don't want to get charged for free trials that auto-renew into paid subscriptions? We'll help you cancel them on time.
No matter the issue you're facing, DoNotPay is here to resolve it in a split second.
Need Help With Anything Else? Your Robot Lawyer Will Provide!
Aside from sending return request letters to a myriad of companies in your stead, we can also help you get refunds from airlines, earn off robocalls, appeal parking tickets, protect your intellectual property, claim insurance and warranty, and so much more!
Are you dealing with rude neighbors or mean coworkers that discriminate against you? DoNotPay will help you fight for your rights!