The Basics of Santa Fe College Financial Aid
Students seeking a certificate, associate's degree, or bachelor's degree opt for Santa Fe College (SF) because it offers various programs that accommodate their needs. The tuition and attendance costs, which can reach over $26,000, may not seem much compared to other schools, but they can still deter prospective students.
This guide explains how the Santa Fe College financial aid program works, how to apply for it, and how to with DoNotPay if the school's offer is not enough!
What Types of Aid Does Santa Fe College Offer?
Prospective and continuing Santa Fe College students can qualify for the following types of aid:
Grants
Scholarships
Loans
Partnerships and student employment programs
Tuition waivers and exemptions
Santa Fe College Financial Aid—Grants
Take a look at all available grants at Santa Fe College:
Category
Grant
Amount
Federal
Federal Pell Grant
$6,345 per year
Federal Supplemental Educational Opportunity Grant (FSEOG)
$4,000 per year
Florida grants
Florida Student Assistance Grant (FSAG)
Up to 110% of required credit hours to complete a program
First Generation Matching Grant (FGMG)
$1,000
Scholarships at Santa Fe College
Scholarships you can apply for at Santa Fe College include:
Category
Scholarship
Amount
Institutional
Foundation scholarships
Determined for each case
Need-based Santa Fe College scholarships:

In-district need-based scholarship
Out-of-district Santa Fe scholarship

Determined for each case
Other SF College Scholarships

SF Fine Arts scholarships
CTE scholarships
Bachelor's Degree Scholarship
Honors Program scholarships

Determined for each case
State
Florida Bright Futures Scholarship

100% of tuition and applicable fees
$600 for additional expenses

Florida Farmworker Student Scholarship

100% of tuition and mandatory fees

José Martí Scholarship Challenge Grant
Minority Teacher Education Scholars Program

$4,000 per year for two years

Scholarships for Children and Spouses of Deceased or Disabled Veterans

Tuition waiver and additional funding

Honorably Discharged Graduate Assistance Program

$50 per day for a maximum of 20 days per academic year to help with living expenses during breaks
Santa Fe College will acknowledge any external scholarships you obtain, so here are some resources that can help you in your search:
Santa Fe College Financial Aid—Loans
Santa Fe College participates in the William D. Ford Federal Direct Loan (Direct Loan) Program, which includes:
Subsidized loans
Unsubsidized loans
Parent Plus loans
The school also processes private loans, so if you get any, report them to the Santa Fe College Financial Aid Office.
Santa Fe College Partnerships and Student Employment Programs
Check out all options Santa Fe College offers for students to earn credits and minimize their expenses:
Apprenticeship Program—You can earn up to $25,000 during your scholarship while learning everything you need to know for your future job
Vocational Rehabilitation Program—This program focuses on students experiencing physical or mental disabilities and helps them land and secure a job
High School Dual Enrollment and Career Pathways—Students can take college classes during high school, earn credits, and avoid paying for them later on
Tuition Waivers and Exemptions at Santa Fe College
Tuition waivers and exemptions at Santa Fe College include:
Florida State Employee Tuition Waiver
Senior Citizen Waiver
Purple Hearts Recipient Waiver
Veteran's Out-of-State Waiver—The Congressman C. W. Bill Young Veterans Waiver
Florida High School Graduate Out-of-State Waiver (including DACA)
Classroom Teacher Waiver
Eligible College Employees and Dependents Waiver
Linkage Institutes Out of State Tuition Waiver
Dependents of Deceased Teacher or School Administrator Waiver
Dependants of Deceased First Responders and Military Members Waiver
Department of Children and Families (DCF) Exemption
Homeless Exemption
How To Apply for Santa Fe College Financial Aid
To apply for Santa Fe College financial aid, students should complete and submit:
Their FAFSA and include the school's code, which is 001519
The application deadlines at Santa Fe College are:
Priority deadline—March 15
Final deadline—June 30
If you need assistance with your application, contact the Santa Fe College Financial Aid Office by:
What Can I Do if I Get Insufficient Aid From Santa Fe College?
If Santa Fe College offers little or no aid, here's what you can do:
Continuing students can file a Satisfactory Academic Progress (SAP) Appeal using the eSantaFe portal
With DoNotPay, writing and sending an appeal letter is a quick and straightforward process!
Request More Financial Aid From Santa Fe College With DoNotPay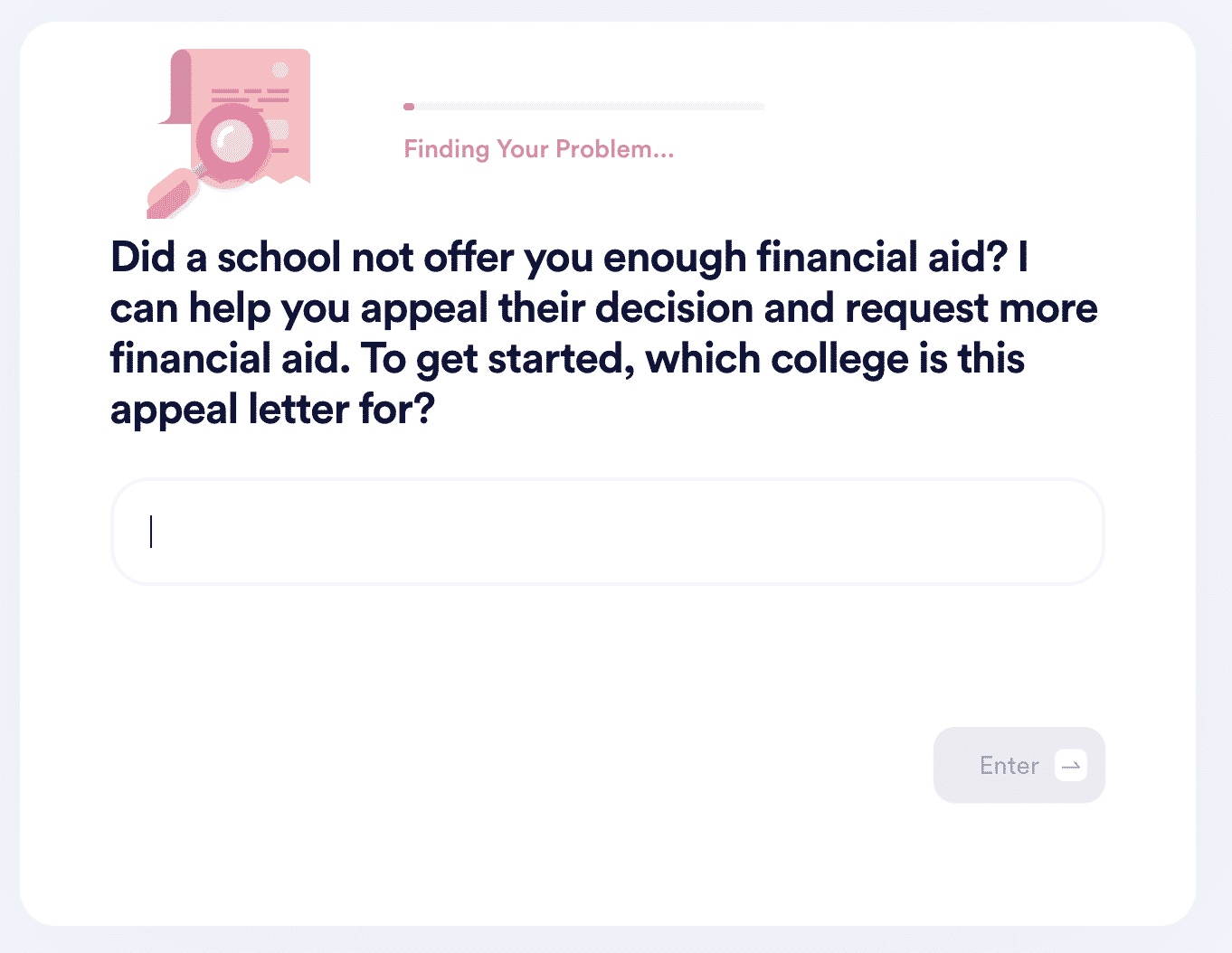 You can request more aid from Santa Fe College and ease your financial hurdles in three simple steps:
Search for Appeal for More Financial Aid
Answer a few questions about your financial aid applications and the reasons why you need more aid from Santa Fe College
After you complete all steps, you can send the letter directly to the College through DoNotPay or receive it via email so you can hand it over yourself.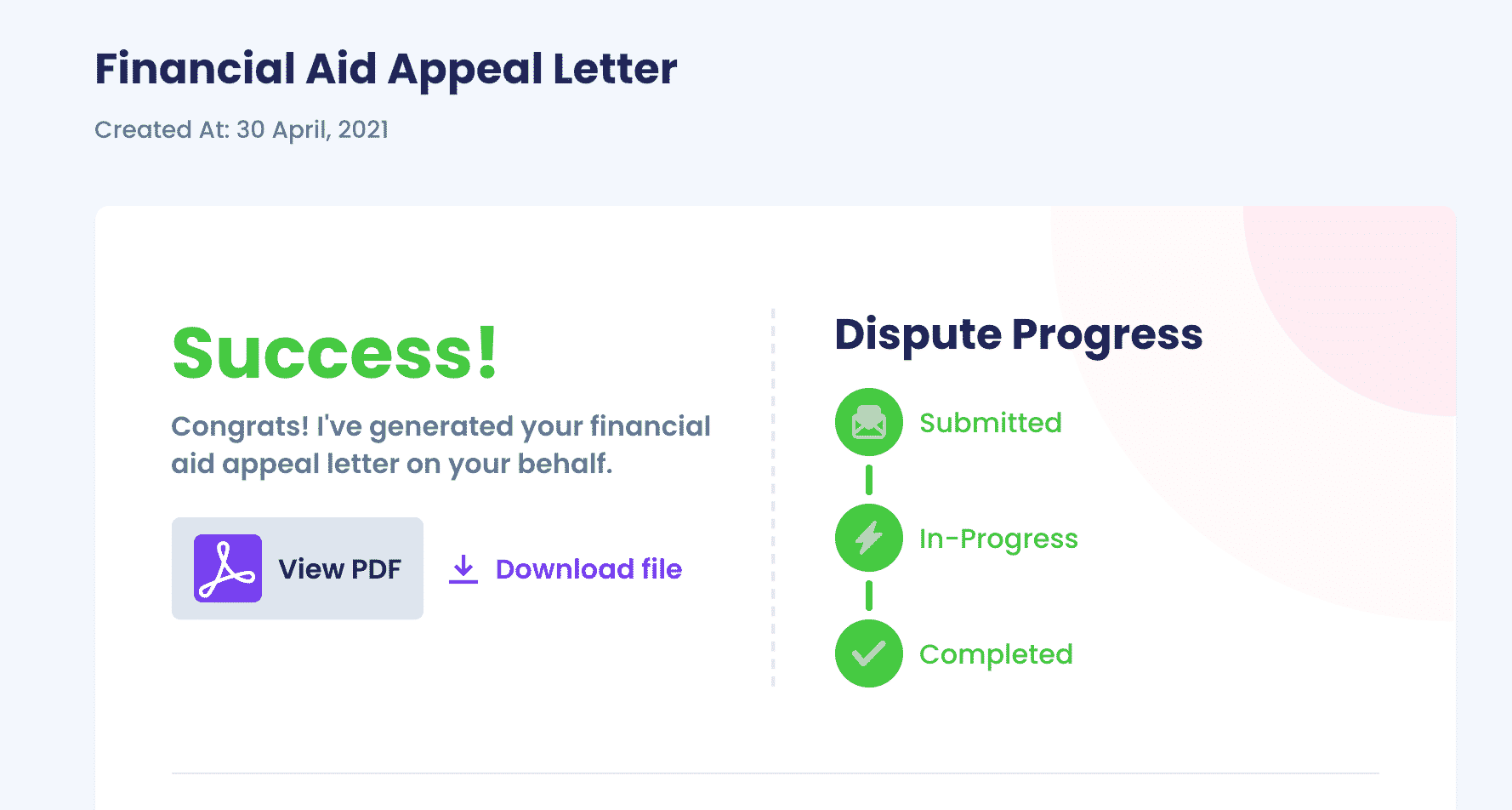 Our learning center offers even more handy financial aid guides that can answer all of your questions, including:
Alternatives to Santa Fe College
If you filed an appeal to Santa Fe College, but the school still doesn't offer enough financial relief, check out other schools to find a more generous program that meets your needs:
Solve Any Issues Like a Pro With DoNotPay
DoNotPay is an AI assistant that is able to solve almost all issues you're facing. Whether that be your noisy neighbors, the annoying text and email spam you're receiving, or the frustrating robocalls that won't leave you alone. We'll even cancel your unneeded subscriptions and get you a few extra bucks you've been cheated out of.
The world's first robot lawyer app can help you get:
DoNotPay Helps You Deal With Any Administrative Issue Effortlessly
Tedious administrative tasks are always headache-inducing, but they don't have to be if you use DoNotPay. With our AI-powered app, you will be able to: