Is a Notary Public in Lancaster, CA, the Right Choice for You?
Is your only option to get your documents notarized heading to an office of a notary public in Lancaster, CA?
to get answers to this and many more questions. We collect relevant information and provide the most practical notary service you can use from any U.S. village, city, county, or state.
What Services Does a Notary Public in Lancaster, CA, Provide?
A notary public in Lancaster, California, performs the notarization of agreements, affidavits, trusts, powers of attorney, real estate deeds, wills, or any other legal document at:
Your home or office

His or her office

Nursing home

Hospital

Cafe

Jail

Another convenient venue
While different states might have different notary rules, regulations, and fees, a notary's main duty is to verify the authenticity of signatures on documents. To do that, notaries public need to:
Verify the identity of signing parties

—They will ask for a valid photo ID document, for example, your:

Passport

ID

Military ID

Driver's license

Determine all signing parties are signing the document willingly and of sound mind

—A notary can refuse to notarize your documents if he or she believes you:

Have been forced to sign the document

Are under the influence of some substances

Witness the signing process

—You should not sign the document before meeting with a notary

Finalize the notary service by:

Issuing an

acknowledgment

Putting the notary

signature

and stamp on the document
Where To Search for a Notary in Lancaster, CA
When on the lookout for a notary in Lancaster, you might find some of the following platforms handy:
Visit Public Places Close By
Another way to find a notary public on your own is by checking whether any are employed at:
Shipping companies, e.g.,

UPS

Police departments

Courthouses

Libraries

Law offices

Credit unions

Stores, e.g.,

AAA

Real estate agents

Banks

or financial institutions, e.g.,

Bank of America

or

Wells Fargo
As these institutions tend to employ notaries, they might provide notary services for their clients free of charge.
How Much Can a Notary Public in Lancaster, CA, Charge?
A notary public in Lancaster, CA, can charge up to $15 for regular notary services, such as:
Jurats

Acknowledgments

Verbal oaths and affirmations
You should inquire about the exact amount you will need to cover at the end of the notary service since the fees may vary depending on:
The document(s) you want to get notarized

Whether you would like to hire a mobile notary to notarize your documents at your home, workplace, or some other place

The time you would like to get your documents notarized as prices tend to be higher for night or holiday appointments
Different Possibilities To Get a Lancaster Notary Service
To have your contracts or other paperwork notarized in Lancaster or anywhere else in California, you can select one of the following notary services:
Notary Service
Steps You Should Follow

Traditional notary

Find a notary's office

in Lancaster

Contact a notary public

Get familiar with the

notary fees

Schedule an appointment

Collect the required documents

Bring a photo ID document with you

Head to the notary's office at the agreed time

Mobile notary

Find a mobile notary in Lancaster

Get in touch with a mobile notary public

Inquire about the

mobile notary costs

Make an appointment and provide the location

Prepare the necessary documents

Keep an ID document at hand

Wait for a notary at the agreed time and place
Keep in mind that mobile notaries charge extra for their time and travel. It means that although it is practical to get your documents notarized at your home, office, or any other convenient place, you will need to pay more for this kind of service.
What About an Online Notary Public in Lancaster, CA?
While you cannot find an online notary in Lancaster as remote online notarization is not allowed in California, you can use an out-of-state one!
If you prefer to get your documents notarized safely and remotely—especially during the COVID-19 pandemic—you can opt for notary services from another U.S. state that permits remote online notarization, including the following:
Where can you look for an out-of-state online notary? You do not have to waste any time— to connect with a notary in a flash!
DoNotPay's Remote Online Notarization Service Is Available 24/7!
DoNotPay keeps introducing new inventive tools to simplify and shorten perplexing bureaucratic procedures. Use our AI-driven app to find the right solution to your problem.
One of our successful features helps you get your documents notarized remotely via a live audio-video call.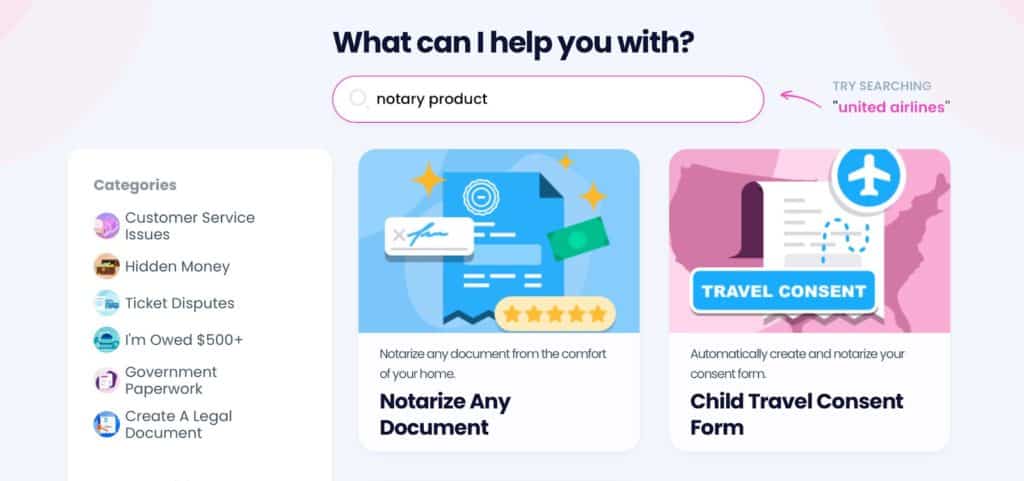 To set up an appointment with an online notary, and follow these steps:
Select the

Notarize Any Document

feature

Upload the document you need to have notarized

Enter your email address
An email will be in your inbox with a link that will lead you to a notary's calendar where you can select a suitable appointment—our online notaries are available 24/7!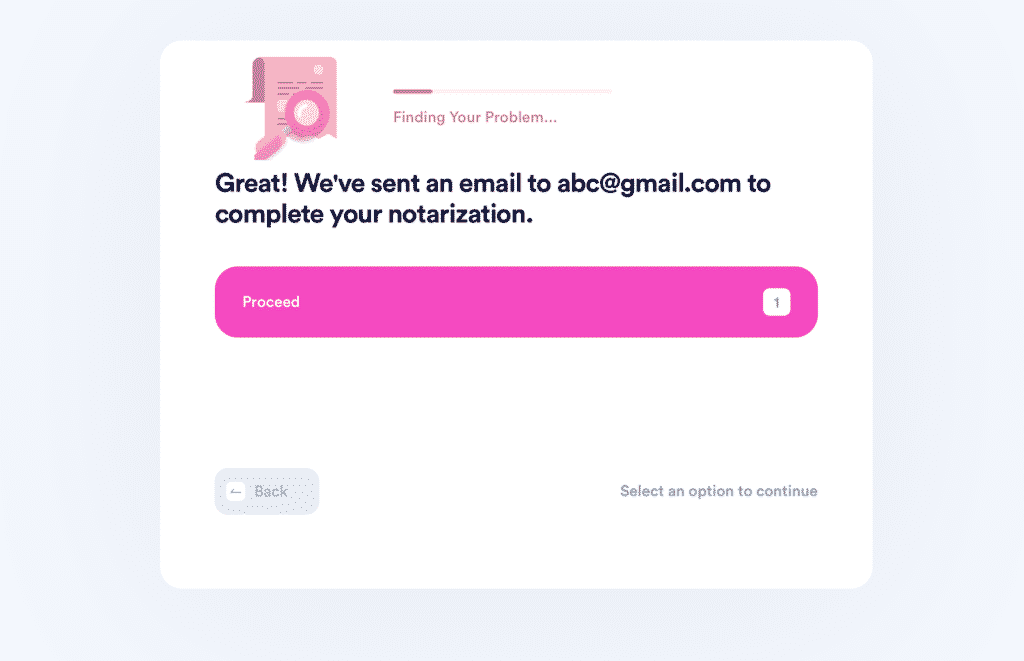 DoNotPay—The Quickest Way To Deal With Greedy Companies
Spending hours on the phone with customer care reps struggling to get a refund or cancel certain services due to complicated procedures can be tiresome.
If you sign up for DoNotPay, we can help you:
Unsubscribe from all unused subscriptions in a few clicks

Get a refund for faulty products

Request

compensation from any airline

because of canceled flights, poor Wi-Fi, and similar
Has a company refused to accept your warranty claim even though it was valid or wronged you in any other way? Make sure to serve them justice by bringing them to small claims court with DoNotPay's help!
Use Our App To Resolve Any Issue
DoNotPay has numerous products you can use. We can help you resolve any problem in a few clicks.
Do you want to find unclaimed money? Would you like to know how to protect your work from copyright infringement? Are you wondering how to apply for a college fee waiver because the application fee is too expensive for you? If you rely on us, you will solve all of these and many more issues stress-free!
Even victims of violent crimes—such as stalking—can use DoNotPay to solve their problems. Having a stalker is traumatic and potentially dangerous. We can tell you how to deal with the situation and apply for crime victims compensation in your state if you need help covering counseling expenses.
We can simplify the document notarization process and help you send online faxes and mail letters from the comfort of your home in less than five minutes.