Book Your Meeting With a Notary in Johnstown, PA, Within Minutes
Many people see notarization as a difficult and tiresome procedure. While this isn't far from the truth, the good news is that there's a way to simplify the process. This article will teach you how to locate a notary in Johnstown, PA, and set an appointment in minutes.
What Does Notarization Look Like in Pennsylvania?
The first step of notarization is to choose the type of notary services you need. In Johnstown, you can pick one of the following options:
Standard notaries

work in offices or within large companies or institutions. You must meet them at their place of business

Online notaries

work remotely, which means they can perform notarial acts via video call by putting an electronic seal and

signature

on the document in question

Electronic notaries

require your presence, but you must provide a digital copy of the document instead of a physical one. They will place an electronic stamp and signature on the document

Mobile notaries

perform notarial acts at the signers' locations, but their services are usually more expensive due to travel expenses
During notarization, the notary must:
Check your identification documents

—it's the best way for them to confirm your identity

Confirm that you are of sound mind and nobody forces you into signing the document in question

—they have the right to refuse to notarize your document if they realize you don't meet all the requirements

Witness the signing of the particular document

—physical presence is necessary during the regular notarization. When you choose a remote notary service, the officer must be able to see you signing the document on the video call

Provide their signature and stamp

—if you opt for an online notary, they will use digital ones instead

Write an entry for a notary journal

—it's a mandatory step of the notarization procedure in Pennsylvania. The officer should note the most important details about your case, such as the performed notarial act, applicable fees, etc.
What Are the Costs of Having Your Documents Notarized in Johnstown?
Notary publics in Johnstown are free to set the prices by themselves, but the amounts shouldn't exceed the maximum notary costs proposed by state laws. Section 167 of the Pennsylvania Notary Public Law stipulates the following price limitations:
Affidavits

—$5 (regardless of the number of signatures)

Acknowledgments

$5 for the first signer

$2 for each additional name

Certificates—$5 per copy

Oaths—$5 per individual

Depositions—$3 per page

Verifications of signatures—$5

Protests—$3 per page
How To Find Notary Publics in Johnstown by Yourself
Check out the most popular ways to locate a notary public in Johnstown:
Method

Explanation

Online platforms and notary locators

Flip through online notary databases you can find on:

Institutions, offices, and facilities

Check whether there are any notaries employed in nearby:

Banks—

Wells Fargo

,

Citibank

,

Bank of America

, etc.

Financial companies

Credit unions

Universities, colleges, and libraries

Law and accountant offices

Courthouses and clerk offices

UPS

facilities

Car dealerships

Money transfer offices

Google search

Look for a notary by entering keywords such as

notary publics near me, notaries in Johnstown,

etc. in the Google search field
Can DoNotPay Help You Arrange a Meeting With a Notary?
Does finding a convenient notary and getting your documents notarized in a standard way seem too complicated? DoNotPay—the world's first robot lawyer—helps you get your signature validated online with zero hassle and paperwork!
Provide us with the document you want to get notarized, and you'll get a link to pick the desired time and date for a meeting!
Here's how to use this service:
in your web browser

Find the

Notarize Any Document

service

Attach the e-copy of your legal document

Leave your email address
All that remains is to click on the link and choose a suitable time slot!
The notary will verify your identity and notarize your document digitally via a live video call. You don't need to leave your home—your phone, laptop, or any other device will be enough!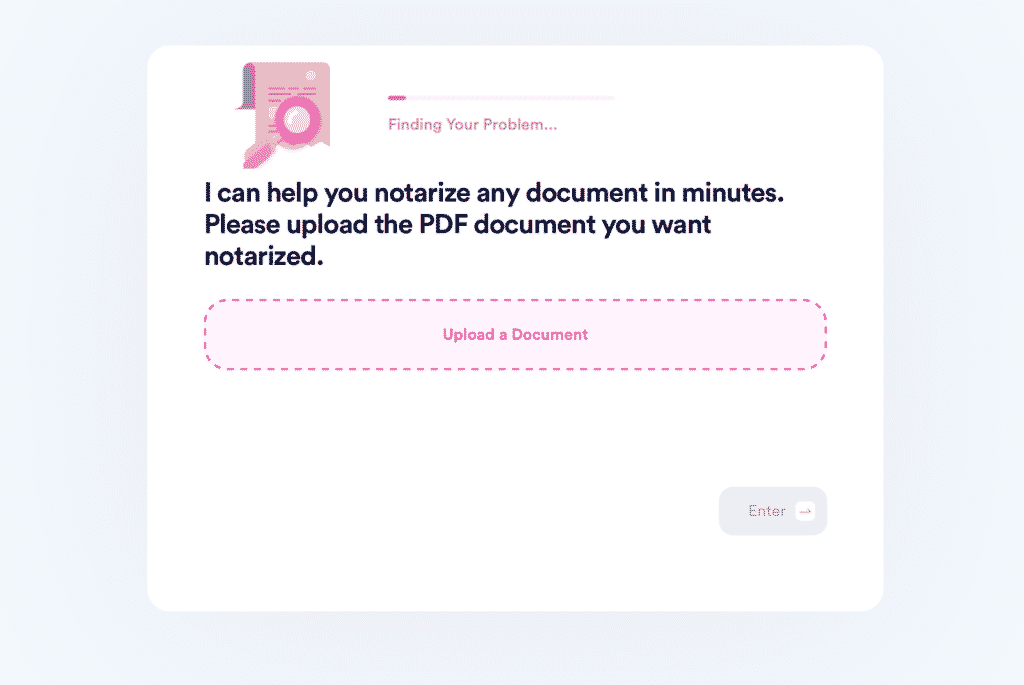 DoNotPay's Knowledge Base Solves All Your Notary-Related Dilemmas
and discover answers to many notary-related questions, such as:
Rely on DoNotPay To Solve Your Administrative Issues
Getting your documents notarized, drawing up legal paperwork, appealing parking tickets, and similar activities usually require a lot of effort. DoNotPay offers various useful products that can help you deal with administrative problems quickly and save a lot of time. We can assist you with:
Protect Your Consumer Rights With DoNotPay
Companies complicate cancellation and refund processes intentionally, hoping that consumers wouldn't want to spend hours trying to solve the issue they're having. DoNotPay knows how important consumer rights are, and that's why we created numerous products that can help you:
Many people forget to cancel their free trials on time and end up paying for the services they don't even use. To prevent that, DoNotPay has developed a nifty virtual credit card that will allow you to enjoy free trials risk-free. Our virtual credit card will also help you avoid spam email notifications by generating a random email address that you can use when signing up for a free trial.