Can You Fax a Notarized Document? Learn How To Fax Files Efficiently!
Can you fax a notarized document? It's a question many people pose for a reason.
With the growing popularity of cloud computing, exchanging documents through emails and instant chats has become the norm. The problem is that emails are risky. Your account can always get hacked, and you risk sensitive information falling into the hands of unauthorized persons. This is not something you want to go through when it comes to notarized documents.
If you are someone who isn't sure how faxing works, you've come to the right place! Find out how to fax files and which faxing services are the most efficient.
can also help you learn how to:
Can You Fax Notarized Documents?
You can fax any document, whether it's notarized or not. The question you should be asking instead is whether the recipient will accept your document as legally binding if you fax it after you get it notarized.
If both you and the recipient agree that faxing the notarized document is the best option, you can do it fuss-free with DoNotPay's help.
Pro Tips for Faxing Notarized Documents
If you're not sure what to do, the best course of action is to:
Fax your file

Ask the other party to sign it in front of a notary

Get the document notarized when you have both signatures on it

Make copies and keep the original
It's common practice for notaries to require you to sign a document in their presence before they notarize it. Check the laws of your state and what your recipient will accept or not before taking any action.
How To Fax Any Document
If you need to fax files regularly, you should know how to do it in the way that's most beneficial to you.
Faxing is a secure method of exchanging important documents, and many small and large businesses use it.
If you are dealing with medical or legal documents, faxing is the best option. You don't want your sensitive information to get lost in your cluttered inbox or be exposed to security breaches. Sending documents through snail mail is also not a good option since it takes too much time. The document also might get lost in the process.
You have three ways of faxing documents:
Sending and receiving faxes through email

Faxing in a mobile app
Why Fax Machines Aren't a Good Choice
Many businesses still use fax machines, but they are not the most convenient method of exchanging important documents. Check out the table below to see why fax machines are obsolete and inefficient:
Why Fax Machines Are a Bad Idea
Time

You have to troubleshoot the fax machine a lot and wait while it sends your documents. If you don't have the device yourself—which you probably don't—you'll have to find a place that can do the service for you, which is a waste of time

Money

Fax machines aren't a one-time purchase. To run them, you need a landline, copiers, and cartridges. You'll incur additional costs on repairs and maintenance

Quality

Don't be surprised if you send a fax through a machine and the document ends up losing its original resolution

Environment

Fax machines aren't eco-friendly because they use a lot of paper
Is Faxing Through Email Any Better?
Not really—faxing through email has one major disadvantage.
The option is faster, more convenient, and much more eco-friendly than fax machines are, but emails get exposed to cyberattacks. If you're running a company or need to share sensitive medical information, faxing documents through emails is not a good idea.
What About Faxing Apps?
Using faxing apps to exchange files is, by far, the most secure and efficient way to fax.
The only challenge is to find the best app out there. Many popular faxing apps promise you a free service but end up charging you anyway. To fax or receive a document in an app, you usually need to buy credits.
Other apps, which you pay monthly subscriptions for, tend to be overpriced. They will charge anywhere between $10 and $50 monthly, which amounts to several hundreds of dollars a year. If you fax documents frequently, you should avoid these apps.
Faxing Using Your DoNotPay Account Is the Best Option Out There
Faxing with the help of DoNotPay is the exact type of solution you're looking for.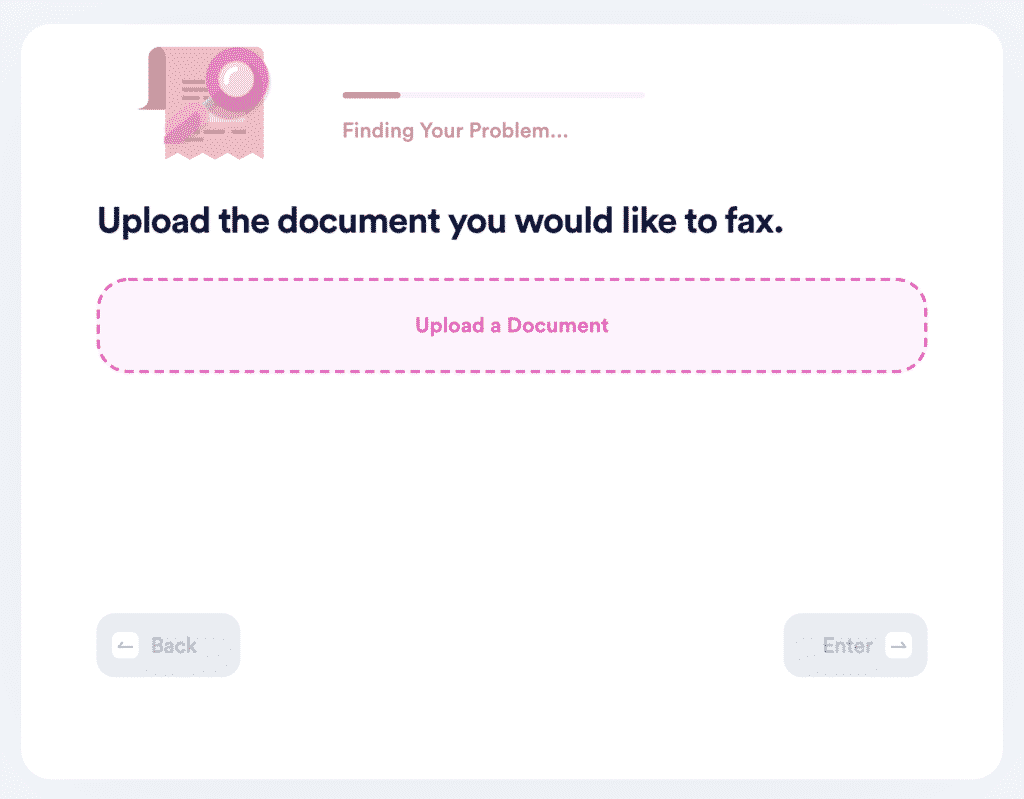 All you need to do to send files in mere seconds via DoNotPay is to snap a photo of your document and upload it. You are also guaranteed safety, and there is no risk of getting charged for something you don't even use.
Whether you need to fax a document once a year or every other day from now on, DoNotPay's Online Fax feature is the best option for it. Our product allows you to send up to 100 faxes a month.
Faxing With DoNotPay Takes Only Three Steps
Here's what you need to do to fax files using your DoNotPay account:
Access DoNotPay from any

Upload your file or snap a photo of it

Enter the fax number of your recipient
The process could not be quicker and simpler than that. The best part is that DoNotPay has integrated Online Fax with our Legal Documents feature, so you can:
Get customized contracts

Sign your documents electronically

Fax them in a jiffy
Outsmart Scammers With DoNotPay
Are you troubled every time you think about subscribing to a service because you fear your personal information will leak and your privacy will become invaded?
There's no need to fret anymore as DoNotPay has come up with a way to shield you from hackers, scammers, and identity thieves alike.
Check out how you can use DoNotPay and browse the internet care-free:
Open DoNotPay in your web browser

Locate our

Virtual Credit Card

generator

Use the made-up card number to sign up for any

free trial

Move forward to our

Burner Phone

product

Use the temporary phone number to verify any online account

Enjoy the trial without worrying about

canceling it

—the service will do it on its own
Signing up for services with DoNotPay's hacks frees you from ever falling victim to a serious crime, such as identity theft, and liberates you from the bothersome and never-ending spam calls, texts, and emails that you never explicitly agreed to receive.
What Else Is Hot About DoNotPay?
DoNotPay does wonders in protecting your online privacy, but it can do so much more for you!
With our assistance, you can claim compensation for canceled or delayed flights, request refunds and chargebacks for unsatisfactory purchases, file warranty claims for defective products, and even overturn unjust parking tickets!
Our app can locate unclaimed funds that exist under your name, the best clinical trials for your needs, and public records that you couldn't identify on your own.