Does a Power of Attorney Need To Be Notarized in Missouri? DoNotPay Knows!
Depending on the type of legal document you are dealing with, you need to find out if it needs to be notarized. The rules vary among the states. In some cases, it is enough for both parties to sign the document to make it official.
Does a power of attorney need to be notarized in Missouri? DoNotPay will provide you with an answer and offer useful information on how to notarize a document with ease!
Crucial Info About the Power of Attorney
A power of attorney (POA) allows an agent to act on behalf of another individual called the principal. This is necessary when a person can't handle certain issues themselves, and the agent needs to step in. There are four types of power of attorney documents:
Type
Explanation
General

Provides an agent with broad powers that include settling claims, handling business transactions, buying life insurance, etc.

A general power of attorney is usually included in an estate plan

Durable

Refers to a general, special, or health care POA with a durability provision to keep the current power of attorney in effect

Health Care

Allows the agent to make medical decisions on your behalf if you are unconscious or mentally incompetent. This POA is usually connected to a living will, and the agent is often the same person you trust in both situations

Special

Specifies precisely what powers an agent may exercise. Individuals usually opt for this POV when dealing with property sales, real estate management, debt collection, and business transactions
Does a Power of Attorney Need To Be Notarized in Missouri
?
You need to sign and get the original power of attorney notarized in Missouri. You should also have the notary certify several copies because banks won't let your agent act on your behalf otherwise.
If you want to revoke a power of attorney in The Show-Me State, you may do so at any time. To achieve this, you only need to let the responsible financial institutions know that your agent's POA has been revoked.
Power of Attorney in Other States
In case you'd like to learn more about POA rules in states other than Missouri, you can take a look at the table below for more details:
Requirements
States

Two witnesses and a notary

Two witnesses or a notary

Two witnesses and no notary

Maine

Georgia

Oregon

Indiana

Alabama

Delaware

Virginia

Montana

Louisiana

Massachusetts

Michigan

New York

Oklahoma

Pennsylvania
In case you need a POA in another state, you should first check the rules about the notary services in case they've changed.
What Does a Missouri Notary Do?
If you decide to take a legal document to a notary in Missouri, they will perform the following notary acts:
Take

acknowledgments

Perform a jurat

Administer oaths and affirmations

Certify document copies

Witness

signatures
Missouri allows remote online notarization as of recently. The notary needs to let the Missouri Secretary of State know that they will perform online notarization. This way of notarization is a better option compared to the traditional one because it is practical and less time-consuming. If you wish to find an online notary fast, you should use DoNotPay!
Use DoNotPay To Notarize a Power of Attorney in Missouri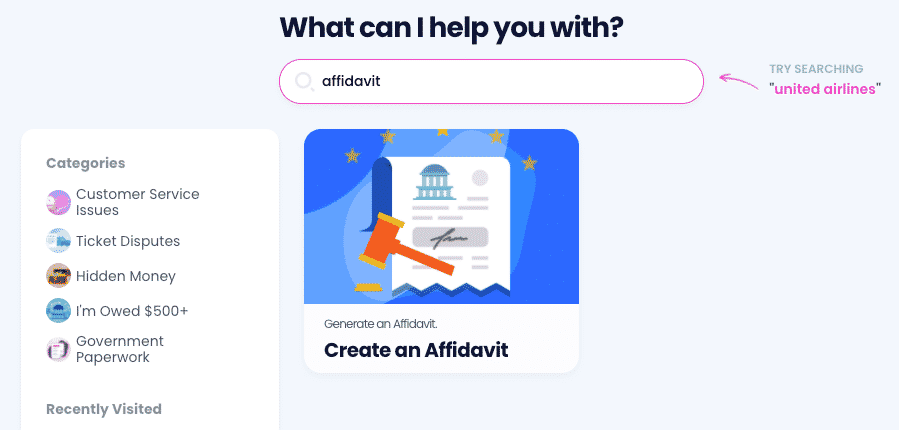 You can get your power of attorney notarized in Missouri easily by using DoNotPay. The procedure is as simple as it gets and will take a few minutes. To handle this task, you only need to perform these steps:
in your web browser

Scroll to the

Notarize Any Document

product

Upload the document you need notarized

Type your email address in the provided field

Wait to get an email from us to confirm your notary appointment
The notary will verify your signature while you are at your virtual meeting.
What Other Documents Need To Be Notarized?
You should carefully approach handling legal documents because they are normally connected to important matters. If you want to properly protect your interests, you should always find out if notarization is required to make them official. Take a look at the list below to see which documents need a notary's signature:
Wills

Business/employment contracts

Real estate deeds

Consent forms

Trusts

Power of attorney forms

Loan documents
DoNotPay is a great tool you can use to create some of these legal documents. This way, you'll be able to handle two tasks in one place fast and easily.
DoNotPay Generates Legal Documents With Ease
and access the Standardized Legal Documents product to create a document of your choice. Here are your options:
Bill of Sale

General Affidavit

Promissory Note

Intent To Purchase Real Estate

Estoppel Certificate

Residential Lease Agreement

LLC Operating Agreement

Independent Contractor Agreement

Non-Compete Agreement

General Business Contract

Non-Disclosure Agreement

Prenuptial Agreement

Parenting Plan (Child Custody Agreement)

Quitclaim Deed
DoNotPay Is the Champion of Customer Advocacy
If you've never experienced an issue with a purchased item, you should consider yourself extremely lucky. When shopping goes wrong, you usually have to brace yourself for unpleasant and annoying exchanges with customer support centers.
DoNotPay is here to make exercising your consumer rights easy. Long holds when calling customer service reps and incessant marketing spam emails can stay in the past. We will help you avoid irritating text messages from online retailers by teaching you how to bypass phone verification when signing up.
Ask for refunds, claim warranties, fix credit card issues, or sue retailers in small claims court—these are just some of the services our platform provides.
With DoNotPay, you can start free trials for new services risk-free. If you want to get out existing subscriptions, canceling them has never been easier!
Wait, There's More!
Our full portfolio includes features as diverse as contacting inmates and requesting college application fee waivers for students from low-income families.
If you have a problem with bureaucracy, the chances are DoNotPay knows how to fix it with your minimal involvement.
Leave the grunt work and unnecessary expenses behind. We will help you pass various government tests with flying colors, find unclaimed money in all states, or get out of parking tickets before you know it!