Free Online Notary Service—Is It Only a Myth?
Online notary services are becoming more popular every day, whether it is because of their general convenience or the outbreak of COVID-19. Having wills, affidavits, powers of attorney, and other legal documents notarized has never been easier. But can you do it for free?
This article will help you learn how to get a document notarized and if a free online notary service exists.
What Can a Notary Do?
Regardless of the type of notary service, the main responsibility of a notary is to witness the signing of a document and, with that, prevent fraud. Besides verifying the authenticity and witnessing the signing, a notary can:
Administer oaths and affirmations

Take affidavits, statutory declarations, and

acknowledgments

of deeds

Take proofs of oath and affirmation

Protest notes and bills of exchange

Execute jurats

Provide notice of foreign drafts

Certify

copies

of documents
All these notarial acts come with notary fees established by the government.
What Does In-Person Notarization Look Like?
The traditional notarization process can be demanding and time-consuming. It can take several days or weeks to find a notary and get the document notarized. In the following table, you can see what the standard notary service entails and how complicated it is:
Steps
Description

Finding a notary

Choosing a notary might seem like the easiest part, but it isn't. Too many choices may prolong the search and make it more difficult. Many public places offer notary services, so you can get documents notarized at:

Accountant offices

Courthouses

Law offices

City and county clerk offices

Credit unions

Public libraries

Insurance companies

Police departments

Wells Fargo

,

Bank of America

, or other larger

banks

You can also search for a notary online, on Yelp, American Association of Notaries, 123notary.com, and similar websites

Setting up a meeting

You cannot show up at a notary's office unannounced. Once you find the notary you like, you should call or email to make an appointment

Heading over to the notary's office

Gather all the documents you need to get notarized, bring your ID, passport, or driver's license, and go to the notary's office for a scheduled meeting

Waiting for the notary to carry out notarial acts

The notary will not only witness the signing and sign the documents themselves. They will:

Verify your identity

Determine whether you know what you're signing

Check that you're not under the influence or mentally unstable

Make sure that there is no coercion

Paying notary fees

You can check out the fees for notarial acts you need in advance and pay the appropriate amount

Waiting for the notary to write a notarial certificate

Once they carry out the notarization, the notary will give you a notarial certificate with:

Your name

Date and time of notarization

The notarial service that they provided

Notary stamp
Online Notarization Explained
Traditional notarization is still widely used, but it's not the only way to get a document notarized. There is no need to schedule a meeting and go to the notary's office—it is a waste of time. You can opt for an online notary and make the entire notarization process easier and quicker.
Online notary services usually have a similar or even the same process that requires you to:
Make an account

Upload the document you want to get notarized

Wait for the service to connect you with a notary

Scan your ID

Wait for the service to verify your identity

Wait for the notary to:

Verify your signature

Mark the document with the electronic notary signature

Add a notary stamp
To perform remote online notarization, notaries use audio-video platforms. By doing that, you meet the legal requirement of being personally present during the notarization. Unfortunately, not all states allow remote online notarization—there are now 28 states that made RON an official notarization method.
Are There Free Online Notary Services?
The answer is no. Many online notary apps offer free trials but end up charging a huge fee for a single document. The majority of online notary platforms charge around $25 for a single notarization, but the fees can vary. Depending on the company and what they offer, online notary apps can charge a $99 monthly subscription or even a one-time $300 notarization.
Compared to the standard notary services, these fees might make you reconsider using online notary platforms altogether. Don't let the pricey apps stop you! to enjoy all the benefits of the most practical and budget-friendly online notary service.
What Makes DoNotPay the Most Convenient Online Notary App?
You don't have to pay the earth to enjoy the convenience of an online notary service—DoNotPay offers many practical features for a small monthly subscription.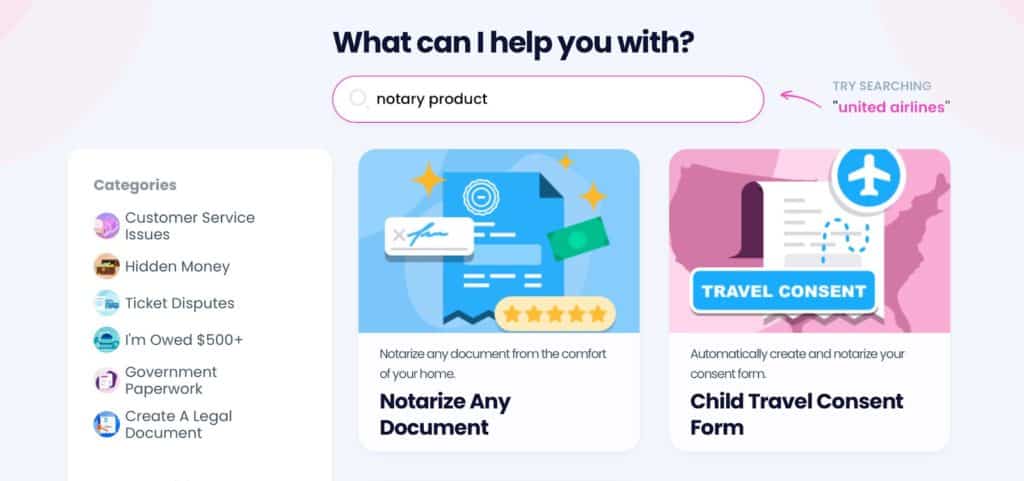 You can use our app to find a notary and set up an appointment in a few clicks, and here's how:
Locate the

Notarize Any Document

feature

Upload the document you need to get notarized

Provide your email address
We will send you an email containing a link that will help you schedule a meeting with a notary.
What makes our online notary service stand out among numerous others is the fact that you can access other useful features for the same price! Do you need to draw up a contract but don't want to waste money on attorneys? Use our Standardized Legal Documents tool and create numerous legal documents hassle-free! Do you need to forward documents to someone? Rely on the Online Fax product to send your paperwork to other parties hassle-free.
Your Online Safety Is Our Priority
The benefits of the internet are numerous, but so are the opportunities for scams of all kinds. DoNotPay can help you fight scammers left and right with easy-to-use features, highly customizable to match your needs.
Our app can provide invaluable resources for fighting:
If you're an avid online shopper, we have your back. In case something goes wrong, we will help you contact customer service without holding, request a refund, or even sue the company in small claims court.
Diversity Is Our Middle Name
DoNotPay doesn't stop at online safety. Do you need to set up an appointment at the local DMV, but keep procrastinating because you know how awful the lines are? Are you a prospective college student trying to save on application fees? Have you lost track of all unnecessary subscriptions and memberships that keep draining your bank account?
If the answer is yes, DoNotPay is the right platform for you. Whether you're preparing for government-issued tests or looking for ways to lower your bills, our app will be of assistance.