A Mobile Notary in Maryland at Hand
Having your documents notarized does not have to be a bore anymore. You can use a mobile notary in Maryland if you prefer to meet one at a suitable location.
Before booking an appointment with the first notary whose contact details you get, explore your options. DoNotPay presents available notary services you can choose from and provides the most practical one.
What Can a (Mobile) Notary in Maryland Do?
A notary in Maryland can perform the notarization of various legal documents, including:
Together with the verification of signatures on documents and agreements, a notary public can also:
Administer oaths and affidavits

Take

acknowledgments
Organize Notarization With a Mobile Notary in Maryland
To get your documents notarized as fast as possible, you can take the following steps:
Steps You Should Follow
Helpful Tips

Select a suitable notary type

Keep in mind that there are various types of notaries available in Maryland. Aside from a mobile notary, you could pick:

Online notaries

E-notaries

Regular notaries

Locate a notary

You can

find a notary public

:

Via DoNotPay

On the internet

At nearby places

Contact a notary

Once you have selected a convenient notary type and got his or her contact details, you should contact the notary to:

Set up your appointment—make sure you are not late for your agreed meeting as notaries can bill you extra for that

Confirm the required:

Notary fees

Documents—you can use our

Standardized Legal Documents

product to prepare a document or contract

Provide an ID document

You need to present a valid photo ID document since a notary public has to verify your identity. You can use your ID, passport, or driver's license for this purpose

Meet the chosen notary

Depending on the selected notary type, you can meet a notary public at the agreed time at:

His or her office—with regular notaries

Designated location—with mobile notaries

Remotely—with online notaries

Collect the notarized document

The notary service is complete when:

You settle the required fees

The notary:

Provides a notarial certificate

Puts the

signature

and stamp on your document
Is a Mobile Notary in Maryland the Most Practical Type?
Choosing a mobile notary has its advantages as this type of notary can come to any location of your choice, including:
Your apartment or house

Nursing home

Airport

Cafe

Jail

Mall

Hospital

Restaurant

Your workplace
While practical—especially when an elderly or disabled family member needs to get a document notarized—you need to be aware that these notaries charge extra fees to compensate for their travel costs.
How Much Can a Mobile Notary in Maryland Charge You?
The state of Maryland establishes maximum amounts of notary fees. It means a regular notary public in this state cannot bill you more than the following:
Maximum Amount

Notary Service

$4.00 per signature

Original notarial act

The first copy

$1.00

Each additional copy, per signature

Reproduction of a notarized contract, per copy

$2.00 per copy

Certifying a copy of a record from the notary's journal
A mobile notary in Maryland cannot charge you more than $5.00 for a notarial act, including their business travel costs. These travel expenses need to be in accordance with the ones set by the Internal Revenue Service for the ongoing year.
What Other Notary Types Can You Choose?
Aside from mobile notaries, you can use the services of the following available types:
Regular notaries perform notarial acts:

Face to face

—you need to physically appear in front of a notary and bring paper documents

In their business place

—these notaries can work for a larger company or run an independent business

Electronic notaries

also provide notary services in person and in their offices. The only difference between regular notaries and e-notaries is that the latter notarize only electronic documents

Online notaries

provide

remote online notarization

:

Via a live audio-video call

—you do not have to endanger your health

during the COVID-19 pandemic

as you are not meeting the notary face to face

Regardless of your location

—you can be at any place within the USA and have your document notarized by an online notary
to:
Connect with an online notary quickly, i.e., you do not need to waste your energy and time looking for a notary's contact information or setting up an appointment
DoNotPay's Remote Online Notarization for Good Vibration
Using a traditional notary service can be a challenging and lengthy activity. The beauty is that you do not need to go through it alone any longer.
As DoNotPay collects all relevant information on available notaries across the States, we can provide a direct connection with an online notary at any time of the day or night and even during holidays.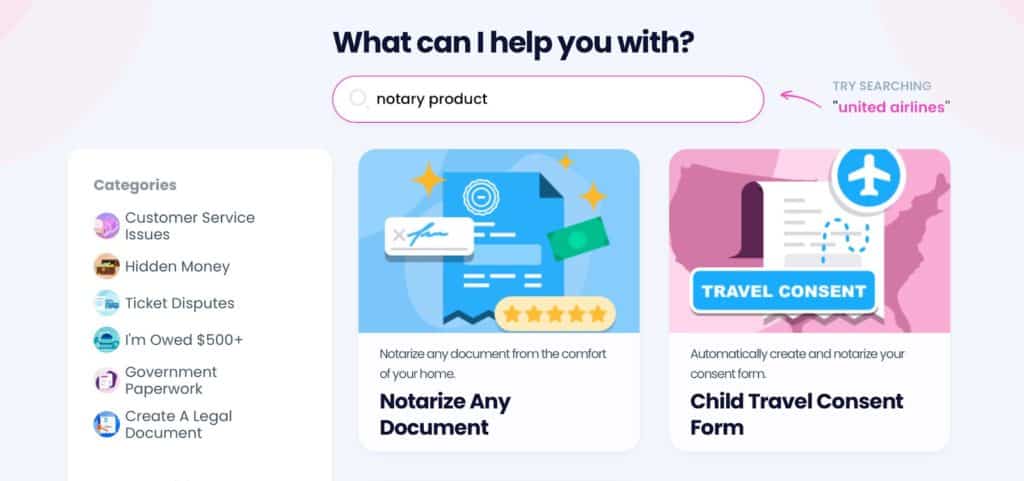 All you need to do is and:
Select our

Notarize Any Document

product

Upload the document you want to get notarized

Type in your email address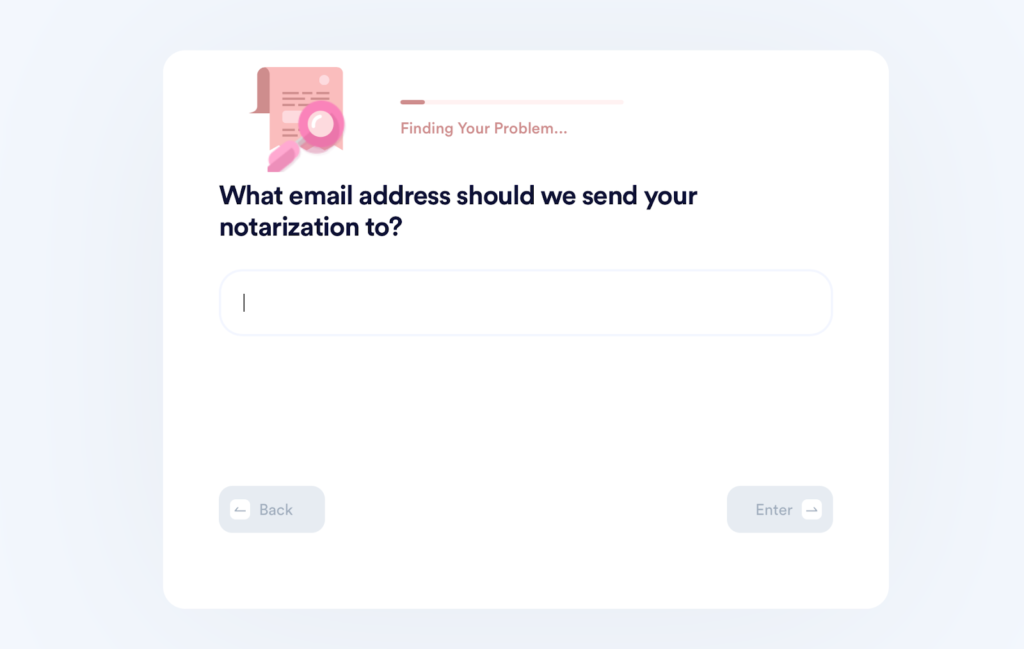 You will get an email from us with a link directing you to a notary's schedule to choose and confirm a suitable time for your quick, safe, and virtual appointment.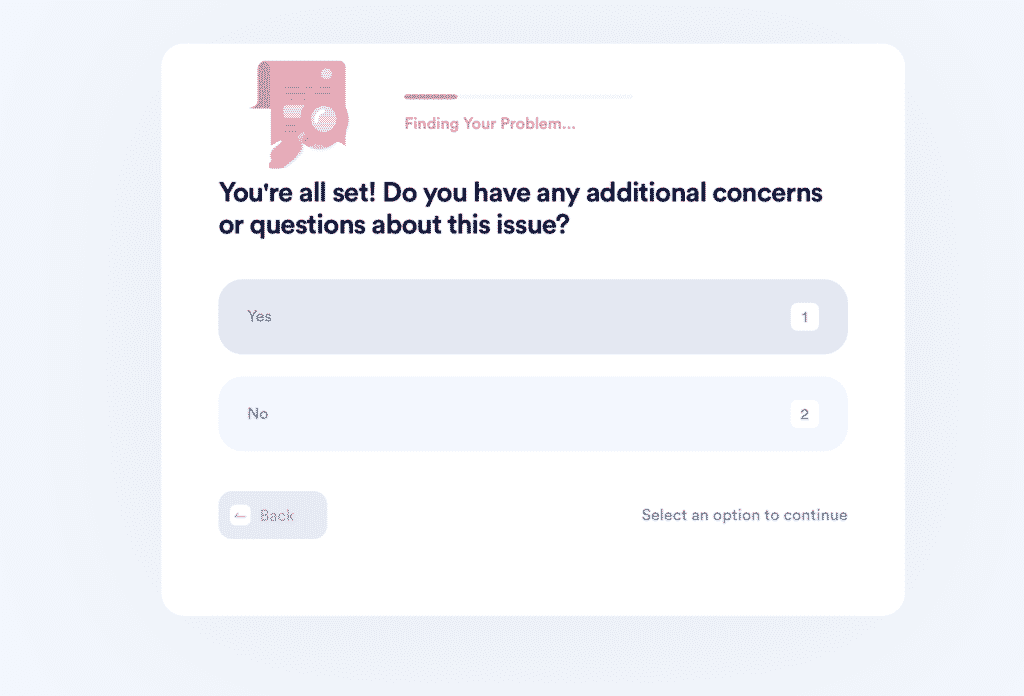 DoNotPay—The Quickest Way To Deal With Greedy Companies
Spending hours on the phone with customer care reps struggling to get a refund or cancel certain services due to complicated procedures can be tiresome.
If you sign up for DoNotPay, we can help you:
Has a company refused to accept your warranty claim even though it was valid or wronged you in any other way? Make sure to serve them justice by bringing them to small claims court with DoNotPay's help!
Use Our App To Resolve Any Issue
DoNotPay has numerous products you can use. We can help you resolve any problem in a few clicks.
Do you want to find unclaimed money? Would you like to know how to protect your work from copyright infringement? Are you wondering how to apply for a college fee waiver because the application fee is too expensive for you? If you rely on us, you will solve all of these and many more issues stress-free!
Even victims of violent crimes—such as stalking—can use DoNotPay to solve their problems. Having a stalker is traumatic and potentially dangerous. We can tell you how to deal with the situation and apply for crime victims compensation in your state if you need help covering counseling expenses.
We can simplify the document notarization process and help you send online faxes and mail letters from the comfort of your home in less than five minutes.