A Painless Way To Apply for Michigan Tech Financial Aid
Having top-level engineering and computer science programs, the Michigan Technological University (MTU) is ranked among the top 15% of schools nationwide, but finding $50,000 for tuition can be a huge obstacle for numerous students.
If you're looking to release the pressure of your budget by resorting to the Michigan Tech financial aid program, use this guide to learn the easiest way to apply for it, the amount of support you can expect, and how to !
What Types of Financial Aid Does Michigan Tech Offer?
Students applying to Michigan Tech can qualify for the following types of aid:
Grants
Scholarships
Student employment programs
Loans
Michigan Tech Financial Aid—Grants
Michigan Tech students can be eligible for the following grants:
Category
Grant
Amount
Federal
Federal Pell Grant
Up to $6,495 per year
Federal Iraq and Afghanistan Service Grant Programs
Up to $5,983 per year
Federal Supplemental Education Opportunity Grant
Up to $4,000 per year
Institutional
University Student Award
Depends on financial need and academic achievement
State
The Tuition Incentive Program (TIP)

Phase I cannot exceed $250 per term
Phase II cannot exceed $2,000 per term
Scholarships at Michigan Tech
Check out all scholarships that are available at Michigan Tech:
Category
Scholarship
Federal scholarship

Federal Children of Fallen Heroes Scholarship

Michigan residents

Leading Scholar
Presidential Scholars
Michigan Alumni Legacy (MALA)
Summer Youth Scholars
Michigan Tech Transfer Scholarship (MTTS)
Michigan Tech National Merit (NMS)
Wade McCree
College of Business Impact Scholarship
Athletic Grants
Career Interest
Sponsored Scholarships

Non-Michigan residents

Leading Scholar
National Scholars
National Transfer Scholarship
Summer Youth Scholars
Military Family Education Award (MFEA)
Alumni Legacy (ALA)
Michigan Tech National Merit (NMS)
College of Business Impact Scholarship
Athletic Grants
Career Interest
Sponsored Scholarships

Transfer students

National Transfer Scholarship (Non-Michigan)
Alumni Legacy (ALA) (Non-Michigan)
Michigan Tech Transfer Scholarship (MTTS) (Michigan)
Michigan Alumni Legacy (MALA) (Michigan)
Sponsored Scholarships (Any)
Athletic Grants (Any)
Career Interests

Canadian students

National Scholars
National Transfer Scholarship
Alumni Legacy (ALA)
Sponsored Scholarships
Athletic Grants
McAllister Foundation

International students

International Ambassador Scholarships
Alumni Legacy (ALA)
Athletic Grants
Sponsored Scholarships

Other

Aspirations in Computing Scholarship
Barry M. Goldwater Scholarship
FIRST Scholarship
Husky Innovation Leaders Award
Michigan Competitive Scholarship
National Business Scholars
PHF Making a Difference Scholarship
ROTC (Army and Air Force)
Fostering Futures Scholarship (FFS)
Foster Youth in Transition
Michigan Education and Training Voucher
Michigan Tech Student Employment Programs
Michigan Tech students looking for employment opportunities can opt for one of the following programs:
Federal Work-Study Program
University-Funded Student Employment
Off-Campus Employment
Summer Internships or Co-op's
Prospective employees can look for open positions at the University Career Center.
Loans at Michigan Tech
If you're still experiencing difficulties with paying for your student contributions despite receiving all other types of aid, Michigan Tech offers the following loaning options:
Federal Direct Loan
Federal Direct PLUS (Parent) Loan
Federal Direct PLUS (Graduate) Loans
TECHAID Student Loan
Michigan Tech students can also rely on external loans, but they need to submit a Self-Certification Form to the lender so that the school can include it in the financial aid package.
How To Apply for Michigan Tech Financial Aid
To apply for Michigan Tech financial aid, you need to complete your Free Application for Federal Student Aid (FAFSA) and include the federal school code—002292.
You can submit additional required documentation by:
Faxing it to 906-487-3042
Uploading the paperwork to MyMichiganTech student portal
Mailing everything to Michigan Technological University, Student Financial Services Center, Administration Building, Room 103, 1400 Townsend Drive, Houghton, MI 49931
If you wonder when to apply for financial aid, you can submit your FAFSA starting October 1, up until March 1. However, keep in mind that some competitive scholarships open applications as early as October 15.
Contact the Michigan Tech Student Financial Services Center for all application-related questions by calling 906-487-2622 or sending an email to finaid@mtu.edu.
What To Do if Michigan Tech Offers Little or No Financial Aid
Did Michigan Tech offer you insufficient aid or reject your application? Whether you need more aid or an application reconsideration, here's what you can do:
Continuing students can file a Satisfactory Academic Progress Appeal and explain the circumstances that impacted their ability to keep up with academic tasks
First-year students can compose an appeal letter and include reasons why their required contribution poses an obstacle to their enrollment
To ensure that you get aid before the University depletes its funds, you should file an appeal as soon as you get the financial aid award letter, and we can help you with that!
DoNotPay Can Help You Get Your Appeal Letter on Its Way to Michigan Tech in a Matter of Moments!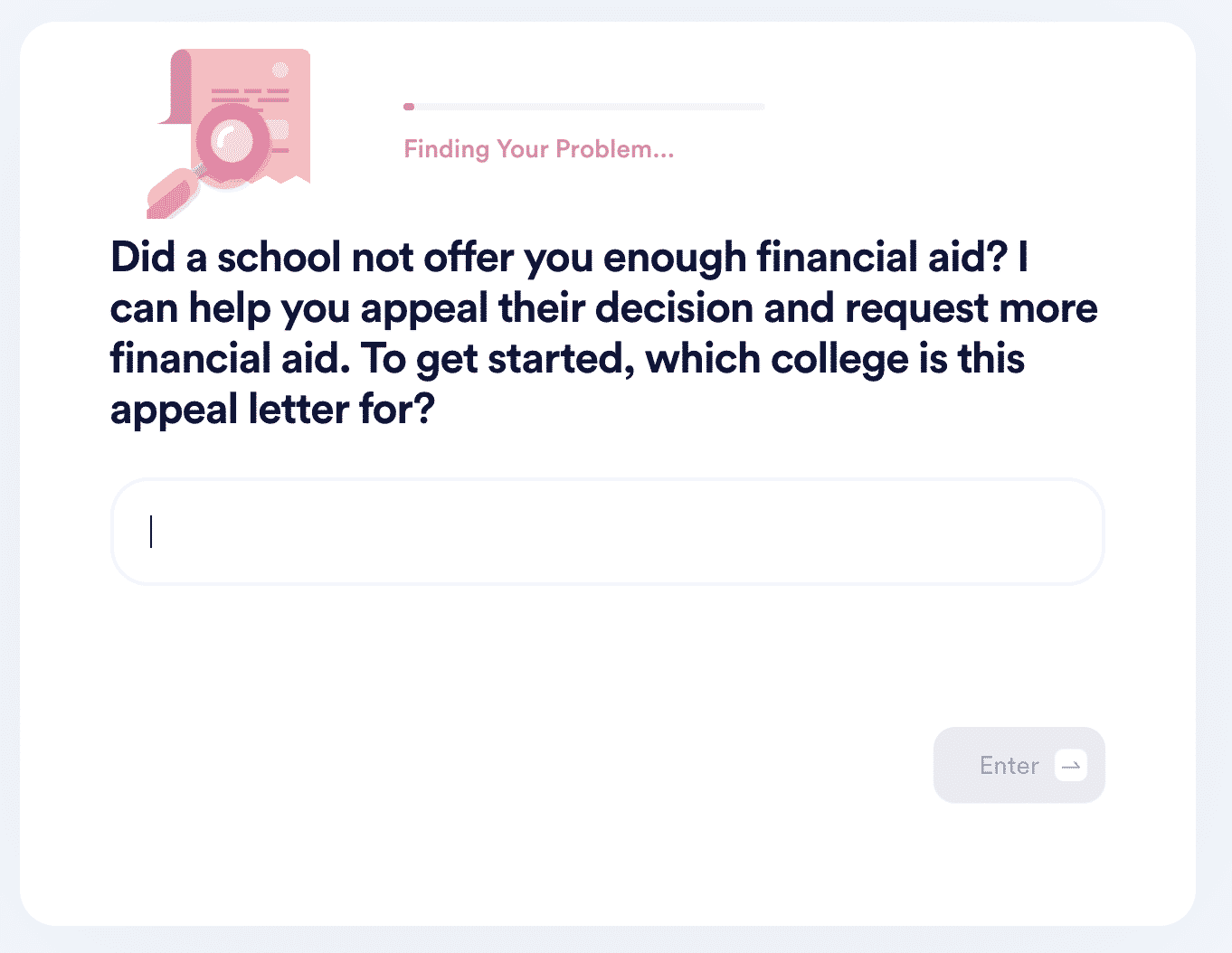 Writing a letter for Michigan Tech doesn't have to be complicated or time-consuming. With DoNotPay, the process takes only a couple of minutes and three steps to complete:
using any web browser
Search for Appeal for More Financial Aid
Explain what events increased your financial need
After you complete all steps, you will receive a custom-made appeal letter you can use to convince Michigan Tech to reconsider your financial aid application.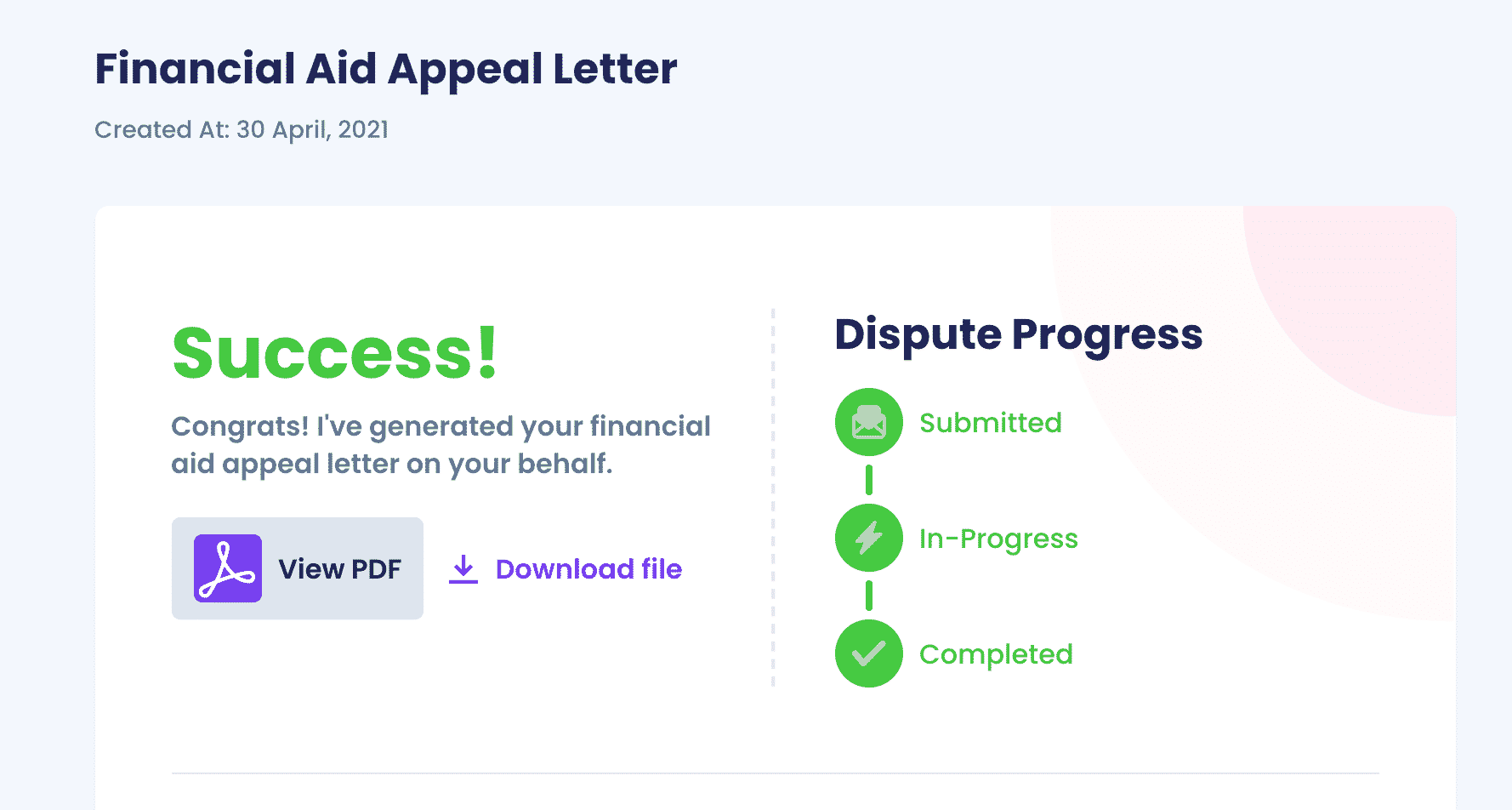 Explore our learning center and discover handy guides that can answer all of your financial-aid-related questions, for example:
Alternatives to Michigan Tech
Did Michigan Tech go below your expectations regarding financial aid? We explained financial aid programs at other schools to help you find the most suitable option for your needs. Some of the schools we wrote about include:
DoNotPay Turns Your Everyday Hurdles Into a Piece of Cake
Did you receive a faulty or damaged item? Why not return it with your virtual assistant? We can also help you get a late delivery refund and jump the queue if the customer service phone keeps ringing to no avail. The list of handy DoNotPay features that make your everyday life easier goes on.
By subscribing to our platform, you won't have to worry about your tedious neighbors or parking tickets. We can do it all!
Want To Save Money on Lawyers? Use DoNotPay
Most people spend big bucks on expensive lawyers to overcome their bureaucratic obstacles. Don't waste your money on unnecessary fees—use DoNotPay and take care of any legal matter in a few easy clicks! Check out some of the issues the world's first robot lawyer can help you with: