The Lehigh Financial Aid Programs From A to Z
Lehigh University (LU) was established in 1865 and now consists of five colleges. This private research university has almost 7,000 students who are required to pay astronomic tuition fees of $55,240. If you are among the majority of individuals who cannot afford such high expenses, you can apply for Lehigh financial aid.
Use DoNotPay's guide to see what types of aid are available and how to apply. If your application is denied or you wish to get more funds from the school, we can help you file an appeal.
Lehigh University Financial Aid—The Basics
More than half of the Lehigh University students receive some form of financial aid. The university determines your financial aid amount according to your financial need, which is calculated based on your family's:
Income
Assets
Household size
Your need-based eligibility is determined by subtracting the calculated Expected Family Contribution (EFC) from the cost of attendance.
Financial Aid Options Available at Lehigh University
Lehigh University offers financial aid that comes in different forms, such as:
Grants
Scholarships
Loans
Student employment
Grants You Can Apply for at Lehigh University
Grants are a need-based aid type, and they're also known as "gift aid" because they do not need to be repaid. At Lehigh University, you may apply for the following grants:
Federal—They are federally funded and awarded to students with exceptional financial need. These are the available options:
Pell Grant
Federal Supplemental Education Opportunity Grant (FSEOG)
State—The scholarship office of the state in which the student resides offers these grants
Lehigh grants—Alumni and friends of the university are the ones who award these grants via university funds and endowments
What You Should Know About the Scholarships Available at Lehigh University
Lehigh University offers scholarships that are merit-based to undergraduate students. The school takes into consideration personal essays, recommendations, and the contributions students make outside the classroom. This type of aid does not need to be repaid.
Student Loans Available at Lehigh University
Loans need to be repaid. Some of them are available only to students with financial need, but others are offered to everyone. You can apply for:
Federal loans—Direct and Parent Loans for Undergraduate Students (PLUS)
Lehigh University tuition loans
Private/Alternative loans
Student Employment at Lehigh University
Student employment is a form of financial aid that allows students to work while studying and finance their education this way. You can choose between:
Federal Work-Study
Institutionally Funded Work Opportunity
How To Apply for Lehigh University Financial Aid
To apply for financial aid at Lehigh University, you need to follow the established application procedure. Complete these steps:
Submit the 2021–2022 Free Application for Federal Student Aid (FAFSA)—This form allows the school to determine your financial need. You will need to use the school code—003289
Complete the 2021–2022 CSS Profile—A CSS Profile is more detailed and consists of a lot of questions compared to FAFSA. The school code is 2365
Submit the federal income tax return—You should submit a signed copy of the 2019 federal income tax return, additional schedules, and W-2 forms
Incoming domestic students who wish to apply for need-based institutional aid have to complete all of the steps mentioned. Individuals who want to apply only for federal aid just need to submit the FAFSA form.
What Are the Lehigh Financial Aid Deadlines?
Application deadlines at Lehigh University differ based on what type of student you are. Take a look at the table below to see the important dates:
| | |
| --- | --- |
| Type of Student | Application Deadline |
| Early decision I | November 1 |
| Early decision II | January 1 |
| Regular decision | February 1 |
| Current students | March 15 |
| Spring transfer | November 1 |
| Fall transfer | April 1 |
You need to apply for financial aid every year, and you can keep receiving it as long as it's available.
How To Contact the Lehigh University Financial Aid Office
The Office of Financial Aid at LU has been working remotely since March 2020. You can get in touch with financial aid counselors in one of the following ways:
You can get in touch with financial aid counselors Monday through Friday, from 8:15 a.m. to 4:45 p.m.
What Can You Do if the School Rejects Your Application or Doesn't Offer Enough Funds?
If you are unsatisfied with Lehigh University's decision regarding your financial aid application, you can file an appeal. You can to generate a financial aid appeal letter in a matter of minutes!
Use DoNotPay To Mail a Financial Aid Appeal Letter to LU
If you don't know how to write an appeal letter or don't have the time to deal with the task, worry not—DoNotPay has got you covered! Our app can write an appeal letter in a jiffy and send it to Lehigh University on your behalf. You only need to follow these instructions:
Search for our Appeal for More Financial Aid product
Tell us how much financial aid other schools offered you if you applied to more than one
Give us the essential information about your family's income
You can also count on DoNotPay to provide relevant info about financial aid for graduate school.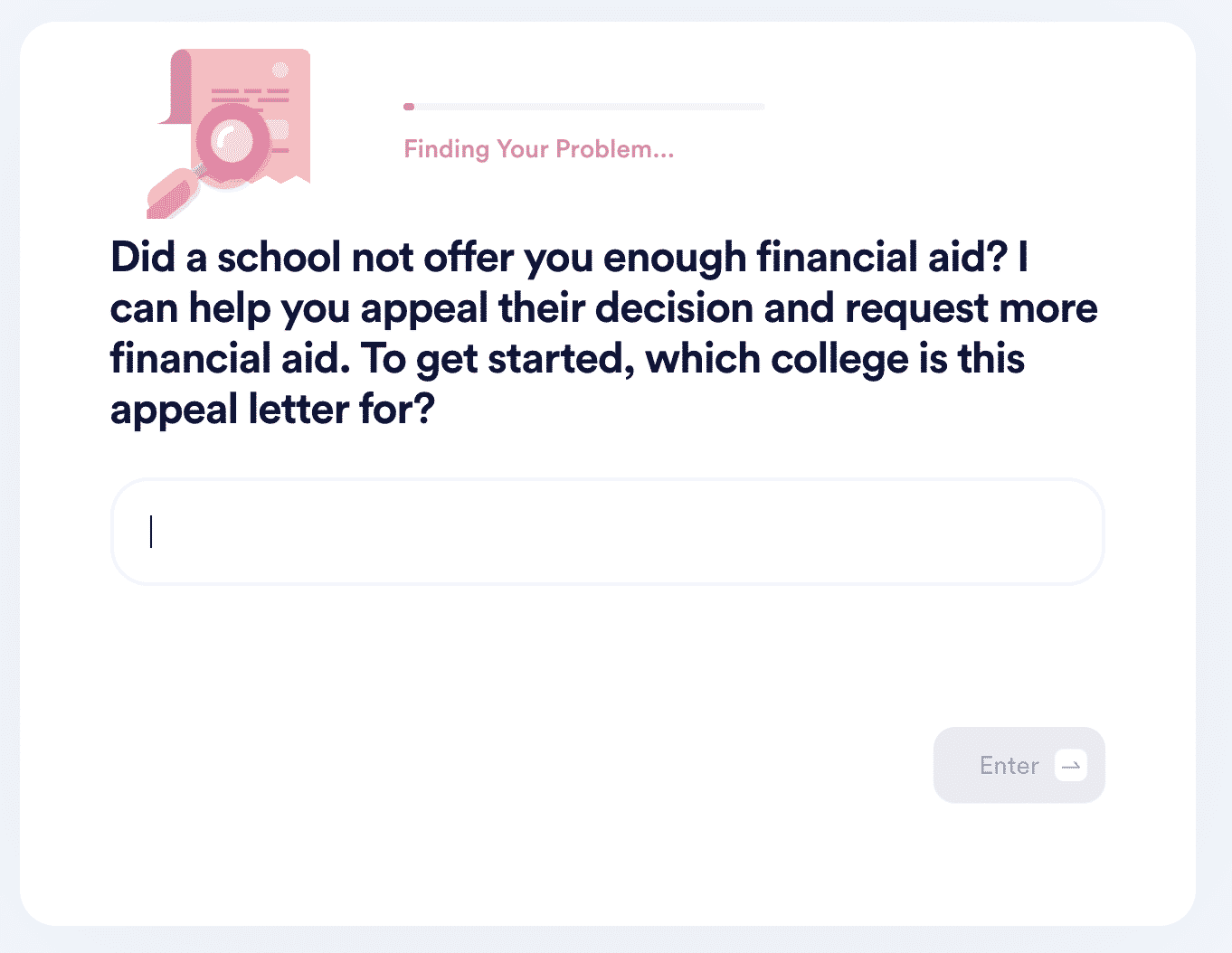 Want to know what other schools offer? Read through our handy guides:
Do More With DoNotPay's Useful Features
DoNotPay offers a unique service when it comes to filing for divorce or drafting a divorce settlement agreement, but we don't stop there! Our app can also help you draft, fax, and get other legal documents notarized in a flash! From powers of attorney to child travel consent forms—we assist you every step of the way!
If you need to file an insurance claim, fight workplace discrimination, or sue a company in small claims court, you can use our app to get it done with ease.
Deal With Companies Stress-Free
If you like to shop and you often make purchases, you know that companies can cause all kinds of issues along the way. DoNotPay has a trick up its sleeve that helps you deal with any issue a company causes like a pro!
Wasting hours waiting for a customer support rep to pick up becomes a thing of the past once we get involved. We'll show you how to request a refund, cancel a subscription, apply for free trials, use a virtual credit card, and claim a warranty easy-peasy!
If your package is damaged or missing, we'll show you how to track it and file a missing package claim.