Johns Hopkins Financial Aid Explained
The Johns Hopkins University (JHU) is home to the best medical study programs in the United States, and it's any prospective medical worker's primary choice. Unfortunately, this university, ranked among the top 5% of U.S. schools, comes with a hefty tuition price of up to $74,028, which can deter potential students from applying.
The Johns Hopkins financial aid program can help you reduce your educational expenses, and DoNotPay explains who qualifies for it, what you need to do to apply, and how to if it's not in your favor!
The Basics of Johns Hopkins Financial Aid
Students who submit and complete their financial aid applications before the priority deadline—January 15—have the highest chances of getting 100% of their needs met by the Johns Hopkins University.
Once you submit your application, you enable JHU to estimate your eligibility for the following types of assistance:
Grants and scholarships
Work-study programs
Tuition waivers
Loans
Financial Aid at the Johns Hopkins University—Grants and Scholarships
Check out all grants and scholarships the Johns Hopkins University offers grouped by their consideration criterion:
Consideration Criterion
Awards
Financial need

JHU Grant
Baltimore Scholars Program
Clark Scholarship
Davis United World College (UWC) Scholars Program
Hodson Gilliam Success Scholarship
International Scholarship
Federal Pell Grant
Federal Supplemental Educational Opportunity Grant (FSEOG)
Howard P. Rawlings Guaranteed Access Grant

Merit

The Hodson Trust Scholarship
Beneficial Hodson Trust Employee Tuition Scholarship
Charles R. Westgate Scholarship in Engineering
National Fellowships Program
Army Reserve Officer Training Corps Scholarship (ROTC)
Air Force Reserve Officer Training Corps Scholarship (ROTC)
Work-Study Programs at the Johns Hopkins University
JHU students can participate in the following work-study programs to meet their annual costs of education:
Federal Work-Study—The average number of hours JHU students work per week is between eight and ten. You may hold more than one job as long as you don't exceed the maximum number of allowed work hours, which is 20
JHU Work Opportunity—All JHU students are eligible for part-time on- or off-campus work opportunities, even Federal Work-Study participants who exhausted their allowed funds
For open job positions and additional information about student employment, call (410) 516-8421 or visit the JHU Student Employment Services Office website.
Johns Hopkins University Financial Aid—Tuition Waivers
Reduce your annual tuition costs by applying for the following tuition waivers at JHU:
Maryland Army National Guard State Tuition Waiver (STW)—Members of the Maryland National Guard who are enrolled in an undergraduate program at JHU can qualify for a 50% tuition discount that may not be used alongside other scholarships or waivers
State Tuition Assistance Reimbursement (STAR) Programs—Maryland National Guard Service Members can receive a reimbursement of up to 100% of tuition and mandatory fees, capping at $8,500
Loans You Can Borrow From the Johns Hopkins University
Loans should be your last resort for additional funding, but if your financial situation requires you to get one, you should know your options. JHU offers the following loans:
Category
Loans
Annual Limit
Need-based
Federal Subsidized Direct Loan

$3,500 for freshmen
$4,500 for sophomores
$5,500 for juniors and seniors

Not need-based
Federal Unsubsidized Direct Loan

Up to $12,500 for undergraduate students
Up to $20,500 for graduate or professional students

Federal Direct Parent/Graduate PLUS Loan

The difference between the total cost of attendance and the financial aid offer
What Types of Financial Aid Are Available for the Johns Hopkins School of Medicine Students?
The only type of financial aid available to students enrolled in a post-baccalaureate pre-med program is federal loans. Applicants can receive loans for one calendar year. The annual loan limits for post-bac pre-med students are:
$12,500 for independent students
$7,500 for dependent students
Note that independent students don't have to submit any parental information.
The Johns Hopkins Financial Aid Application Made Simple
To apply for the Johns Hopkins financial aid program, you need to:
Complete your Free Application for Federal Student Aid (FAFSA) and include the school's code—E00473
Check your JHU SIS account regularly for any additional tasks
Submit your Master Promissory Note (MPN) and Entrance Counseling (EC)
If you encounter any unclarities during your application process, contact the Johns Hopkins Financial Aid Office by:
Did the Johns Hopkins Financial Aid Office reject your application or offer little aid? File an appeal and use DoNotPay to write a persuasive letter that will ensure its success!
Request More Financial Aid From Johns Hopkins University With DoNotPay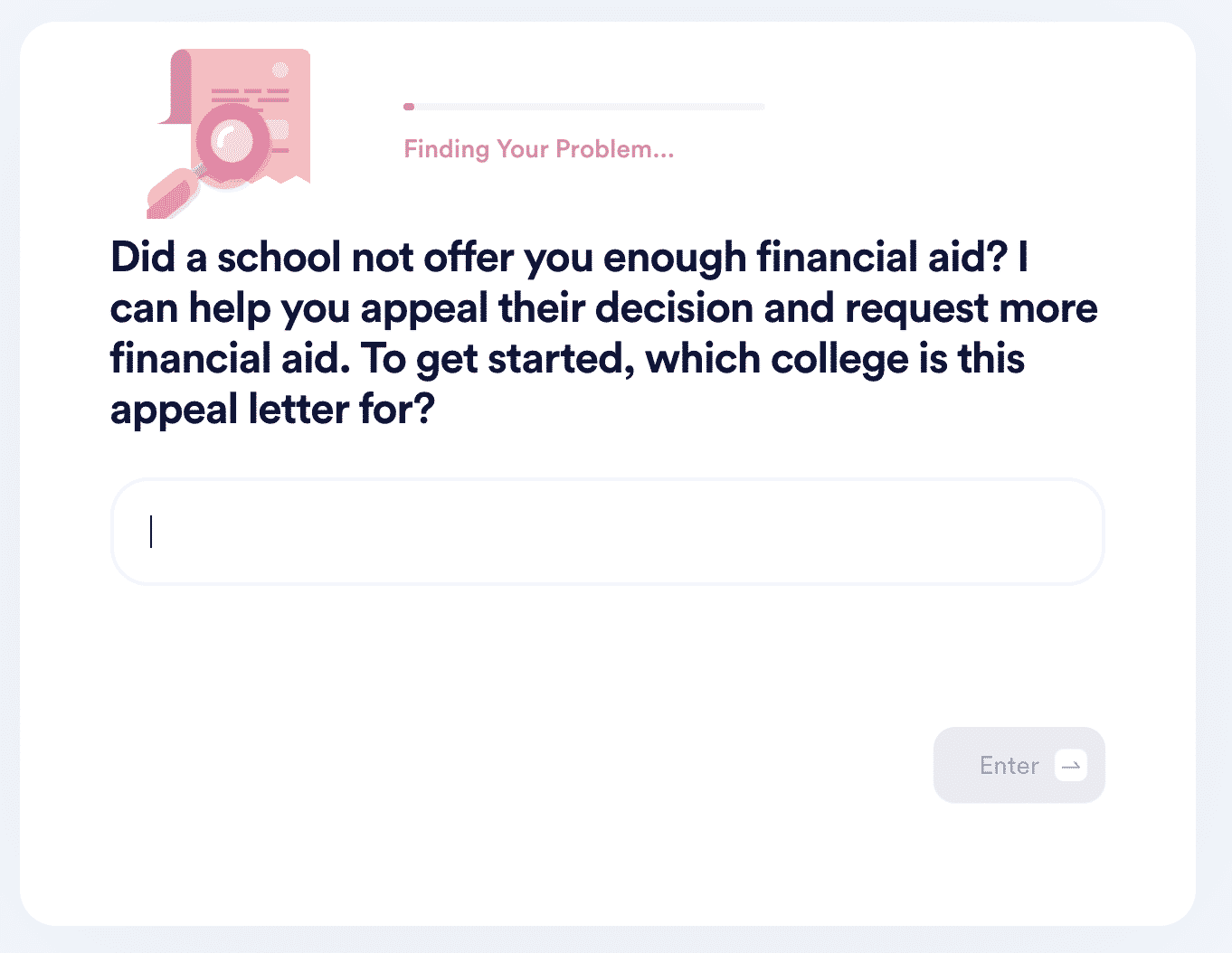 A rock-solid financial appeal letter can be the key to getting more aid from the Johns Hopkins University, and DoNotPay can generate one for you in three steps:
using any web browser
Search for Appeal for More Financial Aid
Explain your financial situation and the reasons behind your request
Your custom appeal letter will be ready and on its way to the Johns Hopkins University as soon as you answer all questions.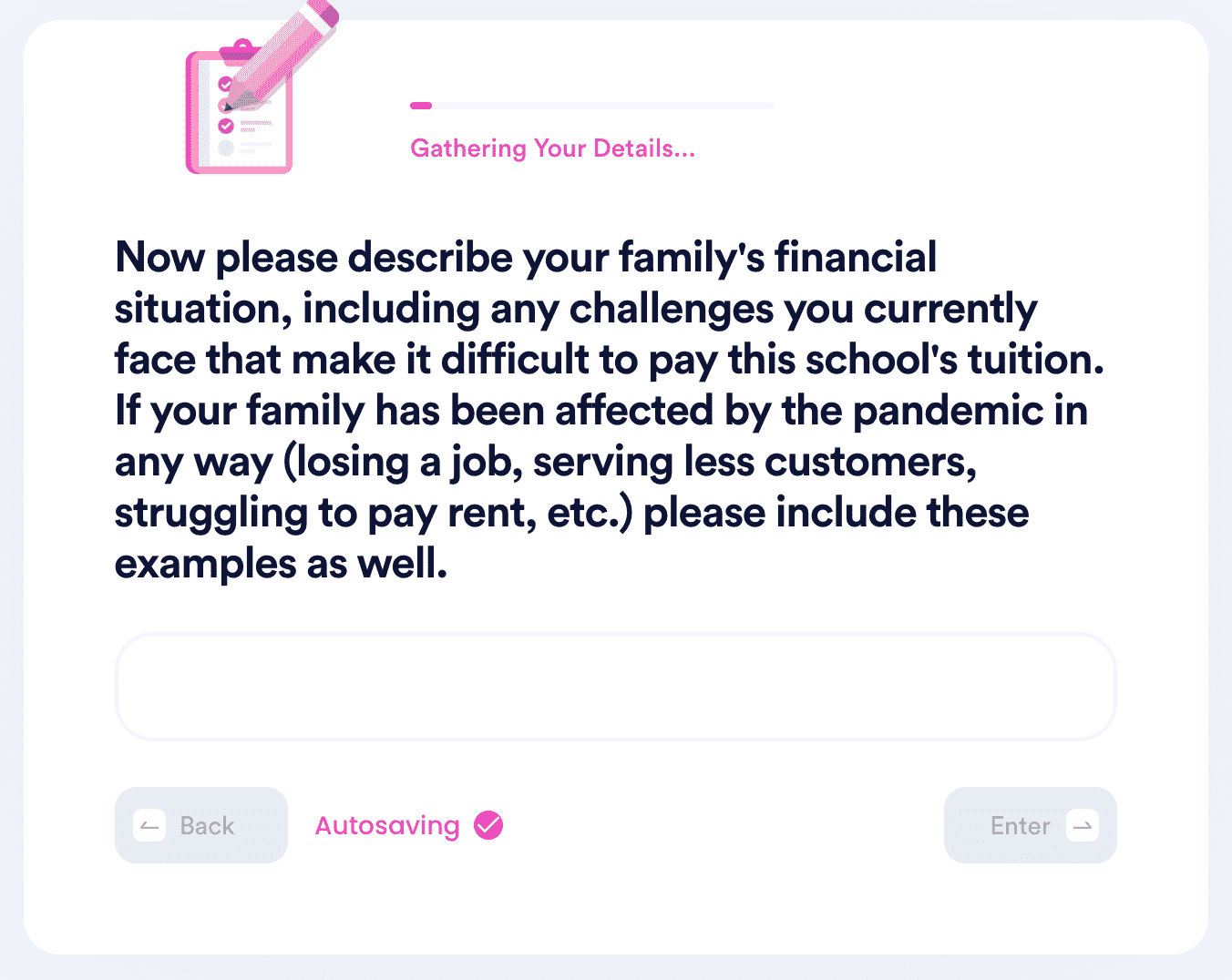 If the Johns Hopkins University makes an unfortunate decision despite your appeal, you should have a backup plan. Whether you're looking for an undergraduate or graduate school, check out the following top-tier options to find the one that suits your needs:
DoNotPay Turns Your Everyday Hurdles Into a Piece of Cake
Did you receive a faulty or damaged item? Why not return it with your virtual assistant? We can also help you get a late delivery refund and jump the queue if the customer service phone keeps ringing to no avail. The list of handy DoNotPay features that make your everyday life easier goes on.
By subscribing to our platform, you won't have to worry about your tedious neighbors or parking tickets. We can do it all!
Want To Save Money on Lawyers? Use DoNotPay
Most people spend big bucks on expensive lawyers to overcome their bureaucratic obstacles. Don't waste your money on unnecessary fees—use DoNotPay and take care of any legal matter in a few easy clicks! Check out some of the issues the world's first robot lawyer can help you with: