Howard University Financial Aid Explained
Howard University (HU) is a private research university located in Washington, D.C. It offers professional, graduate, and undergraduate degrees in more than 140 fields. Since it's been open to people of all sexes and races from the moment of its founding in 1867, it is a popular university among students.
Is Howard University your dream school, but its high tuition fees are out of your league? Don't give up straight away because you can apply for financial aid.
In this easy-to-read guide, DoNotPay will give you the lowdown on applying for Howard University financial aid—including the requirements you must meet and the procedure you must follow. If you sign up for our service, we will help you obtain a solid financial award from this and any other university you're interested in.
The Basics of the Howard University Financial Aid Program
Howard University offers its students financial aid in the form of:
| Type of Aid | Explanation |
| --- | --- |
| Loans | You can choose between federal and non-federal loan programs |
| Grants, scholarships, and fellowships | They come from various sources, both inside and outside the University. You do not have to pay them back |
| Work programs | They're based on financial need. You can work on or off campus |
| Tuition remission | This is awarded by Howard University to reduce the amount of tuition paid for eligible students |
| Summer financial aid | HU offers several options when it comes to summer aid. Email the Financial Aid Office for more information |
Financial aid can come from the U.S. federal government, the state, university, or a nonprofit or private organization. It covers the following educational expenses:
Tuition and fees
Room and board
Books and supplies
Transportation
Direct costs, such as application fees, tuition, and room and board will appear on your University bill. Indirect costs (books, transportation, and personal expenses) will not appear on your bill but should be included in your budget.
Keep in mind that your actual cost of attendance may vary due to the following factors:
Choice of room and board
Number of enrolled credit hours
Degree program
Personal expenses
Who Is Eligible for Howard University Financial Aid?
To qualify for financial aid, you must:
Be a U.S. citizen or eligible noncitizen
Be registered with the Selective Services (only if male)
Have a valid Social Security number
Maintain satisfactory academic process (SAP)
Sign a statement on the Free Application for Federal Student Aid (FAFSA) declaring that you don't owe money on a federal student grant and are not in default on a federal student loan
Show that you are eligible to obtain a college education by having a high school diploma
How To Apply for Howard University Financial Aid
To apply for financial aid, you will have to take the following steps:
Fill out and submit the Free Application for Federal Student Aid (FAFSA) after creating an FSA ID to log in
Accept your aid package
Receive your aid—it is disbursed each semester to a student account
Maintain satisfactory academic progress (SAP)
How To Maintain Your SAP
To maintain your SAP, you must:
Complete at least 70% of all attempted cumulative credit hours
Maintain a minimum cumulative GPA
If you fail to meet SAP standards, you will be placed on financial aid suspension. Howard University reviews your SAP annually at the end of each academic year.
When To Apply for HU Financial Aid
Howard University has a November 1 priority filing deadline. Students who complete and submit their FAFSA by that date will be considered for all available financial aid. You can still receive aid if you apply after the priority deadline, but bear in mind that some program funds may be exhausted at that time.
You must fill out a FAFSA every year to be considered for state and federal scholarships and grants. Since each state's FAFSA deadlines may be different, make sure you check them out on the FAFSA Deadlines page.
Remember that scholarships offered by outside organizations will have varying deadlines, so contact the organization in question or your academic department for additional information.
How Much Aid Can You Expect?
The amount of aid you receive depends on the Estimated Family Contribution (EFC). After submitting your FAFSA, the Department of Education will use the information you provided to determine your EFC. It is determined in the following way—your cost of attendance minus EFC equals the sum of aid you get.
How To Get in Touch With the Howard University Financial Aid Office
To schedule a virtual or in-person financial appointment, click on Schedule Financial Aid Appointment on the HU Student Financial Services Contact Us page. Appointment hours
are Monday–Friday from 9 a.m. to 3 p.m. For all questions regarding financial aid, you can send your inquiries to finaid@howard.edu. Office hours are Monday–Friday from 8:30 a.m. to 5 p.m.
The Howard University Office of financial aid can help you with:
FAFSA application
Financial aid eligibility
Scholarships, fellowships, grants, and tuition remissions
Work-study
What Can Be Done if You Don't Qualify for Financial Aid at Howard University?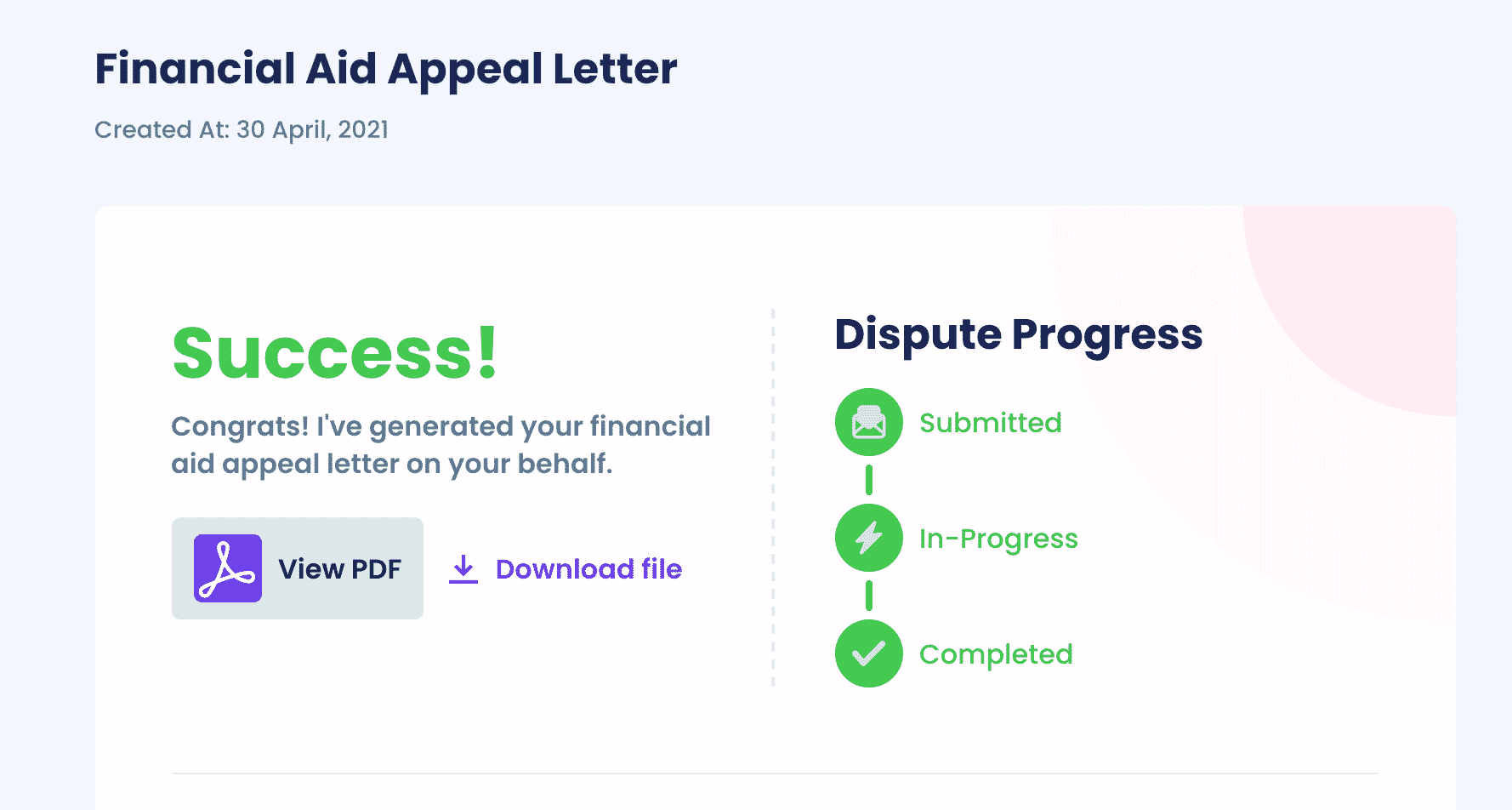 If Howard University rejects your application or offers you insufficient aid, you can appeal its decision. DoNotPay can help you do it in three simple steps:
Search for the Appeal for More Financial Aid product
State the amount of financial aid other schools offered you (if you applied for aid at institutions other than Howard University)
Provide us with relevant info about your family's financial situation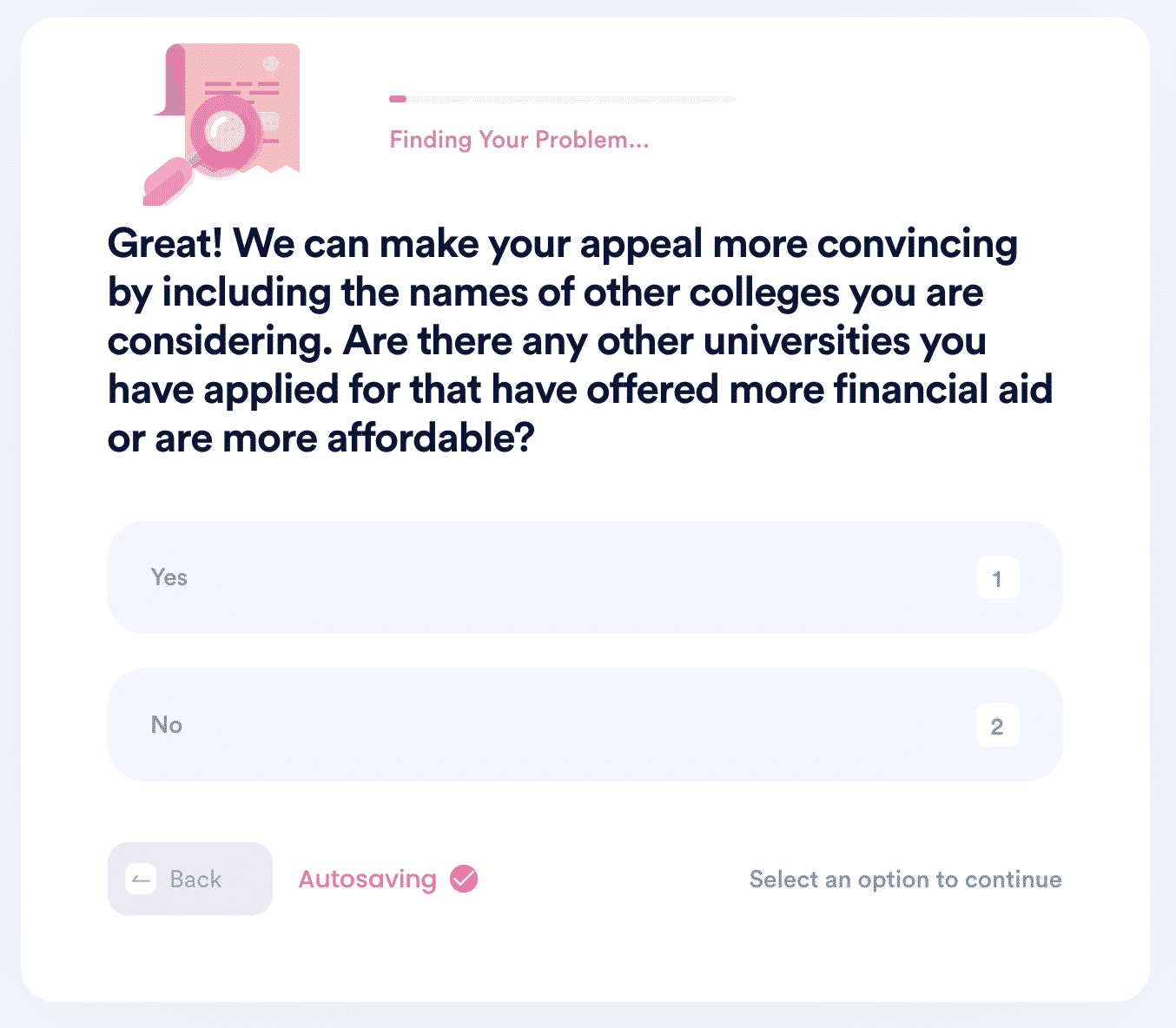 Once you've completed all four steps, we will draft a personalized appeal letter and send it to your email address or directly to the university in question.
Check out our learning center to find out how many years you can receive financial aid and how to get more aid at other colleges and grad schools, such as:
Save Time With DoNotPay
DoNotPay is not done helping you! We offer you assistance in completing a variety of tasks quickly and efficiently, such as:
Canceling Subscriptions Has Never Been Easier!
If you keep getting charged a monthly subscription fee even though you no longer want to use a certain service, don't let your money go to waste! Some companies tend to renew your subscription automatically, but that doesn't mean you have to put up with it—use our app to terminate your membership or subscription in a few clicks!
Do you want to sign up for free trials and create a virtual credit card or a burner phone number to protect your sensitive info? Once you subscribe to DoNotPay, we will walk you through the process of doing all of the above in no time!
You can also count on our assistance if you need to get rid of spam or robocalls.