Howard University Scholarships Explained
Located in Washington, D.C., Howard University (HU) is an educational institution that attracts predominantly black students. Catering largely to a minority group didn't stop the University from having high tuition and other education-related fees, such as the application ones.
The majority of HU students can't afford these costs on their own, which is why they often end up in debts that take them years to repay. The best way to avoid going into debt is to secure one—or more—of Howard University scholarships and grants.
In this article, we'll show you how you can obtain financial aid for yourself by explaining:
What types of financial aid exist
How to use DoNotPay to optimize your efforts
Howard University Scholarships—Why Do You Need Them?
The cost of attendance at Howard University can get quite high. Check out this table to see annual fees for different student groups:
Level of Study
On Campus
Off Campus
At Home

Undergraduates

$49,270
$53,420
$42,556
Graduates
$60,410
The table above represents average estimates as each college program has different costs, such as:
College of Dentistry—up to $87,672
College of Pharmacy—up to $64,522
School of Law—$67,920
College of Medicine—up to $91,460
School of Business—$74,126
School of Divinity—$48,602
Only a small percentage of students can pay over $90,000 every year and not see it as a massive financial strain. Howard University scholarships offer help to students to reduce or eliminate their part in paying the cost of attendance.
Types of Scholarships for Howard University
A Howard University scholarship can come from various sources—the federal or local government, a private company, a donor, or the University itself. Financial aid programs for HU students are divided into two types:
Merit-based scholarships
Need-based grants and loans
Howard University Merit Scholarships
Merit programs offer help to students who have shown academic excellence in the previous year at college or during high school. Multiple factors go into judging one's excellence, including:
Need-Based Howard University Scholarships
Students who can't meet the requirements based on merit can still find financial awards. In that case, they need to show they have a valid need to receive non-repayable aid.
To do that, students have to provide their Expected Family Contribution (EFC) to prove that they have an annual income that's below a certain limit determined by the program itself.
When applying for need-based grants at HU, students need to:
Howard University Scholarships—Examples
HU freshmen or high school seniors who intend to enroll in the University can qualify for the Howard University Freshman Scholarships (HUFS). The HUFS doesn't have an application form as all students get considered automatically.
Several awards are in the HUFS program, and they are mutually exclusive. Depending on whether they're based on merit or need, students need to fill out the FAFSA form or show their high school GPA or SAT scores. The following table lists out the awards:
Requirements
Howard University Freshman Scholarships Name
Merit

Howard University Presidential Scholarship
Howard University Founders Scholarship
Howard University Capstone Scholarship
Howard University Leadership Scholarship
Howard University Opportunity Grant

Need

Howard University Achievers Scholarship
Howard University Access Grant
External Scholarships
Programs that don't come from the federal government or the University are seen as external scholarships. If a student gets one of these, award providers usually send the funds to the student account instead of giving out a check.
External programs have their target groups, meaning that only certain student profiles are eligible to apply, such as:
Gender—Women, transgender students, etc.
Field of study—

Creative writing

,

arts

,

engineering

, etc.
Level of study—Freshmen,

sophomores

,

juniors

, doctorates, etc.
Minority group—

Hispanics

,

Native Americans

,

Asians

, etc.
Other specifics—

Transfer students

,

veterans

, senior citizens, immigrants, etc.
Some programs combine multiple factors—for instance, the Clare Boothe Luce Scholars Program is dedicated to women in STEM.
Other examples of external scholarships include:
Morgan Stanley Historically Black Colleges and Universities (HBCU) Scholarship
Thurgood Marshall College Fund All Around Scholarship
Sam Haskell Scholarship
Delta Founders & Past National Presidents Endowed Scholarship
Where To Look for Howard University Scholarships
The most difficult part of getting financial aid is finding valuable info about a specific program—especially when it comes to external scholarships. You can spend weeks or even months scouring the internet to find an award you're eligible for.
Checking out the following places can help you speed up the research process:
The good news is—you can skip the entire research process thanks to DoNotPay. to get a personalized list of all scholarships you're eligible for by answering a few questions!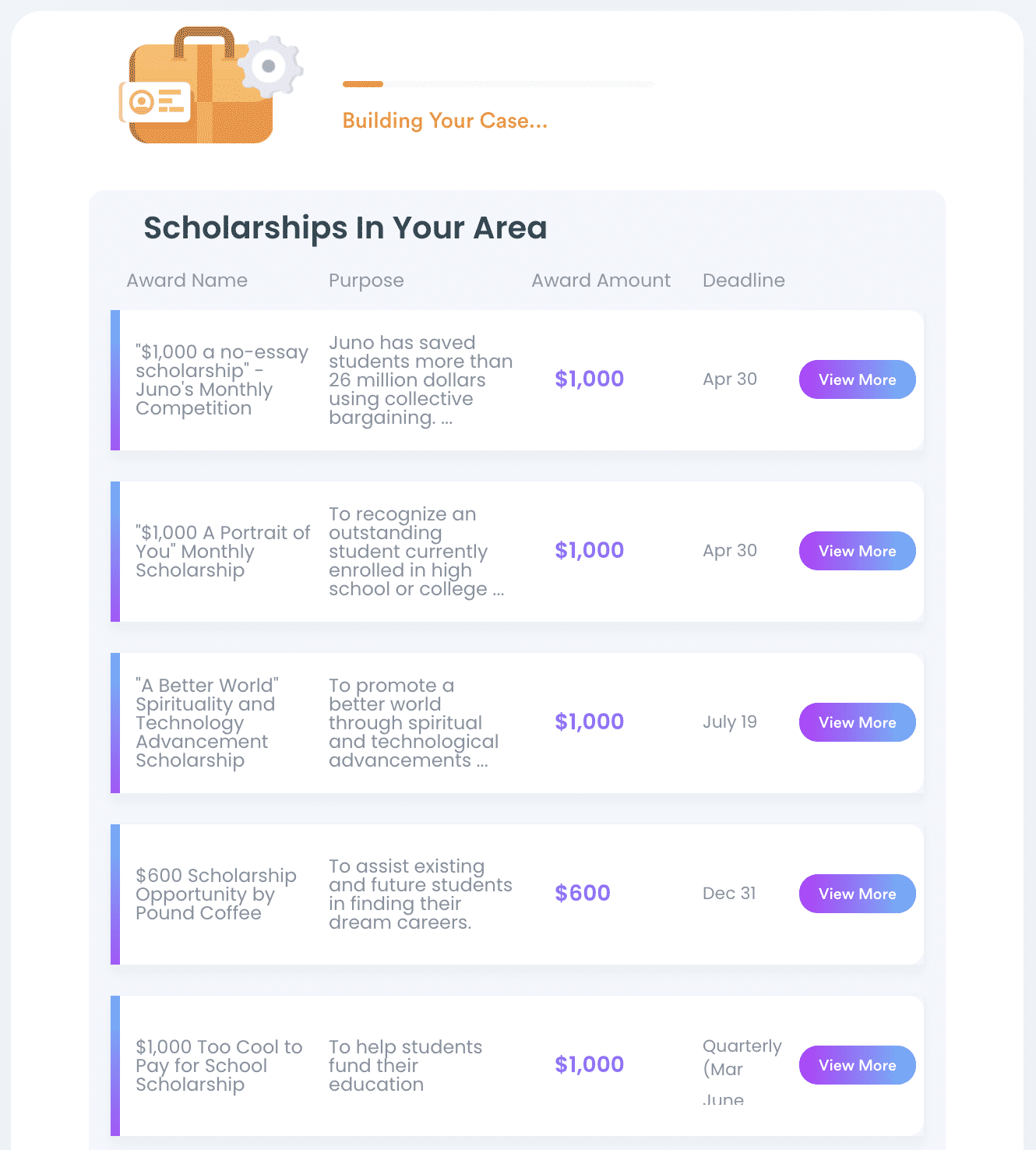 The Application Process for a Howard University Scholarship
Aside from the HUFS programs, all other awards have an application process you need to go through. The way you apply will depend on the individual program and the requirements you need to fulfill, so make sure you do your research before starting the process.
In general, you should always:
Check if you're eligible
Turn in the application before the deadline
Submit all necessary paperwork, including:

The FAFSA and/or ISFAA form
Letters of recommendation

Essay

Transcripts
How To Get Howard University Scholarships in No Time With DoNotPay
The days of going through hundreds of websites and searching for information about scholarships have passed. DoNotPay allows you to complete the whole process in a few moments and gives you access to information about more programs than you could find on your own.
All you need to do is the following:
Open your browser to
Search for the Apply for Scholarships feature
Answer a few questions from our chatbot
When you provide info about your academic performance and financial standing, the app will generate a list of all available scholarships you can apply for, together with information about award amounts and requirements.
If the list contains no-essay scholarships, you can apply for them directly through our app. You only need to select which ones interest you, and we'll complete the whole process on your behalf.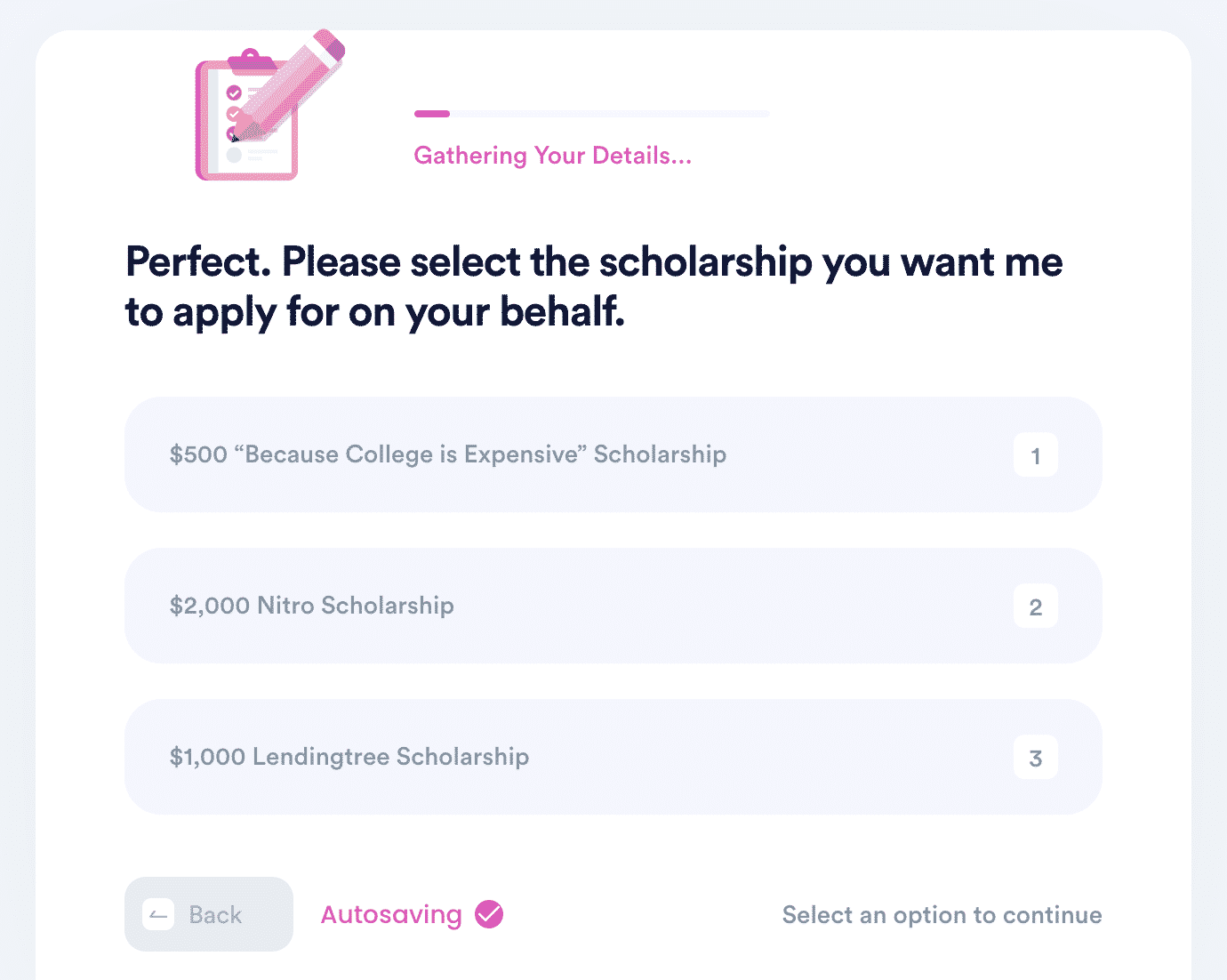 DoNotPay Turns Any Tiring Task Into a Piece of Cake
Are you tired of dealing with bureaucratic or legal matters on your own? You no longer have to—as soon as you subscribe to DoNotPay, we'll take any exhausting task off your plate.
Our app is capable of drawing up legal documents—including marital settlement agreements, child travel consent forms, powers of attorney, defamation demand letters, and affidavits to homeschool—getting them notarized remotely, filing complaints against companies, suing any individual or corporation in small claims court, sending FOIA requests, and so much more.
The World's First Robot Lawyer Offers So Much More
DoNotPay's capabilities don't end there—we can also:
Help you get a tourist visa