The Best Guide to UCLA Scholarships You Will Ever Read
Getting a scholarship at the University of California, Los Angeles (UCLA) is one of the best ways to reduce your tuition fees and other related expenses. Besides being non-repayable, this type of financial aid features many opportunities for various student groups, such as freshmen or undergraduates. In other words—there's room for most students to apply.
Finding the relevant information about UCLA scholarships may be tricky, which is why we offer you the ultimate guide to this type of award! Learn:
What qualifications you must have to apply for scholarships
What the application process looks like
How you can find suitable scholarships and grants you qualify for in a snap with DoNotPay without searching through the internet for hours or even days
UCLA Scholarship Requirements in Brief
UCLA proposes some general eligibility criteria you must meet regardless of the type of scholarship you are pursuing. To qualify for these awards, you should:
Maintain a minimum of a 3.0 GPA since most scholarships are fully or partially merit-based
Complete a Free Application for Federal Student Aid (FAFSA) or a Dream Act Application within a specified application deadline provided by the institution
Fill out an online application form available on the UCLA scholarship portal
Additional engagements, such as volunteering or participating in community activities, can also be used as deciding factors, as well as:
Your background
Professional interests
Special talents and achievements
What Scholarships Does UCLA Offer?
UCLA features three types of scholarships:
Type
Explanation
UCLA Regent Scholarships
The Regent Scholarship Program awards around 100 scholarships annually and applies to the UCLA campus only. It serves as a supplement for federal scholarship awards, such as Pell Grant. Freshmen are entitled to receive a four-year scholarship, while transfer students are eligible for a two-year one.

Students who get this type of support must report any additional financial aid they receive or changes in their academic status. They also mustn't transfer to another college while receiving the scholarship

UCLA Alumni Scholarships
These scholarships are dedicated to incoming freshmen and transfer students coming from community colleges. The first category may receive between $6,000 and $20,000 within four years, while the second gets $6,000 within two years. Both student groups can get an additional $5,000 if they demonstrate financial need. Besides financial assets, these scholarships include other benefits, such as:

Involvement in various campus events
Alumni-to-student mentoring programs
Alumni Scholars Club membership
Access to numerous leadership development programs

UCLA Achievement Scholarships
To be considered for the Achievement scholarship, students must show both financial need and solid academic success. They also must be undergraduates to qualify for this award. The amount you can receive within this financial aid program ranges from $500 to $10,000 annually, and it's allocated in equal monthly installments during a four-year period. Since these scholarships are renewable, you must re-apply for them each year to continue to receive the funds and keep complying with the eligibility criteria
How Do You Apply for UCLA Academic Scholarships?
Here's a step-by-step explanation of the application process for UCLA scholarships:
Check the application deadlines—It's usually March 2, but the decision is subject to changes, so it's important to check the newest info to ensure you are not late
Fill out your FAFSA—This form can be completed and submitted online or manually/by mail. Complete all required fields with correct info and make sure you don't make any mistakes
Check if you need any other application forms and complete them as well—To be considered for some scholarships, you may have to file additional applications on the UCLA scholarship portal. Make sure to fill them out on time
Prepare your scholarship essay—It's a significant part of your application, and it must be done according to the writing prompts provided by the university
Get a letter of recommendation—Choose a person who is familiar with your professional or educational achievements and ask them to write a reference letter for you
Examine your Student Aid Report (SAR)—This document represents the summary of your FAFSA answers. Revise them one more time to exclude potential errors
Once your application is processed, you will get an official letter from UCLA containing a list of all the scholarships you are eligible for.
If this procedure seems confusing, you can subscribe to DoNotPay, let us find the scholarships for you, and apply you for them in minutes!
Having Trouble Finding Suitable Scholarships? DoNotPay Can Help!
Whether you are seeking scholarships for college, grad school, or international students, you may come across various bumps on the road. The task isn't so complicated when you focus on a single university, but if you want to explore all possible options, you may get too many results. To find out which awards you qualify for, you must comb through all options, which takes too much time and energy.
DoNotPay provides a great tool that finds scholarships and grants that align with your qualifications. All we need is a few pieces of information! You will get access to numerous award categories, such as scholarships for veterans, women, minorities, and other specific groups of students!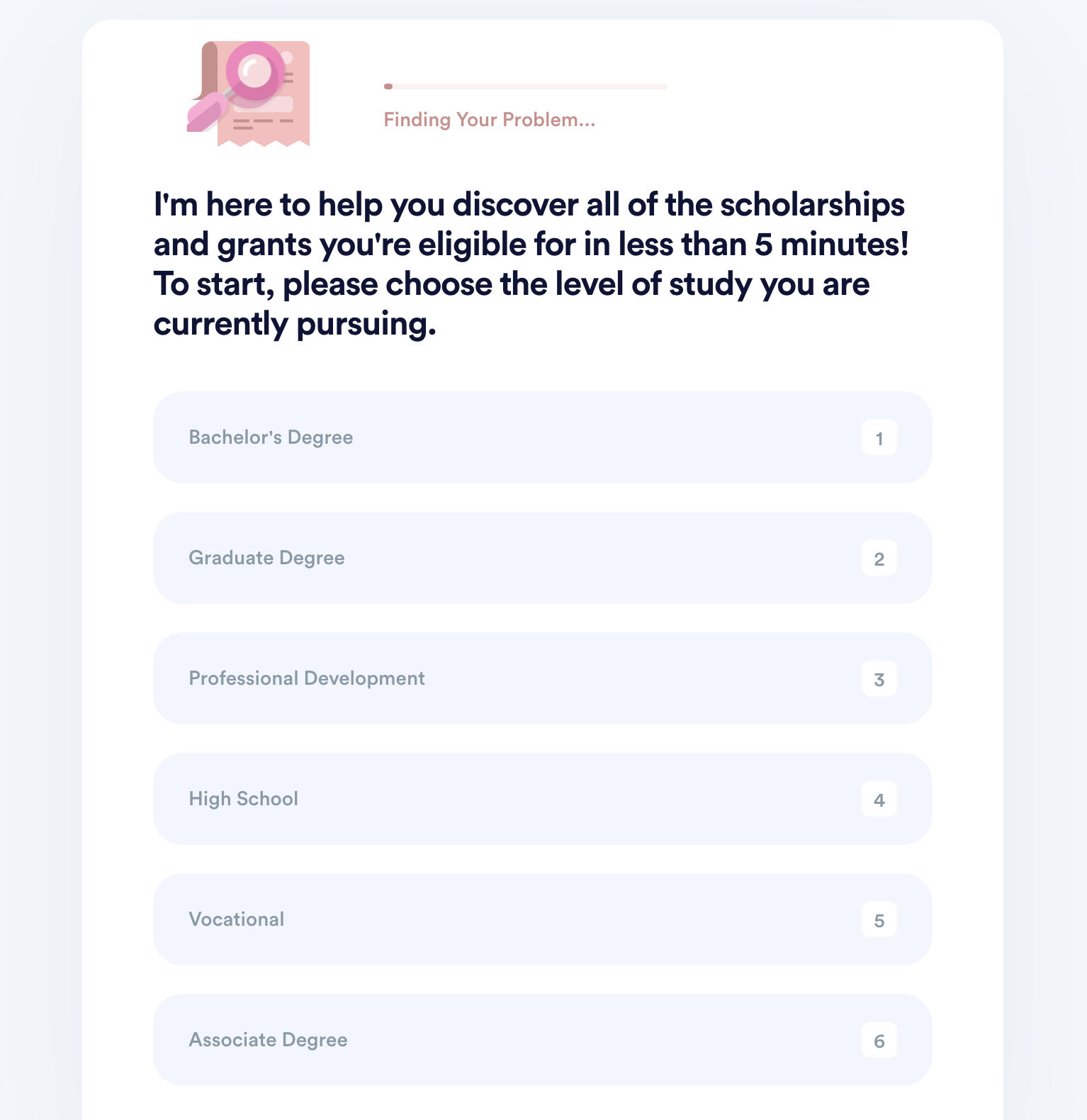 Here's what you need to do:
Navigate to the Apply for Scholarships feature
Pick your level of study
Give us more info about your educational achievements and specific qualification you possess
We can also apply you for any no-essay scholarship you find interesting, and the best part is that the entire process doesn't take more than three minutes!
There Is No Shortage of Tasks DoNotPay Helps You With
If you find finishing administrative tasks tedious, you can rely on our app to assist you through the entire process and make it a smooth-sailing experience. Check out the table below to find out what DoNotPay can help you do:
| Deal With Companies By | Get Rid of Pesky Spammers By | Get Help With Your Studies By |
| --- | --- | --- |
| | | |
Buried in Paperwork? Not for Long!
Is creating legal documents giving you a migraine? Not everyone is acquainted with the law and legal jargon, which is necessary when writing documents, such as:
Luckily, DoNotPay can draft your legal documents in minutes! Why waste hours doing it yourself or hire a lawyer when you can have our app do it in no time?
Creating anonymous HR complaints and demand letters for your inconsiderate neighbors is also something our app does best!