What Stanford Scholarships Can You Apply For?
Stanford University scholarships are all need-based, and nearly half of undergraduate students are awarded financial aid. If you are looking for Stanford merit scholarships, don't get stressed.
This guide will help you understand how Stanford scholarships work and show you how to discover more opportunities to fund your education the easy way.
Types of Stanford University Scholarships and Grants
These are the types of Stanford University scholarships and grants based on the source:
University scholarships
Federal grants
State grants
Outside scholarships and grants
University Scholarships
Scholarships offered by Stanford University are reserved for students from low-income families. The goal is to make sure no student misses their chance of getting a Stanford education due to financial troubles. The university also does not encourage taking student loans to afford post-secondary education.
To determine your eligibility and the amount you can pay for your education, Stanford takes the following factors into consideration:
Family's income
Size
The number of family members in college
Other assets
If your family's income is below $150,000 and your assets match that income, you will not pay tuition. Families with an income below $75,000 and matching assets are exempted from tuition, room, and board payments.
If you cannot pay the amount expected, the university either awards or recommends scholarships, grants, or other financial aid options. You can get an award estimate of the need-based scholarships you are eligible for by using their net price calculator.
State Grants
Students who are residents of California can benefit from state grants. The most notable California state grant program is Cal Grant. To be considered for the Cal Grant program, you must:
Every academic year, the deadline for filing these documents is March 2.
Federal Grants
Stanford undergraduate students can also benefit from the following federal grants:
Pell Grant
Federal Supplemental Education Opportunity Grant
Both programs require students to demonstrate financial need by submitting the FAFSA. Stanford automatically considers students for federal grants when examining their applications for financial need.
Outside Scholarships
If you did not secure a Stanford University scholarship or need help to pay your student responsibility, you can turn to outside scholarships. Student responsibility is the portion of your academic expenses that you are required to pay.
The outside scholarships are offered by different companies, foundations, and even individuals. Note that if you are a recipient of a Stanford scholarship and get an outside award, your Stanford aid will be reduced if the total exceeds your student responsibility amount.
The following are some great examples of external scholarships:
Scholarship Type
Scholarships
Scholarships for international students

OPEC Fund for International Development Scholarship
Fulbright Scholarship

Undergraduate scholarships

Beinecke Scholarship Program
Cargill Global Scholars Program
How To Find Stanford University Scholarships
If you don't get aid directly from Stanford University, you can still find many scholarships that can help you fund your education. Because opportunities are scattered all over, you may have to combine different methods, such as:
Asking your high school counselor
Contacting state education agencies
Filing the FAFSA to get federal opportunities
Asking past scholarship recipients'
Searching online
If combining different methods is too much work, we have an easier option. DoNotPay can get you a personalized list of all Stanford scholarships that you are eligible for. All you have to do is subscribe to DoNotPay and check your options in less than five minutes.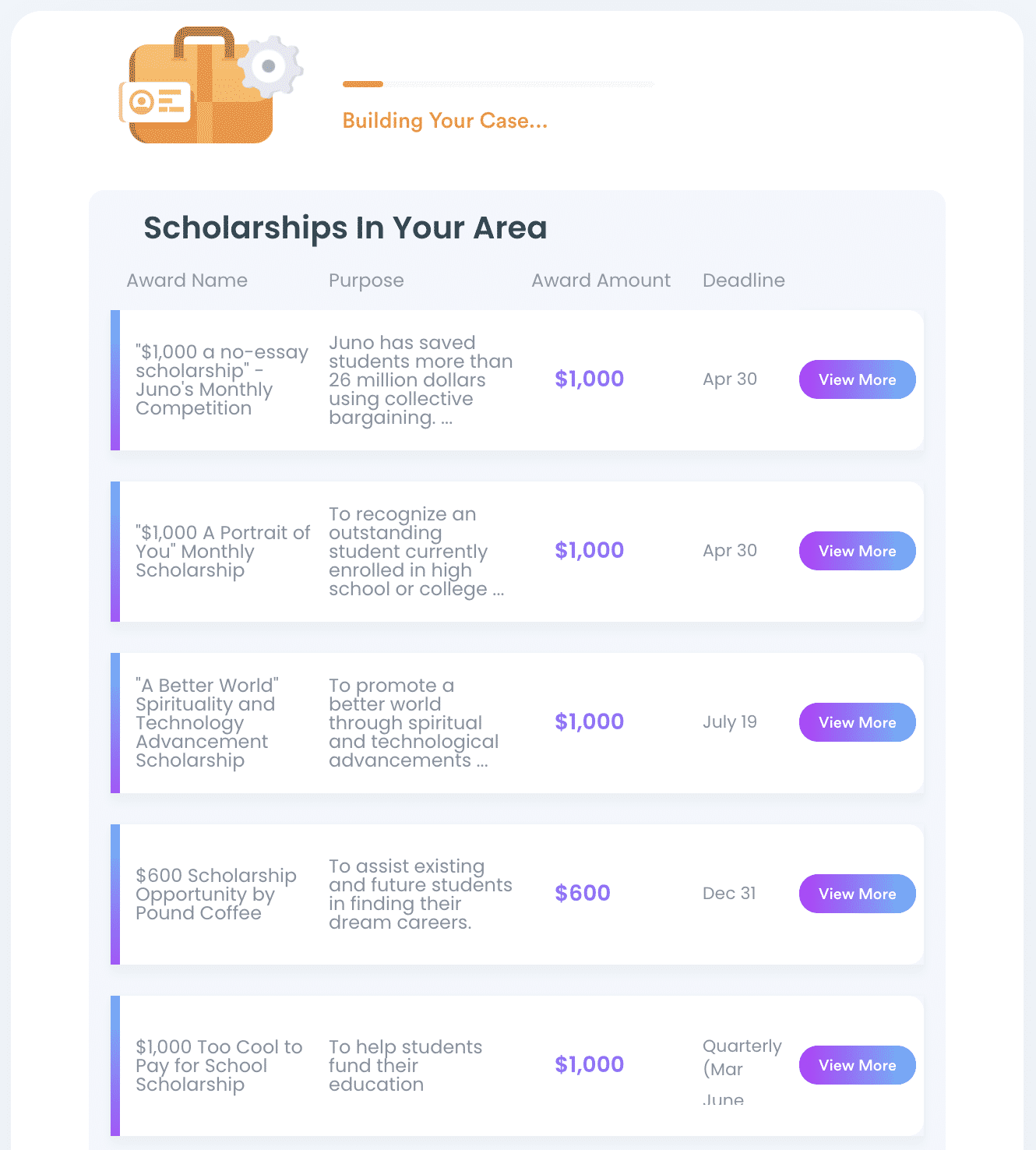 How To Apply for Stanford Scholarships
To apply for the scholarships offered by Stanford University, all you need to do is complete your CSS Profile and the FAFSA.
International students need to indicate that they require financial aid on their application for admission. If you skip it when applying for admission, you won't be considered for the scholarships by the university during your undergraduate studies. You can only be considered on the condition that your citizenship changes and you become eligible for federal student aid.
External scholarships come with their own application requirements. Most scholarships will need you to submit:
Always ensure that you check the deadlines, prepare all the paperwork, and apply for scholarships early enough.
Find and Apply for Scholarships in Less Than Five Minutes With DoNotPay
High-merit students from medium-income families may not get the scholarships automatically offered by Stanford. The good news is that there are still numerous opportunities targeting specific categories, for instance:
The trick is knowing where to find them. You can discover all the scholarships you can apply for now with our app by following these steps:
Find the Apply for Scholarships tool
Answer a few questions related to your education level and academic interests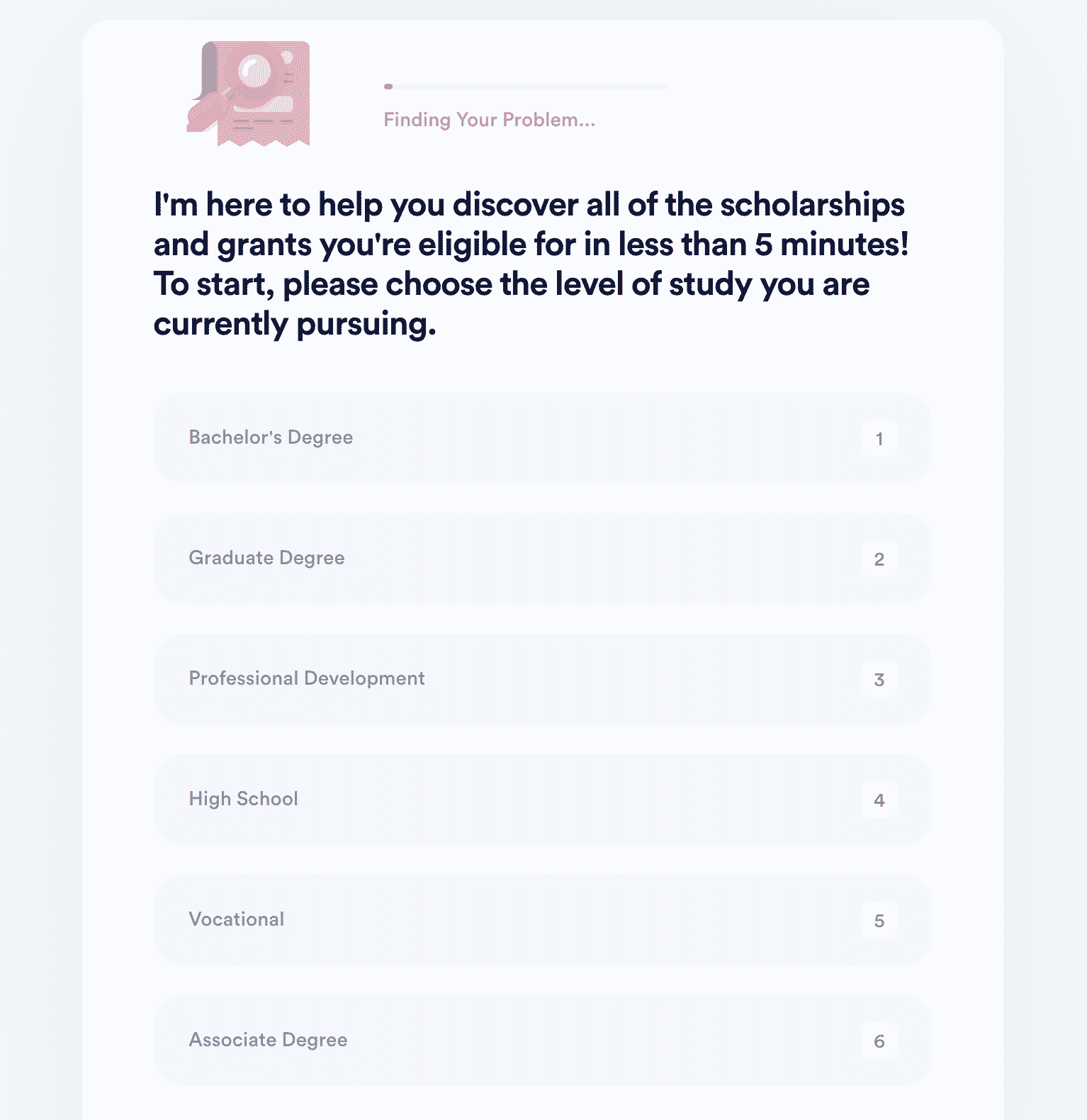 We simplify the process for you even more—DoNotPay can automatically send your applications for no-essay scholarships.
Explore DoNotPay's Product Range
Are you looking for additional assistance from our app? We're happy to inform you that DoNotPay provides you with a number of useful tools that you can use to complete mundane tasks in the blink of an eye! Sign up for our app and let us help you get:
DoNotPay Resolves Your Financial Issues in a Few Taps
You don't have to struggle to figure out how to resolve financial problems yourself when you have our app at your disposal. In only a few clicks, you'll be able to discover any unclaimed money under your name, submit insurance and warranty claims, or request compensation for delayed flights.
But that is not all! Lowering your utility bills, appealing parking tickets, or canceling memberships and subscriptions is also something you can do in no time and with minimum effort if you use DoNotPay! Work smarter, not harder!