Getting the Most of It—How To Get a Full Scholarship to NYU
New York University (NYU) is one of the most attractive educational institutions in the United States. The popularity of NYU decreases when students hear about its tuition fees, which can reach up to $76,000 per year.
Everything at NYU comes with a price—even applying. Luckily, students can turn to scholarships and grants to ease financial difficulties. In this article, we'll show how to get a full scholarship to NYU by explaining where you can find available programs and how to apply.
How To Get a Full Scholarship to NYU
Scholarships represent a helping hand in covering your costs of attendance. Financial aid providers usually offer a few thousand dollars, which, on their own, won't make a lot of difference when you need to pay NYU fees.
To get your full tuition paid, you have to use one of the two following strategies:
Get a full scholarship
Stack up multiple awards
Getting a Full Scholarship
While they do exist, full-tuition scholarships are rare, and they require you to beat serious competition. The programs have various requirements, and it's virtually impossible to land an award by meeting the bare minimum.
To land a full scholarship, you'll need to show impressive academic excellence and out-of-class involvement. Some factors award providers demand include:
Full scholarships for students at New York University are:
Dean's Scholarship
Nneka Fritz (WAG '08) Scholarship
Global Executive Master of Public Administration (EMPA) Fulbright Scholarship
Global EMPA Program Pentland
Named Faculty Scholarship
Consortium Fellowship
William R. Berkley Scholarship
Advancing Women in Business Scholarship
Stern Scholarship
Stacking Up Awards
There is no rule limiting you to one or a couple of awards. You can apply (and obtain) as many scholarships as you like. This can be extremely time-consuming, but if you want to get rid of your tuition fee and not pay a dime and can't secure a full scholarship, it's the only solution.
Partial-Tuition NYU Scholarships
Lower-value college scholarships are easier to secure, as they offer less money and are more common. While students can't get rid of their entire tuition fee with one of these programs, every bit helps in getting that number down. Scholarships for NYU students can be categorized into three types:
New York University financial aid programs
Federal and state grants
Outside scholarships
NYU Financial Aid Programs
The University offers both need- and merit-based scholarships to its students. Its financial aid programs are nonrepayable as NYU doesn't provide loans. Most NYU programs are need-based, but merit-based scholarships are more rewarding.
There is no application process for merit programs, as all undergraduate students enrolled at NYU get considered for an award automatically. The University doesn't offer awards to graduate or doctoral degree students.
There are separate programs for continuing (i.e., sophomores, juniors, and seniors) and incoming students (already accepted freshmen or high school seniors who intend to study at NYU). Check out this table to find some examples of NYU programs and their categories:
Scholarship Category
Available Programs
Incoming students

AnBryce Scholarships
Lenape Scholarship
Lewis Rudin City Scholarships
Phi Theta Kappa Scholarships
Yellow Ribbon Scholarships

NYU transfer scholarships
Community College Transfer Opportunity Program (CCTOP)
9/11 scholarships

Helen and Martin Kimmel Scholarship
Barclays 9/11/01 Memorial Scholarship
Sol and Margaret Berger Foundation Scholarship
Wachtell, Lipon, Rosen, and Katz Scholarship
9/11/01 Memorial Scholarship

College-specific programs

College of Arts and Science (NYU CAS) scholarships
Gallatin School of Individualized Study programs
Rory Meyers College of Nursing scholarships
Steinhardt School of Culture, Education, and Human Development scholarships
Stern School of Business programs
Tandon School of Engineering awards
Federal and State Grants
Grants coming from federal and state institutions focus on low-income students who can't keep up with the financial demands of studying at NYU. To qualify for these grants, students need to prove their financial status by showing what their Expected Family Contribution (EFC) is. Students can do that by filling out the College Scholarship Service (CSS) profile or the Free Application for Federal Student Aid (FAFSA) form.
Grants students can apply for include:
Aid for Part-Time Study (APTS)
New York State Tuition Assistance Program (TAP)
Federal Supplemental Education Opportunity Grants (FSEOG)
Federal Pell Grant
Teacher Education Assistance for College and Higher Education (TEACH) Grant
Veteran's Benefits by the U.S. Department of Veterans Affairs
Outside Scholarships
Outside financial aid awards come from companies, private funds, and donors. They offer help to NYU students, and there are a lot of outside options for someone to land a scholarship.
Aside from taking an interest in a specific field of study, outside programs also offer awards to specific groups of students, and award seekers can use that to lower the competition. Various student profiles include:
The biggest issue with outside scholarships is learning about them—NYU's website doesn't list them out. Students looking for some outside help need to do the research on their own, which takes a lot of time and effort. Some places to search for financial aid programs are:
NYU's financial aid office
DoNotPay
DoNotPay can help you skip the entire research process and find all available scholarships within minutes. With our app, you will learn only about scholarships you're eligible for, including federal grants and NYU programs.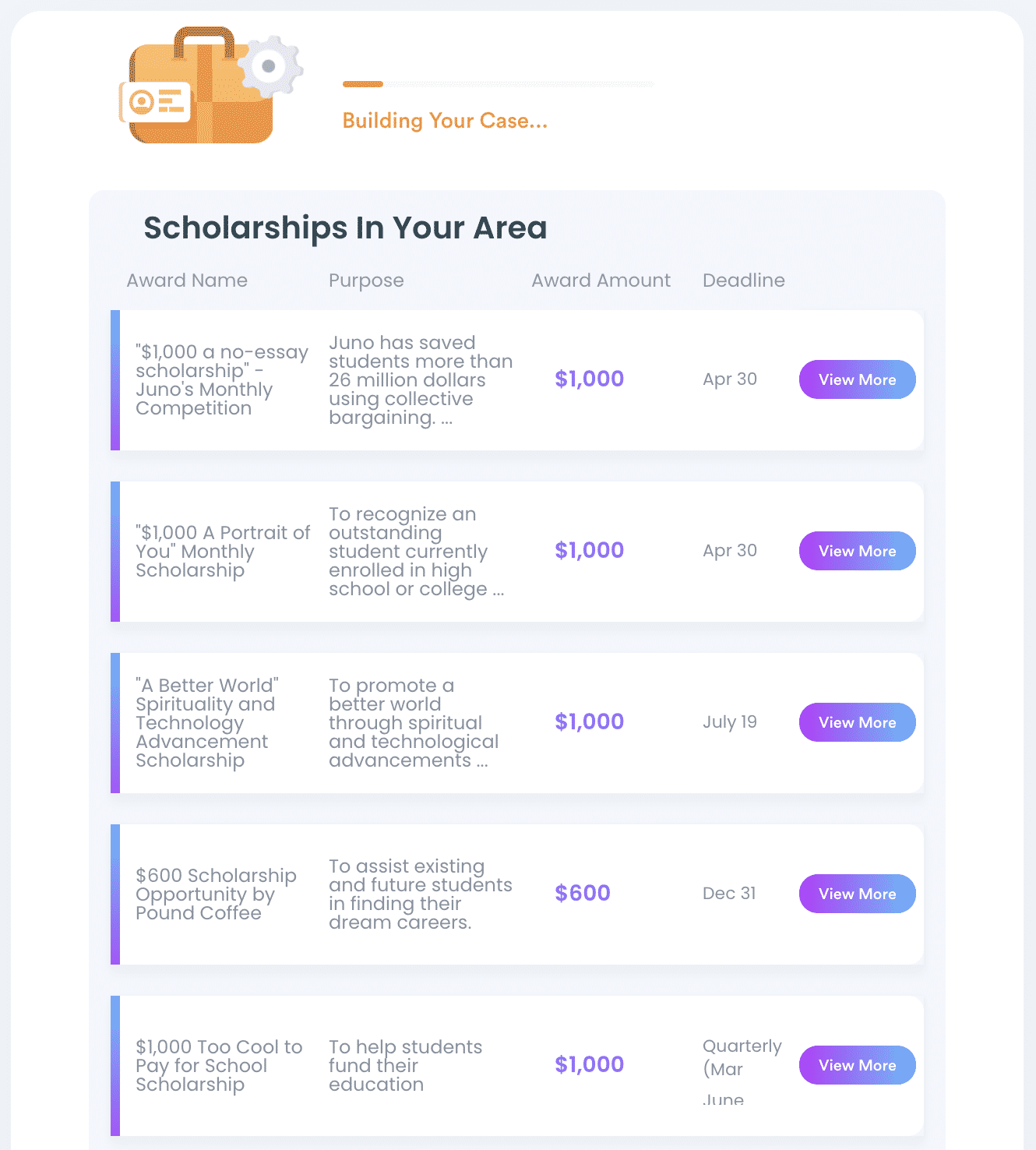 How To Get a Full Scholarship to NYU Using DoNotPay
The more financial aid programs you get, the less you will have to pay on your own, potentially reaching the goal of not paying anything out of your pocket. DoNotPay can help you find all programs for which you meet the requirements in under five minutes. All you need to do is:
Search for the Apply for Scholarships product
Answer our chatbot's questions about your academic and financial situation
Your answers will allow our app to create a personalized list of all scholarships you're eligible for and show you information about requirements and award amounts. If the list contains no-essay scholarships, you can apply for them within the app effortlessly by instructing us to do it on your behalf.
DoNotPay Turns Any Tiring Task Into a Piece of Cake
Are you tired of dealing with bureaucratic or legal matters on your own? You no longer have to—as soon as you subscribe to DoNotPay, we'll take any exhausting task off your plate.
Our app is capable of drawing up legal documents—including marital settlement agreements, child travel consent forms, powers of attorney, defamation demand letters, and affidavits to homeschool—getting them notarized remotely, filing complaints against companies, suing any individual or corporation in small claims court, sending FOIA requests, and so much more.
The World's First Robot Lawyer Offers So Much More
DoNotPay's capabilities don't end there—we can also: