Why Might Homeschooling Groups in NJ Be Good for You?
If you're in charge of your child's education at home, there is plenty to think about. You should know what's required for homeschooling, whether anyone else can teach your kid, what subjects you need to cover, or whether you can pick or create a unique homeschool curriculum.
You can get lots of relevant information and support from homeschooling groups in NJ. Joining one or a few of these organizations might provide necessary updates on laws, costs, available financial assistance, etc.
Social Community of NJ Homeschool Groups
To homeschool your kid in New Jersey—or any other state—you need to get familiar with the required processes, resources, and laws. A convenient way to obtain valuable info is by joining a local homeschool group.
Most homeschooling groups in NJ are active on social media. While some still might have websites, the quickest way to find out about the events they organize or changes to state or local regulations is to follow them on Facebook.
Here are some homeschooling groups in NJ you should consider:
These organizations allow you to hang out with other homeschool parents, exchange information, and share good practices and resources essential for successful homeschool teachers.
What About a Homeschool Co-Op in NJ?
A homeschool co-op in NJ is another convenient solution for busy parents. Many people who decided to homeschool their kids face significant challenges, so starting a co-op makes the process easier because the responsibilities are shared.
Co-ops provide:
You should investigate what homeschool co-ops exist in your school district, city, or county, but here's a list of a few you might find interesting:
What Are Advantages of Joining Homeschooling Groups and Co-Ops in NJ?
If you're not sure whether joining a homeschooling group or co-op might be the right fit for you and your child, you can check out the following table to learn about the benefits:
Benefits of Homeschool Groups
Benefits of Homeschool Co-Ops
Your child can:

Meet other homeschoolers
Go on group field trips
Attend organized clubs and physical education

You can:

Ask questions easily (e.g., how you can withdraw your kid from regular school or how many hours a day you need to teach)
Search for relevant information in groups' online communities (e.g., how to start homeschooling or whether you can do it in the middle of the year)
Socialize with other families who have more experience in homeschooling

You and your kid can:

Have access to courses and subjects you cannot teach at home
Interact with the same group of students regularly, thus creating friendships among homeschoolers and their families
Get used to various teaching styles, which will prepare your kid for future regular school or college experience
Find an NJ Home School Association
If you're not sure where to start looking for an NJ homeschool association, check out the following:
Homeschooling associations can lobby if state laws on homeschooling need to be changed.
Joining an NJ homeschooling association might also be a wise decision as these organizations offer information on the legal procedures and required paperwork to homeschool in NJ. Keep in mind that home-based education entails extensive administration.
The first step is creating a letter of intent to homeschool. This letter notifies your child's current school and the local board of education of your intention to homeschool your child. If you need assistance with drafting this legal document, .
DoNotPay Generates a Notice of Intent To Homeschool in a Flash!
If you've decided to homeschool your child, make sure to follow all legal procedures and requirements. Before taking your child out of school, you must inform the authorities that they will continue their education at home by sending a letter of intent to homeschool. DoNotPay can help you create this letter in a matter of minutes.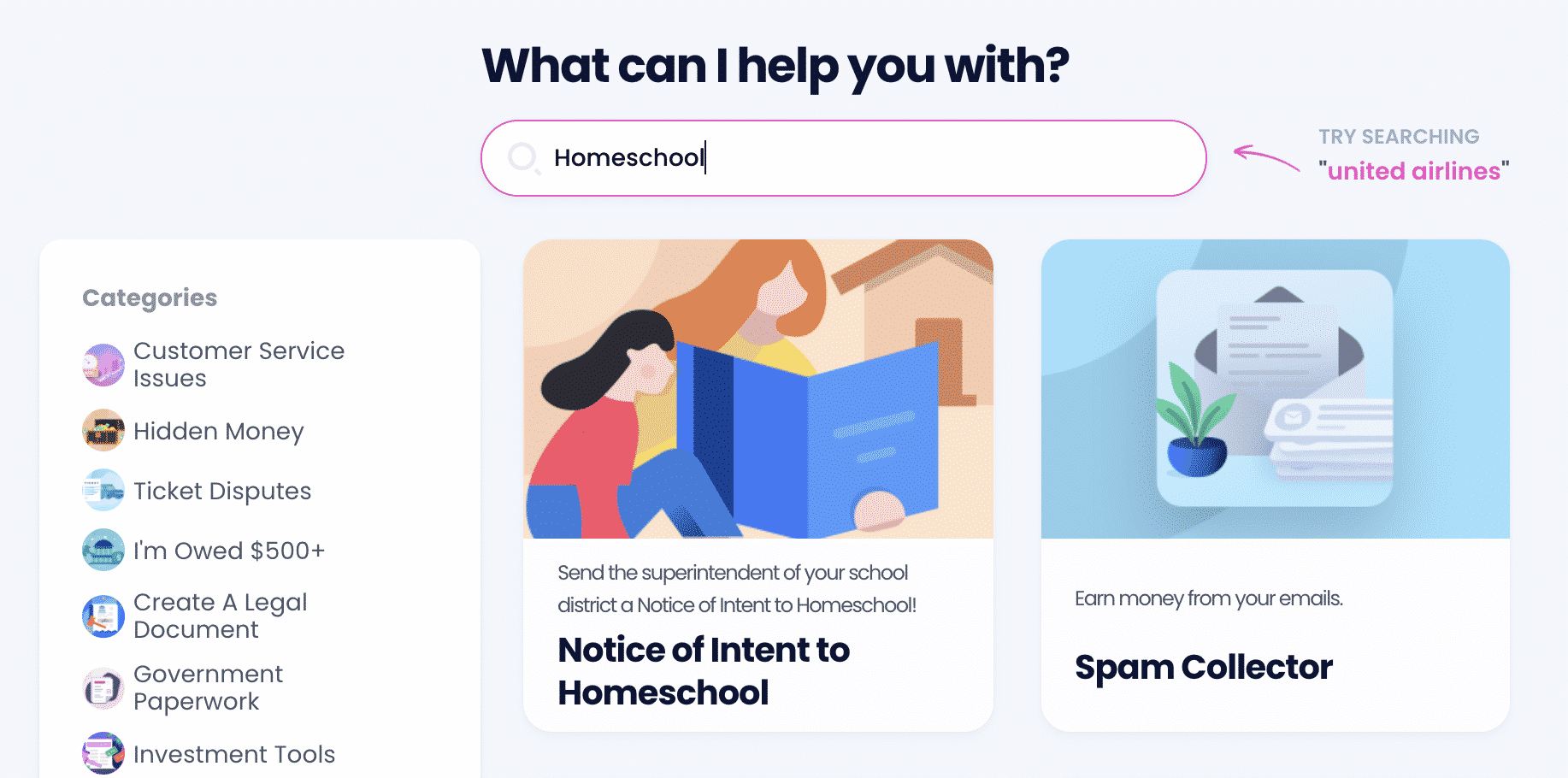 and take these simple steps:
Open our Notice of Intent to Homeschool feature
Provide information about your child, yourself, and your school district
Select if you'd like us to:

Help you get the letter notarized
Send the notice of intent to the correct address in your stead
Create a PDF file and send it to you so that you can file the letter yourself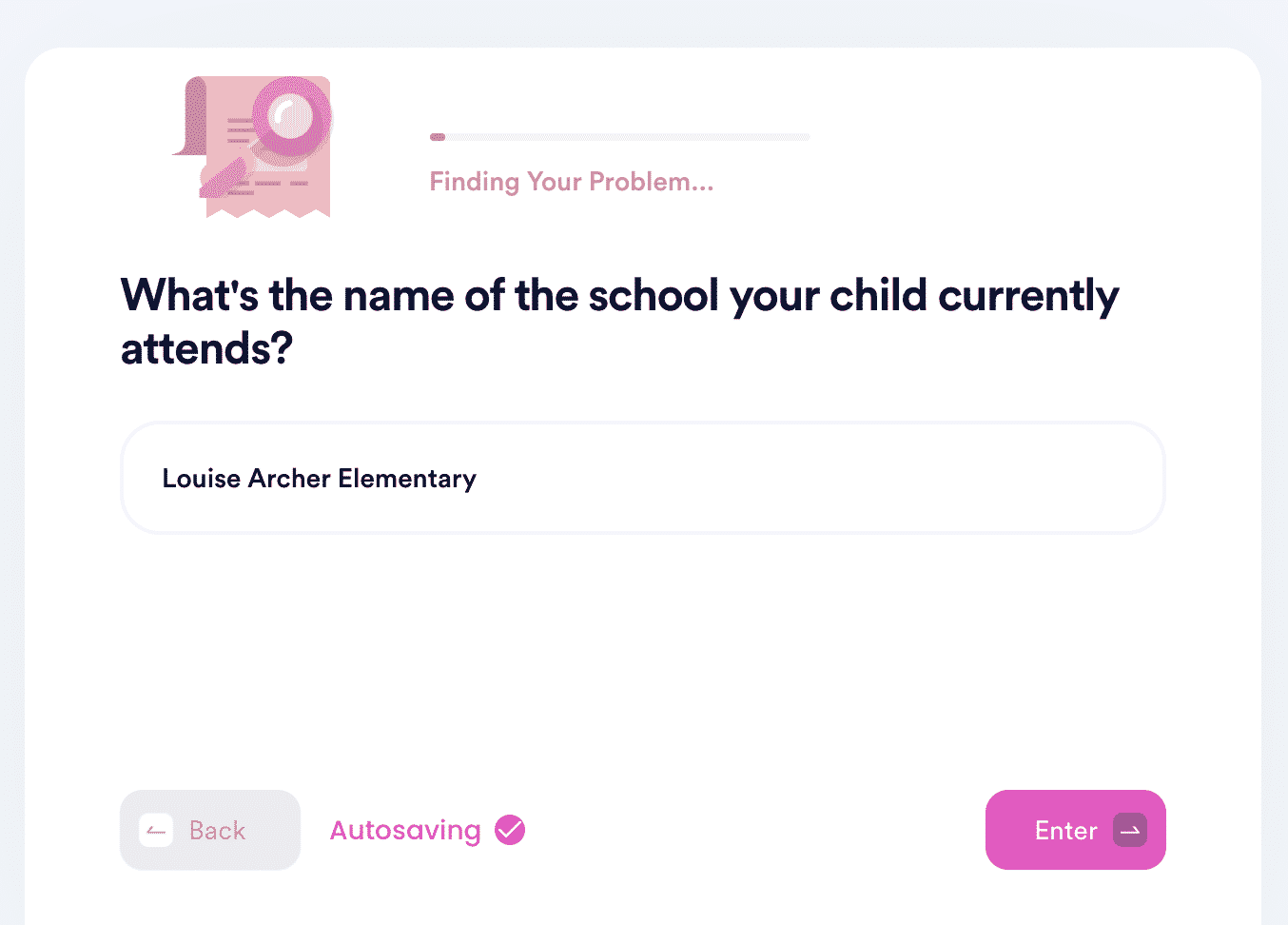 Would you like to learn more about homeschooling? We tackle the essential issues of home-based education, including:
Can DoNotPay Help Me With Any Other Admin or Legal Issue? You Bet It Can!
DoNotPay's robust products can assist you in fighting companies, individuals, and institutions that have wronged you in any way. Once you subscribe to our platform, we'll ensure that you never have to deal with any of the following again:
Our Product Range Offers So Much More
Subscribing to DoNotPay will bring you peace of mind as you won't have to go through tedious task completion on your own anymore. With our AI-powered app, you can get what's rightfully yours in the blink of an eye.
If you want to claim warranty or insurance, find your missing assets, get compensated for a canceled flight or a violent crime that you were a victim of, track your missing parcel, or draw up a child travel consent form, divorce settlement agreement, power of attorney, or any other legal document, you can count on us to lend you a helping hand.
Sign up today to get access to the entirety of our product range and forget about dealing with time-consuming and energy-draining chores!