The Gist of Acquiring Georgetown Financial Aid
Georgetown University (GU) was founded in 1789, making it the oldest Catholic institution of higher education in the U.S. The school is highly selective and comes with head-spinning tuition of $56,058. For this reason, many students who wish to attend GU are inclined to apply for Georgetown financial aid.
DoNotPay will tell you what your financial aid options are and will help you get more funds if the offer you receive is unsatisfactory. Even if your application gets rejected, you can use our app to file an appeal!
The Basic Info About Georgetown University Financial Aid
More than 50% of undergraduate students at Georgetown receive some type of financial aid. It is determined by subtracting your family financial responsibility from your total cost of attendance.
Your family financial responsibility is calculated according to the info provided on the:
Free Application for Federal Student Aid (FAFSA)—It is used to determine your eligibility for federal financial aid (grants, loans, and work-study programs). FAFSA gathers your financial and biographical information, such as:
Family's adjusted gross income
Assets
Number of people in the household
CSS Profile—It determines your GU Scholarship eligibility. A CSS Profile requires more in-depth financial and biographical info from your parents, including:
Home equity
Business assets
Medical expenses
Private school tuitions for other siblings
Federal tax returns—Together with CSS Profile, they serve to establish whether you meet the criteria for GU Scholarships
What Type of Financial Aid Is Available at Georgetown?
Depending on your financial need and eligibility, you can apply for different types of aid at GU. Take a look at the table below for more info:
Type of Aid
Brief Explanation
Available Options
Federal grants
This aid is awarded to students with the highest financial need according to the FAFSA. It does not have to be repaid

Pell Grant
Supplemental Educational Opportunity Grant (SEOG)

Scholarships
Students who demonstrate financial need according to FAFSA, CSS Profile, and federal tax returns are eligible for scholarships. You do not need to repay this aid

World Bank Group Staff Association Scholarship
D.C. Mayor's Scholars Undergraduate Bachelor's Scholarship
LaFarge Bachelor's Scholarship
Crankstart Foundation Re-entry Bachelor's Scholarship
Osher Reentry Bachelor's Scholarship
CyberCorps Scholarship for Service Program
Phi Theta Kappa Bridge Bachelor's Scholarship

Loans
This is a need-based award that must be repaid

Federal Direct (subsidized and unsubsidized)
Private loans

Student employment
Students with financial difficulties are eligible for work-study programs. This form of aid helps students pay for their education while working part-time

On-campus jobs
Off-campus jobs
How To Contact the Georgetown University Financial Aid Office
Due to the COVID-19 pandemic, the Office of Student Financial Services (OSFS) is serving students virtually until further notice. You can contact the financial aid advisors from 9 a.m. to 5 p.m. ET, from Monday to Friday in one of the following ways:
Over the phone—(202) 687-4547
Via email
Email addresses in the University Directory are only shown when you access from the Georgetown University network. You will need to click on the Send Email to This User link and fill out a web form.
If you want to schedule a virtual Zoom meeting with a financial aid advisor, you will have to do it via email.
Georgetown Financial Aid Deadlines To Keep in Mind
To successfully receive financial aid, you should respect application deadlines. It is necessary to apply for aid each year, and you can receive it for as long as that type of aid is available. You need to submit your FAFSA, CSS Profile, and federal tax returns info by:
February 1 (first-year students, transfer undergraduates, and incoming graduates)
January 15 (continuing undergraduates and graduates)
Graduate students only need to submit FAFSA forms.
What Happens if Your Application Gets Denied or You Receive a Disappointing Offer?
In case Georgetown University rejects your application or offers you an insufficient amount of money, you can file an appeal. can help you create an appeal letter that will make the school reconsider its decision!
Use DoNotPay To Send a Financial Aid Appeal Letter to Georgetown
Why would you go through the ordeal of composing the appeal letter on your own when you can use DoNotPay? Our app will write the letter using reasonable arguments to support your claim. You only need to follow these steps:
Search for the Appeal for More Financial Aid product
Tell us how much financial aid other universities offered you (if you applied to more than one)
Provide the necessary information about your family's income
Once you complete these steps, DoNotPay will take mere minutes to generate a personalized appeal letter. Not only that—we will send the letter to Georgetown University on your behalf as soon as possible!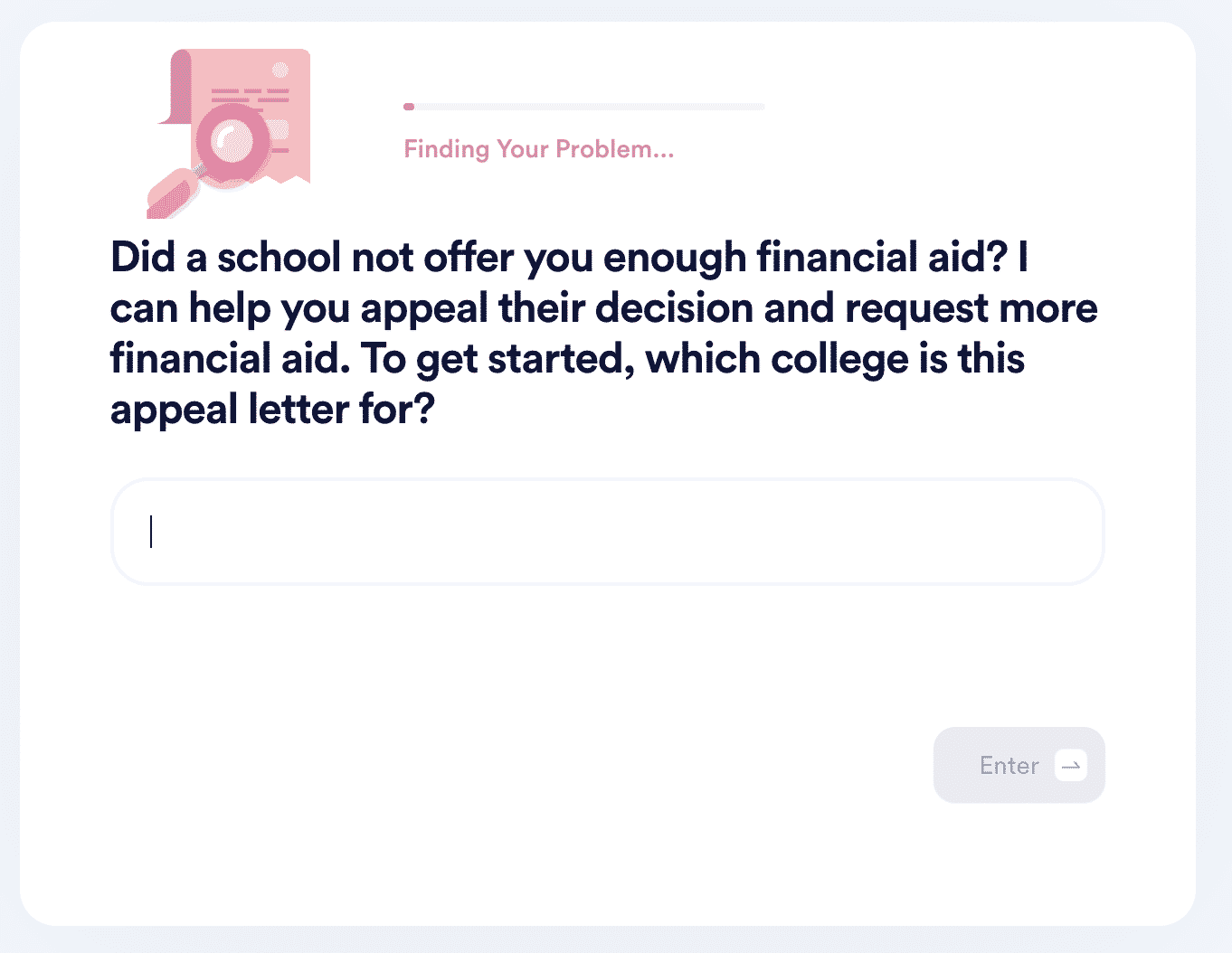 Financial Aid Offers From Other Universities
If you want to see what other schools have to offer in terms of financial aid, take a look at DoNotPay's guides in the table below:
Work Smarter, Not Harder!
Although there are certain tasks that are a pain but can't be avoided, such as paying your property taxes, you don't have to do them the hard way. There is always a way to make the overbearing bureaucratic procedures a bit easier. DoNotPay can find a loophole and help you cut through the red tape!
Reducing your property taxes is only one in the sea of tasks our app will make super easy to do! You can also use DoNotPay to:
Draft legal documents

(such as

POAs

)
Explore DoNotPay's Other Neat Features
DoNotPay offers a plethora of useful products to make your day-to-day life easier and enjoyable! Consult the list below to see what you can do using our app: