Your Guide to the Cornell Financial Aid To-Do List
An Ivy League college such as Cornell can dig a deep hole in your wallet with the tuition costs that can amount to over $60,000 a year. To afford an exceptional education that comes with attending Cornell, you can apply for financial aid.
The prestigious University offers grants, scholarships, loans, and work opportunities to its students. Do you want to know how much money you can get? We can help you find out.
Our Cornell Financial Aid To-Do List guide will help you decipher all the steps you need to take to get the much-needed monetary support.
Cornell Financial Aid To-Do List—What It Is, and How To Use It
Regardless of what type of aid you apply for or what year you are in, you will have access to Cornell's useful To-Do List. It was designed to help students follow up on the requirements for the financial aid application process.
To review the To-Do List, you need to:
Go to Cornell's Check Application Status page
Click on Access Your Financial Aid Page
Use the same login credentials as for the Application Status Page
How To Revise Your Cornell Financial Aid Checklist
You can refer to the To-Do List to check if your financial aid file is complete. If there is anything you need to provide to round up the application, it will be marked as Initiated. The enclosed items will disappear from the list five to seven business days after the submission at most.
Watch out for any emails from financial aid counselors as they may request additional information.
For any further clarifications, contact Cornell's Financial Aid Office via:
Phone at 607-255-5145
Email at finaid@cornell.edu
Both undergraduates and graduates can use the checklist for their financial aid applications. Note that international students can't access the To-Do List.
When Can I Access My Cornell Financial Aid To-Do List?
Before you start checking off the To-Do List items, you need to do the following:
Steps
Explanation
Complete the Free Application for Federal Student Aid (FAFSA) form
FAFSA determines your financial need eligibility for all types of financial aid. To complete the form, you need to:
File the CSS Profile
CSS Profile helps universities evaluate the amount of financial aid you should get. It contains detailed questions about your financial situation. To start the process, you need to:

Find the CSS Profile application on College Board
Use Cornell's code—2098

Submit IDOC materials
IDOC is a service for processing financial aid materials. After you file your CSS Profile, the College Board will send you an email with IDOC instructions. You need to prepare the following:

Federal Verification Documents
Signed Federal Tax Returns for custodial or noncustodial parents
Once you get that done, you can start monitoring your To-Do List. The items on the list can differ from the requirements on the IDOC Dashboard, so pay close attention to what Cornell asks for.
When To Apply for Financial Aid at Cornell
The deadline for financial aid applications differs from the admission deadline. Submitting your aid application on time is a must if you want to get an offer.
If you are eligible for the aid and wish to apply, the table below will help you keep track of the deadlines:
Financial Aid Application For
Deadline
U.S. citizens and eligible noncitizens

November 21 (early decision)
February 15 (regular decision)

International students

November 16 (early decision)
January 2 (regular decision)

Spring transfer students who are U.S. citizens and eligible noncitizens
October 15
Fall transfer international students
March 15
How To Check Your Cornell Financial Aid Status
You've crossed off every item on the list—now what? You can track the status of your financial aid application by heading to the Check Application Status page and logging in to your account.
Cornell will notify you that the decision is available for online viewing when the University finalizes it. Review the decision on the View Financial Aid Decision page.
I Met All the Financial Aid Requirements, but I'm Dissatisfied With the Decision
The story of the financial aid application doesn't always have a happy ending. You can diligently submit all paperwork and get rejected or receive a proposal that doesn't offer enough funds to cover your expenses. What you can do in that case is file an appeal.
You can use the Financial Aid Appeal Application form to start the process. This isn't the ideal option, though, as it's time-consuming.
The circumstances that can get your appeal approved are:
Unexpected life event
Termination or change in employment that lowered your or your family's income
High educational, medical, or family expenses
Change in income information
Filing an appeal letter can be tiring and nerve-wracking. If you want a faster, better, and less stressful solution, and let us write your letter in an instant!
How Can DoNotPay Help With Your Appeal?
Our nifty Appeal for More Financial Aid product can get you the financial aid amount you want. Based on your specific situation, we will generate a top-notch appeal letter for any university you select, including Cornell.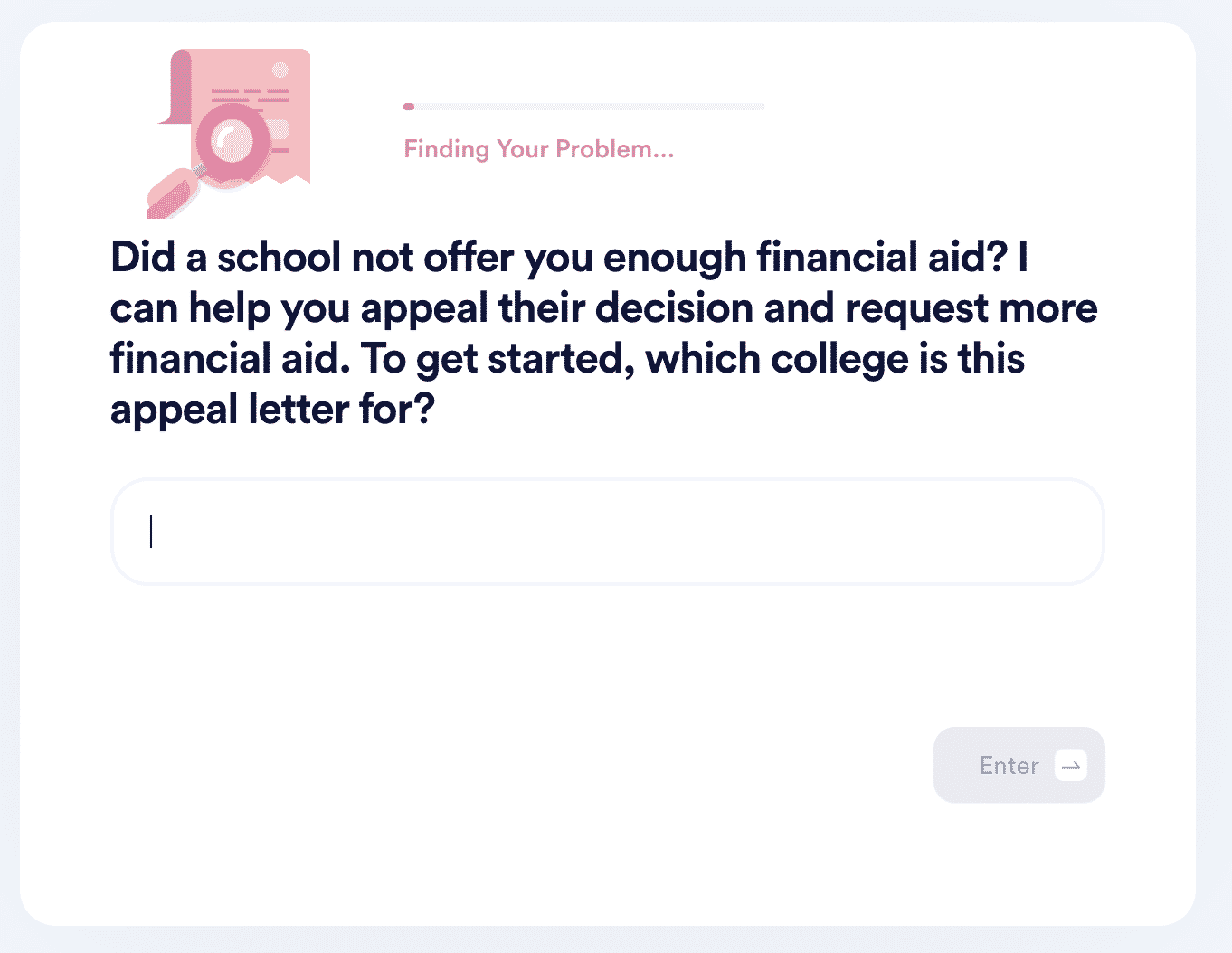 The process takes but a few simple steps:
from any web browser
Locate the Appeal for More Financial Aid feature
Answer the questions that will help us personalize your letter
We will create the letter in a jiffy and send it to your desired school! You can also choose to receive the letter and mail it on your own.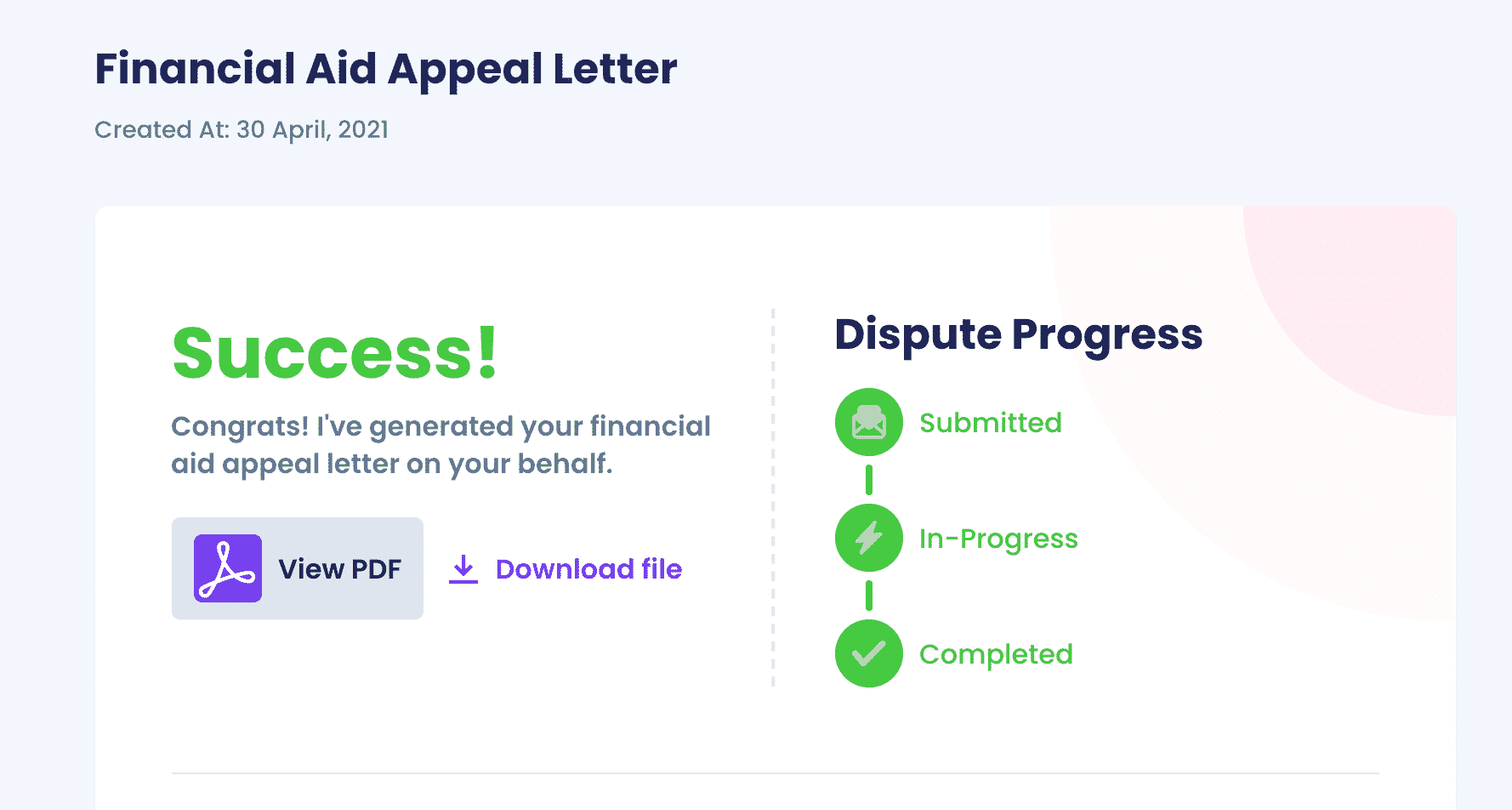 If you don't want to limit your options to a single university, check out our financial aid guides for some of the best schools in the USA:
We have also answered some common financial aid questions, such as how many years you can receive federal aid and whether there's any financial aid for graduate schools.
Use DoNotPay To Resolve Administrative Tasks in Minutes!
Tired of brainstorming the easiest way to deal with administrative issues? We know how you feel, and we're here to take the burden off your back!
Once you subscribe to our app, you'll be able to resolve an abundance of bureaucratic issues with ease.
Taking a valid passport photo, reporting workplace discrimination, reducing property taxes, preparing for a government test, applying for a college fee waiver, and appealing a parking ticket are some of the many tasks we assist you with.
In case you need a quick way to draft a legal document, such as a power of attorney, divorce settlement agreement, or a child travel consent form, DoNotPay will do it for you!
Learn How To File Claims the Easy Way
Are you dissatisfied with a certain company and/or its products? You don't have to stay quiet! Use DoNotPay to file your insurance, warranty, or missing/late parcel claim effortlessly! We'll also show you how to request an item return in a few steps.
If you want to cancel a subscription or request a refund or chargeback, you can do it with our assistance without breaking a sweat. Use one app to deal with countless issues!