Chase Account Suspended—The Guide You've Been Looking For
Chase is a popular choice among American households as it evokes trust with its admirable reputation. When your account gets suspended out of the blue, it can come as a surprise. Don't lose your trust in the bank just yet or stress about the Chase account suspended notice because DoNotPay will clarify the situation and help you recover your account.
Our detailed guide will inform you about what can cause the suspension, what you need to do to get your account back, and how you can use our app to prioritize your suspended account case.
Need help with any other bank? Check out our guide to suspended Chime accounts!
Why Did Chase Suspend My Account?
The Chase bank usually suspends customers' accounts to ensure their safety or prevent illegal activities. If there is any activity that signals one of the two, the bank can put a temporary restriction on the account until the situation is clarified.
The most common reasons for account suspensions are:
Fraudulent activities
Suspicious transactions
What Does Chase Consider To Be Fraudulent Activities?
To keep your account safe, the bank monitors all your activities. If it notices anything unusual that may be a sign of fraud or identity theft, your account will be suspended. This can refer to a large withdrawal or payments in a foreign country.
In some instances, the bank reps can try to get a hold of you first, and if you don't answer their call, they will block your account.
What Does Chase Consider To Be Suspicious Transitions?
Chase takes measures of precaution to prevent clients from using their accounts for illegal activities. Suspending accounts with suspicious transitions is one of those measures.
If you make a large deposit into the account and the bank can't trace its origin, it can suspend your account. During the suspension, Chase will investigate the transaction and ask you for more information about it.
How To Recognize Chase Suspended Account Phishing Emails
Phishing isn't rare among bank account holders, so you need to be able to distinguish a real suspension notice from a phishing email.
Hackers can send you an email using the Chase bank name and logo to mask their identity. In the email, they can notify you that your account will be suspended if you don't do the following:
Provide personal information
Provide confidential account information
Verify, update, or confirm your account, credit card, or billing information
You can recognize phishing emails as they will ask you to share this type of data on a webpage, in a pop-up, or through email. In some cases, they can threaten that your account will be permanently closed if you don't take immediate action.
Chase bank will always ask you to verify your account information over the phone or in person. Never trust suspension notice emails that ask you to share confidential data on the web or through email.
How To Reactivate Your Chase Suspended Account
You will need to explain your account activity and confirm that you took the actions in question if you want to lift the suspension. Contact Chase customer support to start the process of recovering your account.
Get in touch with the reps by:
Calling them at 1-877-691-8086 and choosing option 3
Calling them at 1-614-844-6828—if you are not in the U.S.
Contacting Client Service Professional or Client Service Officer—if you are a commercial customer
The operators will answer your inquiries Monday–Friday, 8 a.m.–8 p.m. You can also call them on Saturday between 9 a.m. and 6 p.m., but they are closed on Sundays.
Is there a way to solve the suspension nuance while avoiding phone queues? There is—.
Do You Want Your Request Prioritized? Use DoNotPay!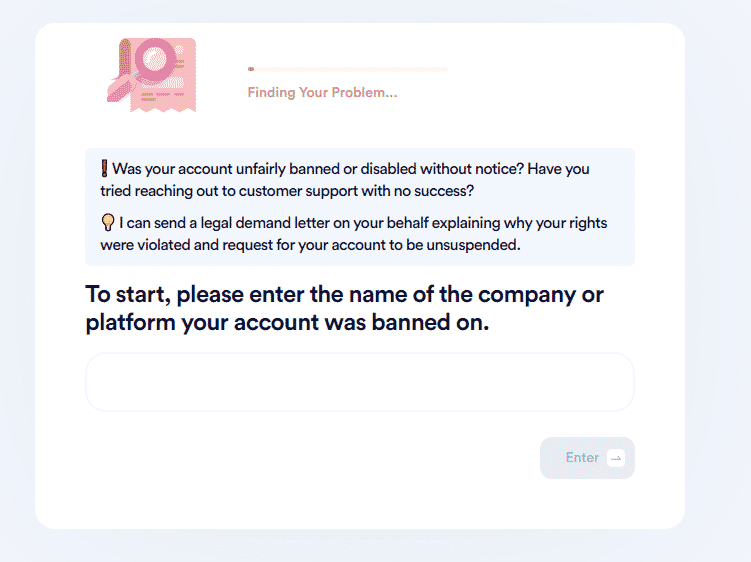 DoNotPay is an app that can help you resolve your suspended account issue. If you want to avoid long discussions with customer support, open a DoNotPay account and we'll simplify the suspension appeal process.
Within a few minutes, we can generate a customized letter that has legal weight. It will put pressure on Chase to address your suspension as soon as possible. The letter will explain what happened with your account in detail and why the suspension should be lifted.
To initiate the process, you should take these simple steps:
Find and click on the Unban My Account product
Answer a few questions regarding:

The platform that suspended you
The date of your suspension
Your refund request
The reason why your account was suspended
After you provide us with this information, you'll only need to sign the document digitally and submit your request to finalize the procedure.
DoNotPay Can Help You With Other Platforms As Well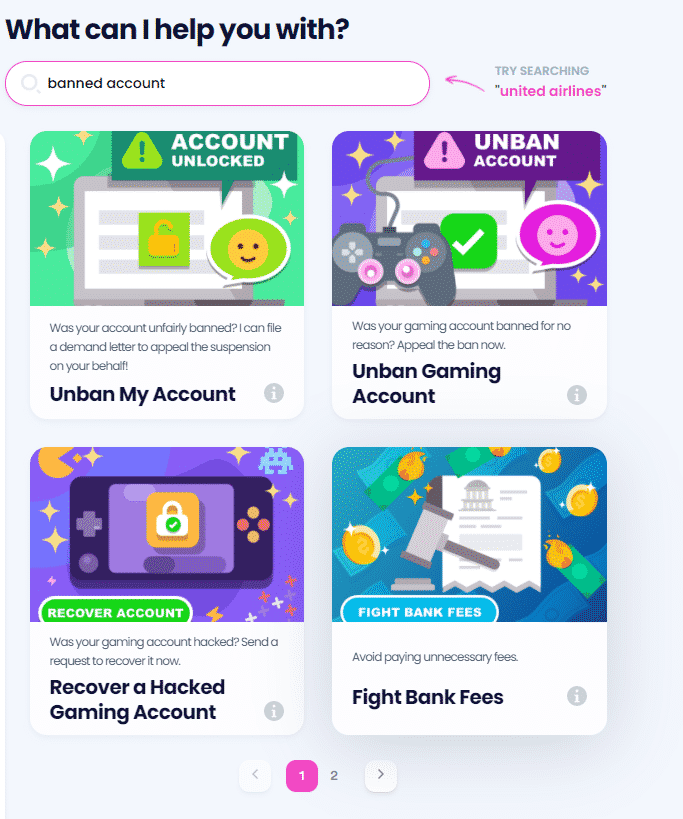 DoNotPay has no limits when it comes to sending appeals to companies that suspend or ban your account. If you want to lift a suspension, unban a social media or gaming account, or get back on any server, service, or platform, use our nifty app.
Check out the table below to review some of the companies we can send your appeals to:
Solve Your Legal and Bureaucratic Issues With DoNotPay
The primary purpose of our app is to provide you with practical tools that can speed up all the drawn-out tasks you must complete. All you need to do is choose a suitable feature from our offer and get your problems solved in a heartbeat!
Once you create an account with DoNotPay, you can:
File:
Create:

Powers of attorney

Divorce settlement agreements

Many other legal documents

Get:
Feeling Unsafe or Harassed? DoNotPay Can Help You!
Have annoying calls and messages become your everyday problem? Don't give up on your peace—rely on DoNotPay and deal with robocalls and restless text and email spammers easily.
We also take care of your privacy, allowing you to create burner numbers and virtual credit cards to avoid revealing sensitive information when signing up for various online services.
If you are being stalked by somebody or discriminated against at work, we will do our best to help you fight for justice and report the case accordingly! We will also safeguard your creative work from copyright violation and ask for violent crime compensation on your behalf.