How To Know if You've Been Banned From Discord—Get the Answer With DoNotPay!
Since its introduction in 2015, Discord has quickly become one of the top instant messaging and digital distribution platforms for gamers—it currently has over 140 million monthly active users. Having your Discord account banned or suspended can be frustrating, especially if you feel like you didn't deserve it.
Do not make peace with losing access to your account if you did nothing wrong—use your right to appeal your suspension or ban and restore it. Because of the legal pressure we put on companies, using DoNotPay to appeal can be more effective than doing it yourself.
If you want to find out how to know if you've been banned from Discord, we'll guide you through all the possible reasons!
Discord Ban Types Deciphered
There are two types of bans you can get from Discord:
Server ban
Platform ban
Take a look at the table below to learn the main differences between the two:
| Ban Type | Explanation | Duration |
| --- | --- | --- |
| Server ban | Getting a server ban means that the administrator has banned you from one of the individual chat servers. If that happens, you can't log in to that particular server anymore, but you can get on other ones | For as long as the server's admin team decides (your ban may be lifted at any time) |
| Platform ban | Earning a platform ban means you won't be able to connect to any of the servers on the Discord service | Permanent |
How Does Discord Ban a User?
Discord keeps track of its users:
By their IP (Internet Protocol) address
By their username
If Discord bans your IP address, you won't be able to create a new account from your device, even if you change your username.
A new IP address will let you sign up for Discord and get access to a server you were banned from. Be sure to create a completely different username in such cases because one similar to your old one may tip them off.
Why Is My Discord Account Banned?
The main reasons for being banned on Discord are violations of the Terms of Service (ToS) or Community Guidelines. Bans can be temporary and permanent, and the company can terminate your account:
At any time
For any reason
As stated in its ToS, Discord doesn't have to give any warnings prior to terminating your account. The termination will result in you losing all data associated with your account, including Virtual Goods and Virtual Currency. The company is not obligated to compensate you for that.
How Not To Get Banned From Discord
Here are some actions you should avoid if you don't want to get banned:
Ridiculing, mocking, stalking, threatening, harassing, abusing, defaming, libeling, or intimidating other users
Engaging in illegal, fraudulent, and other acts harmful to Discord and other users
Uploading and transmitting files that contain viruses, corrupted files, cancelbots, and other similar software
Engaging in any other activity that may damage Discord's operation or other users' computers
Violating intellectual, personal, and contractual property, including using, uploading, distributing, and transmitting any information made available through Discord in a manner that infringes on a patent, copyright, trademark, or trade secret
Attempting to steal passwords and other private information from other users
Using support channels to make false reports to Discord
Developing, distributing, or informing other members publicly about software programs or applications that violate the applicable license agreements
Exploiting, distributing, and publicly informing other users of game errors or bugs that give an unintended advantage while playing
Violating any applicable laws and regulations
Promoting or encouraging any illegal activity, such as hacking and distributing forged software, cheats, or hacks
Discord reserves the right to assess which activities violate the Terms and Community Guidelines and to take action against you.
How To Tell if You've Been Banned From a Discord Server
If you notice that the invites have expired or aren't working, it is possible that you have been banned. The most reliable way to check whether this is the case is to use another account from a different IP address and see if the link has expired there as well.
How Can I Get My Discord Account Unbanned?
To get your Discord account unbanned, you should go to Discord's Support page and submit your appeal. What you need to do is:
Choose Trust & Safety under the What can we help you with question
Enter your email address
Choose Appeals, age update, or other questions under the How can we help question
Select Appeal an action taken on my account or bot from the drop-down menu
Add a subject
Write a description
Add attachments (optional)
Click on the Submit button
This method is time-consuming, and there's a much easier way to appeal the ban decision. You can sign up for DoNotPay and let us submit an appeal letter in your name in less than five minutes.
Appeal a Banned Discord Account the Easy Way—With DoNotPay!
If you've already submitted an appeal request to Discord but it's been weeks and you haven't got a response yet, opt for our service. We include a two-week deadline in our appeal letter to make the company respond to you as soon as possible.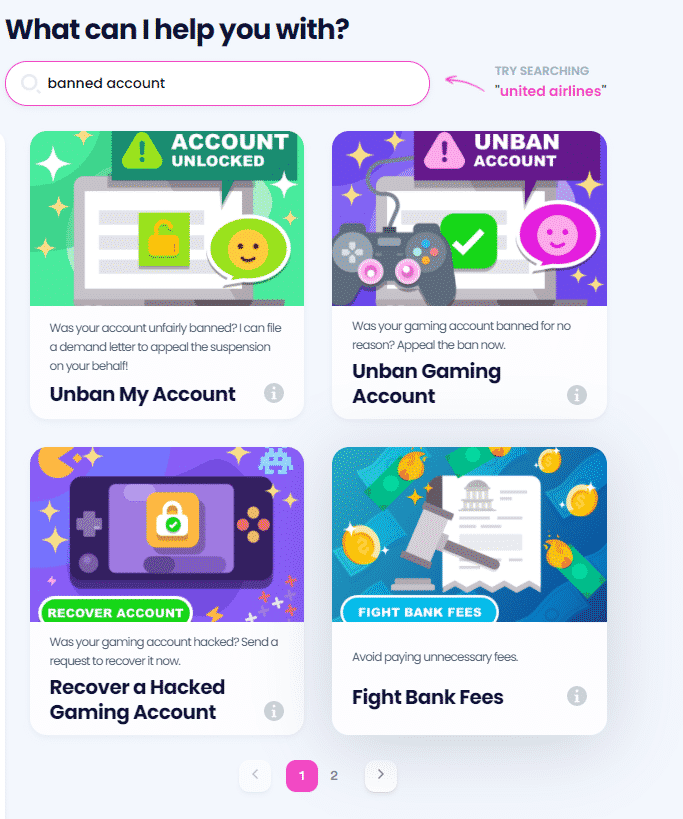 To have us help you, you need to:
Locate the Unban My Account feature
Answer some questions from our chatbot
Click on Sign and Submit
Once you've completed all four steps, we will generate a personalized appeal letter and send it directly to Discord.
DoNotPay Can Help You Restore Your Banned Accounts on Other Platforms
Have you been banned on some other platforms too? If yes, you should check out other guides DoNotPay has prepared for you. You can find some of them in the table below:
Tackling Administrative Issues Has Never Been Easier
DoNotPay was created to help you deal with burdensome everyday tasks you would rather skip. The features we offer will make sure you can:
Dealing With Legal or Security Issues? DoNotPay Will Make Them Go Away
Has a company refused to issue a refund you are entitled to? Sue it in small claims court and get your money back with the help of the world's first robot lawyer! You can also turn to us if you want to protect your work from copyright violation, prevent stalking or harassment, or get virtual credit cards to avoid disclosing your credit card info.
Besides assisting you in seeking justice and security, DoNotPay can help you arrange DMV appointments, contest parking tickets, prepare divorce settlement agreements, and compose various legal documents.