Chime Account Suspended—Learn How To Solve the Issue With DoNotPay
Chime is a popular financial company that offers basic banking services for free. Having your Chime account suspended means you lose access to your money, which is a huge issue.
This happens to Chime users often, and they are never given any explanation from the company. While some users receive an email with an account closure notification, others get notified of their suspension when trying to log in.
Check out this short guide DoNotPay has prepared for you to find the answers to the following questions:
Why is your Chime account suspended, and how to avoid it happening again
How to lift a suspension from your Chime account
Keep in mind that we can help you appeal your suspension quickly and hassle-free.
How To Avoid Having Your Chime Account Suspended
Even though Chime isn't a traditional bank, it is subject to the same laws and regulations as other financial institutions. Your Chime account may be suspended due to the following reasons:
Logging in to your Chime account using an unauthorized method
Creating multiple accounts to benefit from various sign-up bonuses
Using Chime's products in a way that goes against the company's rules
Removing or altering Chime's copyright notices and trademarks
Using Chime to take part in or support illegal activities, such as gambling or selling stolen goods
Refusing to provide Chime with information about your accounts or businesses
Taking advantage of Chime's services to commit fraud or launder money
Using your personal account for business purposes
Modifying, disabling, damaging, or tampering with the Services
Providing false, inaccurate, or misleading information
Copying, distributing, transferring, selling, or licensing all or part of the Services
Circumventing, compromising, or defeating any security measures implemented in the Services
Accessing or using the Services in a way that may infringe upon the intellectual property or any other rights of a third party
Bear in mind that all your actions are controlled by automated tools, which can easily make a mistake and punish you for no reason. Your account will stay locked until the situation is resolved, which may take weeks.
Chime Suspended My Account—Can the Suspension Be Lifted?
Assuming you did not take part in any illegal activity, you can try lifting the suspension from your account by calling Chime customer support at 844-244-6363 and discussing the issue with them. This is the only way you can solve the problem because there aren't any further instructions on the official website. Chime will most likely request certain documentation to release the hold on your account.
If the company determines that you broke its rules, the chances for lifting a suspension from your account are close to zero. What you should do in such cases is file a request to at least get your money back.
DoNotPay is the best and most effective solution for appealing your suspended, locked, blocked, or banned accounts. , and let us help you lift a suspension or unban your account.
DoNotPay Can Help You Unsuspend Your Chime Account Stress-Free
Don't stress yourself out if you don't get a response regarding your suspended Chime account. Opt for DoNotPay, and let us take it from there! Since we put legal pressure on companies, they take our appeals much more seriously than the regular appeals from members, users, or customers.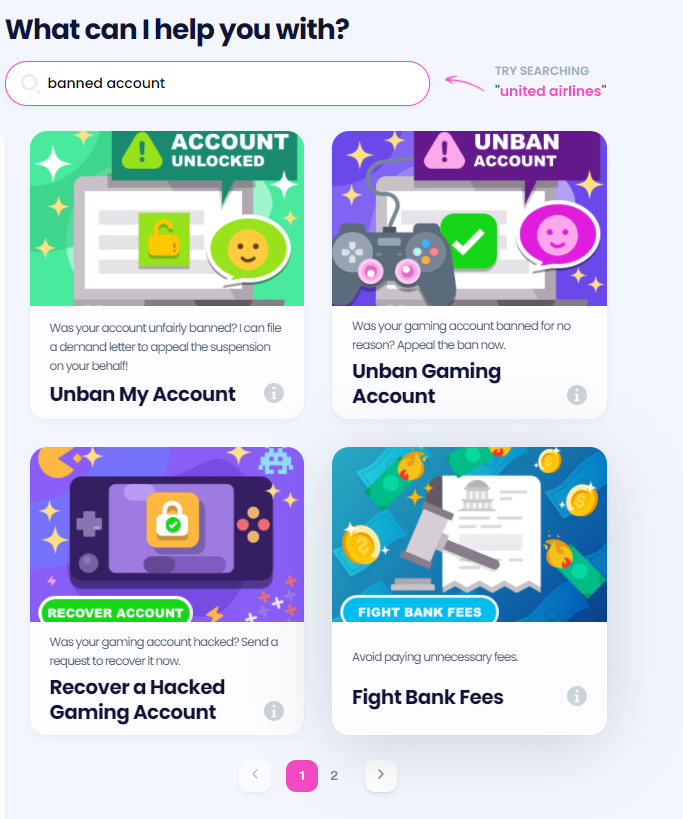 To create an appeal within our app, make sure you complete the following steps:
Find the Unban My Account feature
Fill out our form by providing the following info:

The company's name
The date of your suspension
Your current address
The reason for the suspension (if you were provided with one)
Type of subscription
Your username

Click on the Sign and Submit button
Feel discriminated against? Let us know! We will use this info to strengthen your case.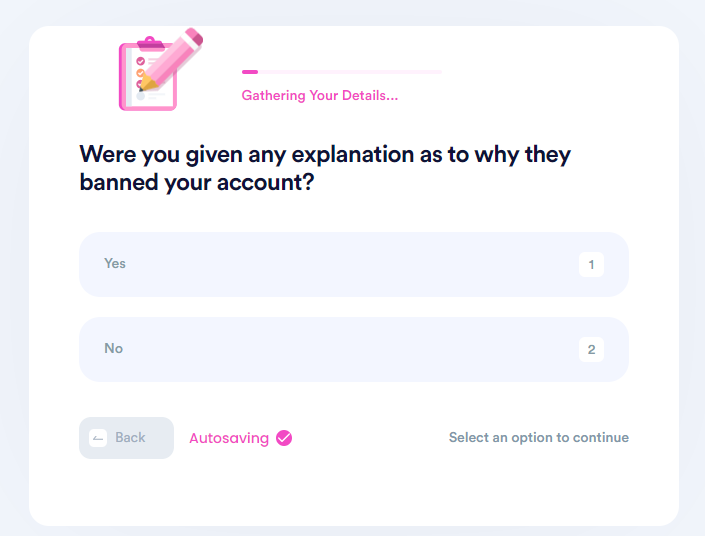 Once you've completed all four steps, we will:
Create a customized appeal letter
Send it directly to Chime
The letter will include a two-week deadline for the company to review your request so it doesn't waste your time once again.
DoNotPay Can Help You Unban or Unsuspend Your Account on Any Other Platform
If you have several social media and gaming accounts or use many different online services on a daily basis, you must follow various terms and conditions and policies. Even if you make an effort to learn the user guidelines for all the platforms you use, you might still make a mistake that will result in a banned or suspended account.
This is why DoNotPay has prepared a variety of easy-to-read guides that can help you gain access to your accounts. They are listed in the table below:
DoNotPay's Vast Collection of Features Keeps Expanding
Determined to simplify bureaucratic procedures and help you with various daunting items on your to-do list, we created DoNotPay—the world's first robot lawyer! With us, you can:
Streamline Different Tasks by Using DoNotPay's Practical Features
Are you looking for an efficient way to gain back your unclaimed money or get a refund from a company? Do it with DoNotPay without lifting a finger! Our app provides excellent money-saving features that will increase your budget and make all unnecessary expenses disappear.
We can assist you in terminating unwanted subscriptions, recovering your unused gift card funds, reducing your bills, and requesting late delivery refunds. You don't even need to hire lawyers to write a financial aid appeal letter, an HR complaint, or a child travel consent form in your stead—our app can do all this!