Why You Should Join the California Homeschooling Network
As a parent looking to homeschool, you need to put a lot of time and effort into your child's education even before you start homeschooling, especially if you opt to teach on your own. Homeschooling in California requires you to be informed of state laws, school subjects, various curriculums, school hours, and so on.
To stay up to date with the changes and requirements for homeschooling, you can join the California Homeschooling Network and:
Get access to data and news regarding homeschooling
Connect with other parents that homeschool their children
Learn about events your kid can attend and socialize
In this article, we'll show you how the California Homeschool Network works and why you should become a member.
Why Should You Join a California Homeschooling Network?
Homeschool networks exist for two reasons:
To ease the process of a child leaving a public school to get homeschooled
To help parents learn the ropes of homeschooling once their kids are already in the program
Networks can help both parents and students by acting as a hub for answers to a variety of issues you may experience—both academic and administrative. Some of the matters a California homeschooling network can help you with are as follows:
As a member of a network, you don't only get access to a database necessary to homeschool your child successfully—you will also be able to communicate with other parents. This way, you can get advice from people who have already gone through the whole process and learn how to choose a teacher.
California Homeschool Network—Who Are They?
California Homeschool Network (CHN) is a statewide organization whose goal is to help homeschooling families retain their right to educate their children without federal, state, or local interference.
It offers help to preschool and high school families by providing information about various topics and letting members communicate with each other.
CHN also organizes a variety of events during which children can play sports and go on trips. Popular CHN events include:
CHN Campout
El Dorado hike and picnic
CHN homeschool cruise
Whale watching tour and picnic
It's important to note that while CHN does provide information on various documents, you still need to do all the legwork yourself. Although California is a low-regulation state, you still need to deal with affidavits and letters of intent, which can be tiresome and tricky to complete.
Luckily, you have the option of DoNotPay—by , all you need to do is provide some information, and our app will generate a custom letter of intent.
Becoming a Member
California Homeschool Network is a volunteer organization and relies on its membership fees to receive funding to achieve its goals and offer service to homeschooling families. CHN has two membership levels, as shown in the table below:
Membership Level
Benefits
Price
Institutional membership

Subscription to CHNews
Access to a public Facebook forum

$25 per year
Family membership

Institutional membership benefits
Invitation to The Grapevine—private mailing list
Voting privileges
Discounts on CHN events
Membership card

$30 per year
Connecting With Other Members
The main benefit of becoming a member of the California Homeschool Network is being able to get in touch with other parents and ask for help even before you decide whether you should homeschool your child or not.
You can reach out to CHN via email at info@californiahomeschool.net or by phone at 800-327-5339. The best way to go about it is to talk to a homeschool family who is a CHN ambassador in your county.
CHN has representatives in over 50 counties, and you can find their contact information on the website. Check out this table to find some of the ambassadors' contact info:
| County | Ambassador Name | Email | Phone |
| --- | --- | --- | --- |
| Santa Clara | Stephanie Wood | smhood868@gmail.com | 408-460-8462 |
| San Bernardino: Yucaipa Area | Heather Martinson | heather@ochomeschooling.com | 909-446-5962 |
| Riverside | Heidi Christianson | Home.ec.heidi@gmail.com | 951-375-8576 |
| Orange County | Laurel Ward | rams@cox.net | 714-649-0657 |
| Marin County | Julie Schiffman | julie@marinhomeschoolers.org | 415-446-8844 |
California Homeschool Network Alternatives
CHN is not the only California homeschooling network you can turn to for help with your endeavor. Other organizations include:
Getting the Homeschooling Paperwork Ready—How To Create a Perfect Letter of Intent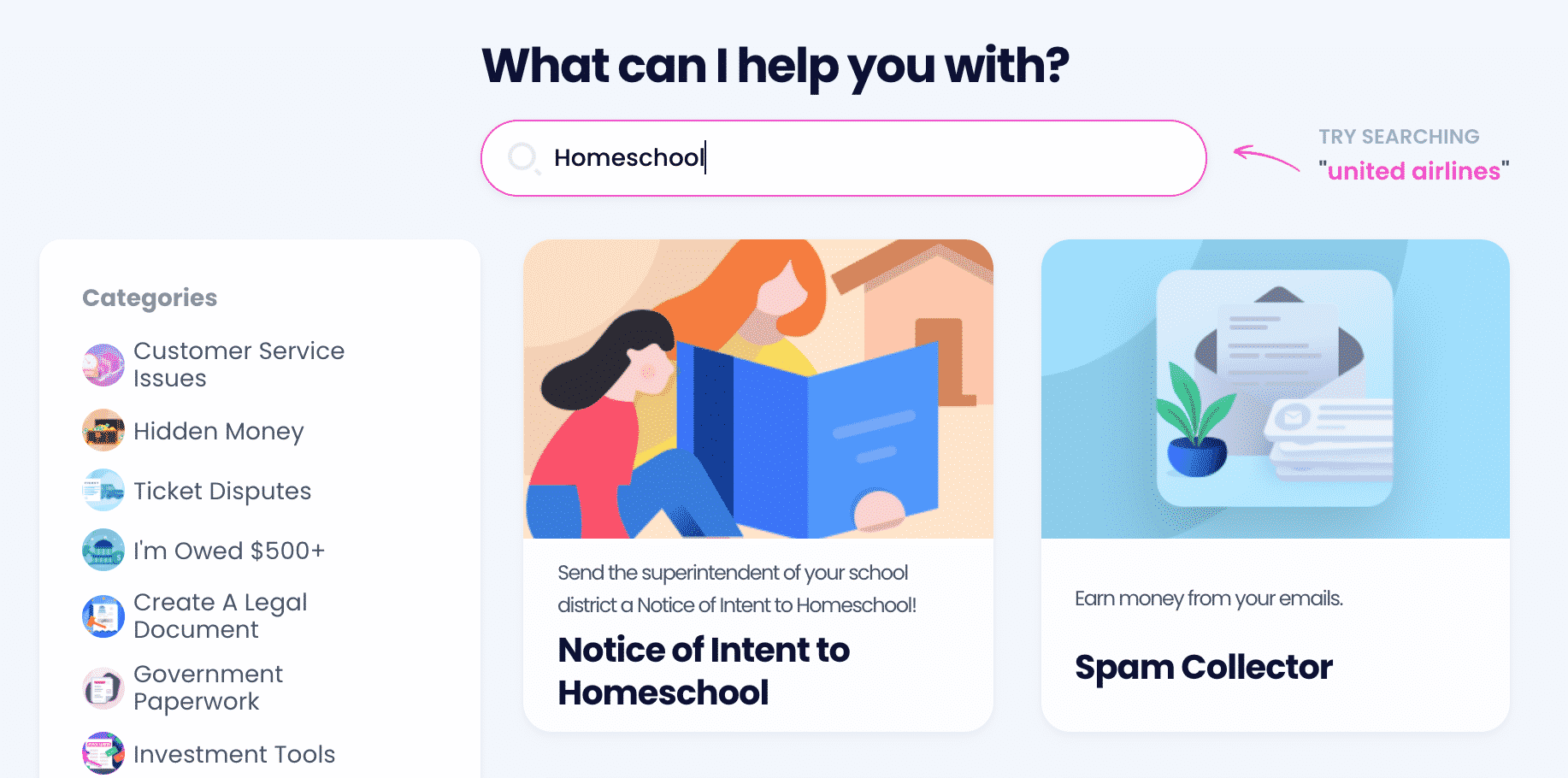 The first piece of advice you'll get from any California homeschooling network member is that you should do a lot of planning and prepare the appropriate documentation to start homeschooling your child. You have to worry about so many aspects that getting bogged down in paperwork is counterproductive.
DoNotPay can help you get a spot-on letter of intent to homeschool within minutes—all you need to do is provide some information about your qualifications, your child, and your homeschooling plan.
To get the letter, complete the following steps:
Choose the Notice of Intent to Homeschool product
Provide the information the app asks for
That's it! Once you're done, we can send the letter to your school district's superintendent on your behalf or generate a PDF for you to send on your own. The app will also offer you to get the document notarized if necessary.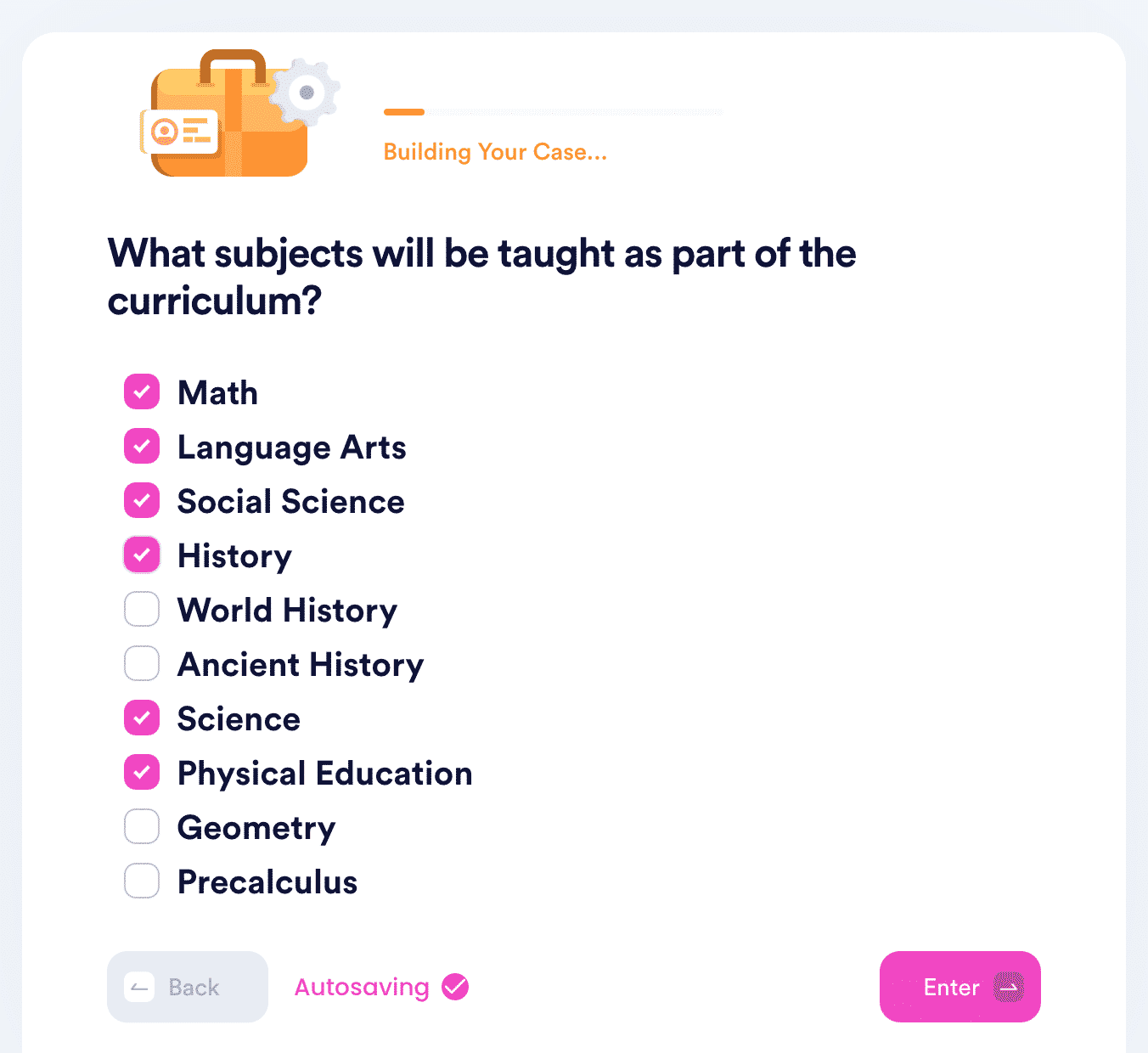 If you're still having doubts about homeschooling, you can visit our learning center and find out more about various topics, such as:
Say Goodbye to Boring Tasks
When a task takes up too much time, you may give up or procrastinate incessantly. We have a solution—use DoNotPay to manage numerous administrative or bureaucratic errands.
No more waiting in neverending DMV lines or staying hours on the phone waiting for a customer service rep to pick up. You can even skip going to the post office. We can help you send letters and even online faxes in a flash. If what you're sending needs to be notarized, use our app to schedule an appointment with an online notary.
Traveling soon? Get your passport photos ready, apply for a tourist visa, contact embassies, and draw up a child travel consent form—all within the same app.
What Else the World's First Robot Lawyer Can Do for You
When you need legal assistance but you can't afford to hire a lawyer, rely on DoNotPay. With our legal expertise, we can help you do the following: