DoNotPay—The Best Alternative to Apps for College Scholarships
With tuition fees for students being as high as they are, it's no wonder so many students are looking for financial aid opportunities to decrease the impact education has on their families' budgets.
The issue with scholarships and grants is figuring out where to find them. Researching awards is a tedious affair, and apps for college scholarships can help you speed up the process. In this article, you'll find out how apps work and why DoNotPay is the best option for finding and applying for scholarships.
Before You Start Using Apps for College Scholarships
College scholarships come from a variety of sources:
Universities
Federal and state governments
Institutions and non-government organizations
Private companies, donors, and funds
You should check in with your school's financial aid office before you move on to online search tools. All universities in the United States run aid programs that are available only to those enrolled in the school in question.
This way, you don't have to worry about competition from other universities, and you can find all information on the university's website or at the office.
Apps for College Scholarships
While information about university awards is available at the university you're enrolled at, private and institutional scholarships are hard to find. It's a time-consuming process, and you can spend weeks or months looking up various options. That's where apps for scholarships come in.
The idea behind the apps is to scrape the internet for financial aid opportunities and put them in one place so that students don't have to visit hundreds of websites. While the idea sounds great, there are cons to many of these apps, as shown in the table below:
Pros
Cons

Are a centralized source for financial aid programs
Have both mobile and browser versions (usually)
Offer options to students of various profiles
Have a link towards the

application form

(usually)

Have a high subscription fee
Have a limited database
Don't have a sophisticated enough search function to include all relevant filters
Contain an overwhelming amount of ads
Some examples of apps for college scholarships include:
Cappex
Scholly—Shark Tank college scholarship app
Niche
Chegg
Peterson's
College Raptor
Scholarship Advisor
DoNotPay
What Makes DoNotPay the Best College Scholarship App?
What makes DoNotPay stand out from other apps for college scholarships is that it's not solely a hub of various scholarships but also provides you with a personalized list of all awards you meet the requirements for.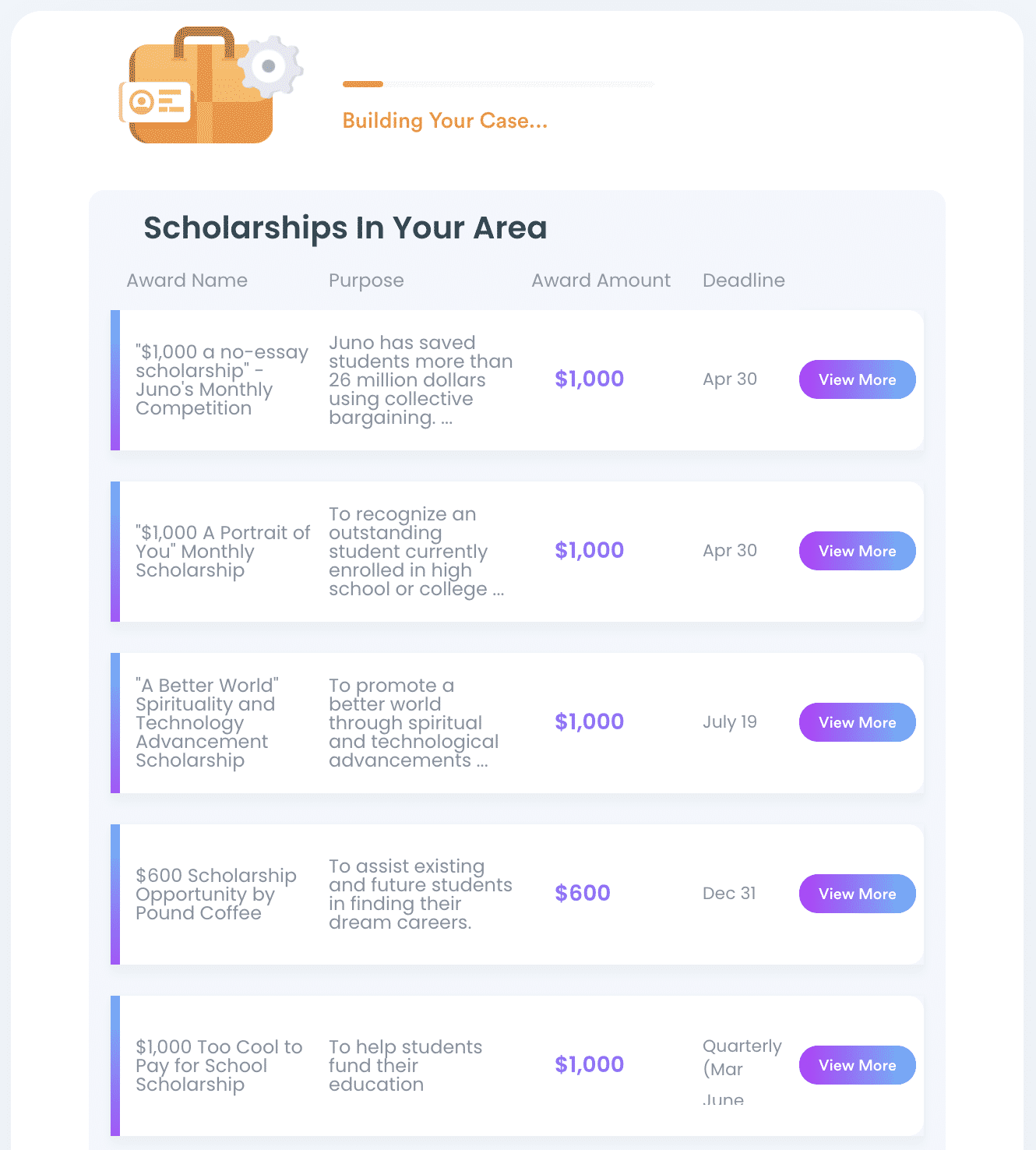 When you , our app will generate your list based on:
Grades—GPA or ACT/SAT scores
Educational interests
Special qualifications—being a

veteran

, mother, student with a

disability

, etc.
Aside from telling you which scholarships you can apply for, we'll also inform you about all the necessary documents you need to submit to apply, which can include:
What's unique about DoNotPay is that you can use it to apply for no-essay scholarships automatically by instructing us to complete the process on your behalf.
How To Search for Scholarships
The best way to obtain as many scholarships as possible is to optimize your research process. Programs cater to specific groups of students, and you can find the ones that suit you best. Take a look at the following table to learn about some factors scholarship commissions take into account:
Student Profile Factors
Examples
Field of study

Engineering

Creative writing

Foreign languages

Beauty school

Medicine

Student origin
Minority group

Hispanics

Native Americans

Asians

Level of study

Scholarships exist for all levels of study in college, including

freshmen

,

sophomores

, and

juniors

Special qualifications
Another important aspect of optimizing your search is to know when to start. You don't have to wait to become a freshman to begin looking for financial aid. Many scholarships are available for high school seniors who have already enrolled at a college or intend to further their education.
Types of Scholarships You Can Find
Scholarships are divided into two types:
Merit-based scholarships
Need-based grants
Scholarships based on merit are more rewarding but come with a stricter set of requirements. They are aimed at students who reach a certain level of academic excellence by having high GPA levels and SAT/ACT scores, as well as personal success in the field of study in which they are enrolled.
Low-income students who don't have the required academic performance can turn to need-based grants. These awards go to students who can demonstrate financial need by completing the Free Application for Federal Student Aid (FAFSA) form or the College Scholarship Service (CSS) Profile.
Students need to submit their Expected Family Contribution (EFC) as proof that shows they're below a level determined by grant providers.
How To Use DoNotPay as an App for Scholarships
With DoNotPay, you need to spend less than five minutes to find all the available scholarships you can apply for. All you need to do is complete the following steps:
Navigate to the Apply for Scholarship feature
Answer a few questions and select the type of scholarship you're interested in
Choose whether you want to View the list or Apply for scholarships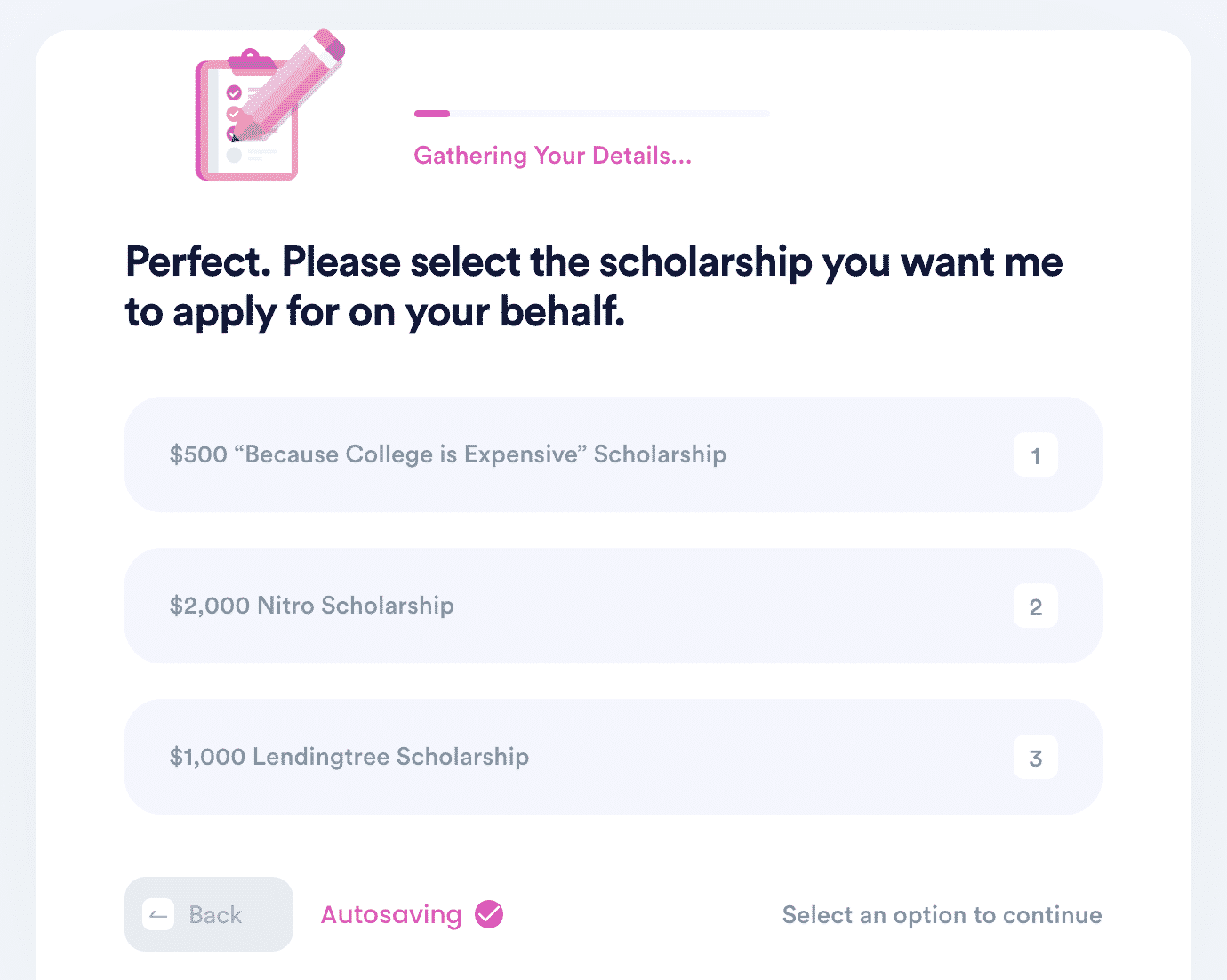 DoNotPay Turns Any Tiring Task Into a Piece of Cake
Are you tired of dealing with bureaucratic or legal matters on your own? You no longer have to—as soon as you subscribe to DoNotPay, we'll take any exhausting task off your plate.
Our app is capable of drawing up legal documents—including marital settlement agreements, child travel consent forms, powers of attorney, defamation demand letters, and affidavits to homeschool—getting them notarized remotely, filing complaints against companies, suing any individual or corporation in small claims court, sending FOIA requests, and so much more.
The World's First Robot Lawyer Offers So Much More
DoNotPay's capabilities don't end there—we can also:
Help you get a tourist visa