York College Financial Aid From Top to Bottom
Do you plan to attend York College in Jamaica, Queens? If so, you should have the necessary information about the financial aid this school offers. Being familiar with the York College financial aid specifics—such as important deadlines, eligibility requirements, and available types—will help you get a head start in the application process.
In this article, will give you the inside info and help you gain an appropriate financial award from this and any other backup college you might be considering!
What Types of Financial Aid Are Available at York College?
Financial aid at York represents the money from federal, state, and school funds aimed to help eligible students attend college. To find out which financial aid programs are available and what they entail, consult the table below:
Financial Aid Types
Details
Grants
York offers numerous federal and state grants to its prospective students. They can choose between:

Pell Grant—aimed at students who haven't earned their bachelor's degree yet
Tuition Assistance Program (TAP)—a New York State Grant program that covers tuition only
Aid for Part-Time Study (APTS)—a New York State tuition grant available for students who don't qualify for the TAP
Supplemental Educational Opportunity Grant (SEOG)—a federal program for students with exceptional needs. This grant is available only for applicants who haven't earned their bachelor's degree

Scholarships
Available scholarships are listed on the college's website. Students should check out the eligibility criteria and complete the application steps carefully
Loans
Loans refer to the money borrowed from the federal and school funds that has to be repaid after graduation. Students can apply for:

Federal Direct Stafford Loan—it can be subsidized and unsubsidized (for undergraduate and graduate students)
Alternative Student Loan—a private education loan that covers one academic year

Work-study programs
Federal work-study programs offer students part-time jobs that accommodate their academic schedules
How To Apply for Financial Aid at York College
If you want to apply for financial aid at York College, filling out a Free Application for Federal Student Aid (FAFSA) form is a must. It determines your eligibility for receiving any of the available financial aid packages. To be considered, you typically have to prove that you:
Are a U.S. citizen or an eligible non-citizen
Lack funds to finance your education
Are enrolled or accepted at an eligible degree or certificate program
Make regular payments for other federal loans you might have
Note that applying for specific grants and loans at York requires you to:
You can find a detailed description of each application process on the York College financial aid web page. Remember to complete the required eligibility forms every year you want to be considered for financial aid.
When Can I Apply for Financial Aid at York College?
Respecting deadlines is crucial if you want to be considered for as many types of financial aid as possible. While you can apply for federal financial aid between October 1st and June 30th of every year, deadlines differ at state and college levels.
The priority deadline to submit FAFSA for the summer 2021, fall 2021, and spring 2022 term at York has ended on March 21st. Since York College hasn't announced deadlines for the 2022–2023 school year, your best bet is to visit the school's website regularly and get familiar with financial aid application dates as soon as possible.
Who Should I Contact for More Information About Financial Aid at York College?
The York College financial aid office is responsible for distributing available financial aid funds to its deserving students. The financial aid office is currently offering only remote service due to the COVID-19 outbreak, so if you need to talk to a financial aid counselor, you can:
Send an email to finaid@york.cuny.edu
Access the Financial Aid Virtual Services via Zoom by clicking on the Financial Aid Virtual Hours. You can speak with the representative anytime between 10 and 2 p.m. every Tuesday, Wednesday, and Thursday
For those who feel more comfortable talking to a representative on the phone, the York College financial aid office phone number is 718-262-2230.
What if I Get Rejected or Receive a Small Award? DoNotPay Will Jump to the Rescue!
Unfortunately, not all students who apply for financial aid will get sufficient funds (or any, for that matter). If that happens, you shouldn't despair—you can appeal the university's decision with a well-written appeal letter!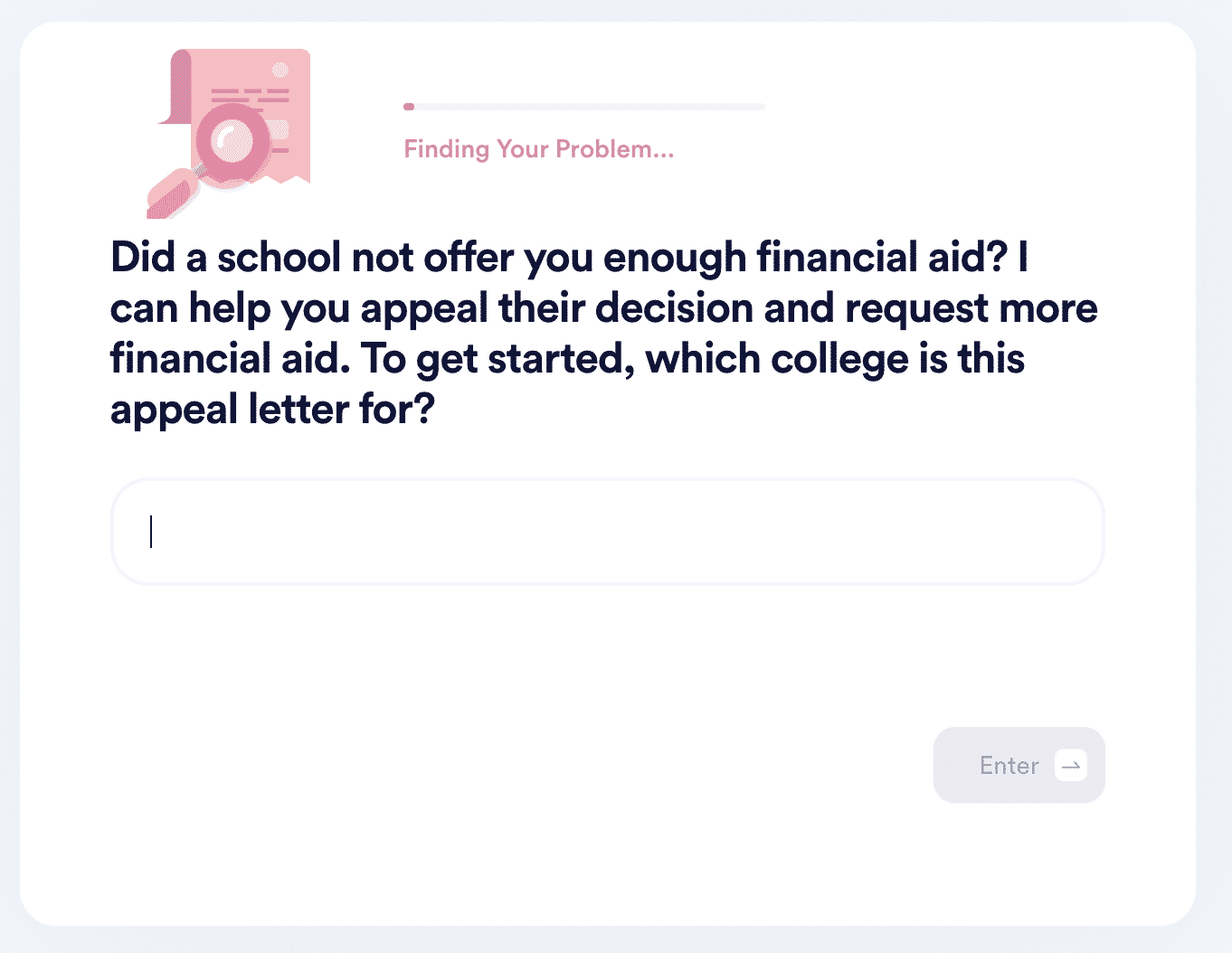 DoNotPay's Appeal for More Financial Aid product can help you create an appeal letter asking for a higher grant. The letter created with the help of our app is:
Professional
Detailed
Polite
Precise
Thorough
To get one in minutes, you only need to from any web browser and:
Find our Appeal for More Financial Aid tool
Provide details about your financial circumstances
Indicate if you have received better offers from other colleges
Our app will customize the letter using your data and send it to York College. We guarantee you'll be considered for a higher award!
That's not all! If you've applied for backup colleges, check out some of the universities our app can send an appeal letter to: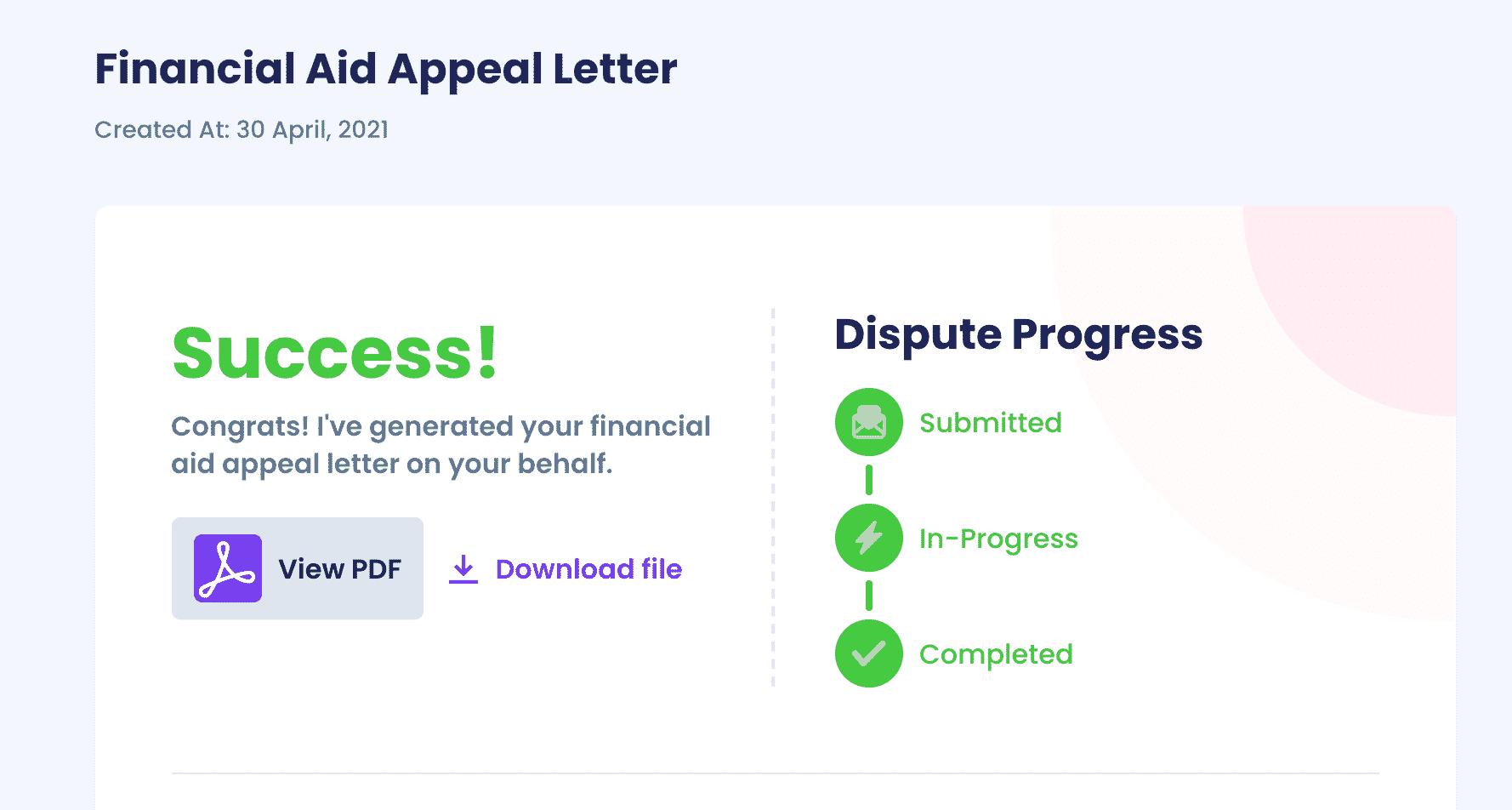 DoNotPay Is an App for Everyone
Whether you need help with drafting paperwork, searching through government databases, or managing your bills, DoNotPay has a feature that'll make your life easier. The number of features keeps growing, and you can check out a table showcasing some of them:
Get More Done With Our Do-It-All Platform
DoNotPay can take care of any daily hurdle you come across. For a small yearly subscription fee, you get access to various features that you'll find handy on a daily basis. Besides everyday chores, signing up for DoNotPay will help get you:
The list could go on for days. You can even get in touch with an inmate or fight for discrimination at your workplace!