The Essential Info About Western Michigan University Financial Aid
Western Michigan University (WMU) is a public research university established in 1903. This university has over 21,000 enrolled students. If you're looking to be one of them, we'll provide you with all the essential info about getting Western Michigan University financial aid!
Register to DoNotPay and learn how to apply for financial aid and appeal rejected applications with ease!
What Type of Western Michigan University Financial Aid Can I Apply For?
Since tuition is usually the biggest expense when enrolling, universities and colleges offer financial aid programs that help undergraduate and graduate students cover it. Some financial aid types have to be repaid after a certain period, while others don't.
Western Michigan University offers a few options when it comes to financial aid programs. See the table below for more details:
Financial Aid Type
Description
Programs
Loans
The money you can borrow and repay with a variety of repayment options available. Loan amounts depend on the cost of attendance, class level, enrollment status, and dependency status

Federal Graduate PLUS Loan
Federal Parent PLUS Loan
Federal Perkins Loan
Federal Subsidized Loan
Federal Unsubsidized Loan
Private Alternative Loans
Short-term Loans

Scholarships
A type of financial aid that is mostly given to students according to their academic success. Scholarships can also be awarded based on students' financial situation, and they don't have to be repaid

Incoming Freshman Scholarships
Incoming Transfer Scholarships
Private Scholarships
Fostering Futures Scholarship
Michigan Competitive Scholarship

Grants
Federal, institutional, or state-funded financial support that doesn't have to be repaid

Residence Hall Grant
WMU Achievement Grant
Federal Pell Grant
Federal Supplemental Educational Opportunity Grant
Federal Teach Grant

Work-study
An opportunity to work part-time jobs while in college
Who Is Eligible for Western Michigan University Financial Aid?
Applying for WMU financial aid requires you to meet certain eligibility criteria. We'll break down the requirements and help you determine whether you're qualified.
To be eligible for Western Michigan University financial aid, you need to:
Be a U.S. citizen, U.S. national, or an eligible non-citizen
Have a high school diploma or its equivalent
Make satisfactory academic progress toward your degree
Some of the financial aid programs offered by Western Michigan University require you to meet other requirements besides the above-listed ones. Once you decide on the type of financial aid, it is best to visit the Western Michigan University official website and check what the requirements for each program are. You can also find other useful info on the website, such as application deadlines and how many years you can keep getting financial aid.
How To Apply for Western Michigan University Financial Aid
Once you make sure you meet the eligibility criteria for applying, you should fill out the Free Application for Federal Student Aid (FAFSA). Western Michigan University uses the FAFSA form to see your income and financial situation and determine whether you're qualified for the financial aid you're seeking.
You also need to apply online for an FSA ID. When you create an account, you will use the FSA ID as your electronic signature. Use your FSA ID to sign the FAFSA as well as any other financial documentation required.
Wondering when to apply for financial aid? It's best to do it when applying for admission. That will leave you with enough time to receive a response.
How To Contact the Western Michigan University Financial Aid Office
You can reach out to the WMU Financial Aid office staff in case you have any questions or dilemmas regarding your application. Here are the available contact methods:
Over the phone—Dial (269) 387-6000 and explain your request to an agent
Via email—Email your request to the WMU financial aid office at finaid-info@wmich.edu
In person—Go to the following address and inquire about the info you need: Western Michigan University, Kalamazoo MI 49008-5337 USA
Appeal a Rejected or Low Western Michigan University Financial Aid Offer in a Snap With DoNotPay
Did Western Michigan University make a low financial aid offer or refuse to grant you aid? Appeal the decision right away!
Forget about spending hours trying to write an appeal letter or figure out how to file an appeal on your own! With DoNotPay, you can create an appeal letter without breaking a sweat! The best part is that we do most of the work—all you need to do is complete the instructions below:
Pick the Appeal for More Financial Aid feature
Provide the necessary info about the college you want to enroll at and your family's financial situation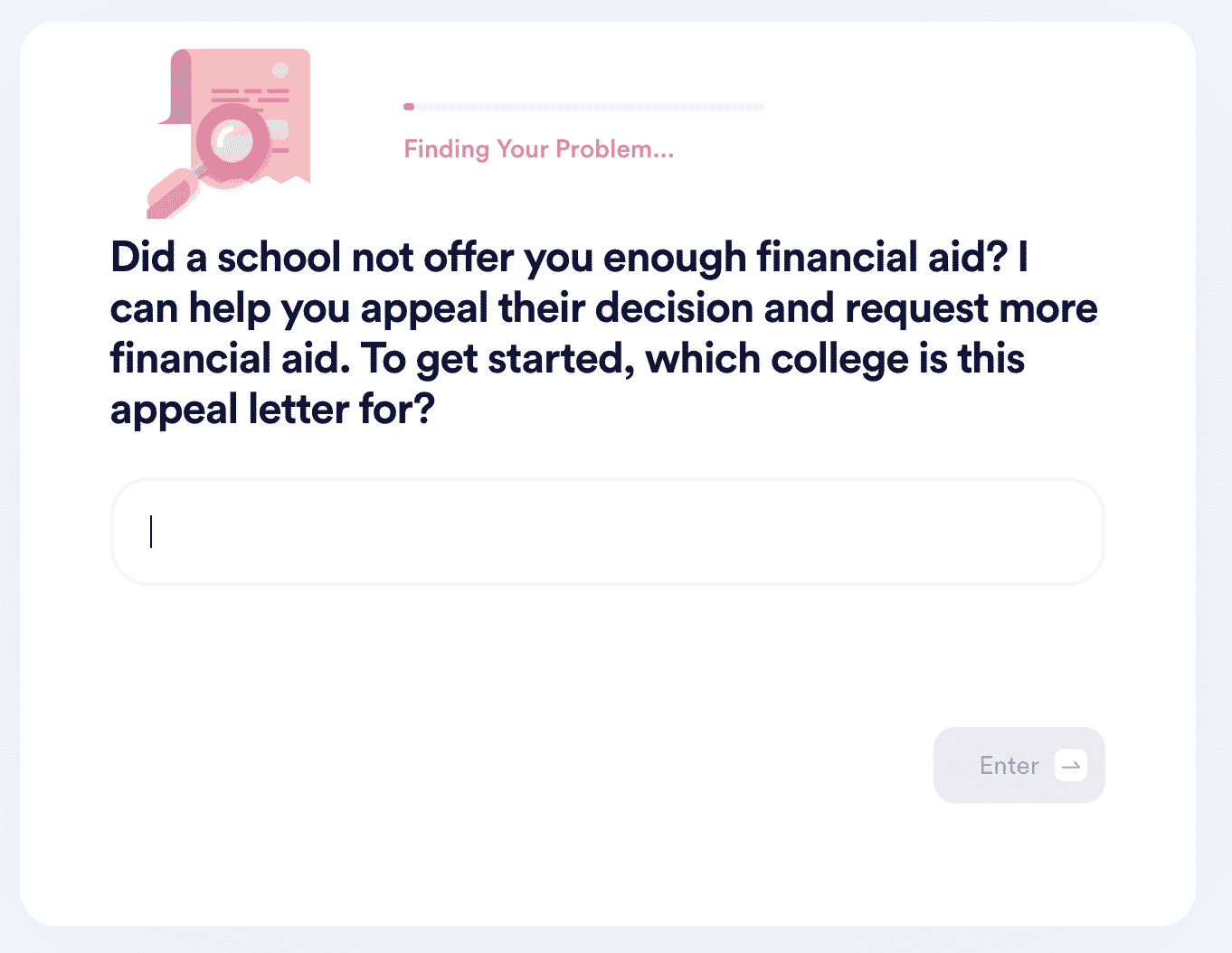 We'll compose your appeal letter right away and send it to the Western Michigan University financial aid office in no time!
Not satisfied with the financial aid offer you received from WMU? You can look for more financial aid support from different universities! Check out our guides to applying for financial aid from the following schools:
DoNotPay's Vast Collection of Features Keeps Expanding
Determined to simplify bureaucratic procedures and help you with various daunting items on your to-do list, we created DoNotPay—the world's first robot lawyer! With us, you can:
Streamline Different Tasks by Using DoNotPay's Practical Features
Are you looking for an efficient way to gain back your unclaimed money or get a refund from a company? Do it with DoNotPay without lifting a finger! Our app provides excellent money-saving features that will increase your budget and make all unnecessary expenses disappear.
We can assist you in terminating unwanted subscriptions, recovering your unused gift card funds, reducing your bills, and requesting late delivery refunds. You don't even need to hire lawyers to write a financial aid appeal letter, an HR complaint, or a child travel consent form in your stead—our app can do all this!